I Tried Raw Love Sunscreen (One of the Most Natural, Reef-Safe Sunscreens) — Here's Everything You Need to Know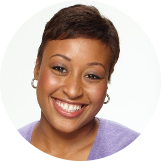 Rozalynn Frazier
Sep 17, 2020
---
Summer may be over but that doesn't mean you can now forget about protecting your skin from the sun. This is the eco-friendly, natural sunscreen you need ALL YEAR LONG.
---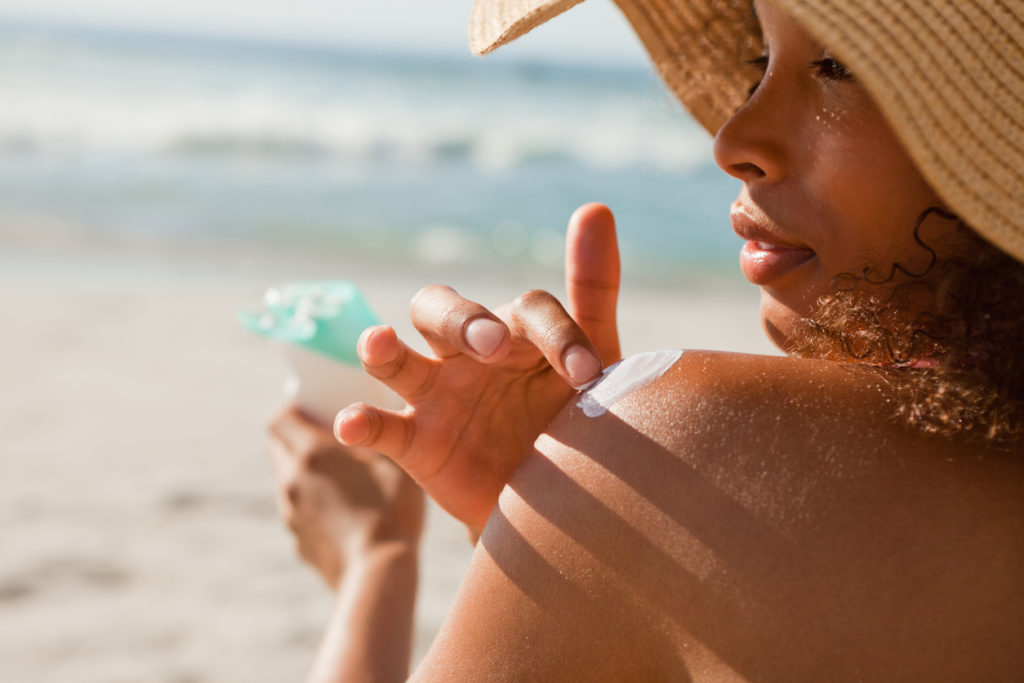 Sunscreen is a staple in my outdoor fitness routines—as it should be for all of us. And, I definitely never step outside for a run—and I log miles multiple times a week— without coating my skin. I'm not loyal to anyone brand either, so when I got the opportunity to test Raw Love Sunscreen, I readily accepted. Before we go any further, yes, I did like it. There were a couple of caveats, though.
First, a little background. Raw Love was founded by Jenna Davis. According to the website: Davis wanted a product that would not only protect her skin and her tattoos but the environment as well. In 2015 she did just that, creating an "an eco-friendly, reef-safe, biodegradable, moisturizing mineral sunscreen." Raw Love is also reportedly Hawaii's first FDA compliant sunscreen company. 
Housed in either 4oz or 6oz metal containers, which I love because you can scoop just the right amount out rather than over squeezing a tube or bottle and ending up with way more gunk on your hands than you need. And, both sizes of the Raw Love tins fit easily into the side pockets of my Lululemon Fast and Free shorts, which I wear the most. This means I can reapply on-the-go whenever I need. (Raw Love suggests 40 minutes after sweating or swimming, immediately after towel drying, and at least every two hours.)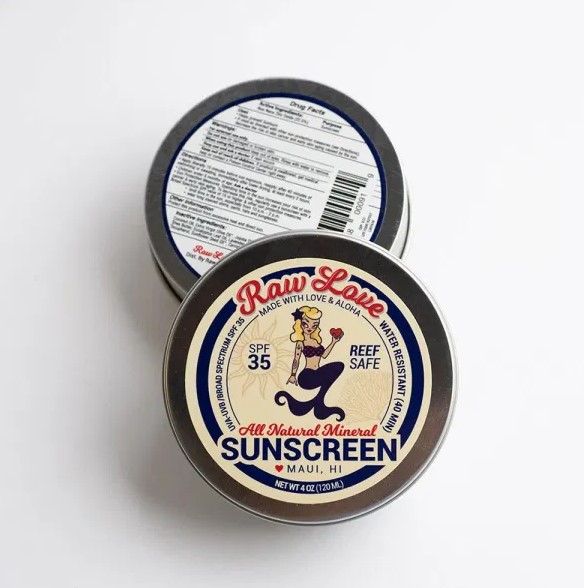 Don't be fooled by the small sizes either, Raw Love, which is SPF 35, packs a powerful punch when it comes to protection against the sun thanks to its UVB + UBA broad-spectrum formula. Translation: It's not only going to fend off harmful sun rays that can cause dreaded sunburns, melanoma, and the most common form of skin cancer, basal cell skin cancers, but also those that prematurely age the skin.
Since it's a mineral or physical sunscreen, it uses zinc oxide (an organic version), which sits on the skin, acting as a barrier that scatters, absorbs, and reflects ultraviolet rays. That's great, but it also means that sunscreens like Raw Love that are formulated with it often leave behind an unpleasant, chalky residue on the skin. As an African American woman, that is particularly annoying because chalky translates to ashy on my skin—and nobody wants that.  With Raw Love, though, I was pleasantly surprised. The website notes that a little goes a long way and that "your skin will turn a slight shade of white but nothing that is unsightly or embarrassing, just rub it in clear." I took the brand's advice when applying this thick, smooth salve. I have to be honest, there was some chalkiness at first. When I looked in the mirror, I audibly sighed because there was no way I was going running outside while looking like a ghost. Rather than throw in the towel, I tried rubbing it in again. This time it all disappeared, so crisis averted. FYI: You really have to work it into the skin, or at least I did.
If you're looking for a sunscreen that not only protects but is hydrating as well, Raw Love does that too, using ingredients such as coconut oil, shea butter, sesame oil, and jojoba oil. All of these saturate the skin with an intense hit of moisture. As someone whose skin has unfortunately decided to take a turn for the dry side during COVID-19, I appreciated all of these super-hydrating components as well as the thickness of this sunscreen. I felt it melting into my skin as I rubbed it in—and it left behind a little bit of a glow too. Both the moisture and luminosity were welcome advantages to slathering it on.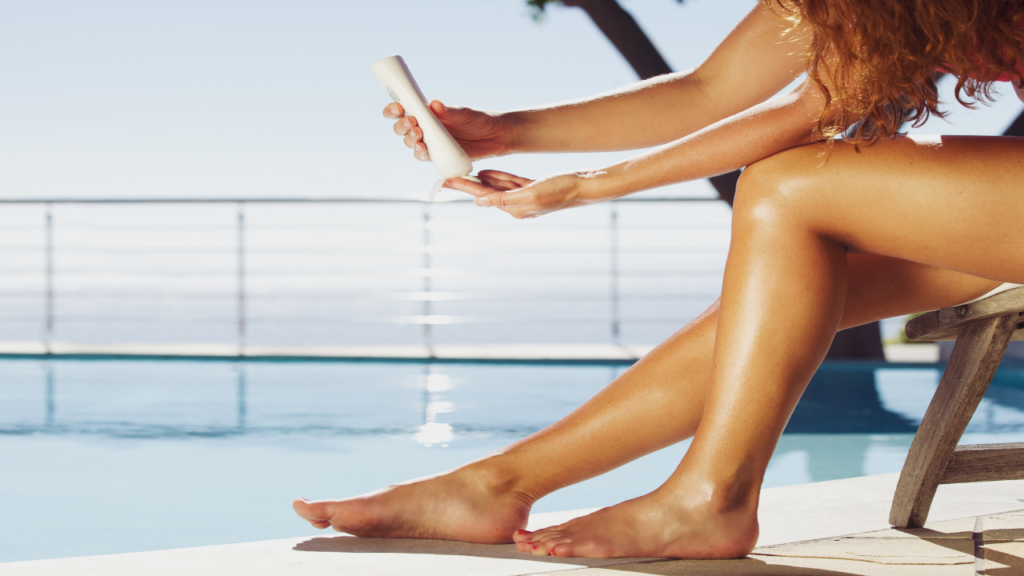 These same ingredients are also what make Raw Love eco-friendly. When donning this concentrated lotion at, say, the beach, you can feel safe that you aren't leaving behind any marine-toxic chemicals that will threaten ocean life, including coral reefs, fish, and the myriad of other sea organisms. Let's face it, we need to try and keep our Earth as safe and healthy as possible, so any product that is good for the environment always makes me happy. I feel proud sporting Raw Love knowing that it wasn't contributing to the toll that so many other sunscreens have taken on the environment. 
As I noted above, I run a lot, so I personally tested this sunscreen while on a few runs at different times of the day. None were longer than 40 minutes, so I did have to reapply. I sweat a lot so I was happy that when I got going and the sweat started pouring down my face, the drops that dripped into my already sensitive eyes did not sting at all. Also noteworthy: There were no sweat-soaked sunscreen streaks left behind on my skin. Another good thing, Raw Love contains beeswax which works as a water-resistant agent on your skin when you're getting active in the outdoors. That means my sweat didn't rinse the sunscreen away.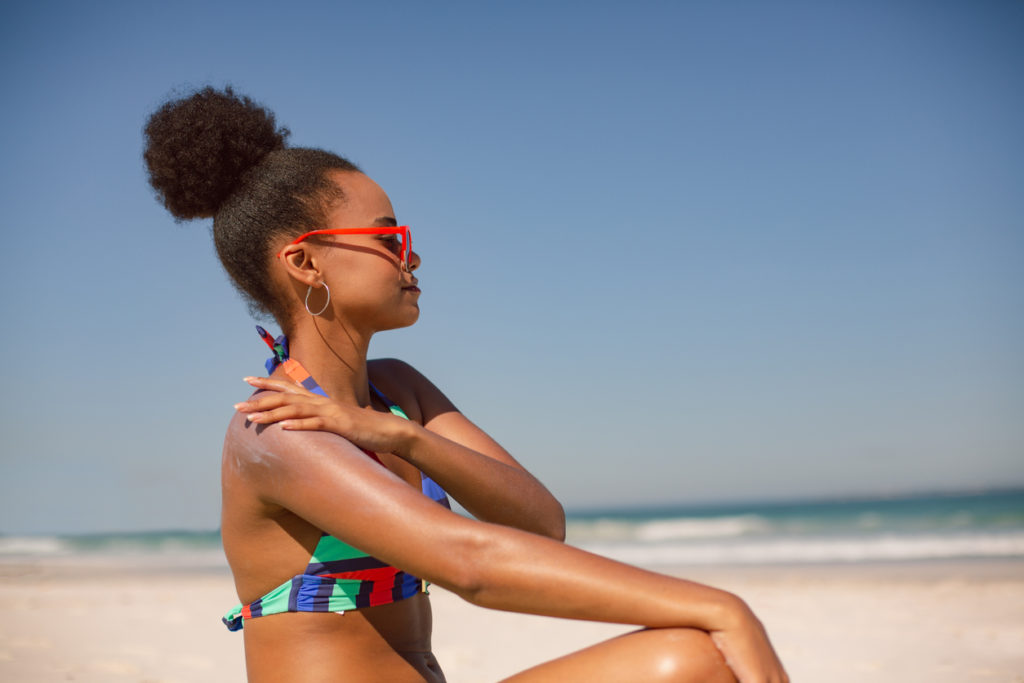 The one thing that kept it from being a perfect match: the scent. When I opened the tin and took a big whiff, it had a bit of a medicinal smell, which I believe was the eucalyptus or lavender oil, as this sunscreen does not contain anything artificial. I don't typically have an issue with those scents (I used to love those ice-cold, eucalyptus-scented towels at Equinox when I was a member), but in this formulation, it was faint, but noticeable to me. After I rubbed the sunscreen into my skin, though, the scent faded, so this was not a lasting issue.
Overall, I would definitely wear Raw Love again and would recommend it for others. It's a great sunscreen with the added bonus of providing the benefits of a delightful body balm. And, this Hawaiian-based, natural product provides extra bells and whistles for me to feel good about spending a little extra.
 By Rozalynn S. Frazier 
---
Author: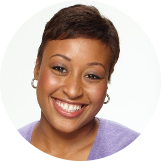 Rozalynn Frazier
Rozalynn S. Frazier is an award-winning, multimedia journalist, and certified personal trainer living in New York City. She has created content for SELF, Health, Essence, Runner's World, Men's Health, Money, Reebok, Livestrong, and others.
---
Comments