How to Smooth and Rejuvenate Your Neck (Now that Zoom has Shown You What it Really Looks Like)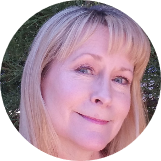 Tracy Teel
Sep 28, 2020
---
Board-certified cosmetic surgeons reveal how to end the neck nightmare. 
---
If you've spent more than five minutes on Zoom while working from home this year, you've probably noticed a few things about your appearance that you wished you hadn't. There's nothing like an unfiltered video conference to reveal those age-related necklace lines, neckbands, and crepe-like skin.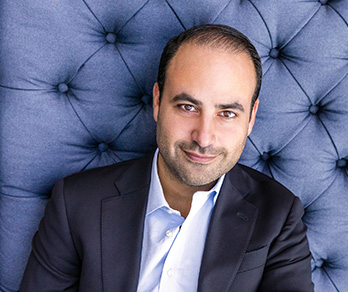 While we can't blame COVID-19 for the way we look on camera, the current work-from-home dynamic has fueled a surge in neck procedures. Board Certified Facial Plastic Surgeon Dr. Ben Talei says, "My first five face and neck lifts when I returned to work were for famous men I had admired since childhood. Not one of them had ever even gotten Botox! After doing Zoom calls and FaceTime for months, they noticed neck issues they'd never paid attention to before. Thanks to COVID-19, they would have time to actually recover without anyone noticing."  
The Telltale Signs of Neck Aging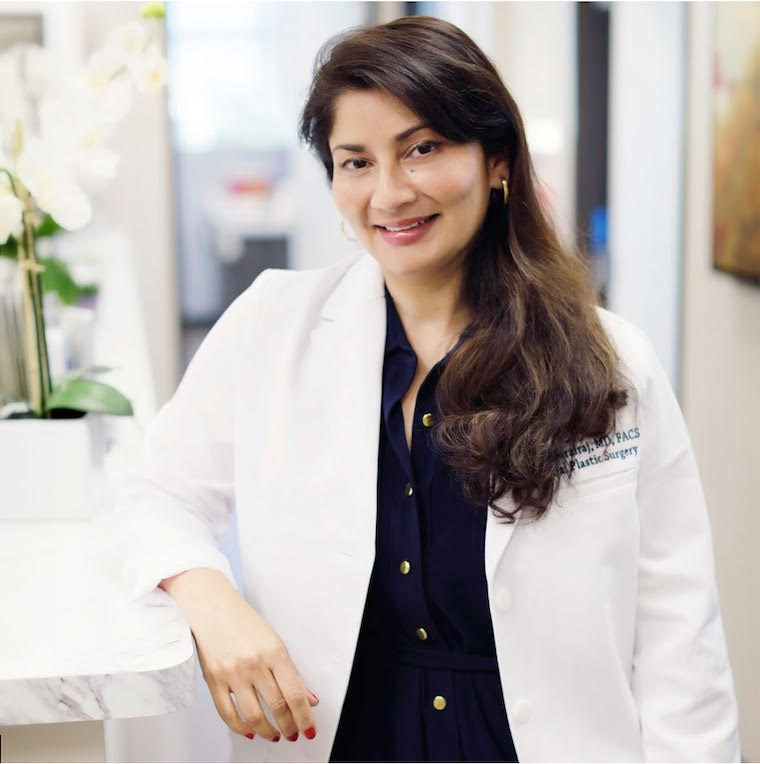 If the skin on your neck looks older than the skin on your face, you can blame it on a reduction in collagen. "The neck and face age at the same rate, but the neck seems to age so much faster because each side of the face loses volume and tissue elasticity." The result is less resilient, sagging skin that tends to lay differently against the neck than it does on the face.  Dr. Kay Durairaj, a Board Certified Cosmetic Surgeon, says that UV damage also contributes to textural changes and muscle weakness.
Beautytap Advisors (aestheticians, facialists, makeup artists, and beauty professionals) recommend this sunscreen to prevent UV damage.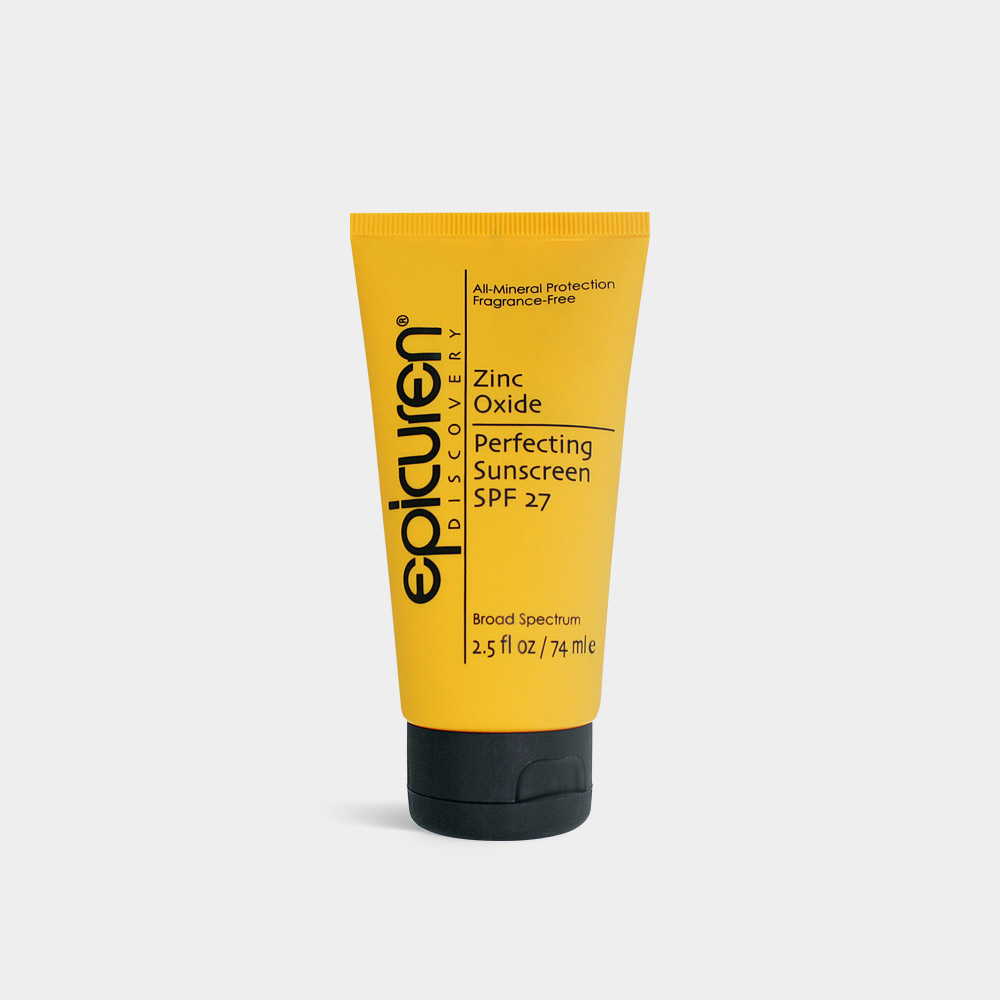 Wattle Woes and Necklace Lines
You've probably heard the phrase "turkey neck" and likely loathe it as much as the term "age spots." Most of us think that wattle is a pocket of extra fat. In truth, "turkey neck is caused by laxity [looseness] and drooping of both muscle and skin. The platysma muscle and skin hold tight in our younger years.  Over time, these tissues pull-down and weaken, causing some people to have a single turkey gobbler or bilateral bands."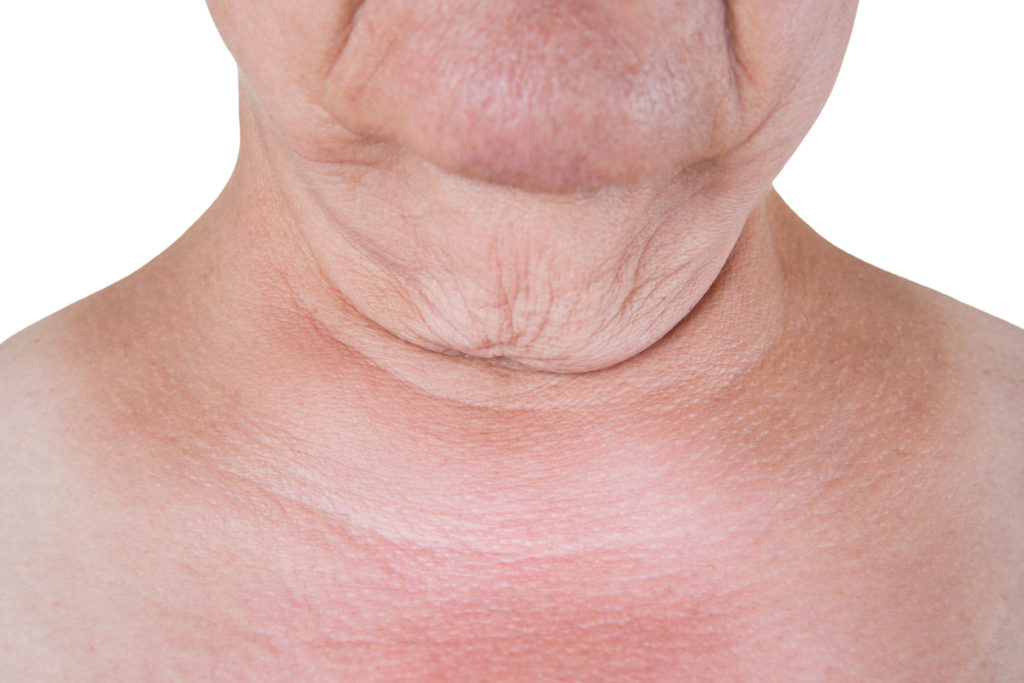 While neckbands run vertically from the jawline to the décolletage area, necklace lines run horizontally and parallel to the shoulders. Neckbands are more pronounced on thinner necks, and necklace lines are a result of collagen loss. P.S. If you're spending a lot of time staring at your phone, "tech neck"  – horizontal lines resulting from looking down too long – can happen at any age! 
Exercise, Prevention, and Less Invasive Options
Despite hundreds of internet articles touting neck exercises as a way to eliminate or prevent wrinkles, Dr. Talei says they don't really improve the signs of aging. Skin texture, however, can be improved says Dr. Durairaj via "lymphatic massage with a good moisturizer." She also recommends taking collagen supplements, using vitamin C serums, exfoliating regularly, and diligently applying sunscreen.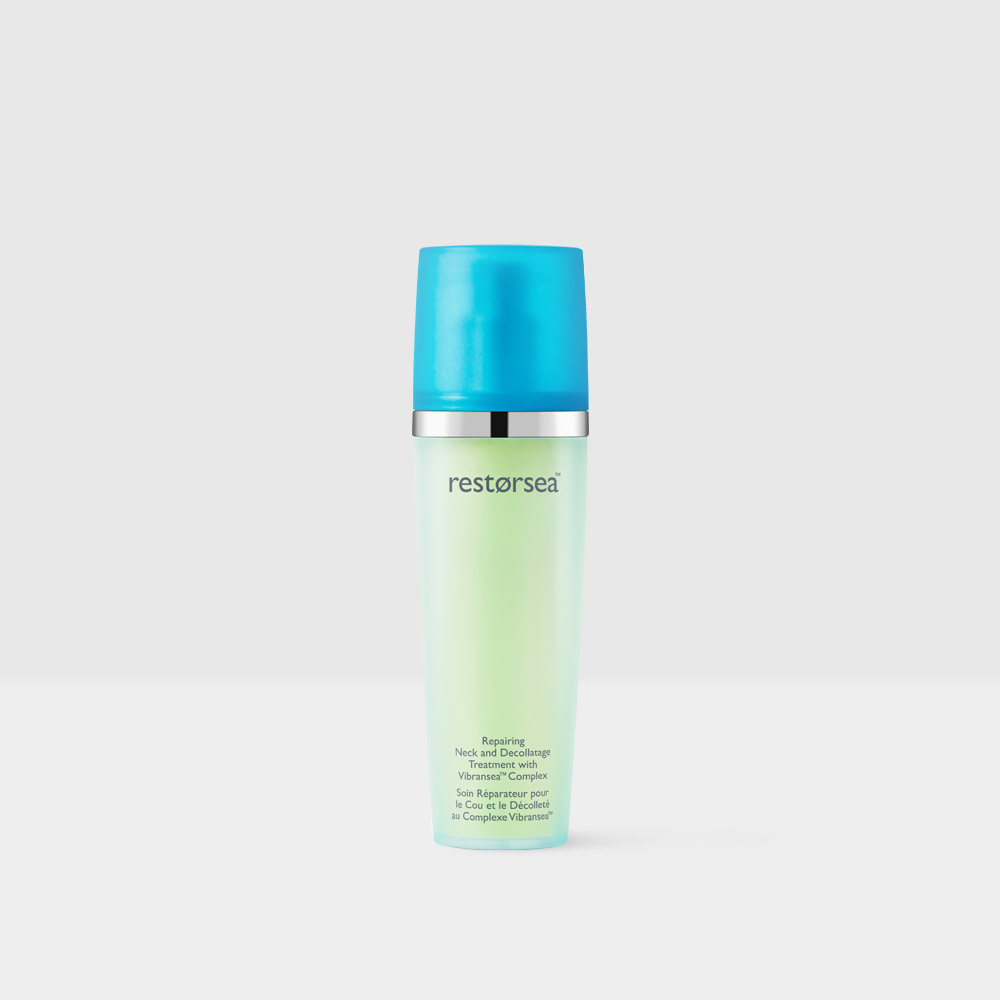 Beautytap Advisors (aestheticians, facialists, makeup artists, and beauty professionals) recommend this treatment product for the neck and décolletage area.
As for fillers, Dr. Talei recommends Restylane® Defyne, a cutting-edge hyaluronic acid gel filler that "can help create a nicely defined jawline." His favorite technique is the Profound Microneedle Radiofrequency Procedure, which combines needles and energy to "stimulate the body's natural production of collagen, elastin, and hyaluronic acid."
Dr. Durairaj's most common neck procedure is a neck wash, which involves injecting Radiesse, a hyper-dilute hydroxylapatite filler, evenly across the neck. It does more than simply fill lines. It "spreads throughout the neck, stimulates collagen growth, and improves crinkling, textural changes, crepiness, and loss of elasticity."
Neck Lifts, Face Lifts, and Practical Advice Regarding Choosing A Specialist
For patients with considerable skin sagging, surgery is the best option, but seeking a standalone neck lift won't necessarily give you the best results. Undergoing a face and neck lift simultaneously creates a unified appearance, and many of Dr. Durairaj's facelift patients return for a neck lift because it results in "a smoother and slimmer profile and improves visible signs of aging in the face, jawline, and neck." 
Just be sure to do your homework before selecting a specialist, be it injector or surgeon. Review before and after photos and scrutinize them for obvious changes in lighting, makeup, or retouching. And, doublecheck your injector's credentials instead of simply shopping for a bargain. "An injector with anatomical knowledge and an eye for aesthetics," Dr. Durairaj says, "will help patients achieve optimal results." 
---
Author: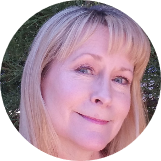 Tracy Teel
Tracy Ann Teel is a full-time freelance writer and the owner of Finesse Writing and Editing LLC. She's a tutorial writer for San Francisco Globe's beauty platform, FierceLeague.com, covering everything from skin and hair care to makeup and nail art. She writes for skincare companies, dermatologists, and cosmetic surgeons, and proudly taught at her MFA alma mater, the University of California Irvine, as a member of their adjunct faculty in English. She's been a textbook reviewer for Prentice Hall, been recognized three consecutive years in the Who's Who Among America's Teachers, and has written professionally for 30+ years. Her poetry chapbook Such Dust was published by Finishing Line Press, and her work has appeared in Alaska Quarterly Review, Rattle, Pearl, Kaleidoscope, and Lake Arrowhead Life.
---
Comments