The Revolutionary New Facial Filler Medical Doctors Are Raving About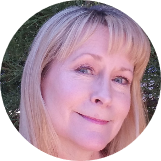 Tracy Teel
Oct 30, 2020
---
You'll be hearing a lot about RHA® Collection, and for good reason – this is the most advanced hyaluronic acid injectable with undeniably natural results.
---
If 2020 has taught us anything, it's that we shouldn't take certain things for granted, and skincare efficacy is one of them. Topical skincare doesn't always deliver the desired results without a little help from our friends in dermatology. Hyaluronic Acid may be the darling of skincare, but if you want long-term results and cutting-edge technology, it's time to consult with a professional.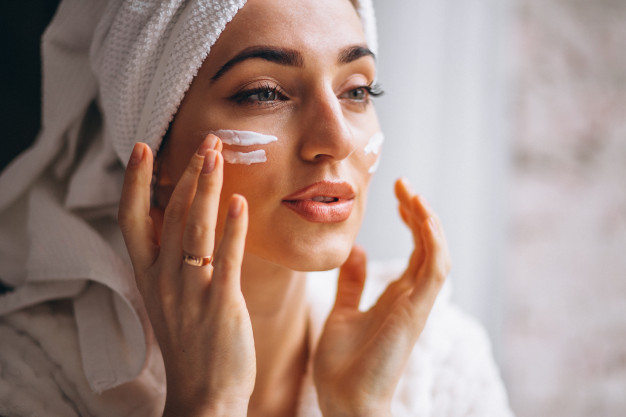 Sometimes, A Great Ingredient Simply Isn't Enough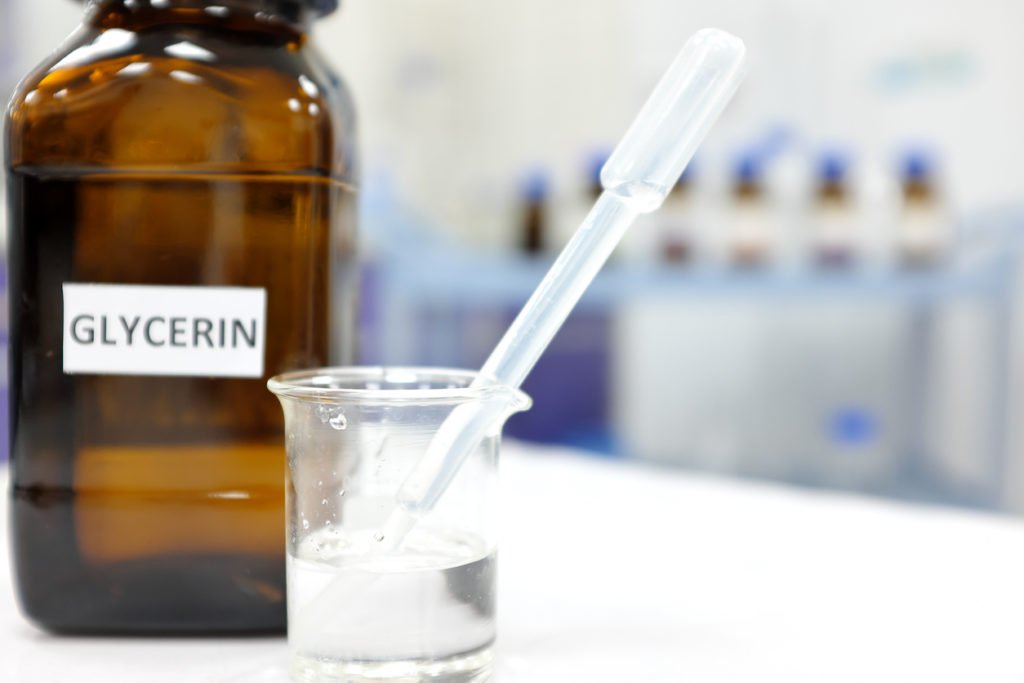 Skincare enthusiasts often ask whether or not any ingredients act as penetration enhancers. After all, if a topical solution cannot get past the stratum corneum (outer layer of the skin), how can it possibly benefit the skin long-term? Dr. Kay Durairaj, a board-certified cosmetic surgeon, explains that, "Glycerin and other powerful humectants soften the skin's surface, [thereby] improving delivery. These humectants attract moisture from the environment into the epidermis." But topical applications can only accomplish so much, which is where injectables come in.
How Channeling Makes A Difference
We're not talking about psychically contacting your inner spirit warrior or Patrick Swayze's character in Ghost. We're talking about methods for directing targeted ingredients to the deeper levels of the skin. Both Dr. Durairaj and Dr. Ava Shamban utilize a combination of HA and either Microneedling or Radio-Frequency (RF) treatments in their practices. "RF and microneedling are the best forms of penetration enhancement we have topically," says Dr. Ava. "There are both in-office devices and treatments as well as home usage devices with ultrasonic or radio frequency that can be supportive, but open channels [like those created by microneedling] are really the key for efficacy."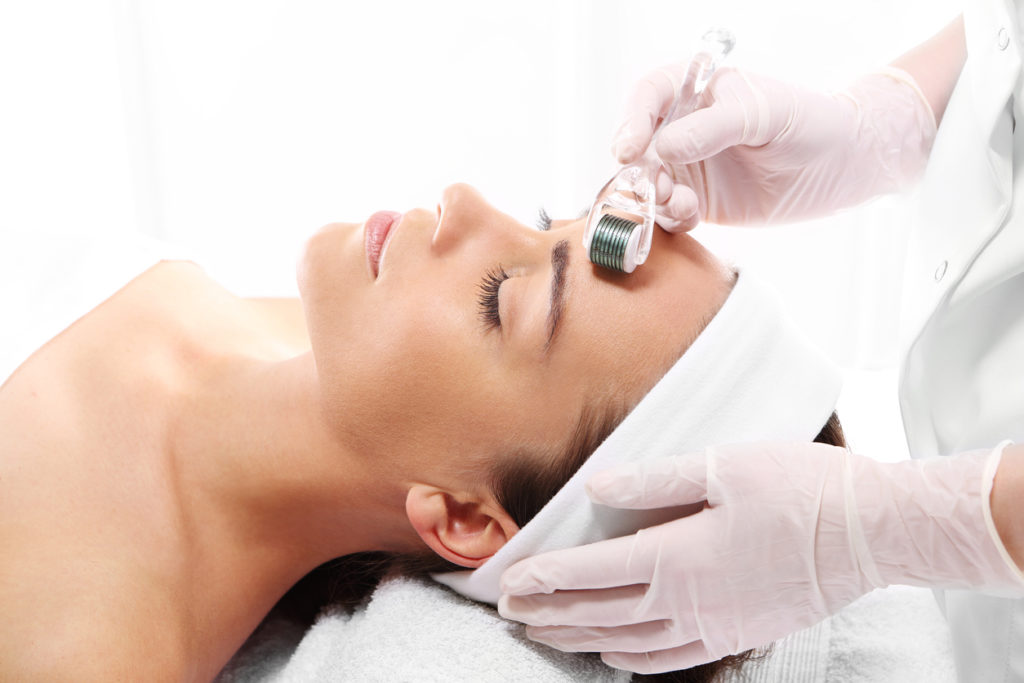 Dr. Durairaj uses her Deep Blue Hydration Serum "when performing any microneedling" treatment. "Small needles penetrate the skin, which allows it to generate new collagen and refreshed skin. When coupled with hyaluronic acid, my patients can anticipate  beautiful, glowy skin and a reduction in the appearance of wrinkles, fine lines, and large pores."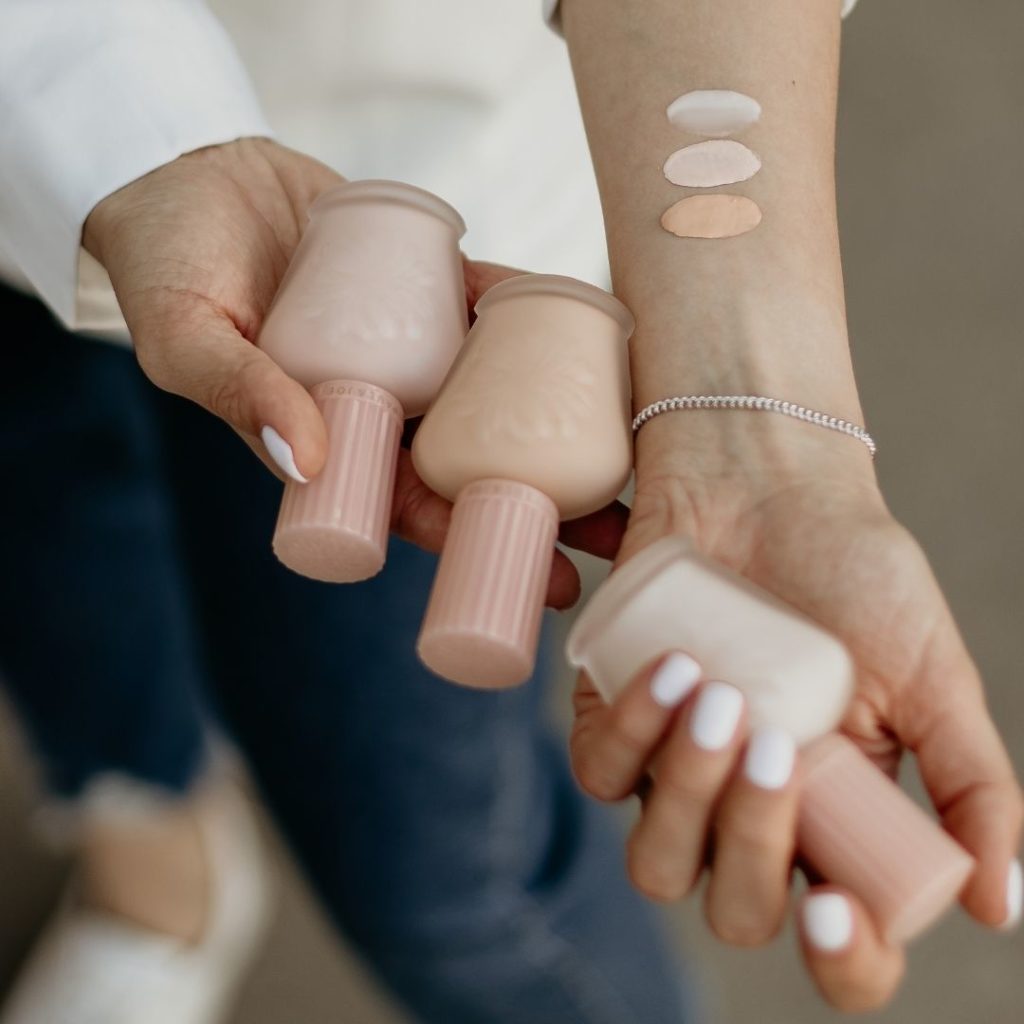 Beautytap's Beauty Experts (aestheticians, facialists, makeup artists, and hairdressers) recommend this skin moisturizing primer designed with three types of hyaluronic acid by Paul & Joe.
Fillers Can Do What Topicals Can't
When serum ceases to provide that satisfyingly plump look, it may be time to consider hyaluronic acid fillers. Dr. Ava describes them as "like a layer of cushioning," similar to the way a mattress topper might make a bed feel different while still outwardly appearing the same. "It is one additional layer at that deeper intracellular level, which builds up from the inside out. The injected HA filler adds structure and cushioning" at a deep level by mimicking what the body's cells do naturally. In turn, fillers provide "deep dermal HA benefits, smooth deeper lines and wrinkles, and restore volume."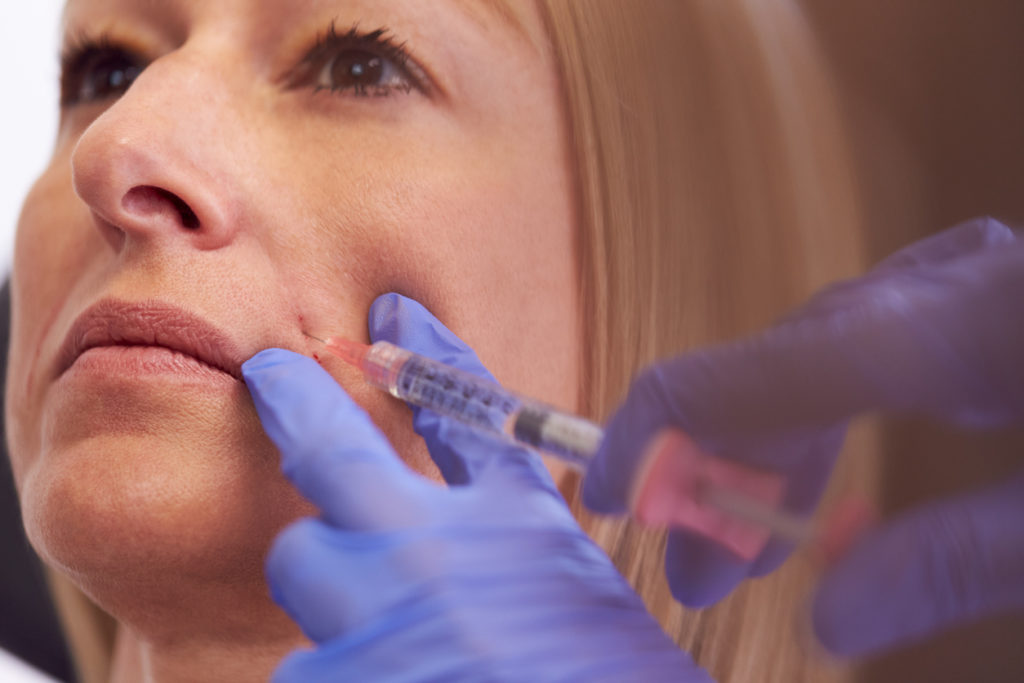 Unlike watery serums, Dr. Durairaj adds, "Dermal fillers are highly cohesive and manufactured to be cross-linked to stabilize their long-term viability in the human dermis." So before visiting that bargain-basement injection expert, remember that expertise is key. "The depth and placement of the filler is the most important factor to keep it from moving into improper locations," Dr. Durairaj asserts, "thus injector skill and knowledge of anatomy are paramount." 
Results That Last – If You Treat Yourself Right
In her practice, Dr. Durairaj uses both Juvéderm® Voluma™ and Restylane® on "patients wanting an immediate youthful look." They also reportedly reduce the appearance of wrinkles and volume loss in the face. These "high-density HA gel fillers can last 1–2 years," but "individual metabolism, muscle function, and environmental factors" can breakdown the filler at varying rates, as can sleeping on your face and spending time in the sun. 
The Most Cutting-Edge Filler Making Waves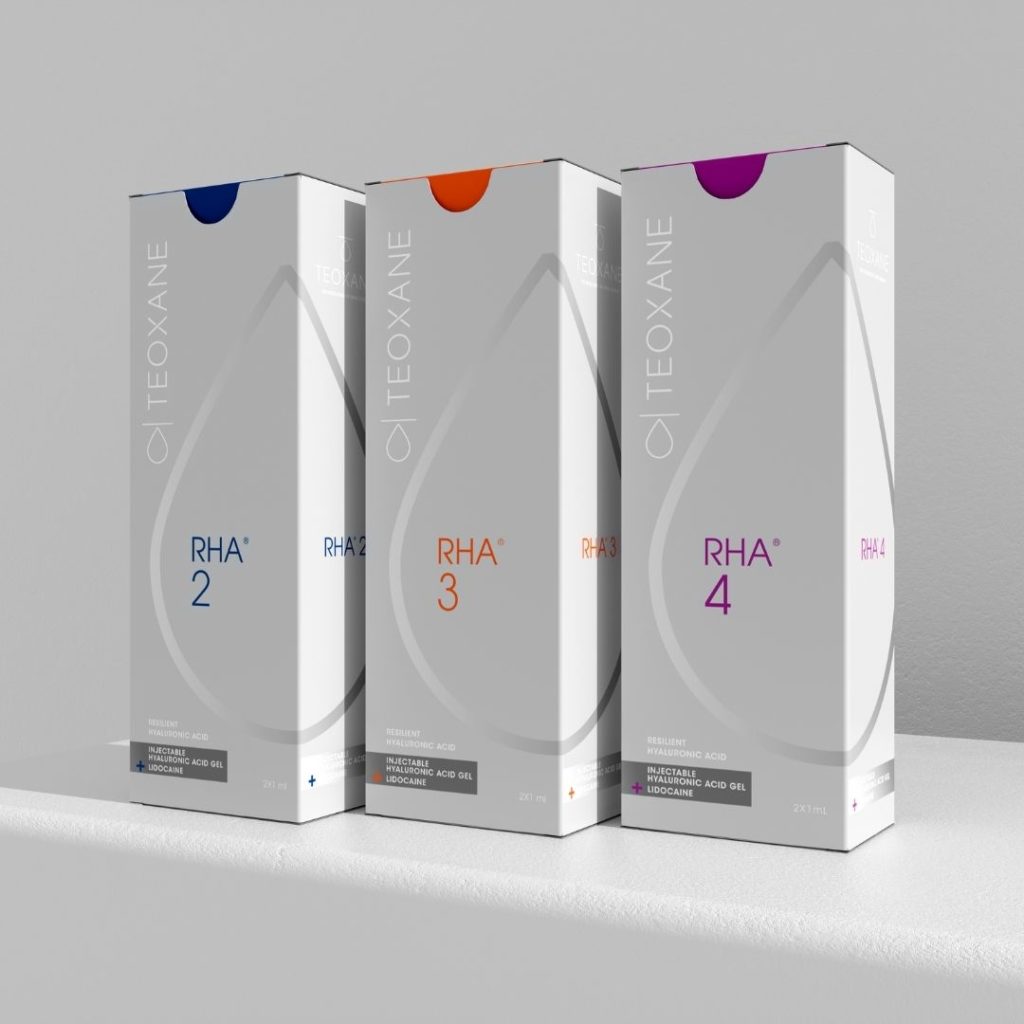 The hyaluronic acid chains in most fillers are shorter than those in human skin. In order to achieve lasting results, the chains have to be longer, so they are bonded to other elements in a process known as cross-linking. Dr. Ava was behind the clinical trials of the ground-breaking RHA® Collection (Resilient Hyaluronic Acid), which successfully accomplishes this – "a second-generation injectable with a manufacturing process that produces HA chains that are similar to our own native HA." 
This advanced dermal filler was created and formulated by Madame Valérie Taupin, a revered aesthetics expert and CEO of TEOXANE (one of the global leaders in skin health research and scientific advancements in hyaluronic acid-based products). Taupin recognized there could be even greater potential from traditional HA fillers and lead her research team to develop what is now RHA® Collection. With such natural outcomes, the medical community is impressed. 
"I'm able to achieve undetectable results, even at higher, more superficial levels in the dermis because of the filler's natural smooth feel and its adaptability," says Dr. Ava. She also emphasized that the RHA® Collection yields a "true, natural look" even in the hard-to-treat dynamic areas of the face, such as the nasolabial folds that develop between the outer edges of the nose and the mouth.
"This filler has been shown to persist for 15 months and comes in three forms. Each form is used to address specific issues, like volume loss or fine lines and wrinkles," she adds. RHA® Collection is also "the only FDA approved hyaluronic acid filler for dynamic wrinkles and folds." The future of fillers has officially arrived. 
So … does this sound as tempting to you as it does to me?
---
Author: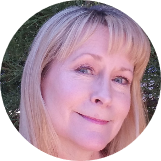 Tracy Teel
Tracy Ann Teel is a full-time freelance writer and the owner of Finesse Writing and Editing LLC. She's a tutorial writer for San Francisco Globe's beauty platform, FierceLeague.com, covering everything from skin and hair care to makeup and nail art. She writes for skincare companies, dermatologists, and cosmetic surgeons, and proudly taught at her MFA alma mater, the University of California Irvine, as a member of their adjunct faculty in English. She's been a textbook reviewer for Prentice Hall, been recognized three consecutive years in the Who's Who Among America's Teachers, and has written professionally for 30+ years. Her poetry chapbook Such Dust was published by Finishing Line Press, and her work has appeared in Alaska Quarterly Review, Rattle, Pearl, Kaleidoscope, and Lake Arrowhead Life.
---
Comments