The Review: COSRX Hydrogel Very Simple Pack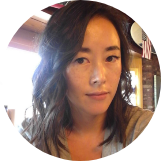 Jude Chao
Mar 03, 2020
---
A patch skeptic tests the COSRX Hydrogel Very Simple Pack — and comes away surprised.
---
These have been out for a while, but despite my general fondness for hydrogel masks, I never bothered to try them. I thought the concept was silly. Apart from the occasional hydrogel under-eye patch, I just don't use patch masks that much. Cheek patches seem especially pointless. If I have the time for a cheek patch, I have the time to put a mask on my entire face.
But my general fondness for COSRX finally won out, so here we are. COSRX's Hydrogel Very Simple Packs are circular pieces of hydrogel packed 60 to a tub, and now I've gone and put a whole bunch on my face (and other parts). This is what I've found.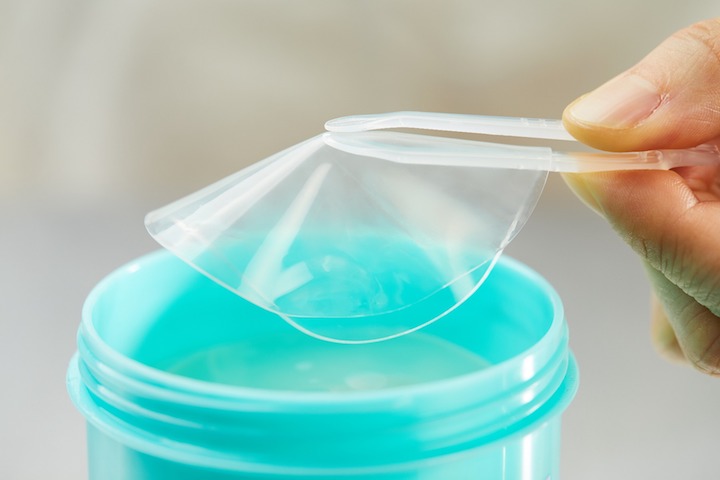 COSRX Hydrogel Very Simple Pack ingredients 
Much like the COSRX Balancium Comfort Ceramide Cream that I reluctantly reviewed a while back, the Hydrogel Very Simple Pack contains an ingredient I find questionable: bergamot oil. Bergamot oil lends its distinctive warm citrus scent to products. Unfortunately, a number of skincare fans also report that it's irritating to their skin. If bergamot is a no-go for you, or if you avoid citrus extracts or oils or fragrant essential oils in general, stay away from this product.
If you don't avoid the above ingredients, the rest of the ingredients list is inoffensive. The product's CosDNA listing doesn't raise any red or even yellow flags.
COSRX Hydrogel Very Simple Pack ingredients: Water, glycerin, calcium chloride, ceratonia siliqua (carob) gum, xanthan gum, 1,2-hexanediol, pentylene glycol, polyglyceryl-4 caprate, butylene glycol, phenoxyethanol, chondrus crispus powder, citrus grandis (grapefruit) seed extract, bambusa textilis stem extract, pinus palustris leaf extract, centella asiatica extract, salix alba (willow) bark extract, ethylhexylglycerin, citrus aurantium bergamia (bergamot) fruit oil, hydroxyethylcellulose, disodium EDTA, sodium hyaluronate, ceramide NP
We've got hyaluronic acid and bamboo extract in there for hydration and centella and willow bark extracts for anti-inflammatory purposes. They're all listed after the preservative, so not present in great concentrations. As I wrote in a recent review of an extremely expensive Sulwhasoo product, however:
"For those of us who don't have direct visibility into the practices of any given ingredient supplier, it's impossible to tell whether anyone is using high quality, potent extracts or sad, watered-down versions that appear exactly the same on the product label. If they're using the good stuff, smaller concentrations may not be a problem. If they're using the weak shit, even filling the product up with 95% of an extract won't do much more than substituting it with plain water."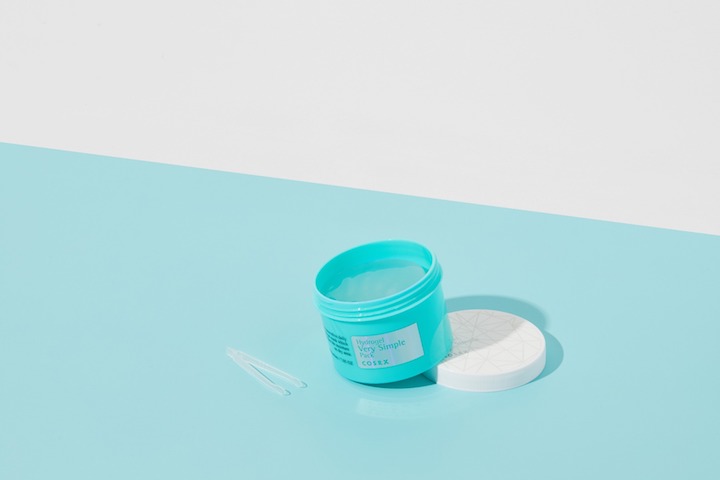 The only way to determine whether the product's formula is good, is to actually use it.
The experience
The COSRX Hydrogel Very Simple Pack tub contains a stack of 60 bergamot-fragranced circular hydrogel patches, about three inches in diameter, soaked in essence. The package also contains a pair of plastic tweezers to help get the patches out.
The patches themselves are smooth and thin. The thinness is a good thing when it comes to products like this. The weight of thicker hydrogel patches tends to make them slide annoyingly down the face, like the Tony Moly snail ferment eye patches that I tried five years ago and still hate to this day. Have you ever used hydrogel under-eye patches that insist on sliding rapidly down your cheeks before you can even get back to the sofa to lie down? I don't recommend it.
My main concern with these patches, in fact, was whether they'd be unusably slidey. Fortunately, the lightweight discs quickly cling on to my skin well enough to stay put despite me standing up and walking around. Like any good hydrogel mask, they're soft, cool to the touch, and pleasantly moist. They're also just the right size for me to plop one on each cheek, with enough room at the edges to cover the nasolabial fold area. I also put one on the middle of my forehead.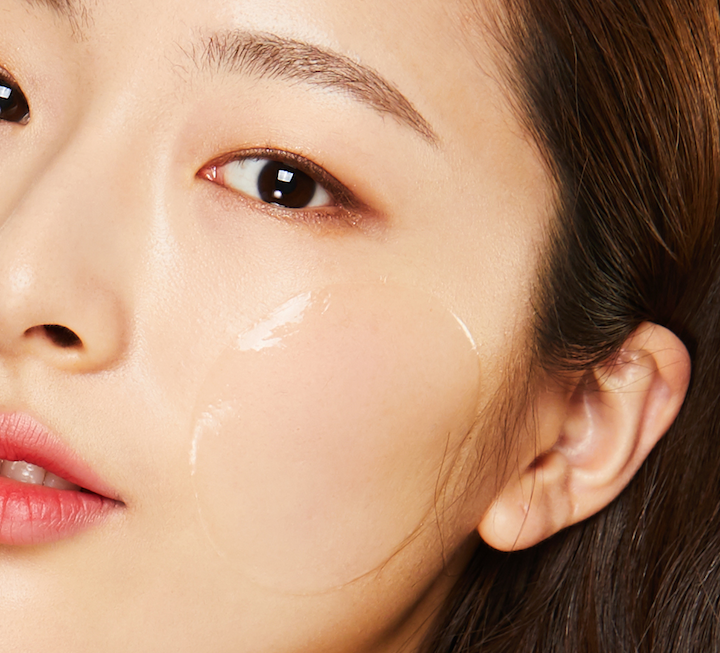 As far as results go, the Hydrogel Very Simple Pack satisfied me. I left the patches on for about 40 minutes; when I peeled them off, the skin underneath is hydrated and plump, and any minor redness or irritation has subsided. I enjoyed this effect no matter where on my body I applied the patches. We'll get to that in a bit more detail below.
Alternative uses
My main point about patch masks remains, though. What is the point of cobbling together a "mask" out of a handful of patches when I could just use one hydrogel mask that will cover my whole face?
I sat down and really thought about it, and came up with quite a long list of uses, actually.
* Combo skin that has some dry patches in need of moisture but other areas that either really don't need extra moisture or will react violently to extra moisture
* Under the chin and on the front of the neck where skin can often start getting dry and crepey
* Dry or irritated patches on body, like when my shoulders or the middle of my chest or that one weird spot on my left thigh suddenly decide they just can't handle life anymore and lotion alone doesn't soothe them enough
* The backs of hands that have become shriveled and desiccated due to the fact that I don't own a dishwasher and must wash dishes by hand
* The tops of my feet when I'm painting my toenails and feel like the skin deserves some extra TLC too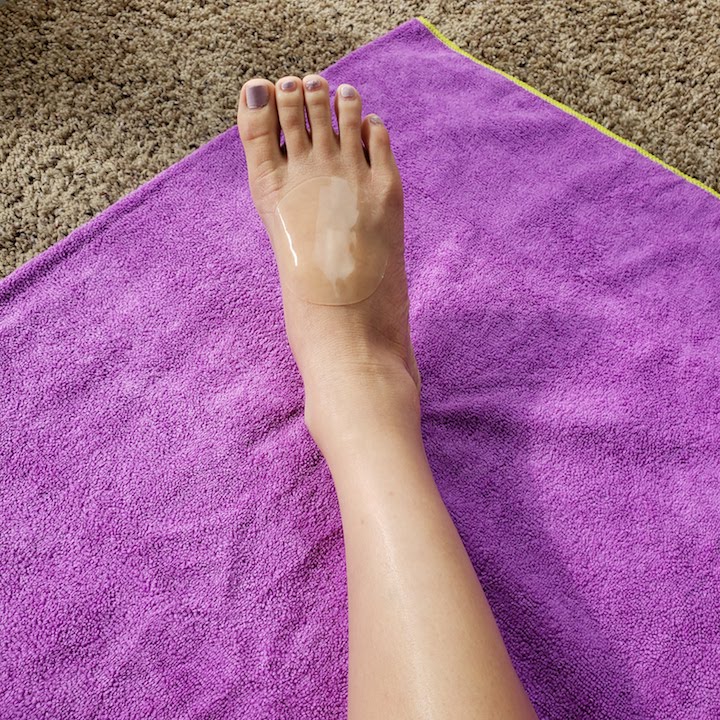 * Temporary (very temporary) pasties
* Sky's the limit really
As for using them full-face, I did some math. There are 60 patches to a tub, and covering most of the face in these would take about four: one for each cheek, one for the middle of the forehead, and one cut up to fit the chin and upper lip. Beautytap sells each tub for $26, making each patch about $0.43. So four of them would add up to about $1.20, which is actually very inexpensive as hydrogel masks go. That's more economical than I expected and makes me look a little more fondly at the tub sitting in my fridge.
If you really want full-face hydrogels and don't want the bother of putting individual patches on your face instead, these are not the product for you. But if you want a more affordable per-use hydrogel mask that does the job with a minimum of frills, don't mind a bit of extra work to put them on, and/or have other uses for the patches than just your face alone, these are a surprisingly nice bet!
Have you tried hydrogel patches? How did you like them? Let us know your thoughts in the comments!
---
Author: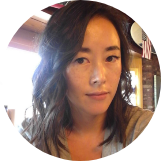 Jude Chao
Jude writes as Fiddy Snails at the K-beauty and skincare blog Fifty Shades of Snail and can be found on Instagram @fiddysnails. Named the ELLE Malaysia Beauty Blogger of the Month for June/July 2017 and one of ELLE Magazine's 10 Cool Beauty Bloggers to Watch in 2018, Jude loves ginseng, snail, honey, propolis, and tuna fish kimbap, though she generally doesn't put the kimbap on her face.
---
Comments