The Prettiest Makeup Ever Is (Arguably) By Jill Stuart Beauty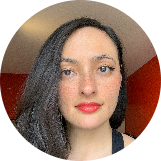 Marieve Inoue
May 14, 2020
---
Our resident J-beauty enthusiast reviews a selection of Jill Stuart Beauty makeup to see whether its performance lives up to its beautiful packaging.
---
Although "Jill Stuart" doesn't sound like a typical name for a Japanese makeup brand, if you've ever gone shopping (or even just walked through) the beauty section of a department store in Japan, chances are its signature chandelier-worthy sparkly packaging caught your eye. I know it caught mine multiple times. I never got around to purchasing anything, but always figured it was only a matter of time before I caved. So imagine my reaction when Beautytap asked me to review some Jill Stuart Beauty products: I jumped at the chance!
About the kawaii cosmetics brand
You may be thinking, "But isn't Jill Stuart an American fashion designer?" And if you are, you'd be right. But in 2005, the Jill Stuart brand joined forces with Japanese multinational KOSÉ to create Jill Stuart Beauty, which was initially sold only in Japan but made its way over to Taiwan and Hong Kong in 2008, expanding to China and Thailand in 2016. Two years later, the brand was launched at Sephora in Singapore and also became available in the U.S. via e-commerce.
The brand's Japanese website boasts the concept as being "innocent sexy," which to me is completely aligned with the qualities widely considered to be attractive for women in Japan. But I digress. What I find pleasing about the brand's aesthetic is its intricate, vintage jewelry-inspired product design with flower and crystal-inspired touches. I generally tend to appreciate design that is either very minimalistic and clean, or over-the-top and detail-oriented — and Jill Stuart products fall in that latter category.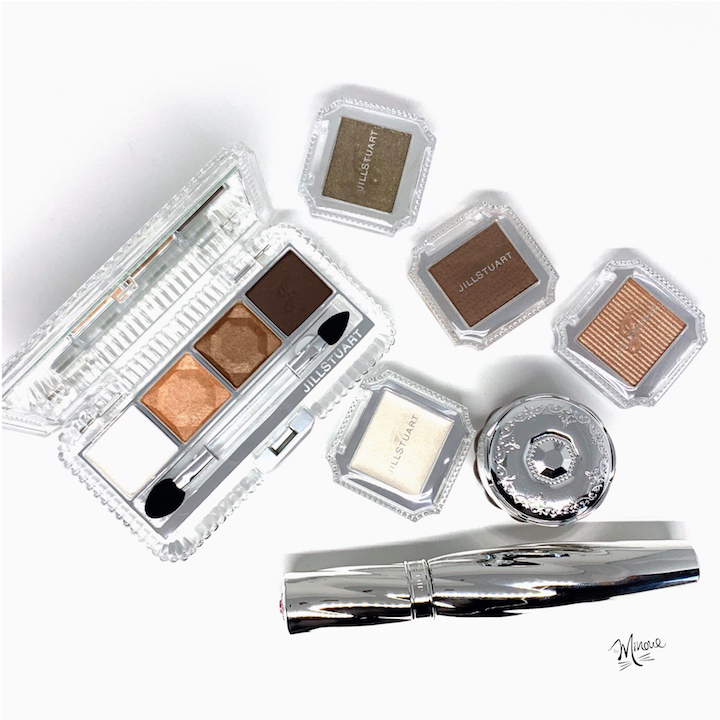 But looks are one thing — quality formulas and finishes are another. Are these admittedly gorgeous products worth buying if you actually plan on using them on your face, as opposed to placing them on your vanity as decorations? Here are my thoughts on what I tried from Jill Stuart Beauty.
Eyeshadows and mascara
Eternal Couture Eyes Velvet in 04 cashmere
This mini palette of four shadows comes in different color combinations. Cashmere, the one I tried, includes the perfect shades to create a nude smoky eye. There is nothing I find more frustrating than having to apply 10 swipes of eyeshadow before I can see it, and I'm happy to report that this quad is just pigmented enough to show with the first application! I really like the glowy finish of the lighter shades, the highlight color on the left even having a bit of an iridescence to it.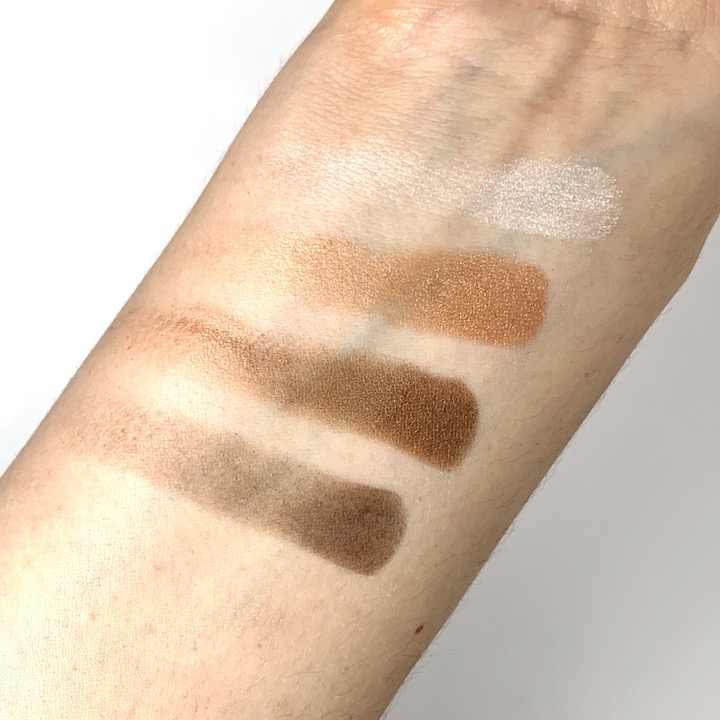 Iconic Look Eyeshadows in G307 (glitter), M407 (matte), S108 (satin), and C201 (cream)
This collection of single eyeshadows offers four different finishes, and I was able to try one of each. I found them to all be nicely pigmented, although the cream shadow was a little subtler — but that may be because it's also such a light shade. Despite only one of them officially having a "glitter" finish, the cream and the satin shadow also look shimmery once applied (minus the actual flakes of glitter).
The shadows are easy to blend, and despite usually favoring satin finishes over glittery shadows nowadays, my surprise favorite ended up being G307 Journey With You, a pretty khaki hue.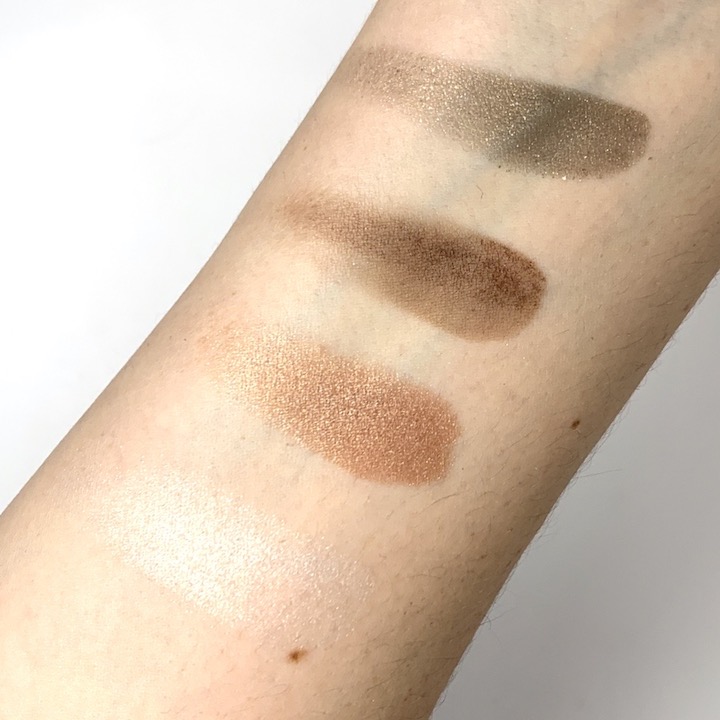 Although I tend to gravitate toward full eyeshadow palettes, I usually end up hitting pan on just one or two shades, rarely using the rest. Trying these single shadows has made me realize how practical they can be when you find a hue you like. S108 My Everything, a warm golden shade, will be coming with me on my next adventure (whenever and wherever that ends up being)!
Jelly Eye Color in 05 Dark Glint
This gel shadow comes in a little pot that has some weight to it. The hue I tried looks like a dark taupe in the pot, but applies as a lighter, buildable shade when dabbed onto the eyelid. The formula has a bouncy texture and is infused with different oils like lavender and avocado to make it moisturizing.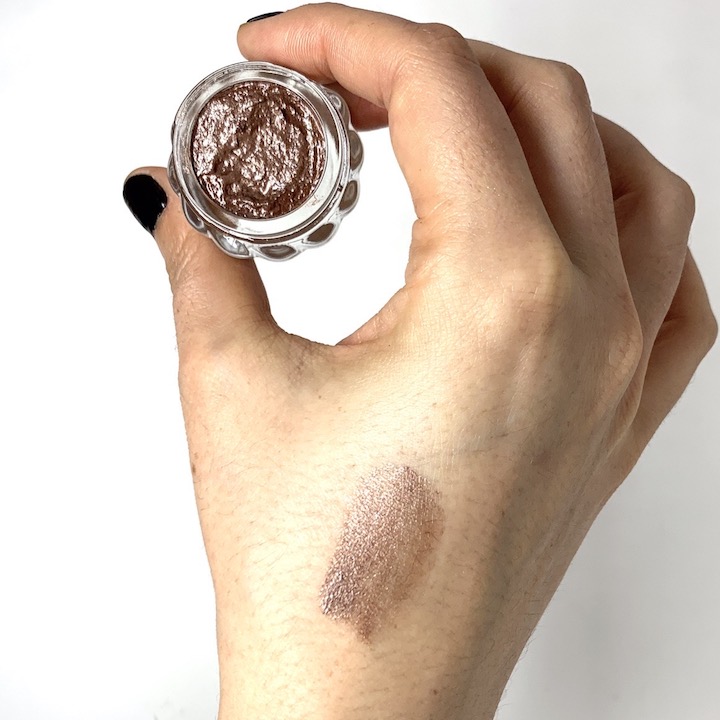 It doesn't feel sticky when applied and creates a glossy look on the eye, which I really liked. It does have a dash of glitter in it but didn't make me look like a disco ball. Although I expected the formula to eventually gather in the crease of my upper eyelid, after a couple of hours of wear, the formula hadn't budged. Color me impressed!
Lasting Curl Blossom Mascara WP in 01 Pure Black
Full disclosure: I am generally not a fan of waterproof mascara. Unless it is raining hard or I am headed to the pool or beach, I rarely ever use it. Why? Because I find it difficult to remove without using multiple products and aggressively "massaging" (read: rubbing) my lashes, and I've rarely had an issue with my regular mascara running since I don't wear any on my bottom lashes. I innocently didn't realize the "WP" at the end of the name of this mascara stood for "waterproof," and applied it as I usually would after curling my lashes with my beloved plastic curler.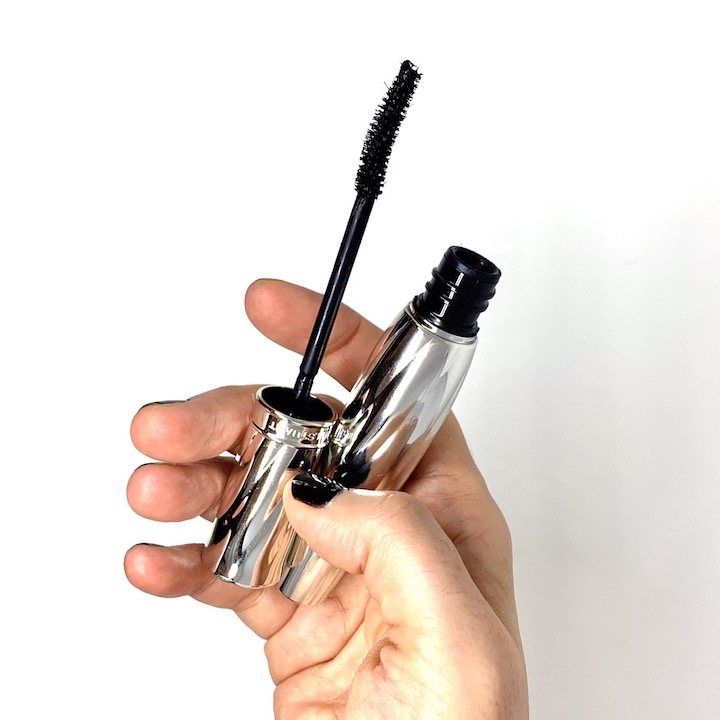 I am told I am naturally blessed in the lash department, but I do enjoy a good mascara to help make them stand out. I have a preference for plastic wands with molded bristles, but the slightly curved, more traditional brush on this mascara did a good job of fanning out my fringe without clumping. I find waterproof mascara formulas to be slicker, and usually not as volumizing as their non-waterproof counterparts. This was true of the Lasting Curl Blossom Mascara WP. However, it made my lashes look so long that it made up for the volume component I usually seek out! The result was a stunning yet more natural look. Did I end up loving this mascara? Yes. Was the waterproof formula a pain to take off? Absolutely. But I'd love to try a non-waterproof Jill Stuart mascara next time around.
Blushes and lipsticks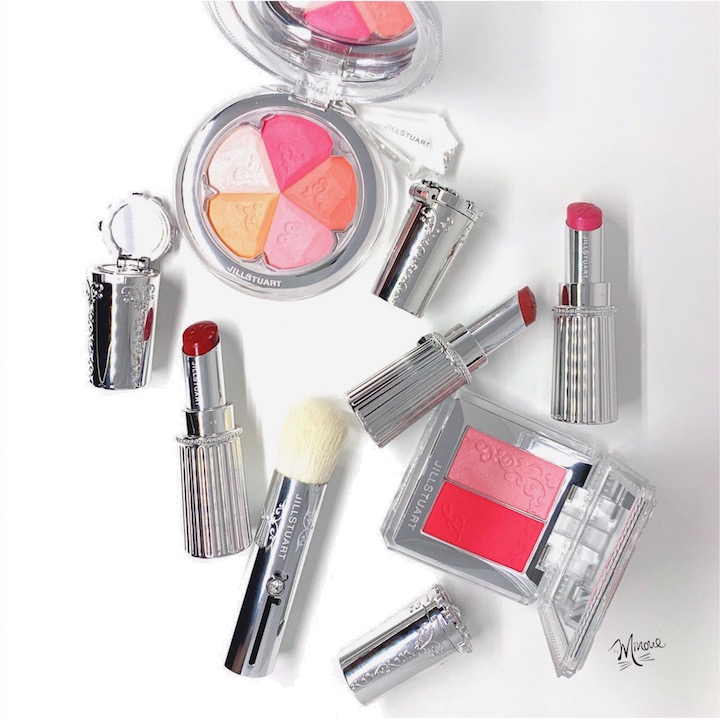 Bloom Mix Blush Compact in 01 Blooming Tulip
When I took this compact out of its pretty light pink box, I had to catch my breath because of how gorgeous it was. A crystal charm hangs off its hinge, and it opens up to reveal five colors arranged in a floral design reminiscent of a sakura (cherry blossom) flower. It broke my heart a little to drag my finger across the velvety powder (I am not a fan of makeup brushes), but it was so soft that it made everything better.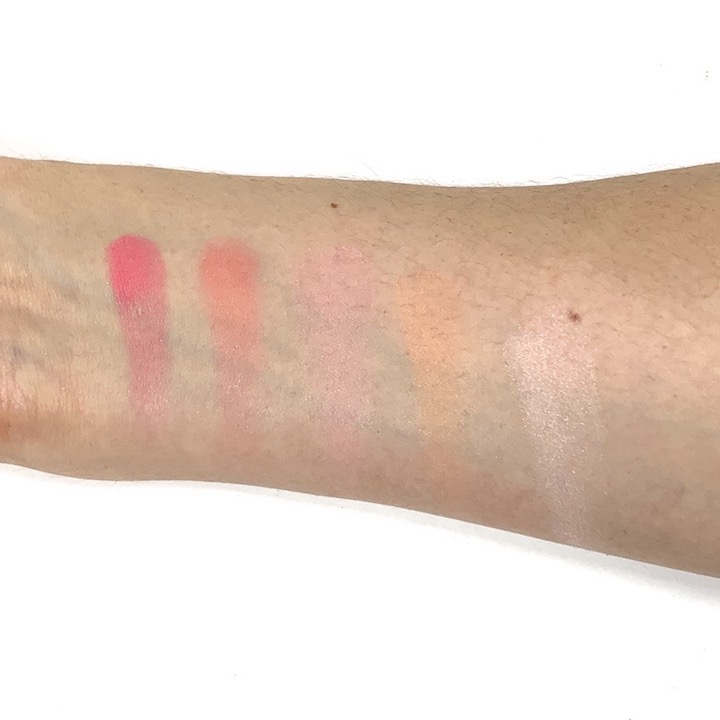 The shadows give my cheeks a subtle flush, without requiring multiple swipes, and I like that the different hues can be mixed together or juxtaposed to create more dimension. The powders give me a nice glow without looking outright shimmery. This compact would make a chic gift: It includes a variety of shades and is just so aesthetically pleasing. My favorite item among everything I tried!
Blend Blush Blossom in 04 Good Afternoon
This blush comes in an eye-pleasing square compact, and includes a portable brush. Each compact includes two hues: a matte, deeper base blush, and a lighter hue with a bit of shimmer to it for a glowy finish. The brush can be adjusted to two different lengths: the shorter one makes the bristles stiffer for a more pigmented application, while the longer position offers an airier finish.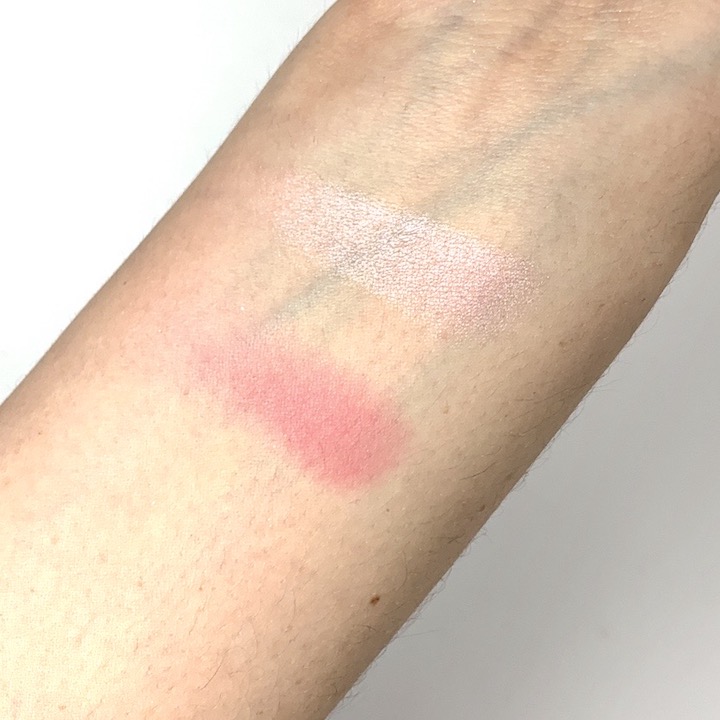 I like the concept of having two shades with different finishes in one compact: They are easy to blend and work well on their own or together. I preferred the deeper shade, which gave my face a healthy dose of color. Although it looks pretty in the compact, the lighter hue unfortunately did nothing for my skin tone. This is another very giftable item — the brush adorned with a pretty Swarovski crystal really adds a nice touch!
Lip Blossom in 44 Tender Mum, Lip Blossom Velvet in 01 Romantic Camellia, and Lip Blossom Shiny Satin in 05 Daisy Party
From what I understand, Lip Blossom is the OG version that goes on like a sheer colored balm, while Lip Blossom Velvet has a semi-matte finish, and Lip Blossom Shiny Satin has micro-pearls in its formula for extra shimmer. All three of these lipsticks are nice and moisturizing thanks to ingredients like lavender and avocado oil, and go on beautifully.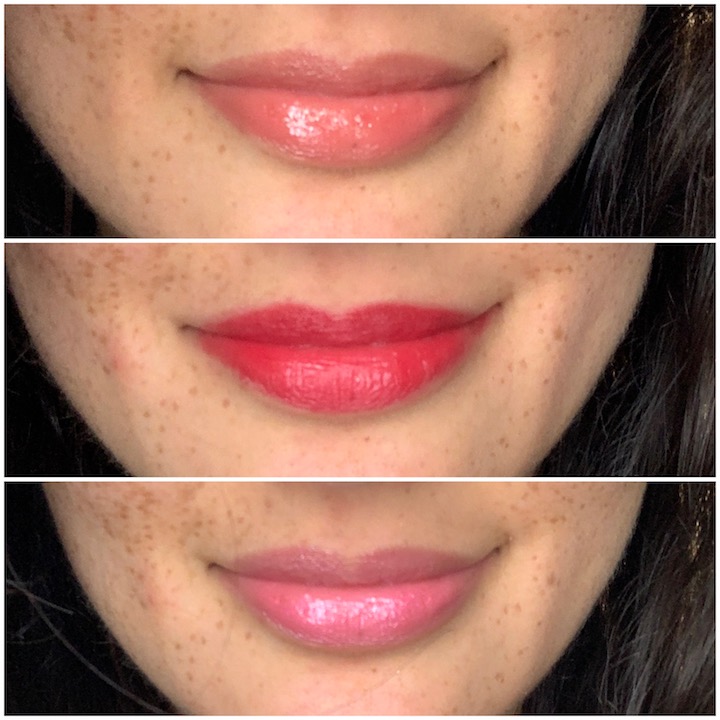 The shades I tried were all flattering on me and so hydrating they felt like lip balm — even the nicely pigmented dark red Lip Blossom Velvet in romantic camellia. I like to use my finger to blot it onto my lips for a less dramatic effect, or apply it directly from the tube and use a lip liner or brush to really make my pout stand out. These all went on sheer and quite shiny, giving my lips a nice, juicy look. Super easy to apply and very comfortable to wear!
Bonus: They have a little mirror built into the cap, which makes reapplying a little easier (although the mirror is decidedly quite small). As a final touch, there is also a Swarovski crystal on the front of the tube, with a different shade for each of the Lip Blossom lines (clear for the original, white for Lip Blossom Velvet, and pink for Lip Blossom Shiny Satin).
I have to say I was impressed by the quality of the Jill Stuart Beauty makeup I tried. Be honest: Are you influenced by packaging when it comes to beauty products? Are there brands whose products you've bought purely because you were attracted to how they look? Were you disappointed or surprised by their performance?
All photos by the author.
---
Author: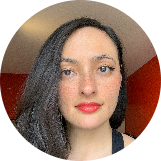 Marieve Inoue
Mariève has been writing about beauty online and in print for over 10 years. Half-Canadian and half-Japanese, she loves that being a freelance beauty writer gives her the opportunity to explore the cosmetics landscape from Montreal all the way to Tokyo. Also on her mind at any given moment: cats, music, figure skating, food, and her next trip to Japan. You can find her (and her beauty illustrations!) on Instagram at @by.minoue.
---
Comments