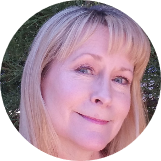 Tracy Teel
Jul 29, 2021
---
It's affordable too. 
---
If you've even patronized a spa or salon or worked in one as a beauty professional, then you've probably heard of Pharmagel. The company has been producing some of the finest skin treatment products in the marketplace since its inception in 1987. The key? Pharmaceutical grade ingredients and vitamin- and antioxidant-rich formulas backed by scientific research. And that's not all. Pharmagel utilizes a triple testing method during the formulation process, so the final products are irritant-free and "as pure as possible."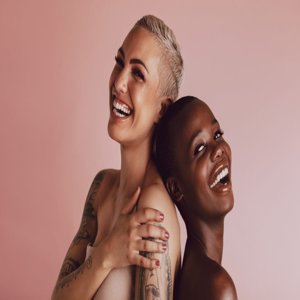 Why You Need to Try Pharmagel
When it comes to skincare, individual needs vary widely. That said, Pharmagel's age-defying products target three concerns that nearly everyone has:
Preventing skin damage

Repairing existing damage

Reversing the aging process
As a professional salon brand, Pharmagel is privately owned, led by women, and is the number one selling skin care line in the salon industry. Peruse their offerings and the ingredients in them, and you'll quickly see why the brand's retail sales increased by more than 100% even during the COVID-19 pandemic. 
The Cleanser That Will Truly Surprise You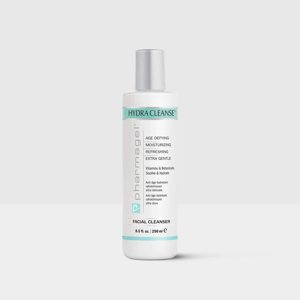 Cleansers don't get a lot of love. They're rarely sexy and often thought of only in a utilitarian way. Pharmagel's Hydra Cleanse®, however, is truly in a class of its own. Designed to cleanse the skin without stripping away its natural moisture, the milky cream has a refreshing spa scent and a balanced pH. It's gentle enough to remove eye makeup without causing irritation, and its hydrating properties really impressed me. I have normal to dry skin and always use a hydrating toner or essence after cleansing, but my skin felt incredibly balanced and not the least bit tight or uncomfortable even when I skipped the toner and delayed applying moisturizer immediately. The oat extract, aloe vera, and panthenol (vitamin B5) soothe, moisturize, and bind water to the skin beautifully and would work even on sensitive skin. 
Hydra Cleanse® also contains lactic acid, an alpha-hydroxy acid (AHA) which has natural moisturizing properties. Lactic acid gently exfoliates the skin while evening out its tone. By including it in their cleanser, Pharmagel eliminates the need for a standalone AHA product while giving consumers the proven research-based benefit of "increasing cell renewal function." Plus, the creamy texture makes a great substitute for shaving cream, especially if you or your special someone are prone to irritation.
The Enzyme-Based Exfoliating Scrub Your Whole Body Will Love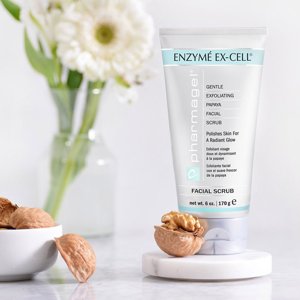 For a just-stepped-out-of-the-spa glow, you need a good exfoliating product that doesn't strip the skin or cause microtears due to harsh ingredients. Pharmagel's Enzymé Ex-Cell® applies like a mask and uses micronized walnut shell powder along with pineapple and papaya enzymes to slough off dead skin and polish it to perfection. It also contains allantoin to soothe and soften your skin. I've been using this on my face, neck, décolleté, and even my hands because it makes my skin baby soft, my wrinkles less obvious, and helps my moisturizer absorb completely. If you're scent-adverse, this is your lucky day because the scrub has no discernible scent. It's also great as a prep step prior to shaving.
A Youth-Enhancing Day/Night Cream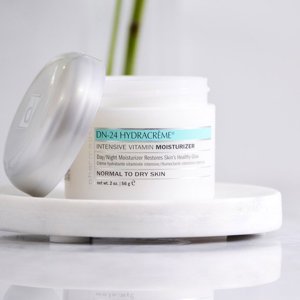 Many consumers have separate day and night creams, but Pharmagel's DN-24 Hydracrème® makes that a thing of the past, especially if your skin ranges from normal to dry. The cream is rich enough to provide ample overnight moisture yet light enough to wear during the day under sunscreen and makeup. But that's not all! There's retinol built in to boost skin elasticity while diminishing the look of fine lines. Aloe Vera plus a trio of oils – safflower, avocado, and sesame – soothe and hydrate skin without making it feel sticky or greasy. I've used this under sunscreen and full base makeup without encountering any issues with pilling. And even though I often have tactile issues with cream when applied to my neck, DN-24 Hydracrème® absorbs quickly and completely, which makes my skin very happy.
Each product retails for less than $30, which is unheard of in the world of pharmaceutical-grade skincare. This line delivers on every level.
So … what are you waiting for?  
---
Author: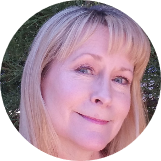 Tracy Teel
Tracy Ann Teel is a full-time freelance writer and the owner of Finesse Writing and Editing LLC. She's a tutorial writer for San Francisco Globe's beauty platform, FierceLeague.com, covering everything from skin and hair care to makeup and nail art. She writes for skincare companies, dermatologists, and cosmetic surgeons, and proudly taught at her MFA alma mater, the University of California Irvine, as a member of their adjunct faculty in English. She's been a textbook reviewer for Prentice Hall, been recognized three consecutive years in the Who's Who Among America's Teachers, and has written professionally for 30+ years. Her poetry chapbook Such Dust was published by Finishing Line Press, and her work has appeared in Alaska Quarterly Review, Rattle, Pearl, Kaleidoscope, and Lake Arrowhead Life.
---
Comments