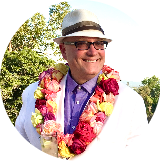 Robert Ell
Oct 06, 2021
---
In a Beautytap exclusive, Christine Ko, star of FXX's beloved series DAVE, reveals the trick that makes her eyes pop, the Vitamin C serum she can't live without, and the skincare brand that's transformed her (and her boyfriend's skin!).
---
As the undeniably cool rap music video director and advertising executive, 'Emma' from FXX's hit comedy series, DAVE, Christine Ko lights up the screen with her talent and beauty. The Taiwanese-American actress originally pursued finance and eventually found her way to the entertainment industry and she's busier than ever. 
For those of you who have yet to indulge in the comic fun that is DAVE - the show centers around the wild life of the fictionalized version of rapper Lil Dicky (with Dave Burd playing himself) and his group of friends (including 'Emma' played by Ko).
Ko also stars in Alan Yang's feature film for Netflix, Tigertail, a drama about the immigrant experience and, of course, in Justin Bieber's video for "Hold On."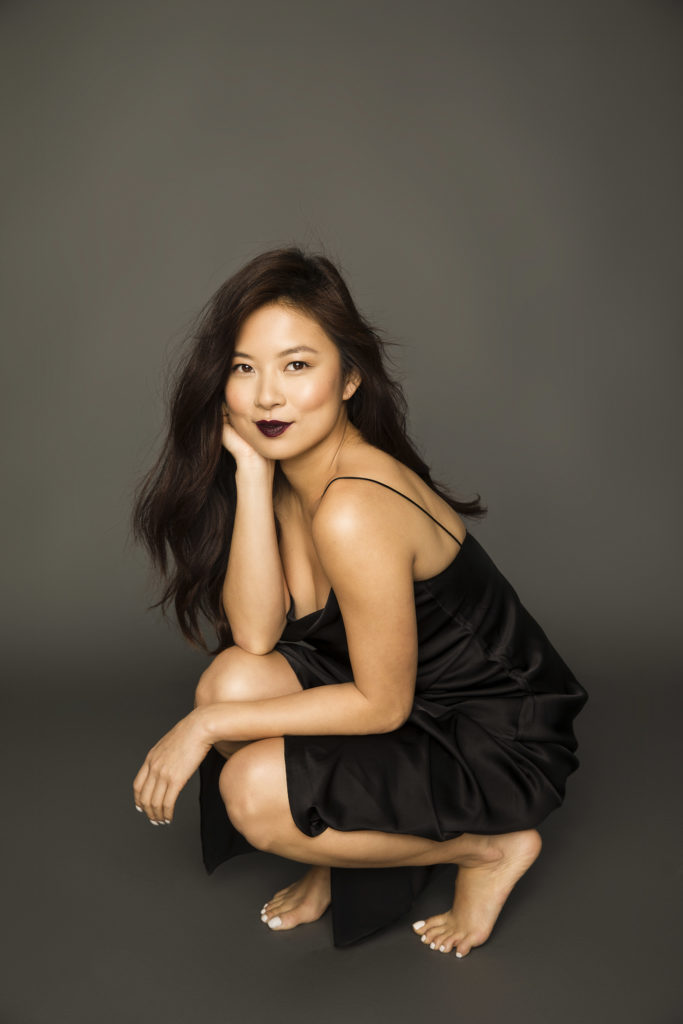 Here, 33-year old Ko who is also the daughter of Taiwanese entertainer Frankie Kao, shares her Beauty Rap with Beautytap…
 Beautytap: You must be very proud of your work on DAVE.  Are you happy with how your character 'Emma' has evolved in Season 2?
Christine Ko: Yes! The writers did such a good job in Season 2 with really getting to know 'Emma' more and in understanding the nuances of her being an Asian woman. I think that experience is so important to highlight and in understanding her career path of wanting to be a director in the future. Also, seeing how her friendship with Dave has evolved over the years and how much it has helped his success. We'll see in the future if he really shows up for her. 
B: Has the real DAVE 'shown up' for you on set? I heard he stopped by once to mention that you had 'flawless skin.'
CK: He's very attentive. Very aware. What I love about Dave Burd is he's always learning, and he always wants to teach himself things. He obviously doesn't know a ton about makeup. On the show he learned a lot just being around Taylor Misiak and I because we talk about how much makeup changes how we feel and how it really represents our characters.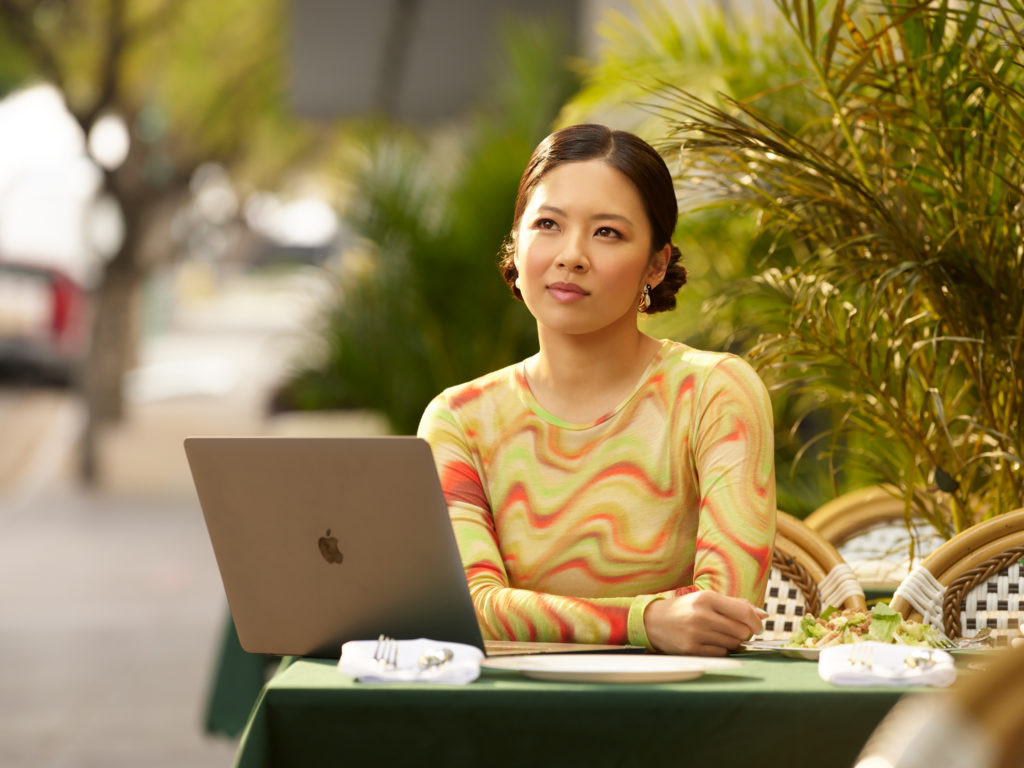 B: Are there lots of beauty and fashion changes for 'Emma' this season? 
CK: Yes. In Episode 7, "Ad Man" you really see how different the makeup is. We were conscious about that because in present day 'Emma' feels really confident. She likes to experiment with her makeup, so you see these bright, bold shadows. That's something I worked with the makeup department head, Golden Sun Shyne on. We talked about creating something that was bold for my eyes but wasn't overpowering on a hooded eye. So, we did really light liner and just a bold, bright pigmented shadow. There's this beautiful Tangerine Orange that we used on my eye lids to specifically make my eyes pop.  In the past 'Emma' didn't have any eye shadow and just a little bit of mascara and that shows the difference between when 'Emma' would go to work at an ad agency (the everyday look), to now where she's enjoying fashion and beauty. It helps show the difference between her past and present.
It was also a conscious effort to show 'Emma' can play with her hairstyles and feel confident in whatever she does in her current day. In the past she just wore her hair down. Women can express their creativity through art and a lot of art is makeup, hair and fashion. 
B: Have you learned any personal beauty secrets while working on sets?
CK: I learn something from every set that I'm on and I just add it to my beauty regimen. I just did a movie for Netflix called Tigertail and Joelle (Troisi) in the makeup department taught me how to make hooded eyes look really bright and open without putting too much makeup on, so now I only put eyeliner on my water line and not on my lid. When eyeliner goes on the water line it really opens up your eyes and gives you a lot of space on your (upper) lash lid which helps with definition. With Asian eyes, we don't have that crease, so you have to create it on your own. 
B: What about from the set of DAVE?
CK: We learned less is more for my skin on Dave, so we focus on the skin care before we put the makeup on. The prep is so important. I'm addicted to Jan Marini skin care. Now that I found her skin care line I just can't go back. It's based on science, not pretty packaging, and that's what I love about it. Golden Sun Shyne was able to bring the Marini products to the show and that was really important for me. 
I'm also addicted to Jan Marini's C-Esta Serum. It's a Vitamin C serum and it's really moisturizing and brightening. It gives me the perfect foundation to then add on whatever we need. My skin feels moisturized when we are working 14 hours a day. We just add some translucent powder and some foundation.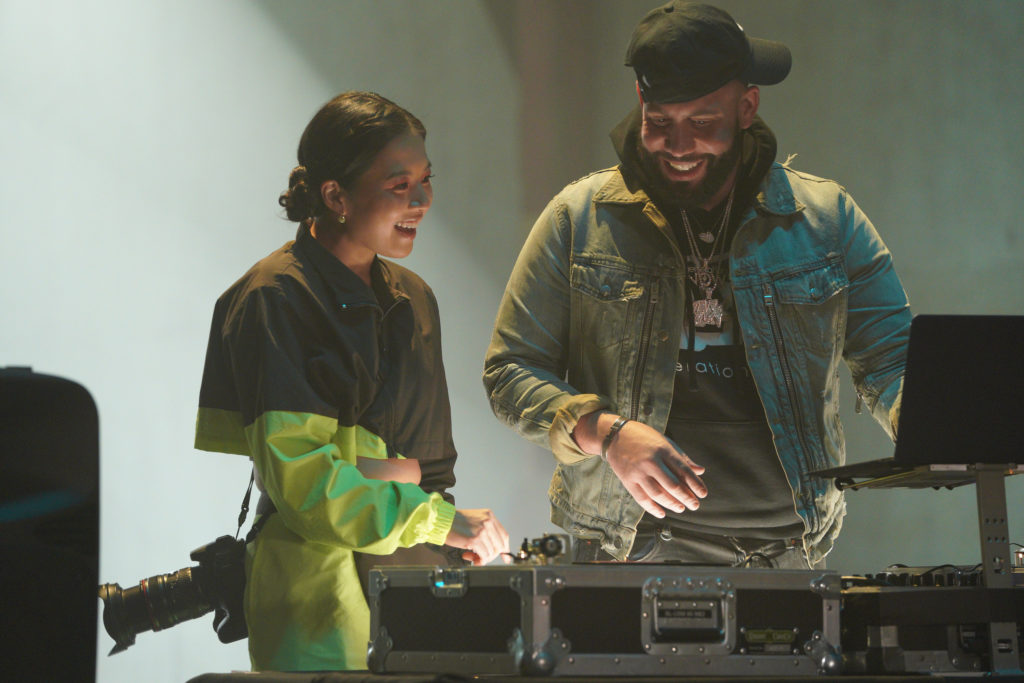 B: Is it true the male cast members were using it too? 
CK: Yes! We have a heavy male cast. What I love about Jan Marini is that there's not a huge fragrance to it and what's great is the guys use the skin care too. We all adopted this really nice skin care regime. 
B: So are you a bold Tangerine Orange eyeshadow kind of gal at home?
CK: Haha. I'm definitely a minimalist, but I like a little pop.  I don't do foundation. My everyday look is pretty much curling my lashes. I love the Glossier Lash Stick. It's just easy, clean, and smudge-proof. I have very, very short lashes but this mascara works really well on my lower lash line because it's such a thin wand. I love that!
I also have this Tower 28 Beauty cream called Beach Please. It's like a golden hour touch. You can use it on your cheeks, your lips and your lids. It's cream based, all in one and I just pat my cheeks, swipe my lids and then I'm done! That's my go to. 
B: Are those the two products you always carry with you? 
CK: If I had two things in my purse it would be the Glossier Lash Stick and the Tower 28 Beauty Beach Please cream. It's true! They're literally in all of my purses.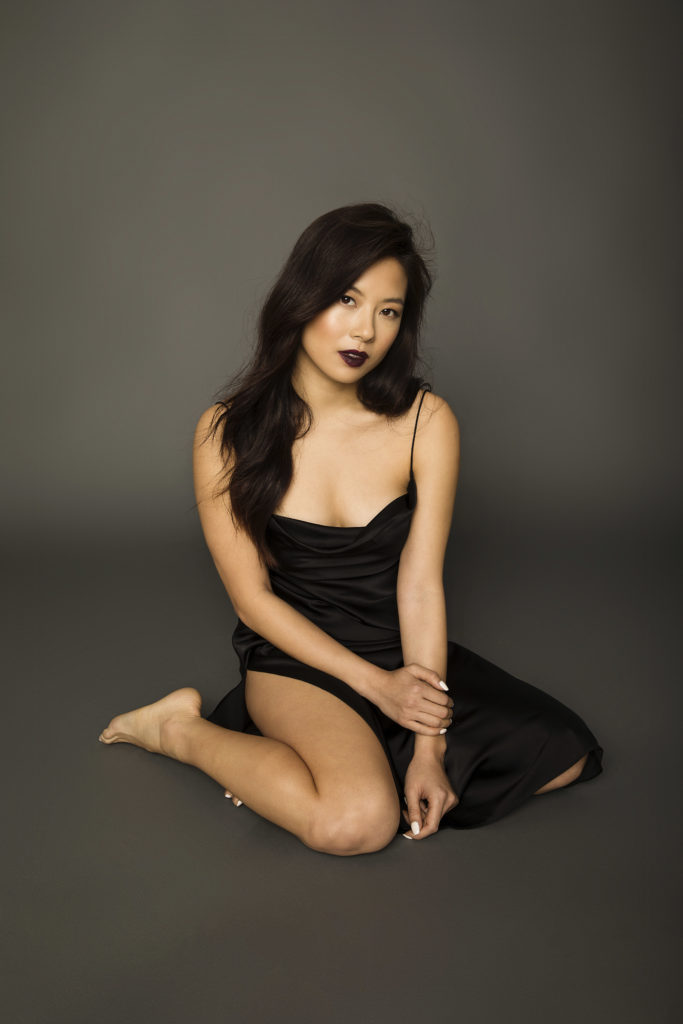 B: Is it also true you have "the boyfriend test' and you got your boyfriend hooked on a skin regime too? 
CK: The 'boyfriend test' is really good. If they are not used to putting skincare on their face, ask them to do it. Just make sure it's something that works and is easy. I could never convince him to put seven layers of skincare on because he'd say, "Why am I doing this in the morning, it's such a waste of my time." But when he saw his skin get better and how moisturized his skin felt all day he said, "Ohhh, I really like this!" So, we have now both adopted it and love it!
B: So, you and your boyfriend share the same skin care products?
CK: Yes, I got my boyfriend into Jan Marini. With her Transformation Creme moisturizer I knew it was good when my boyfriend put it on and liked it too. 
B: Do you love to travel for your mental health and wellbeing?
CK: Traveling is so important to me. I am a beach baby and I love the water. Just seeing blue water is so calming. Sunshine and Vitamin D are so good for your health along with just being outside. Now more than ever we are realizing that being outside is so good for us. If I'm lucky enough to be able to take a vacation...any beach destination works. But I love Hawaii. Hawaii is my happy place. 
B: Sounds like you were perfectly cast in the series, Hawaii 5-0 then. Were you able to protect your gorgeous skin from the sun?
CK: Not using sun protection is the number one thing that ages you. I like to be preventative as opposed to spending a ton of money later to fix things. I made the big mistake when I was younger though. I used to surf and didn't use heavy sunscreen, so I got sunspots on the sides of my face. I spent a lot of money taking those sun spots off with lasers, micro peels, microdermabrasion, I did it all!  Now I don't go anywhere without sunscreen. 
B: Is there a specific brand of sunscreen that you use? 
CK: Back to Jan Marini. She has this mineral sunscreen - Physical Protectant. She found a way to create a sunscreen that's not super heavy and doesn't have a really insane white cast. It's a little bit tinted but when it goes on your skin it doesn't leave any color at all. It's also water resistant and mineral (vs. chemical). It goes under my make up so well and now I use her Physical Protectant under everything.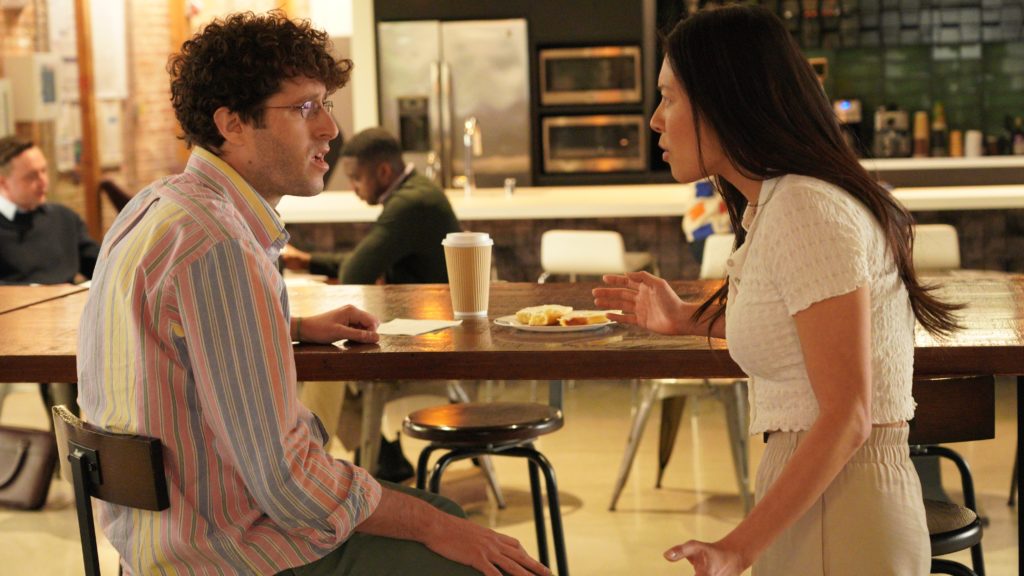 B: Speaking of under...can you tell us one of your favorite products that is under $10? 
CK: I'm obsessed with Burt's Bees pomegranate lip balm! It has to be pomegranate, by the way, because it has a tint to it that looks like your lip color. The look is similar when you have lipstick on then kiss someone and there's just a little hint of color left.
B: Any favorite hair products?
CK: I swear by a hair tie. It's by my hair stylist, Josh Liu. He's the hairstylist to many celebrities including Ariana Grande. It's called Útiles Beauty and it's the most amazing hair tie ever. It's made out of this fabric that never breaks. 
B: Any tips for getting ready at home? 
CK: I definitely have a "getting ready" play list. I think every woman should have one. It can be more fun to get ready than actually going out. 
B: Who's on your playlist? 
CK: I love Too Close by NEXT. I would also say Boyz II Men - the classics are always on there. Drake is always on there too - you need a little bit of current and a little bit of the past.  I'm going to give a shoutout to my boy Justin Bieber because we had such a great time working on his video "Hold On."  I'm so proud of him because this album is a banger. I could listen to this album from beginning to end, and like his love for Hailey Baldwin, it is so beautiful. He's such a good person in his heart and it's so wonderful getting ready to his music.
B: And we can't wait to hear what's next for you too!!! The next Bond perhaps?!
CK: OMG! You literally just said my dream! I have said this before. I would love to be 007! That is really what I want to do! You know the running scene in Episode 2 of DAVE where I'm chasing the biker? I can use that as my action reel. 
Here's to dreams coming true, Christine!
Catch Christine Ko on FXX's DAVE and Tigertail on Netflix.
---
Author: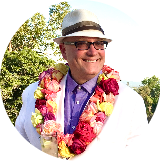 Robert Ell
Robert Ell has served as a Talent Executive and Producer in Hollywood for such world-wide media giants as E! Entertainment Television, The Style Network, TV Guide Channel, The Discovery Channel, AOL, NBC/Universal, and more. In addition, Ell has interviewed hundreds of the world's most famous celebrities including Julia Roberts, Brad Pitt, Celine Dion, Leonardo DiCaprio, Cameron Diaz, Jackie Chan, Harrison Ford, Janet Jackson, Jennifer Aniston, and more. Ell has served on the board of many charitable organizations and has produced charity fundraising events with Elton John, Elizabeth Taylor and others along with serving as a judge for The Miss Teen USA preliminaries. Robert Ell is also the owner and creator of ELLegant Creations LLC (www.ellegantcreations.com), a company that creates vintage-inspired hand glittered greeting cards and novelty gifts.
---
Comments