Meet Versed: The Affordable, Celebrity-Loved Skincare Line Taking The Internet By Storm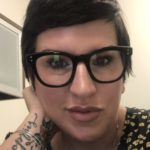 Randi Steele
Oct 27, 2021
---
Not all heroes wear capes; some come pledged to hydrate and refresh skin around the world, while dressed in post-consumer recycled plastic. Read on to see how these Versed products saved my skin (literally and figuratively).
---
Ever since writing my last editorial on a trio of amazing Versed products, I have had some serious occurrences of "Versed-induced" Baader-Meinhof syndrome. I was seeing the highly touted skincare products EVERYWHERE; on my Instagram feed, in my friend's powder room, even in my texts (my mom has not stopped asking me about their online Skin Decoder Quiz, bless her heart). And YES, I helped my favorite silver surfer navigate the site, I mean, I'm not a complete ingrate.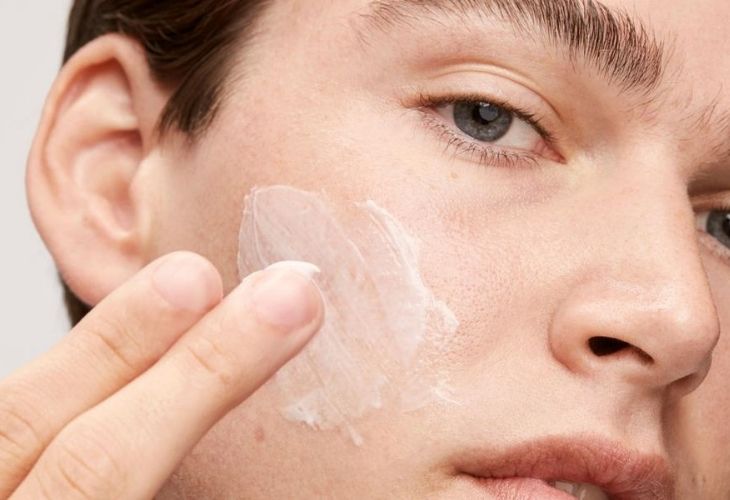 Versed is the hot ticket when it comes to high quality, vegan and cruelty-free skin care for those who prioritize pinching pennies. Their list of fans continues to increase and reads like a "who's who" of the A-list set. From Rosie Huntington-Whiteley to Nicole Richie, the Versed brand is cleansing, toning, brightening and plumping the skins of those in the spotlight. But Versed is not only a hit with the Hollywood elite; the brand has struck a chord with the general public because, quite simply, it is accessible skincare that does exactly what it says it is going to do - which is improve the condition and appearance of your skin.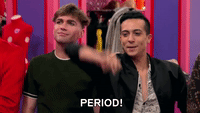 I was blessed and highly favored to do some traveling in recent weeks, experiencing various sights, sounds and seasonal changes (fun fact, I have the incredible ability to fall asleep anywhere, this past week included snoozing amid a full-fledged tornado touch down - thanks so much, Oklahoma), and while I'm familiar with seeing Versed in my local area, it was amazing to see it represented in the Midwest and Pacific Northwest. This was a good thing, because honestly, if I hadn't had the Versed products that I'm reviewing in this piece, my skin would be incredibly angry right now. Like, not returning my calls angry. Legit "breaking up with me and not giving back all the sweatshirts it borrowed while we were together" angry - pretty serious stuff. But having this glorious trio of Versed products on hand as I traversed the United States in the past weeks saved my skin from dehydration and dullness; and maybe it is just me, but I'm pretty sure the featured triple threat quelled my jet lag and raised my credit score 20 points (ok, maybe not the credit score thing, but you're going to have to provide cold, hard facts that it didn't positively impact my travel-induced exhaustion, or at least minimize the effects on my visage). 
Here's the low down on this triumphant trifecta of skin care saviors.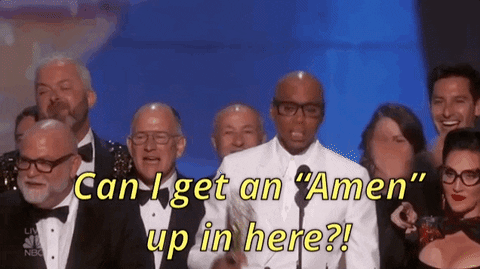 Haters Gonna Hate, Cleansers Gonna Cleanse…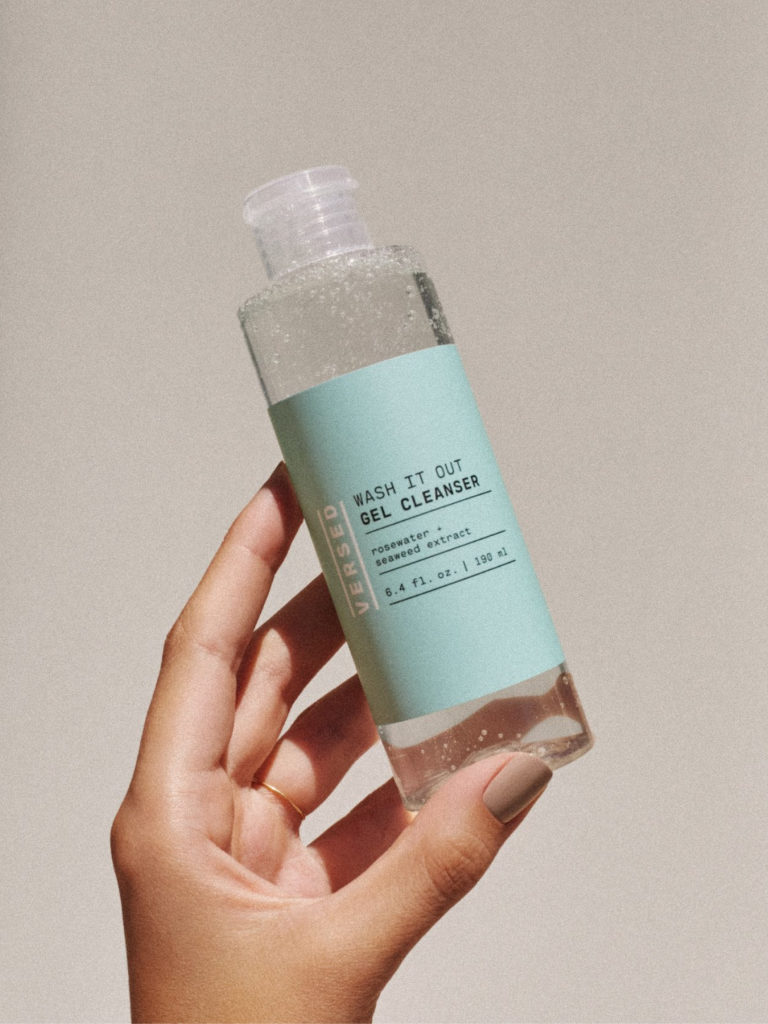 No matter the season, I am a hardcore supporter for Team Double Cleanse; there is something truly magical about getting your skin damn near squeaky clean on a daily basis, and double cleansing definitely delivers. But the duality of my cleansing regimen is elevated with the addition of Versed's Wash It Out Gel Cleanser. Used as the second half of my personal double duty process, the gel's consistency is fluid and easy to apply, and it creates gorgeous, foamy goodness for my face. Packed with ceramides to prevent dryness and reinforce the skin's existing barrier by locking in moisture, and rosewater to calm and soothe skin while imparting antioxidant properties, the cleanser made my skin feel smooth, fresh and free of tightness that many other lovely lathers can bring. Color me cleansed, as well as officially obsessed.
 Hydrate Me Baby, One More Time…
As I arrived in the beautiful Central Oregon city of Bend, stepping out of my car my first thought was, "this trip is going to require extra hydration." I didn't mean just guzzling additional servings of high-quality H2O from my Nalgene to counter the effects of the local craft beers I would be sampling (sidebar, shoutout to my new favorite IPA from Deschutes Brewery), but also giving my skin supplementary TLC in the form of topical moisture to counter the high desert dryness. Skin, may I formally introduce you to Versed's Baby Cheeks Hydrating Milk Toner. Don't let the subtle muted pink hue and smooth milky consistency fool you into thinking this product is all show and no go. You must remember, Versed products are designed to do the heavy lifting, and this baby (pun completely intended) is no different. Being the versatile and flexible traveler that I am (meaning the girl who doesn't throw a fit when she forgets basic things like headphones for a road trip or in this case, cotton balls…oy vey), I had to get creative with the application of this amazing elixir.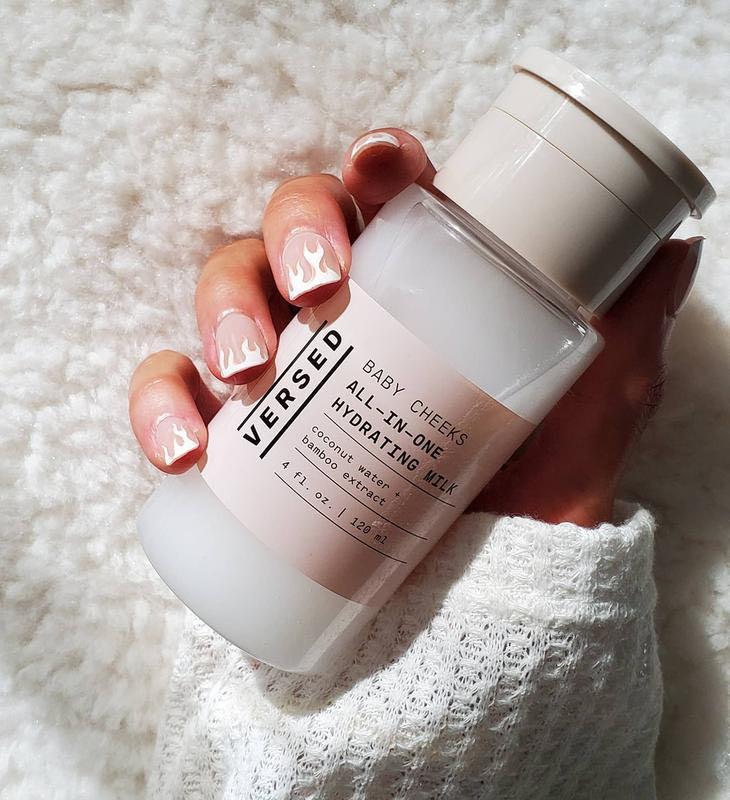 Thanks to the genius pump applicator, I channeled my father in his yester years and treated Baby Cheeks like an after shave, patting it onto my damp skin like it was Aqua Velva. You know what? It worked BEAUTIFULLY. My skin was soft and supple, and the coconut water and bamboo extract gave my skin that extra infusion of hydration that it needed. The beauty of this milk, in addition to its effectiveness, is its versatility, doubling as a primary cleanser and makeup remover. Whichever way you use it, Baby Cheeks will bring your cheeks (and the rest of your beautiful face) hydration, balance and clean, glowy skin that is prepped and ready for the remaining steps in your skincare regimen. Oh, and P.S. – this skin soothing delight was also a Glamour 2021 Beauty Award Winner, Be sure to check out Versed's super informative take on dry vs. dehydrated skin here.
 Serums…. They're Great, But This One's Bloody Brilliant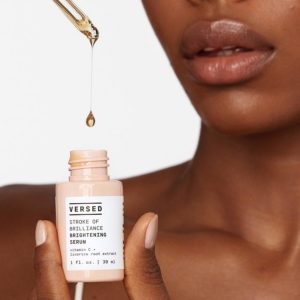 I'll be honest, some people collect baseball cards, some collect fine wines. I collect serums; I'm a complete sucker for a good one, and many a product has been demoted to the bathroom drawer to make space for a new serum on my medicine cabinet shelf. So, when I managed to forget my favorite hyaluronic acid serum (is anyone starting to question my ability to properly pack for vacation, because I can tell you I certainly am; the Virgo in me is absolutely screaming internally at my audacity), I launched into full-on dehydration panic mode. But never fear, Versed saved the day yet again; the Stroke of Brilliance Brightening Serum not only came through in a pinch, but it has also managed to weasel its way into my daily skincare regimen, booting out the aforementioned serum that held a special place in my heart (but apparently, not my suitcase). 
Chock full of vitamin C to give skin a firmer, plumper look and brighten like a little ray of sunshine in a dropper, this serum is a no brainer; bonus points for licorice root, which assists in evening out skin tone and quelling hyperpigmentation. While the website says 30 to 60 days is the estimated time frame to see maximum results, I have been using it since said the ill-fated packing incident over 2 weeks ago, and my skin is smooth, plumped, and glowy; in record time no less! Plus, I'll let you in on a little secret; this serum is the perfect prequel to your face's nighttime nourishment, AKA Versed's Recovery Mode Advanced Night Cream, which I reviewed last month. The combination is the fabulous facial equivalent of Travis Barker and Kourtney Kardashian (got to keep the pop culture references relevant, for the youth), and both my hydrated skin and I are SOOOOO here for it.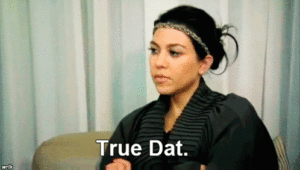 As you can plainly see, I'm very transparent about being an unabashed, card-carrying Versed supporter; a full-fledged lifer. Go ahead and give me the t-shirt, the keychain, heck, maybe I'll even tattoo my allegiance to the brand on my bod (you hear that, Paul Timman?).  Because while there is something glorious about luxury skincare that does wonders for my skin, it's quite another thing when said skincare saves me money while being kind to our sweet mother earth. So, if you weren't convinced to try Versed skincare from my initial editorial, consider this little feature an introduction to your own personal account of "Versed-induced" Baader-Meinhof. 
Best wishes and warm regards, y'all!   
---
Author: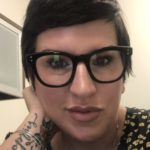 Randi Steele
Randi Steele is a freelance writer with a Bachelor's degree in Fashion Merchandising from Oregon State University and a Master's degree from University of Southern California in Communication Management. When she isn't writing for Beautytap, she is developing content for her curated website, blog and accompanying podcast, The Style Adjacent, launching in September 2021. Randi also loves the aesthetic nature of writing, and her modern calligraphy can be found on Instagram at @freshruth. She loves vintage pocketbooks, Nipsey Hussle, a classic red matte lip, college football, and getting tattooed; not necessarily in that order.
---
Comments