Meet Fillerina – The Non-Surgical, Painless Alternative to Botox and Fillers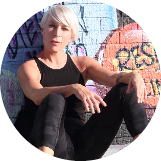 Amanda Fletcher
Nov 12, 2021
---
Fillerina is the needle-free, skin-smoothing solution taking the internet by storm.
---
Friends, I am not going to lie, this one took me some time to pull together. There are so many amazing products, I found myself intimidated. Which one should I try first? Can I use multiple systems at once? I want it all! I want it now!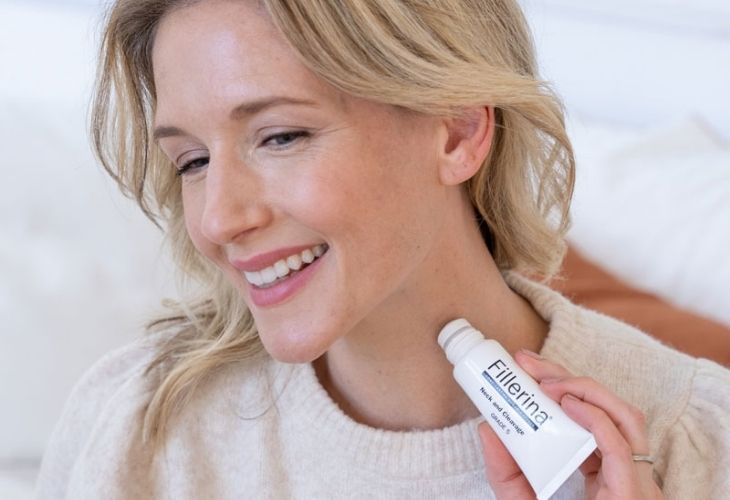 Fillerina is the brainchild of Labo, the Italian subsidiary of the Swiss company Labo Cosprophar AG. The company has decades of experience in researching and patenting innovative cosmetic products. It's first standout – Botoina – was developed in 2005. A complex of four specific molecules, this topical was designed to relax expression lines and decrease the appearance of facial wrinkles. Kind of like Botox, without the hassle of a doctor's appointment. Not satisfied, Labo continued to study hyaluronic acids (HA) and thus launched the first replenishing preparation for at-home use – Fillerina – in 2012. This line is billed as the only cosmetic product that allows large quantities of hyaluronic acid to deeply penetrate the surface of the skin quickly, without using needles. 
No pain. No squeeze ball. No bruising. Let's call Fillerina what it is – a dream come true. 
Did you know that there are different kinds of HA? I didn't. And I write about this stuff! Okay, so here goes – there are essentially three kinds of HA – hydrolyzed hyaluronic acid works on the surface level, sodium hyaluronate penetrates the skin more deeply, while the longer lasting sodium acetylated hyaluronate holds more moisture – BUT – on the molecular level, those HAs can be further divided by weight and structure to create as many as 12 different formulations. These details are important because this is how highly coveted Fillerina products (which are significantly stronger than most hyaluronic acid serums) work to replenish and revive the skin at different dermis depth levels, effectively reducing the appearance of expression lines and age wrinkles while increasing volume, elasticity, and moisture.  All of this without having to pretend you walked into an open kitchen cabinet door as an excuse for the black and blue marks even the most careful practitioner often leaves. 
These different forms of hyaluronic acid contain varying sized molecules—some penetrate the top layers of the skin, others are small enough to reach the deeper layers.
And if, like me, you were (are) a science geek, you will go bonkers for the next-level Fillerina formulations AND packaging – including syringes, glass bottles and rubber stoppers. Each product pack comes with extensive product information and application instructions, making it easy to understand and use while also making you feel like some kind of evil genius in the best, most exhilirating way.
So, let's jump in. 
Eye and Facial Lifting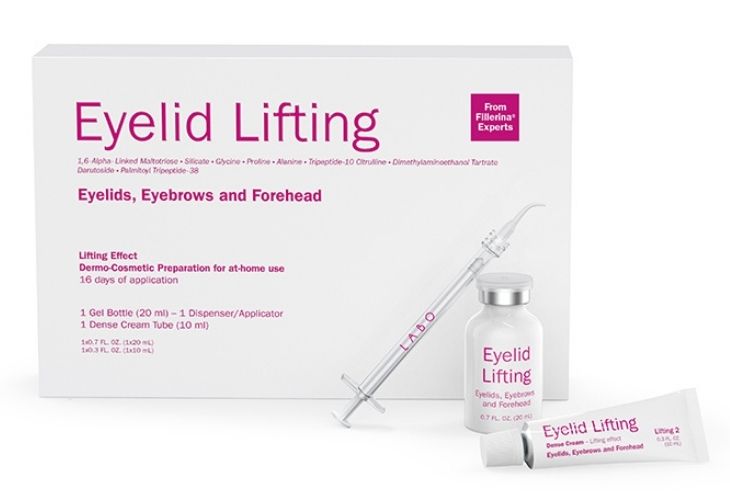 It's all in the eyes. And the cheeks. Plus the chin. Okay, let's just say the entire face and call it a day. There are two Fillerina lifting kits – Facial and Eyelid – meant to be used for 16 consecutive days, each containing the nightly gel and a specialized cream to be applied in the morning (these two products work in concert with each other, so be sure to use the dense cream in the am. You can't have one without the other.) 
The Labo Eyelid Lifting Treatment is formulated for use on the eyelids, eyebrows and forehead, and the Labo Facial Lifting Treatment is applied to the cheeks, chin, neck and jawline. While the gels do contain similar ingredients – 1,6-Alpha-Linked Maltotriose and Silicate to manually tighten the skin, amino acids to build collagen, peptides to regulate skin texture and DMAE to tone – the formulations are customized to suit the application areas. 
Each kit is available in three grades, from 1 to 3, based on the severity of skin laxity. I used the grade 3 kits, drawing up syringes full of luminous clear gel and massaging it into clean skin as directed for the duration. The formulations are soothing though not particularly moisturizing – this is all about lifting and tightening – and there was zero irritation. In the morning, I applied the aptly named dense cream, a thick, fragrance-free lotion which I learned needed a few moments to settle into my skin before I applied sunscreen and the Fillerina BB Cream. Sixteen days later and forgoing the products I normally use, my cheeks feel fuller, my skin is taut and buoyant, and I definitely feel like my eyeshadow is sliding on smoother. What more could a girl ask for?
Skin Replenishing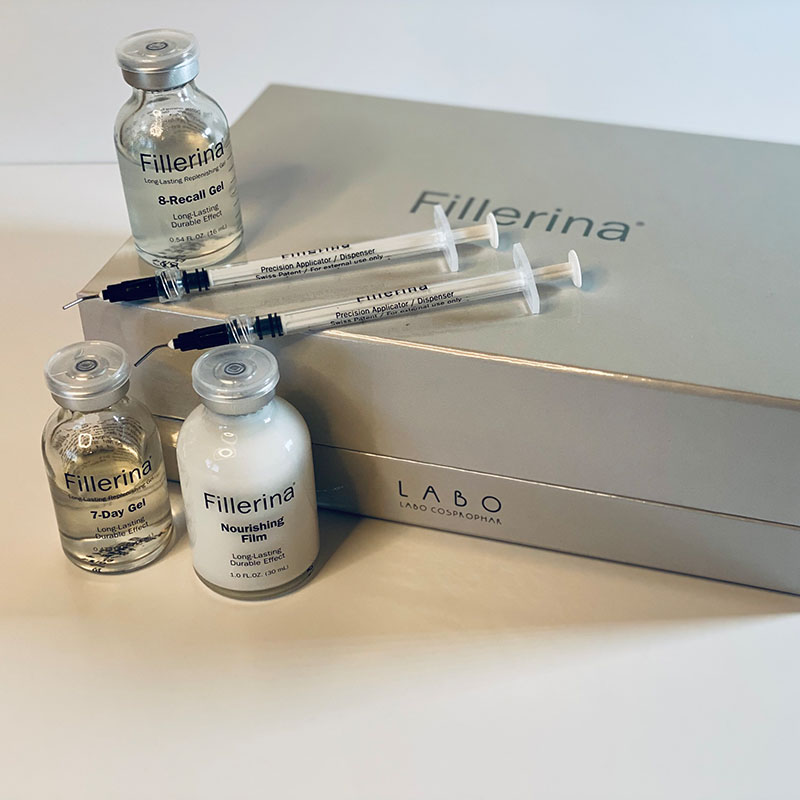 I am a Vampire Facial fanatic so I couldn't wait to try the Long-Lasting 7-Day Durable Effect Replenishing Preparation. Twelve hyaluronic acids are aided by the addition of polyglutamic acid, which protects the HA molecules once they are absorbed by the skin. The goal is skin that is plumper and more elastic with fewer wrinkles and expression lines. There are three products here. The first is a clear gel that you apply directly to your fine lines and wrinkles. Once that's done, wait 10 minutes and then pat in the excess (there will be some clear residue). Follow this with the moisturizing Nourishing Film, an herbaceous moisturizing cream and the only Fillerina product I experienced that had a subtle fragrance. Use this for seven days on clean skin and make sure you drink a lot of water. Once the week is up, take a week off, followed by the 8-Recall Replenishing Gel to prolong your results. And don't worry about taking notes. Like I said, each product has very clear and detailed directions. 
I'm seven days in and I have to say, my skin has bounce-back buoyancy. I've also been using the Long-Lasting Durable Effect Neck and Cleavage and Long-Lasting Durable Effect Cheekbones throughout the day, supplementing my 12 HAs with an additional three collagens and two elastins because if one product works great, three to five will work better, ammiright?!
And don't get me started on the Lip Plump – six types of hyaluronic acid in a space aged applicator topped with silver massage balls, I slathered on this clear gel every chance I got, and I can tell you those larger HA molecules are definitely here to plump you up! 
I can't wait to dive into the Fillerina 12HA Replenishing Preparation next.
Skin Conditioning
Even with the relaxed measures as more of us get vaccinated, mandatory mask mandates still have many of us struggling with our skin. Imagine your face taking a sigh of relief–that's the After Mask system. Those three types of hyaluronic acid I mentioned above work in tandem with Inulin, a plant based prebiotic that acts as a humectant and balances your skin microbiome. Struggling with maskne? This three-step system is your savior. 
The standout is the activated oxygen gel. Smooth a few pumps across your tortured chin and cheeks and a moment later your face is fizzing like La Croix from the activated oxygen. You can either rinse it off or pat it in prior to the Calming Night Cream. And in the morning, you can breathe easy knowing your first layer of protection is the Protective Day Cream. 
I'm definitely gifting this set for Christmas; all beauty devotees are certain to flip for any of the Fillerina products. Pricing varies but expect to pay between $100 - $295 for the full treatment packs – all highly effective and much more affordable than actual injections. Again, no needles or bruises either! The single use gems such as the Lip Plump are $49.
Refine, Blur and Cover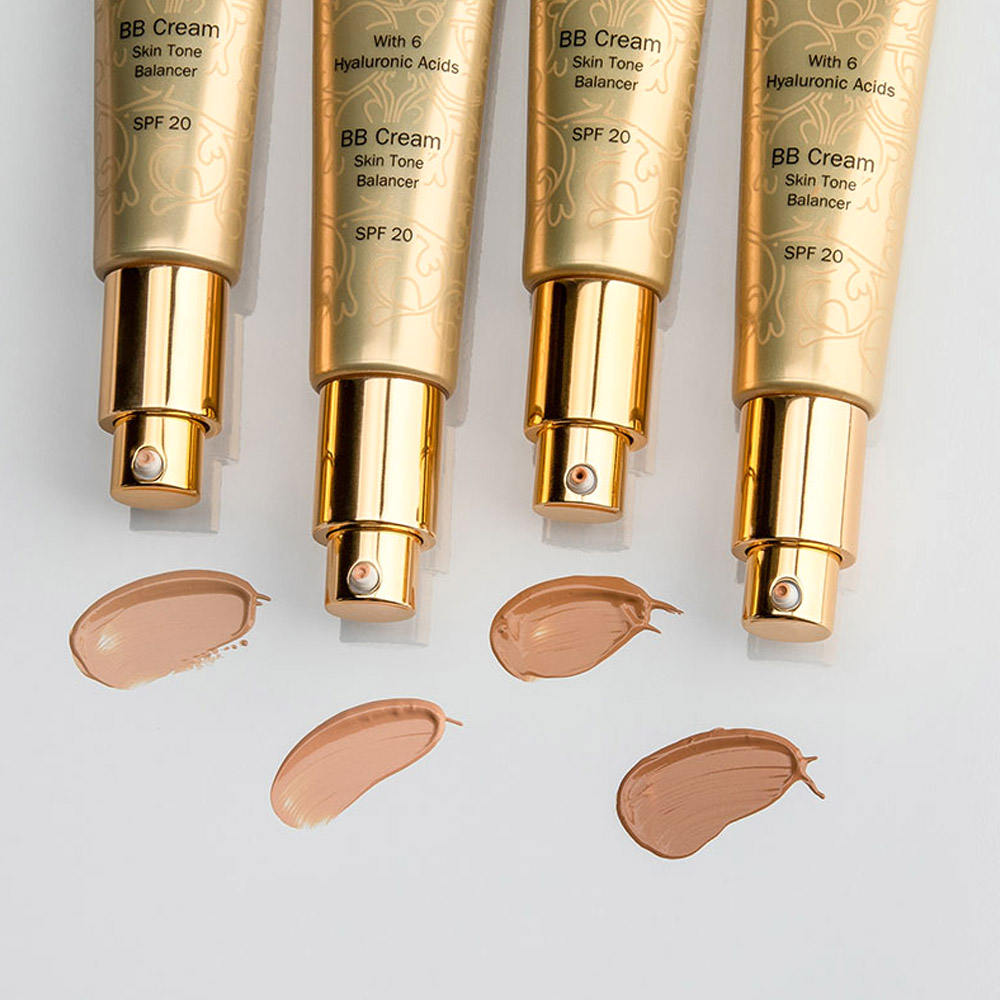 SJP (Sarah Jessica Parker) told People magazine that the Fillerina BB cream was a product she couldn't live without. "'When I have to wear a base. It's this," she said. I am with 'Carrie Bradshaw' on this one. I love, love, LOVE this hypoallergenic, non-comedogenic, medium coverage cream. It feels rich and a little tacky on your fingers in a way that lets you know it's going to stay put. It evens out my skin tone, blurs the lines around my mouth and eyes, and leaves my cheeks looking moist and plump. Must be those six different types of hyaluronic acid. And it comes in four lustrous shades. I use the light rose around my nose, in the middle of my forehead and under my eyes and then contour a little with the warm beige, followed by a dust of translucent powder. 
In a word - perfection. That goes for all of Fillerina's innovative creations.
---
Author: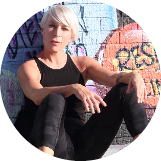 Amanda Fletcher
Amanda Fletcher is a writer, editor and coach whose personal focus is recovery and wellness. A prolific travel and freelance feature writer, her work has been published in the Los Angeles Review of Books, the Orange County Register, FAR & WIDE and many more. You can follow her story on Instagram @theamandafletcher and find her at http://amandafletcher.me
---
Comments