Embracing My Black Hair History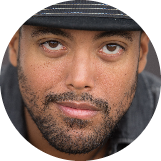 Cliff Beach
Feb 10, 2021
---
In celebration of Black History Month, musician and artist Cliff Beach shares his personal hair-story and some of his go-to products.
---
Since we're celebrating Black History Month and looking back, I'd like to share my personal black hair experiences and how different hairstyles not only shaped my coiffure but also my world view. 
If you've ever seen Barbershop or Coming to America (Coming 2 America, the highly anticipated sequel, returns in March!), the Barbershop in African American culture is not just about cutting hair, it's about swapping stories, political views, family gripes, and much more. Being from the city of Washington, D.C., and growing up in the '80s and '90s, I got my haircut every 2 weeks, as having a fresh cut, stylish clothes, and new kicks added to your street cred. 
Being of mixed heritage, both Black and White, I was deemed as having "good hair," meaning my hair was more manageable or more "White" and easier to style than coarse "nappy" hair. Because my "good hair" made me a bit different, part of my identity revolved around trying to fit in, so I gravitated towards more afro-centric hairstyles, which helped me to assimilate more deeply into the community and have a sense of Black Pride.  These six styles also happened to coincide with pivotal and distinct chapters in my life.
High School / The Teen Years – The Fade
My mother, a strong black woman, preferred that I keep my hair short all the way through high school because my childhood/adolescent grooming habits did not allow for longer styles. I didn't like to comb or brush my hair often, and thus having a shorter fade made my hair more manageable. According to an article in Men's Hairstyles Today, "Fade haircuts for Black men offer a clean, fresh finish on the sides and back." This style has been incorporated into many different cuts and has evolved over the years as evidenced by the Top 25 fade styles. To keep my fade looking tight, my go to beauty products (which came from my mother's bathroom vanity), included Luster's Pink Original Oil Moisturizer Hair Lotion, Kemi Oyl and Blue Magic Conditioner Hair Dress in the '80s and '90s. Ah, the good ol' days!
The College Years - Fried, Dyed, And Laid To The Side
College was an experimental time. I attended Berklee College of Music, the alma mater of such luminary musicians as Quincy Jones and John Mayer.  During this time, I learned to better express myself musically and began developing my personal style, including my hairstyle. 
I always wanted to dye my hair growing up as I felt I would look cool, but my mother and stepfather forbade it due to my strict religious upbringing. With my newfound freedom being 10+ hours drive away from home I finally took the plunge and enlisted a friend to dye my hair in her dorm room bathroom armed with only hair bleach and Tish & Snooky's Manic Panic semi-permanent hair dye purchased at Newbury Comics. 
At the time, people thought I was channeling my inner Dennis Rodman, but I didn't care. I did appreciate his gender-bending attitude and rebellion was my #1 objective. Turns out my dyed hair empowered me to feel bold.  
The Roaring 20s - Pick your Afro Daddy: The 'Fro
Many of the musical artists I admire, including Aretha Franklin and James Brown, all had epiphanies during the civil rights movement, and they decided that instead of relaxing their hair they should start wearing it natural. Relaxed and pressed hairstyles were popularized by the products created by haircare pioneer mogul Madame C.J. Walker (one of the first Black female millionaire entrepreneurs in America) to make black hair more manageable, but many modern perms and relaxers contained harsh chemicals like lye, and would often cause breakage or hair loss. 
I sported my afro in the aught years to pay homage to African American history, my cultural roots and my musical heroes. Like the Harlem Renaissance, there was also a renaissance in the Soul Music Movement with Neo-Soul music, a term coined by music industry entrepreneur Kedar Massenburg, happening in the late 1990s / early 2000s. On the Love to Know Beauty & Fashion blog there is a retrospective on the history of the Afro Hairstyle and how it came to be. The best tool to help shape my afro was my Afro Pick Hair Comb with a Black Fist Design, and a similar one can be seen on public display at the Smithsonian's National Museum of African American History and Culture today.
The Mid 20s - You Can Braid My Hair
When my afro became too big, unkempt, or unruly, I would make it more controllable by asking my hairstylist to style it into braids. I've had cornrows and several other styles of braids, including a faux mohawk. Braids can be created with one's own hair or by adding synthetic or human hair, known as weaves in the black community. Wearing braids turned attention away from my hair, and my face appeared more prominent; it wasn't just all about my afro.
On Pinterest and Instagram @braidsbyjackie aka @r_jackie20, is a master barber/braider/instructor and showcases pins for over 100+ braid styles to give black men new ideas for braids and to keep their styles cutting-edge, fresh and interesting. 
Late 20s Locks of Love - The Natty Dreads
Braids unfortunately only last a few weeks, as I have a lot of new hair growth, and I'm very tender-headed, so I could only tolerate braids when absolutely necessary. I was always a big fan of Bob Marley, so in my late 20s, I decided to give dreadlocks a try. A friend who moved from DC to LA owned her own natural hair salon in the bustling Larchmont Village, so I entrusted her to take care of my hair using beeswax and shea butter. The Afrochenchix blog features an article that explains six great tips for taking care of your locks which is very similar to the regimen my lockstician gave me at that time. Locks do require quite a bit of maintenance if you want to keep them looking professional and less Rastafarian/Bohemian. 
It's also necessary to treat both the hair and the scalp with constant twisting, otherwise, they start sticking together. Dreads were fun for three years, but they required a lot of work. ORS Lock & Twist Gel was my go-to – it's all about twisting and twisting often.
The 30s - Bald & Beautiful
As a new decade ushered in, I also ushered in a simpler hairstyle. Black men are fortunate to be able to rock a bald head and it be deemed sexy and cool. The lack of hair would seem easier to maintain but it's not without its challenges. 
I didn't love this look at first, but it was the easiest to maintain after losing a lot of hair post-dreads.  Being bald eventually grew on me, especially after friends would comment that I looked "badass." 
Black men are prone to razor bumps, especially on the back of the head/neck area, which is why it's recommended to use a fresh razor every shave. I've been using a Gillette Mach 3 razor for as long as I can remember. I don't have a shaving cream brand I gravitate to, as I'm more of a soap and water guy. 
I'm partial to the tried-and-true Clubman Pinaud After Shave Lotion - it stings like nobody's business and you have to be careful, "alcohol-based aftershaves can be more damaging to your skin than beneficial when used over time," according to Healthline. The article goes on to recommend "more natural aftershaves, such as jojoba oil or coconut oil; as well as moisturizers like lotion or aloe vera," to "protect the skin from bacteria getting into cuts while also retaining skin moisture."
Self-Love Reigns Supreme -  Be You!
I think of India Arie's song, I Am Not My Hair and what the lyrics convey to me: no matter what your hair is like, you are more than that, you are wonderful just the way you are, and you are enough. Each of my hairstyles shaped how the world saw me, and how I saw myself. As I evolved, so did my perceptions and how I wanted to present myself to the world. 
It takes time to become comfortable in our own skin and with our own hair. Embracing your personal style, your culture, heritage, and hair, or lack thereof is ultimately self-love. I believe in and champion the philosophy that "I am not imperfect, I'm perfect, wonderfully made and created with my flaws, not in spite of them," and that life and hair is a journey of discovery with endless possibilities and limitless potential if we open ourselves up to it.
Regardless of how we choose to wear our hair, the most important thing to remember during Black History Month and every day throughout the year is no matter where we come from, whether we have "good" hair or hard to manage hair, we should always take pride in our hair care, our identity, and our personal style. We must celebrate diversity in hairstyles and within the beauty industry, as long as we all vote not to bring back the Jheri Curl because my grandma's couch couldn't take that again!
---
Author: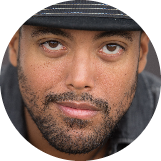 Cliff Beach
Cliff Beach is an award-winning musician, artist, TEDx presenter who is about to release his first self-help book Side Hustle & Flow. He is currently the VP of Digital for Beautytap, formerly the Manager of Digital for NYX/L'Oreal. He has been in the Beauty industry for over 10 years and is a self-professed Beauty minimalist.
---
Comments