12 Life-Changing Hair Hacks (#3 Blew Our Minds!)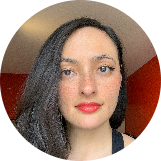 Marieve Inoue
Apr 29, 2021
---
It's easy to lather, rinse and repeat the same hair routine multiple times a week without a second thought. Time to shake things up with these easy tips and reap the results!
---
Although having an elaborate skincare routine seems to be more and more commonplace as people learn about ingredients and their benefits, a lot of us have also recently started paying way more attention to how we care for our hair. Call it a by-product of pandemic-induced self-care enthusiasm or the logical result of advances in hair care technology, but for many of us, the basic shampoo-and-conditioner combo no longer cuts it. From scalp treatments, hair masks and silk pillowcases to surprising ways to use products you already have in your arsenal, here are 12 tips for helping you achieve healthy, luscious locks!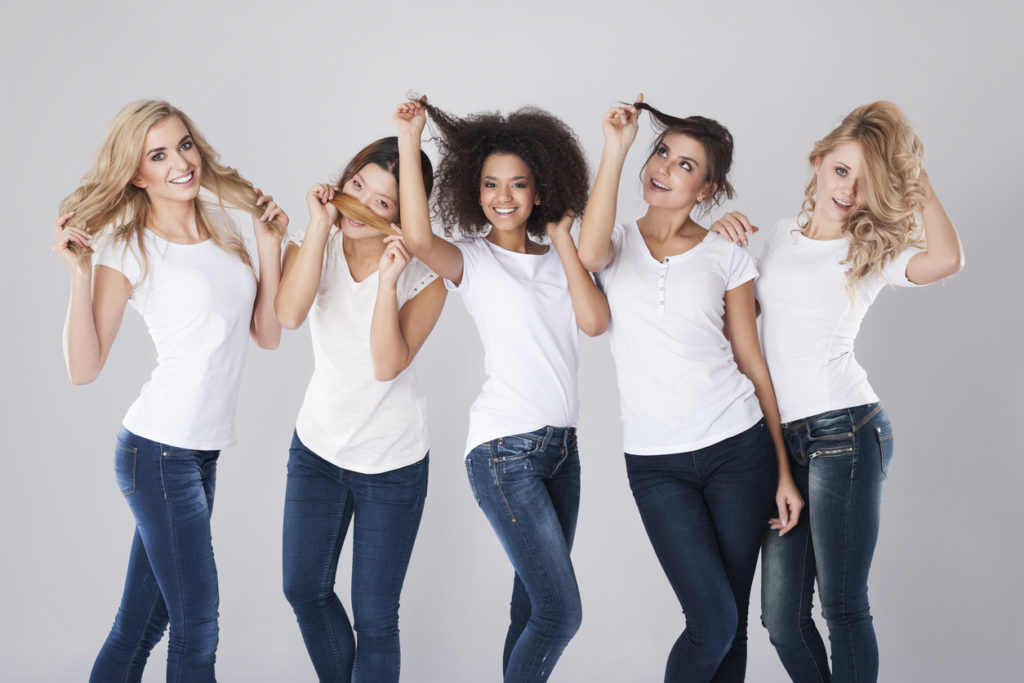 1. Apply Your Hair Mask Before You Shampoo
Although the common way to use a hair mask is to use it in place of your conditioner at least once a week, some people argue that you'll reap more of its benefits if you apply it before you shampoo. No, really! The pros: providing your locks with moisture and deep conditioning without weighing them down, and keeping your shampoo from completely stripping your strands. 
2. Start Using Hair Oil
I'm constantly touting the merits of hair oil (and many other beauty oils, for that matter), and I'm not likely to stop any time soon. That's because once you've found the ideal one for your hair type, there are so many ways to use it to enhance your mane! Apply it as a pre-shampoo treatment, on damp hair to ward off frizz, or to dry hair to moisturize your strands in between washes. You can even use a few drops to coat your ends before heading to bed—you'll find them more nourished in the morning. Cult-favorite hair brand, Olaplex even offers one now – No. 7 Bonding Oil.
3. Towel-Dry Curly Hair After Using Styling Cream
The curlier your hair, the dryer it tends to be, which is why you want to seal in as much moisture as possible when washing and styling your locks. One of the keys: applying your styling cream to soaking wet locks. Then, once your strands are saturated with product, gently pat excess water out with a towel, and style as per usual. What a difference!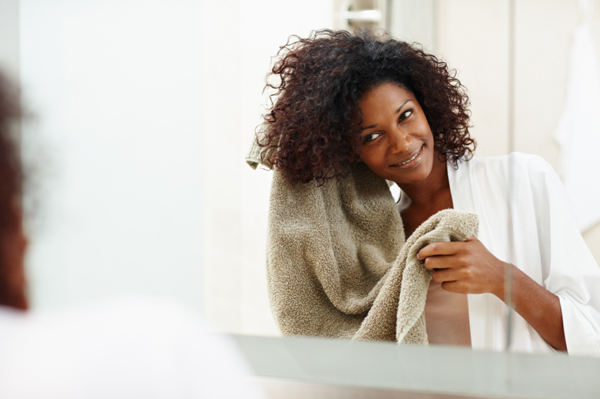 4. Massage Your Scalp As You Shampoo
Many hair experts I've interviewed through the years have mentioned people focusing too much on washing their actual hair, rather than their scalp—a big no-no often named as a common mistake made while shampooing. The recommendation: gently massage (don't scratch!) your scalp as you lather up so that any dirt or build-up can be rinsed away with your shampoo. Scalp massagers are having a moment in the spotlight, and they can be helpful, but if taking an extra tool with you into the shower isn't your jam, it's perfectly adequate to use the pads of your fingers. Try it and you'll see: your hair will feel so much cleaner afterward. And massaging is said to help stimulate blood circulation in the scalp and promote healthy hair growth, too!
5. Shampoo Twice Rather Than Once
Experts have conflicting opinions when it comes to whether you should shampoo once or twice, but I have personally found that if I have the time, my hair looks fuller and feels cleaner when I lather up twice. Here's the logic behind the idea: the first shampoo does a preliminary wash, while the second round is when your formula can really do its thing, lathering up fully and cleansing properly. Especially if you prefer to wash your hair less than every other day, this simple change is worth it.
6. Exfoliate Your Scalp
A lot of us make it a point to exfoliate our skin more or less regularly, but have you ever considered doing the same for your scalp? Not only can exfoliating your scalp help get rid of dead skin cells and build-up, but it can also help encourage hair growth and health. The same way as there are physical and chemical exfoliants for your face and body, you'll find scalp scrubs as well as formulas with exfoliating ingredients like AHAs for your head. Some products even combine both! Vegamour's GRO Scalp Detoxifying Serum with vegan silk protein is known to fly off the shelves.  It's not necessary to exfoliate your scalp every time you shampoo, but it also depends on how many styling products you use, or if you're a fan of dry shampoo. Scalp exfoliation is another step I've been doing for quite a while, and I've really noticed a difference in my hair!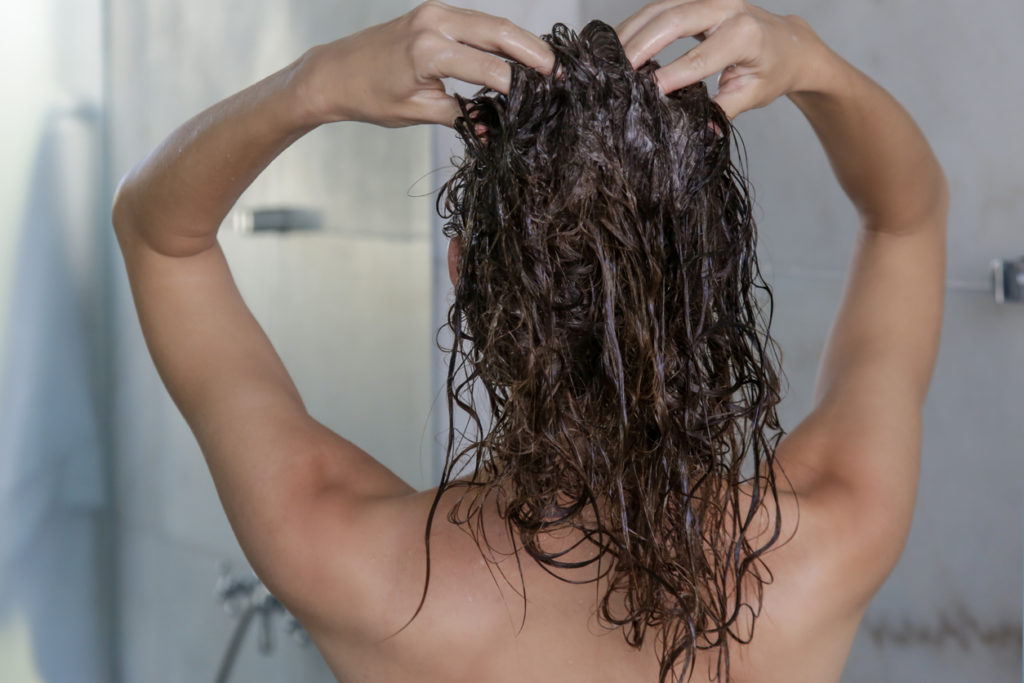 7. Spray Your Bobby Pins
Raise your hand if you have fine or straight hair and your bobby pins never stay put! Apparently, I've been overlooking a very simple solution: spritzing them with hairspray so that they're slightly sticky and stay in place. Mind. Blown.
8. Switch to a Satin Pillowcase
If you have wavy or curly hair, you know frizz is not always welcome. Apparently, sleeping on a silk pillowcase can help reduce friction, decreasing the likeliness of frizz and tangles. It can even cause fewer creases on your skin for the same reason. Silked Classic Silk Pillow Sleeve is a favorite, thanks to its clever design. *Frantically starts looking up silk pillowcases online*
9. Trade Your Towel In for a T-Shirt
A hair trend called "plopping" for wavy and curly hair took TikTok by storm last year, and a quick glance at the videos under the #plopping hashtag is all that's needed to see why. The idea: after washing your hair and applying your styling products (while it's still wet, remember?), wrap your hair in a t-shirt instead of a towel, and wait at least 30 minutes. Then, release your locks and let them air-dry (or blow-dry them with a diffuser), touching them as little as possible. Silky, beautifully defined curls and waves that are completely free of frizz? Sign me up, please!
10. Get On the Lamellar Train
If you haven't heard of lamellar water yet, you're in for a treat! The super effective water-based treatment literally works in seconds to target damaged areas on your hair, leaving it softer, shinier, and tangle-free. Sure, it may sound too good to be true, but believe me: one try and you'll be hooked! Many brands offer lamellar treatments, with some being very affordable—like the L'Oréal Paris 8 Second Wonder Water, which costs around $10—so there's no reason not to give it a try. I personally won't be going without lamellar water in my routine from here on out!
11. Let Your Hair Cool After Using Heat
You know how sometimes you achieve the perfect look while blow-drying or using hot tools, but a few minutes later your style looks completely different? That's likely because you didn't let your hair cool down first. Heating your strands make them malleable, but to lock in their shape, it's important to let them cool. That's also why most hair dryers have a cold air button! If you're using a round or paddle brush with your dryer, blast each section with cold air for a few seconds after drying it to preserve its shape.
12. Moisturize Dry Hair In between Washes
If you have dry hair, you likely don't wash your hair daily, or even every other day. But that doesn't mean you shouldn't be caring for your strands in between. Find a hair cream or lotion that can be applied to dry hair daily to keep your mane soft and healthy. Hair oil is my personal go-to, but there are some great creams out there, too!
What is something you switched up in your hair routine that was a game-changer? Let me know in the comments!
---
Author: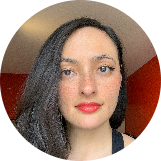 Marieve Inoue
Mariève has been writing about beauty online and in print for over 10 years. Half-Canadian and half-Japanese, she loves that being a freelance beauty writer gives her the opportunity to explore the cosmetics landscape from Montreal all the way to Tokyo. Also on her mind at any given moment: cats, music, figure skating, food, and her next trip to Japan. You can find her (and her beauty illustrations!) on Instagram at @by.minoue.
---
Comments