I Tried Alicia Keys's Newest Skincare Products and My Skin (and Mind) Have Never Felt Better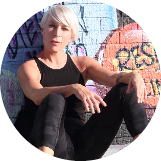 Amanda Fletcher
Aug 20, 2021
---
Just like its award-winning founder, Keys Soulcare keeps churning out the hits. 
---
It is no secret that Alicia Keys has struggled with her skin. I mean, she was the OG Proactiv spokesperson after all. I know this because as a lifelong acne sufferer myself, I have always struggled to find the right products for my skin.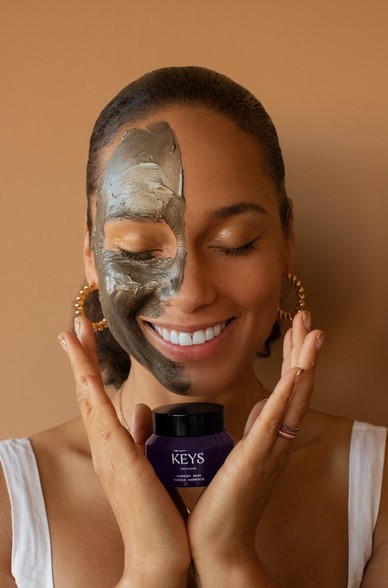 Alicia, of course, went on to co-found Keys Soulcare, partnering with board-certified dermatologist Dr. Renée Snyder (also an acne survivor - I like the sound of that better) to create clean, safe, cruelty-free, and effective skincare with a ritualistic twist. Fifteen-ish years later and I am here for whatever Alicia brings, because with my sensitive skin, this girl is still on fire. 
(Sorry, not sorry.)
Founded in December of 2020, Keys Soulcare originally launched as a lifestyle destination, with an editorial website focused on the links between mind, body, spirit and social connection, with content detailing how whole self-awareness translates to skincare. Keys Soulcare is designed as an experience, celebrating skin, spiritual insight and community. A key pillar of Keys Soulcare is the concept of "turning your routine into ritual." For that touch of magic, there are inspiring affirmations and ancient iconography printed on all of the packaging. 
Think of Keys Soulcare as beauty's Be Here Now. 
If you are new to the brand, Alicia recommends starting with the Skin Transformation Cream. "I'm normally a little scared of creams," she says, "because they can feel like a grease attack. But I love how this feels, how it smells and how light it is on my skin." This formulation contains malachite, which is rich in copper–effective at increasing collagen and elastin–and has anti-free radical properties which help protect the skin while retaining moisture. 
Personally, I have the coveted Comforting Balm on my wish list. That said, I've tried two of Keys Soulcare's newest products, launching this month.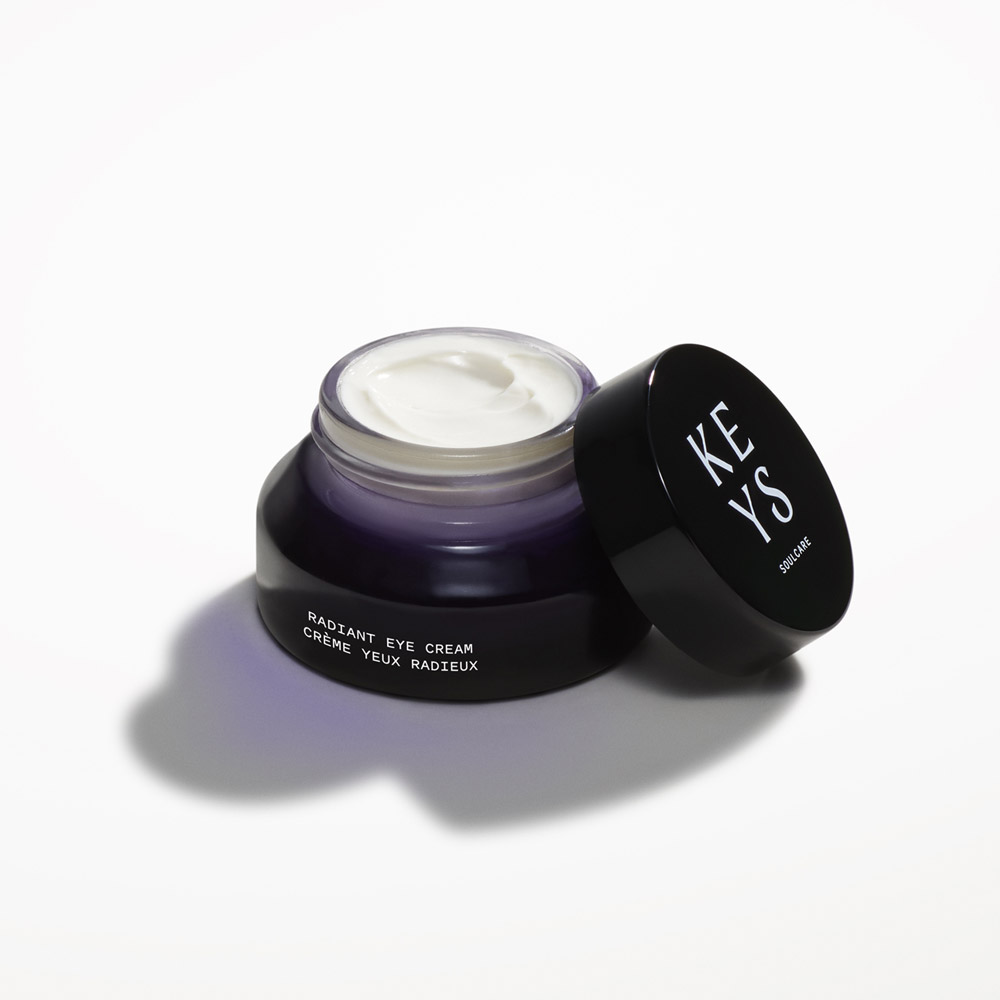 Radiant Eye Cream 
Or, as the French say, Crème Yeux Radieux (all product descriptions are also written "en Français").
"You have awakened your full potential," it says on the dark purple box. And when you flip the top, there's a tiny keyhole printed on it, as if you've found the doorway into a better you. The mantra is printed again on the side of the eggplant-colored glass, but this time it's in first person, meant to be repeated to yourself as the ritual part of your skincare routine. "I have awakened my full potential," I repeat to myself as I gently dab dots of cream around the orbit of my eye. Already, I feel...better - present in the moment and in gratitude for the skin I'm in. The cream has a delicate, clean fragrance that's difficult to describe other than to say, it's pleasant. Once applied it melts into your skin, leaving a light glow in its wake, a possible side effect of the gold foil in the formulation. 
Ancient alchemists referred to gold as the "Elixir of Life". Aside from imparting a radiant glow to the complexion, gold is known for its calming properties and youth-boosting benefits, as well as being rich in antioxidants that help protect your complexion from environmental aggressors.
Other stand out ingredients include peptides – the skin's building blocks – and sunflower seed oil, which was first cultivated by Native Americans thousands of years ago. It's also rich in vitamins A, C, D and E, making it a potent moisturizer and antioxidant with serious anti-inflammatory properties. 
I've been using this morning and night for a week now and it feels light on the skin, sinks right in and hydrates beautifully while delicately soothing the skin around my severely seasonally allergic eyes.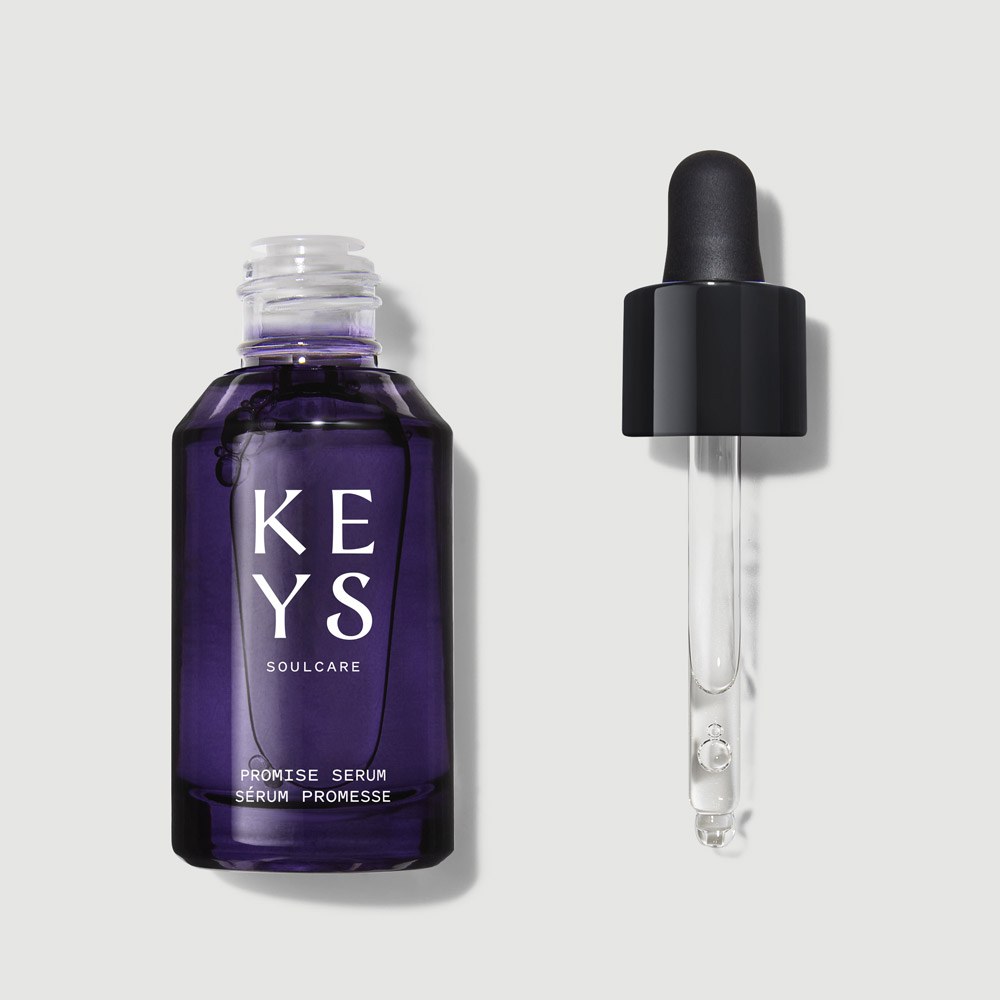 Promise Serum
As someone who has been on Accutane five times (yes, FIVE), I am comforted by the clean green aloe-esque scent that the Sérum Promesse delivers, and its crystal-clear consistency. When I pressed it on my face, there was zero sting–which was an unusual delight for me–and no sticky residue. I find that I am, in fact, embracing all possibilities, just like the affirmation on this bottle is asking me to. 
This serum, like all of the Keys Soulcare products, is formulated to keep your skin (and your soul) clear and bright, layering ingredients with similar functions. Hydrating niacinamide helps conquer your hyperpigmentation and reduces inflammation associated with acne and rosacea, Zinc PCA reduces redness and sebum secretion while supporting skin healing, and Snow Mushroom - or tremella - is a hydration powerhouse on par with hyaluronic acid.
After using the Promise Serum regularly, my skin feels more balanced and smooth, and my skin tone looks more even. 
Final verdict – I love this skincare line and everything it stands for. As a trainer, I focus on the mind, body, spirit connection with each of my clients, and I am always encouraging them to work on being more present in the moment, to come to a place of acceptance with themselves. This same mindset is essential to the DNA of Keys Soulcare – high-quality, results-driven skincare with ritualistic steps designed to elicit positive, memorable, and meaningful experiences.
What more could we ask for?
---
Author: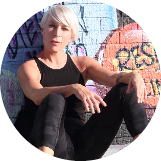 Amanda Fletcher
Amanda Fletcher is a writer, editor and coach whose personal focus is recovery and wellness. A prolific travel and freelance feature writer, her work has been published in the Los Angeles Review of Books, the Orange County Register, FAR & WIDE and many more. You can follow her story on Instagram @theamandafletcher and find her at http://amandafletcher.me
---
Comments