Top Skincare Experts Swear by This Hyaluronic Acid + Copper Peptide Facial Mist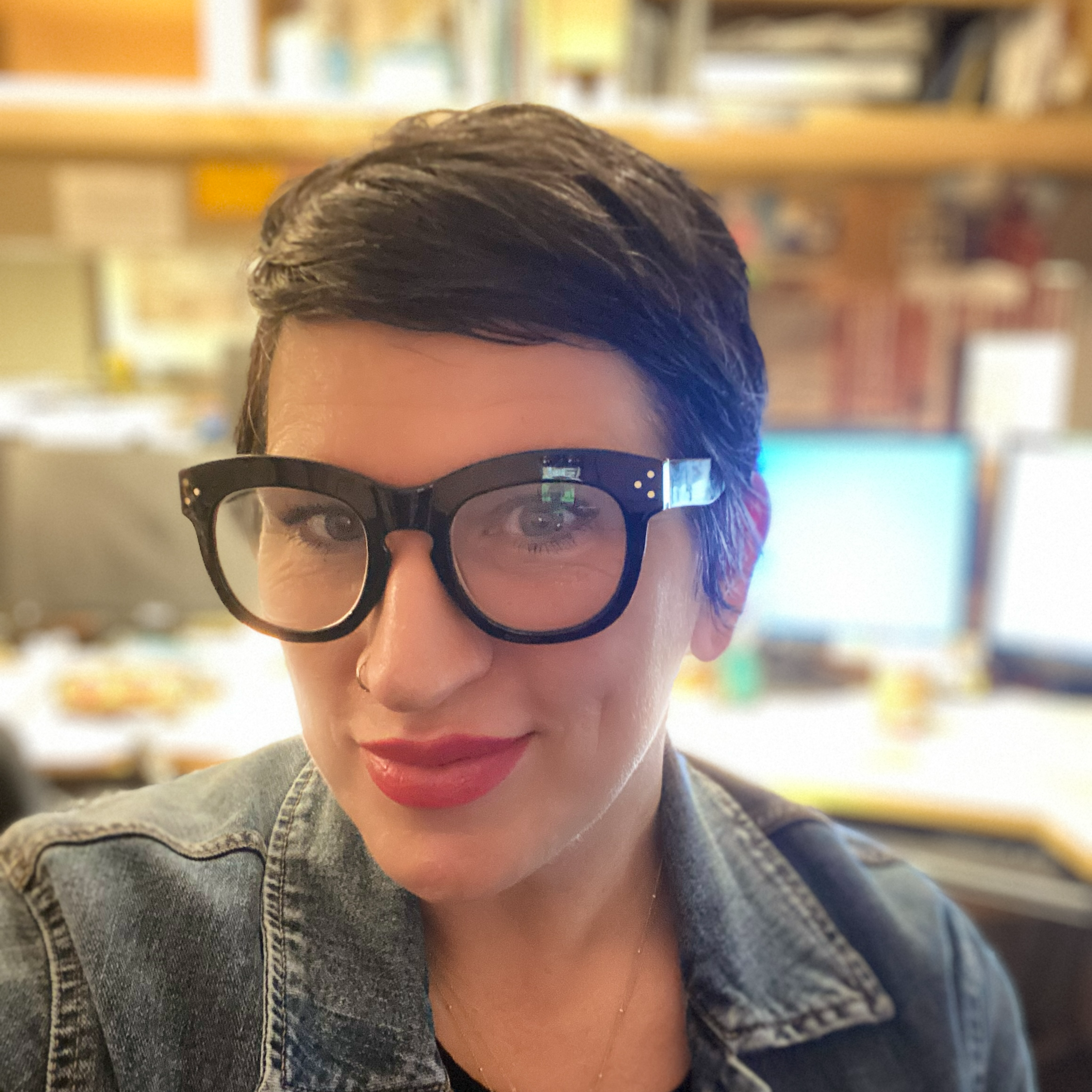 Randi Steele
Aug 23, 2021
---
This next-level, nourishing facial mist is designed for all skin types.
---
Hot Takes on Hyaluronic Acid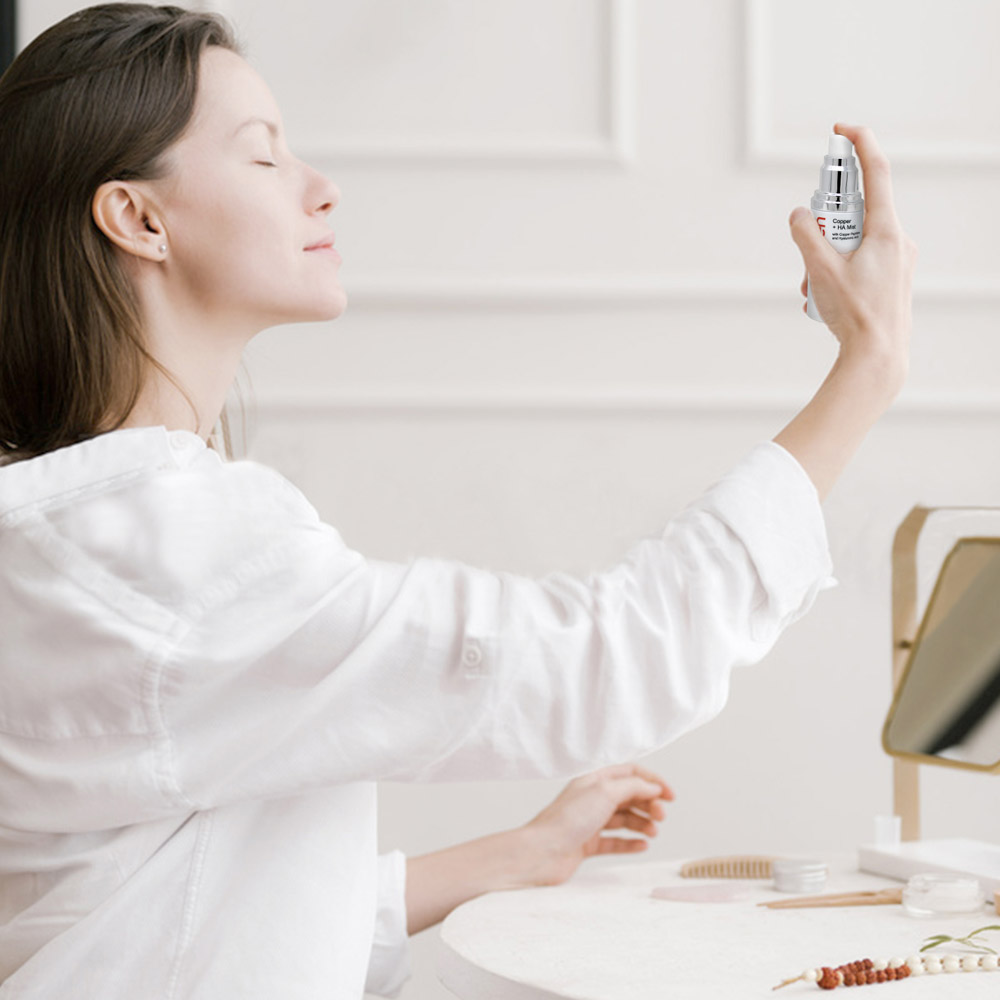 Looking back on the first half of 2021, a year where COVID and the Delta variant still loom menacingly, even though most of us are poised to free our faces and seize life sans masks, there are a few key learnings that I have gleaned. First, I realized that Britney Spears's freedom is fundamental to our existence; she is an international treasure and must be protected at all costs. Second, I had the epiphany that hyaluronic acid has stood the test of time as the sleeper hit of the skincare industry. Ask anyone who maintains even an occasional skincare routine and they will tell you; hyaluronic acid is basically the Schitt's Creek of skincare ingredient trends - happily putting in quality work, not needing all that unnecessary praise and hoopla, but also totally deserving of the accolades. You can find this biological dynamo in a swarm of anti-aging beauty products: serums, creams, hair care and breakfast cereals; ok, maybe not cereal, but how epic would it be to get age-defying benefits from your Frosted Flakes? Another form of delivery is mists; quick, easy and portable, they give skin a blast of plumping benefits while easily fitting in your pocketbook.
A standout in the game is MDPen's Copper+HA Mist, one that tones skin while packing a one-two punch of hydration and antioxidants. The mist is a key player in a line of skincare that has caught fire with dermatologists, makeup artists and estheticians. Nurse Practitioner and owner of Skin Thesis, Melissa Haloossim uses MD Pen's products including their Cellular Renewal Serum during microneedling treatments and their Growth Factor Gel post-treatment. "The Copper + HA Mist would be a great product for post-microneedling to expedite healing," she says. 
Board-certified physician Dr. Madh is also a fan. "We see great results with this facial mist," she says. "It is a must-have product that hydrates and heals the skin and we are happy to recommend it to our patients."
The MD Pen is Mightier…
Established as leaders in the micro-needling industry through their state-of-the-art instruments and training, MDPen Skin Care was created by Carmen Simons and her team. With project management being her forte, Simons and her cohorts developed the four original skincare products to supplement their popular micro-needling treatments, so clients could repair and care for skin at home after their procedures. As their popularity grew, additional items were added to the roster. The products fall under categories of Hydrate, Treat, and Repair & Protect, and include hair care products as well. The Copper Peptide Facial Mist is a hydration tool, and designed to be a key player in the regimen lineup, but can easily be utilized solo. Whether a refreshing spritz pre-workout, a 3:00 pm blast on your coffee break, or a refresher after running errands with your mask firmly in place, this mist provides key hydration from the skin care MVP, hyaluronic acid. But let's dive in at a molecular level; it seems to be completely magical and all, but what exactly is hyaluronic acid anyway?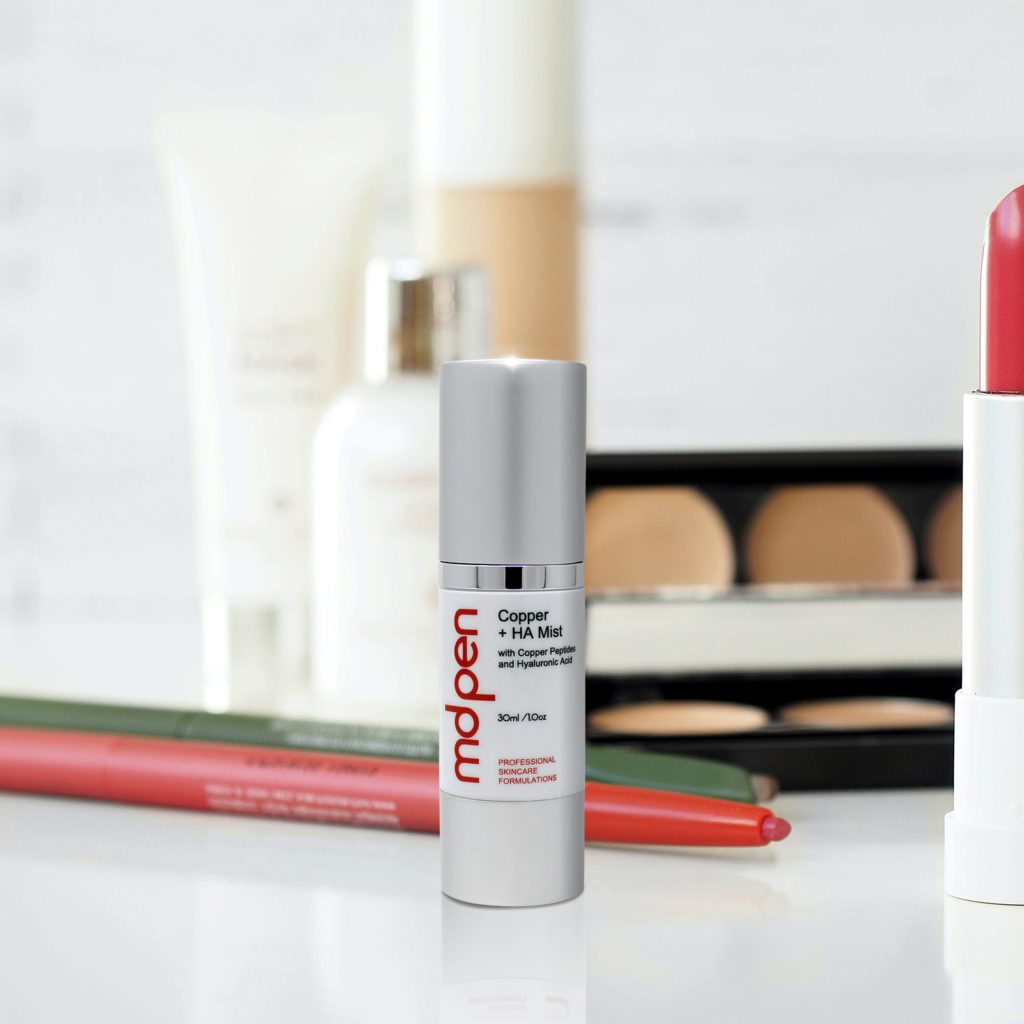 Board-Certified, San Diego based, and Harvard educated dermatologist Arisa Ortiz states that hyaluronic acid naturally exists in the body and acts like a sponge, holding onto water to hydrate dry skin.  Ortiz also states that while most molecules of hyaluronic acid are too large to penetrate the skin (unless you are utilizing them in the form of injectables like Juvederm or Restylane), delivery methods like a mist can allow hyaluronic acid to sit on the surface of your face, giving it a plumped look. So, the hot take is that hyaluronic acid is found in dermal tissues and has the incredible ability to make moisture its BAE (before anyone else); bonding with it, taking it to dinner, buying it flowers, and calling it the next morning.  Ok, I kid; but hyaluronic acid does retain key moisture, and the result is the dewy, firm, plumped look we all covet. Sounds awesome, right? How could one possibly make it better, you ask? Simple. Add the new-ish kids on the block; copper, zinc and manganese peptides. Peptides are an amalgamation of a specific element and key proteins from amino acid chains, which join forces to provide the essential nutrients for healthy skin tone. Copper peptides help to boost blood circulation and refresh the blood supply in tissues, while also having the ability to stimulate collagen production, which is integral for cell regeneration and repair. Add manganese and zinc, which possess anti-inflammatory properties, repair the skin's surface, and eliminate free radicals that can cause signs of aging and skin damage, and you have the trifecta of skin saving superstars.  They are basically the peanut butter to hyaluronic acid's chocolate; great separate, but even more delicious together.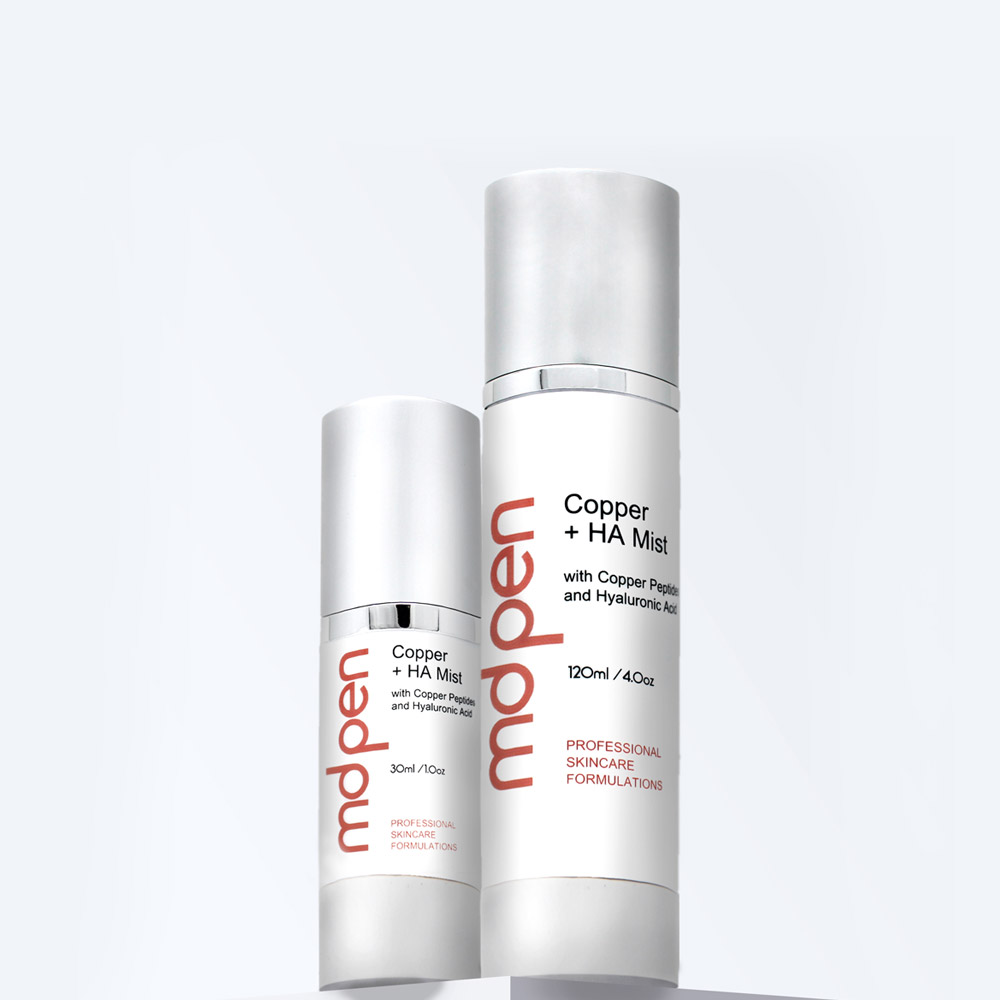 Hello Hyaluronic Acid, We Mist You….
The MD Pen Copper+HA Mist is touted as an excellent prequel to any serums or face creams; by amplifying the skin's hydration level with the combination of hyaluronic acid and copper peptides, it subsequently boosts the performance level of moisturizing elements like lotions and oils, leveling up the skin's ability to absorb vital moisture. After washing with a solid cleanser, exfoliating to get rid of dead skin cells and applying toner as per usual, I blotted my face lightly to keep a layer of moisture on my skin. Why, you ask? The good doctor Ortiz also stated that the best way to reap the hydrating benefits of hyaluronic acid is to apply it to damp skin. In this way, the acid has existing moisture to bond to and absorb. Avoiding the eye area, I sprayed a generous amount of the fine mist all over my face and neck. I was amazed at how quickly my skin drank up the concoction, which is a direct result of the technology used in the spray mechanics and high absorption ability of the minerals based on their molecular size. My skin felt smooth and firm, without the presence of tightness. However, the real test remained to be seen. I regularly use the trifecta of serum, moisturizer and face oil for maximum hydration (the order of which dermatologist Dr. Ortiz supports, as her rule of thumb is to progress your treatment layering from lightest to heaviest), but have difficulty applying foundation after - the oil always seems to sit on top of my skin, causing the foundation to blend poorly and slip. But dear reader, when I applied the serum during my beauty routine - my skin slurped it up. Moisturizer? Done deal. And the oil, you ask? My skin absorbed it in record time, leaving my face hydrated, brightened, and replenished; a blissfully plumped canvas for my foundation to glide on and blend to perfection (chef's kiss).
Misting the Night Away
Facial mists have come a long way, and there are literally scads on the market with an array of ingredients targeted to quench all moisture-starved skin tones and smooth fine lines.  But with the addition of hyaluronic acid, copper peptides, and antioxidants, MDPen's Copper+HA Mist is a literal game-changer. With the portable nature of the product, as well as the fact that you can't overdo it with hyaluronic acid (or any of the ingredients in the Copper+HA Mist, for that matter) this product easily became my rejuvenating skincare soul sister.  The mist is a seamless addition to your existing regimen that will not only deliver direct benefits from hyaluronic acid and the ProEnzyme trio, but it also has the potential to elevate the performance of the elements in your existing skincare regimen as well. 
Grab it, use it, reap the benefits, and your skin will be glowing in no time.
---
Author: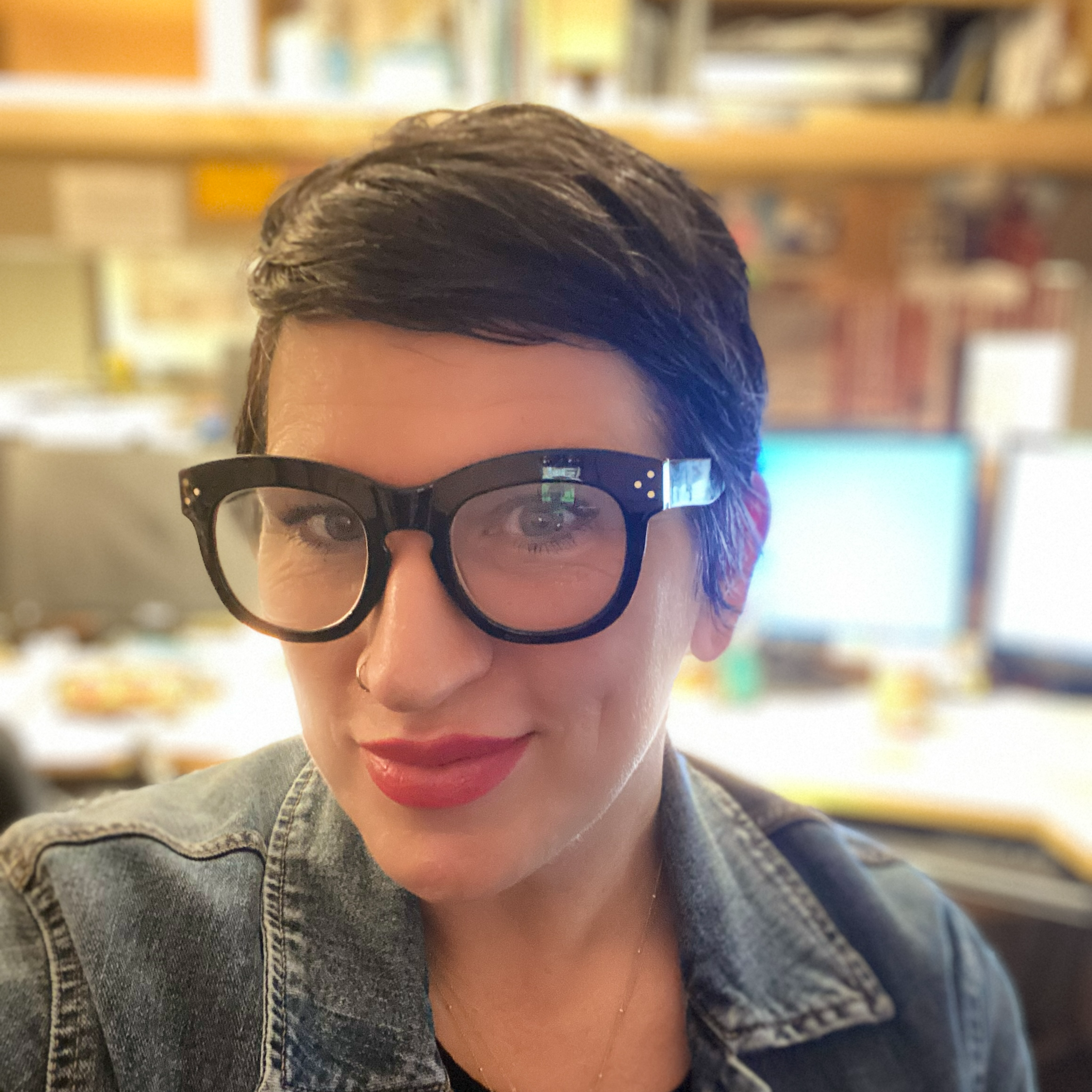 Randi Steele
Randi Steele is a freelance writer with a Bachelor's degree in Fashion Merchandising from Oregon State University and a Master's degree from University of Southern California in Communication Management and Journalism. When she isn't writing for BeautyTap, she is developing content for her curated website, blog and accompanying podcast, The Style Adjacent, launching in June 2023. Randi also loves the aesthetic nature of writing and lettering, and her modern calligraphy can be found on Instagram at @freshruth. She loves vintage pocketbooks, Nipsey Hussle, a classic red matte lip, college football, and getting tattooed; not necessarily in that order.
---
Comments