Alicia Keys Just Dropped Two New Body Products and We Can't Get Enough of Them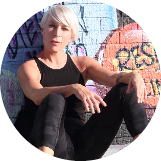 Amanda Fletcher
Sep 24, 2021
---
They're heaven sent.
---
I'm packing my bag for Palm Springs. It's my birthday and my partner and I are headed back to the citrus blossoms, olive trees and bougainvillea drenched Moroccan fountains of Korakia Pensione for a few days of down time. Blissful days in the desert sun means I'm planning to show some skin and I suddenly realized I'm not ready! So, I booked a wax and now I'm bellying up to the new Keys Soulcare body polish and melting body balm.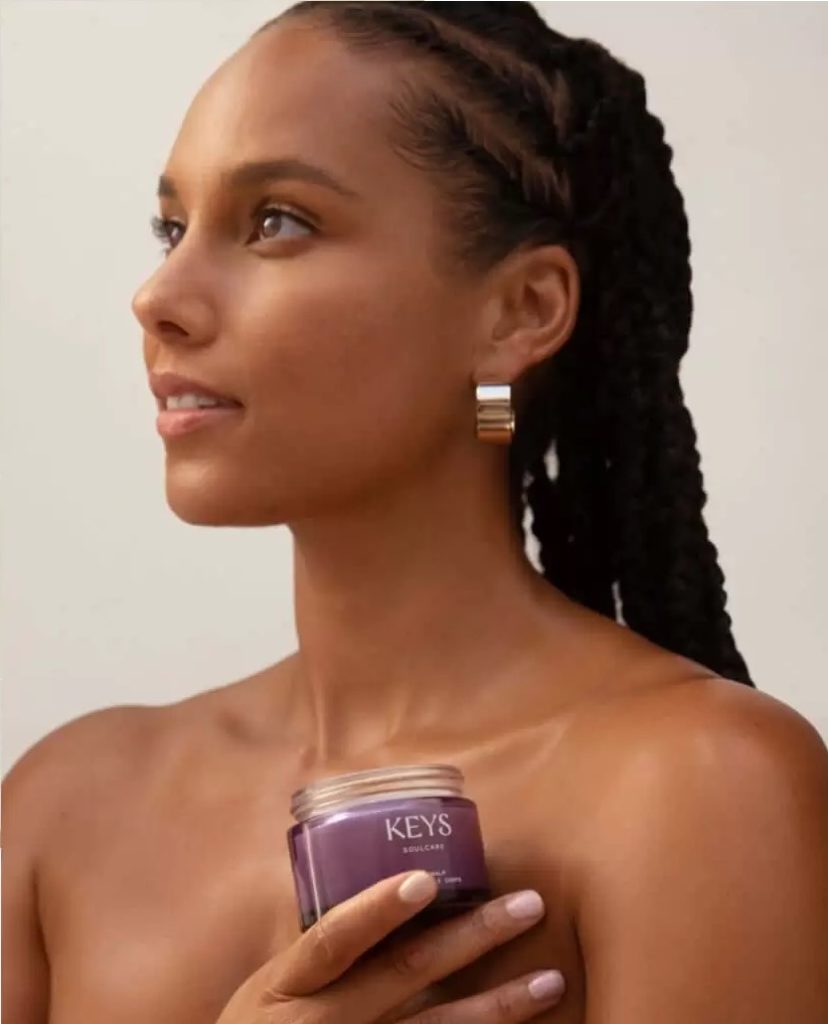 Keys was born out of the personal skincare journeys of singer-songwriter, actress, activist and author Alicia Keys and board-certified dermatologist Dr.Renée Synder. For much of her life, Alicia's struggles with her skin took center stage due to her superstar status, and Dr. Snyder's teenage acne was the impetus for her becoming a dermatologist. As a result, all of the products they've launched since December of 2020 are dermatologist-developed, clean and cruelty free. 
I am already in love with the Radiant Eye Cream and the Promise Serum and the concept behind the company – caring for the whole self – body, mind and spirit, through the ritual of skincare. Using these products, flush with ancient ingredients like malachite, Manuka honey, and Hojicha powder, and combined with hyaluronic acid, ceramides and bakuchiol feels like making a conscious connection to Source, an active form of meditation. Anything that forces me to slow down and be present in the moment fills me with gratitude. I believe, much like the brand does, that we are capable of elevating our daily vibration just by paying closer attention to – and elevating – our daily routines.
As a trainer, I am always asking my clients to focus their awareness. I don't want them to learn just by rote. I want them to truly inhabit their bodies, knowing where they're feeling the effort, which muscles are working, and which ones are supposed to be. I bring this thinking to every aspect of my own life. Dry brushing is a great way to experience body awareness. Running the bristles over your skin not only exfoliates but it brings blood and heat to the area being brushed, bringing your attention back to your physical self in an authentic way. I bring this up because I also had the opportunity to experience the Keys Soulcare Energizing Body Brush. Like all Keys Soulcare products, there is an affirmation on the box, meant to be repeated while you're treating yourself and then again throughout the day. So, as I'm sliding my hand under the black canvas strap to grip the back of the biodegradable brush I am repeating to myself "your glow is contagious." Because ain't that the truth!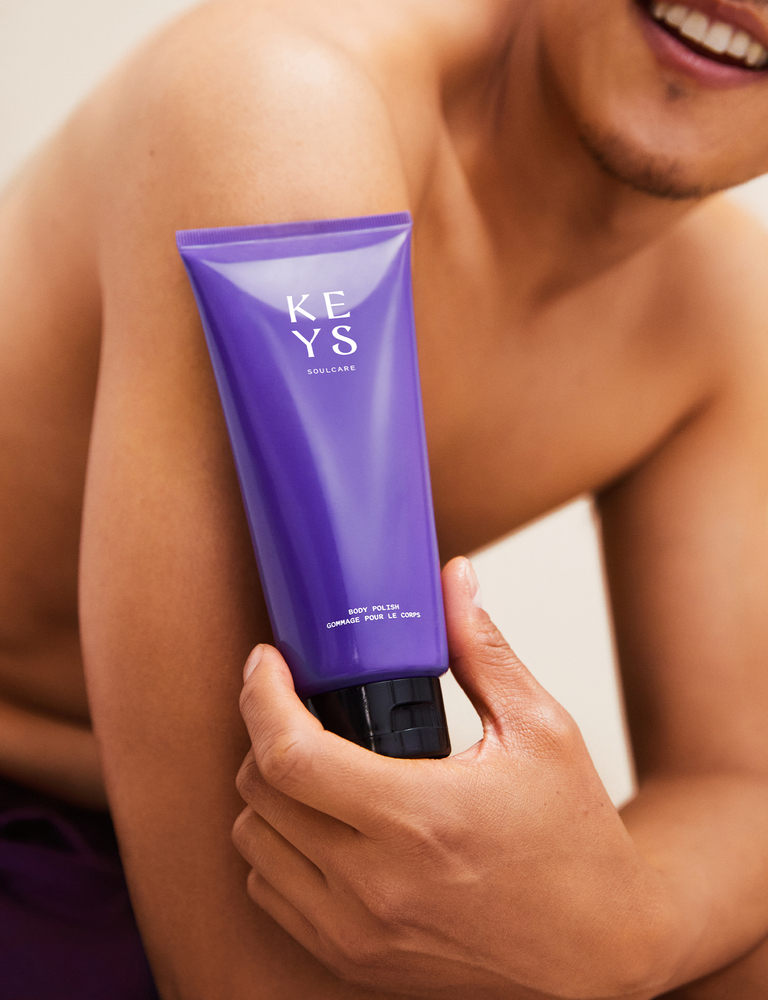 Mind Clearing Body Polish 
The shower in my room is something out of a cruise ship – there is just enough room to stand in. So, in the spirit of the affirmation printed on the body polish, I let go of what doesn't serve me and squirt a generous dollop of the luxurious exfoliant into my cupped palm before massaging the subtly sweet, nutty-smelling creamy lotion all over my body. While there is some manually exfoliating grit in the formula, it's not irritating like many other scrubs, and even before stepping into the shower to rinse it off, I can feel the difference. My flesh already feels smooth and hydrated. What a decadent, memorable experience. 
Longer term exfoliants in the body polish include a combination of glycolic and lactic acids, perfect for those of us with acneic skin. The acids work to break the bonds between the outer layers of skin, allowing them to peel off and reveal the fresh new skin beneath. Say so long to dead skin cells, excess dirt and oil and clogged pores. And lactic acid potentially makes the new skin thicker and firmer. This is a daily ritual you won't ever tire of.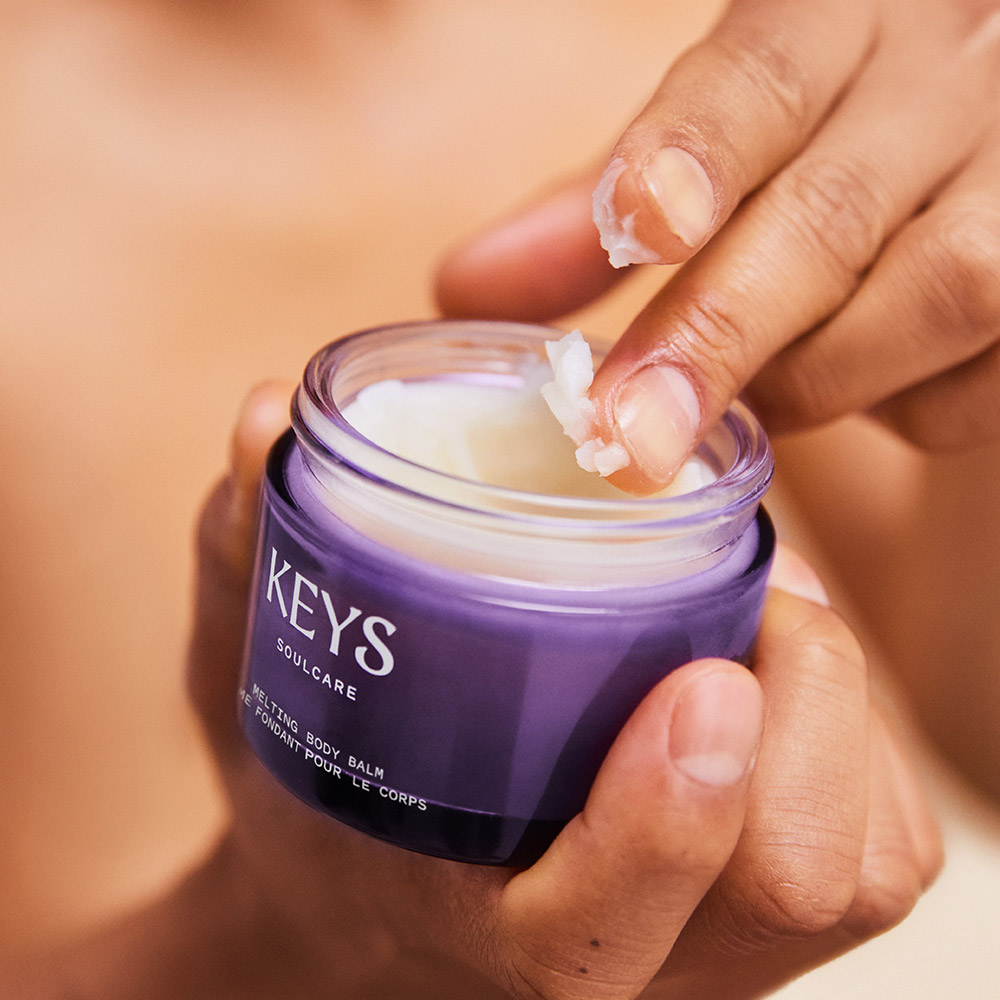 Melting Body Balm
Both of these indulgent products come in royal deep purple boxes and containers that add beauty to any bathroom countertop. The glass cylinder of body balm rests luxuriously and heavy in my hand. When I take the lid off, I can't help but bury my nose in it, inhaling that alluring sage and oat milk fragrance. The balm is a solid, and once it comes in contact with your skin, melts like butter and leaves behind a dazzling glow. 
The combination of sumptuous coconut oil, shea butter and macadamia nut oil is a tropical vacation for my skin. The typewriter tattooed on my forearm looks renewed, the boost of moisture making the ink pop, and my knees and elbows drink it up, as do my cuticles. I can't stop touching the skin on my legs. Pure luxury. 
This is exactly what I needed for those Palm Springs nights I have coming up. And the fact that the balm is a solid makes it an easy companion on a road trip. I don't have to worry about it exploding in my suitcase. Isn't it amazing how going anywhere lately feels like such a luxury? Travel has become something I cherish more than ever these days, so it's fitting that the affirmation on the Keys Soulcare body balm is this:
"You cherish all that you are." 
And the Keys Body Polish and Melting Body Balm make that easier than ever. 
---
Author: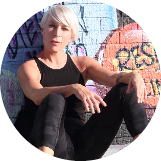 Amanda Fletcher
Amanda Fletcher is a writer, editor and coach whose personal focus is recovery and wellness. A prolific travel and freelance feature writer, her work has been published in the Los Angeles Review of Books, the Orange County Register, FAR & WIDE and many more. You can follow her story on Instagram @theamandafletcher and find her at http://amandafletcher.me
---
Comments