Olita's Miracle Sun Care Product Instantly Removes Sticky Beach Sand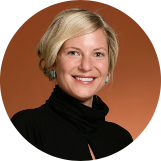 Danica Farley
Apr 07, 2022
---
Meet your new favorite, eco-friendly sun care brand. 
---
Olita partnered with Beautytap's diverse community of certified beauty professionals for trusted, detailed, unpaid reviews around some of their innovative sun care products. We are sharing this post with you as part of this collaboration and to learn more about their brand. All opinions are our own. Thank you for your support.
One of life's great pleasures is outdoor playtime. Sunlight is mood boosting, bone building, and immune strengthening. Solid protection against harmful rays is essential for your health, wellness, and future beauty goals.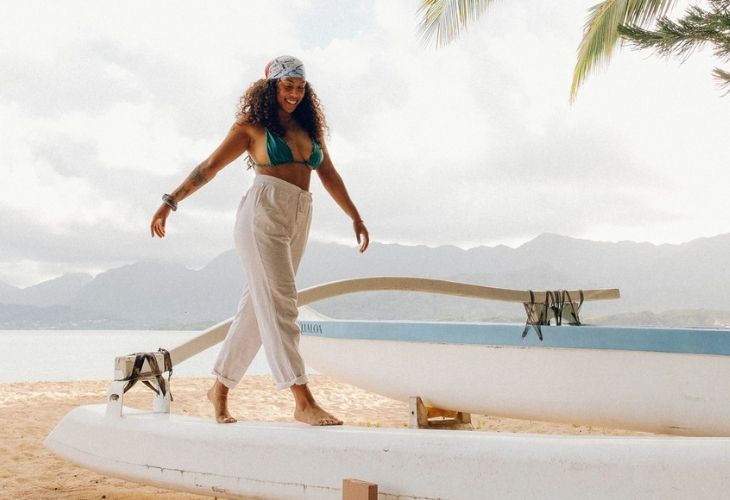 A mountain girl by birth and coastal local by choice, I thrive outside. Backpacking or brunching, I have learned (the hard way) not to skimp on proper sun care. Finding a brand I trust and admire is a game changer. Add vitamins and age-defying antioxidants? Sold. I now enjoy covering up before living it up alfresco. 
Making big waves.
Seaside, lakeside, under sunny skies…ride the wave for safe fun in the sun. "OLITA means little wave in Spanish and we are a blended Hispanic family," says founder Laurie O'Hara. "Our name is a nod to that heritage and our love for the water." 
O'Hara is a self-described accidental entrepreneur. After years in financial services, she braved a complete career pivot. Laurie banked her love of the outdoors into creating a clean, affordable, Earth friendly sun care brand. The results have been priceless. 
Safe on your skin. Safe on the planet.
OLITA champions a healthier planet through superior products and virtuous actions—sourcing only 100% reef-safe ingredients, raising awareness on product safety, and donating a portion of sales to the Coral Reef Alliance.
"OLITA is on a mission to be the cleanest sun care brand on earth," says O'Hara. "We are doing this by using clean and environmentally safe ingredients, using bio-sourced and recycled plastic packaging, using carbon-neutral shipping, and giving back to ocean conservation with every sale."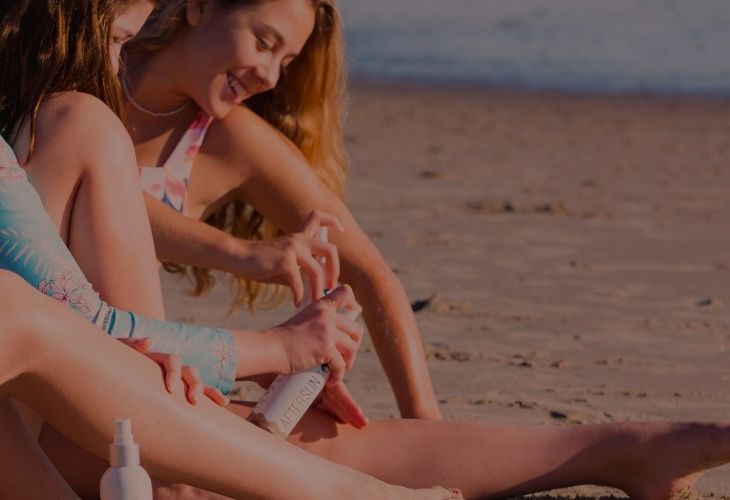 Protection with a purpose.
Coral reefs are magical underwater worlds; their existence is vital for myriad species and flourishing oceans. Hawaii, ecotourism reserves in Mexico, Palau, and other savvy destinations require reef-friendly sunscreen. (Watch Chasing Coral and you will see why reef preservation is paramount.) OLITA partners with the Coral Reef Alliance to help restore coral reefs across the globe. 
Dear OLITA: Serious props for your praiseworthy endeavors.
"We take extraordinary measures to have sustainability at the forefront of our business practices," says O'Hara. "OLITA was founded on the principle of clean beauty protection for your skin and our planet." 
OLITA's products feel ethical and luxurious—they protect, hydrate, and soothe throughout a full day of adventure. Say "hola" to happy skin with these sun care essentials.
OLITA Tinted Mineral Sunscreen, $20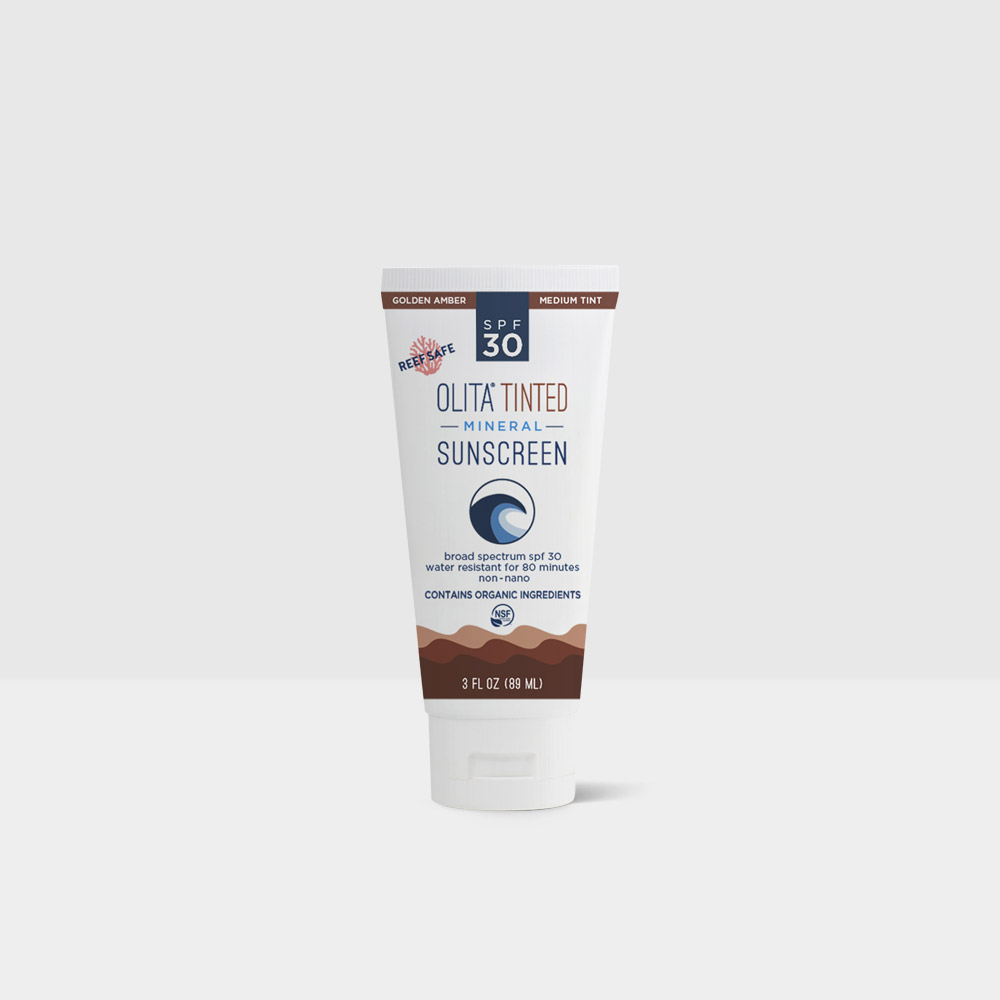 Find your glam groove with this golden wonder. No need to sacrifice pretty for protection…you can have it all with this glistening SPF 30 formula.
Smooth like butter, the texture is a silky caress that looks as good as it feels. I have never worn sunscreen so velvety. The amber tint blends with darker skin tones and bronzes lighter skin tones. No white zinc oxide streaks here. I am wild about how the hue illuminates my visage…I could face anything with this glow.
Made with clean, organic ingredients, OLITA's fragrance-free tinted sunscreen is especially advantageous for sensitive surfaces. It shields all skin types from harmful UVA and UVB rays, is water resistant for 80 minutes, and looks flawless for active lifestyles.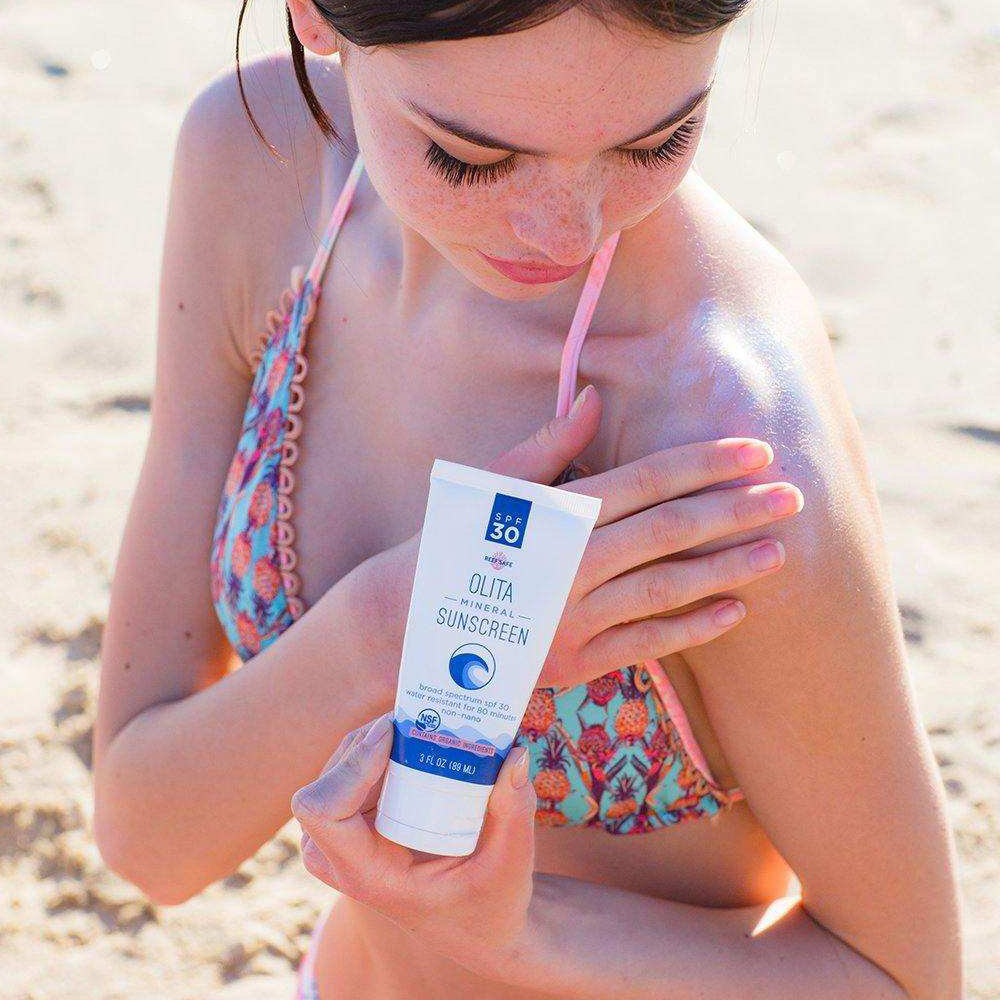 A lifeguard to safeguard your skin, this broad-spectrum sunscreen means business. Powerfully protective, a creamy SPF 30 provides dreamy coverage and shields against unsafe UVA and UVB rays. Don't leave home without it.
Certified organic ingredients—sunflower seed oil, beeswax, shea butter, zinc oxide, and more—guarantee goodness for people and planet. Be thoughtful, a little goes a long way. I applied this skin savior 15 minutes before sun exposure (plus every two hours outside) and felt securely covered for open air activities.
Surf's up! This mighty miracle is water resistant for 80 minutes, non-toxic, cruelty free, and purely fragrance-free.
OLITA AfterSun Hydrating Serum with Aloe, $20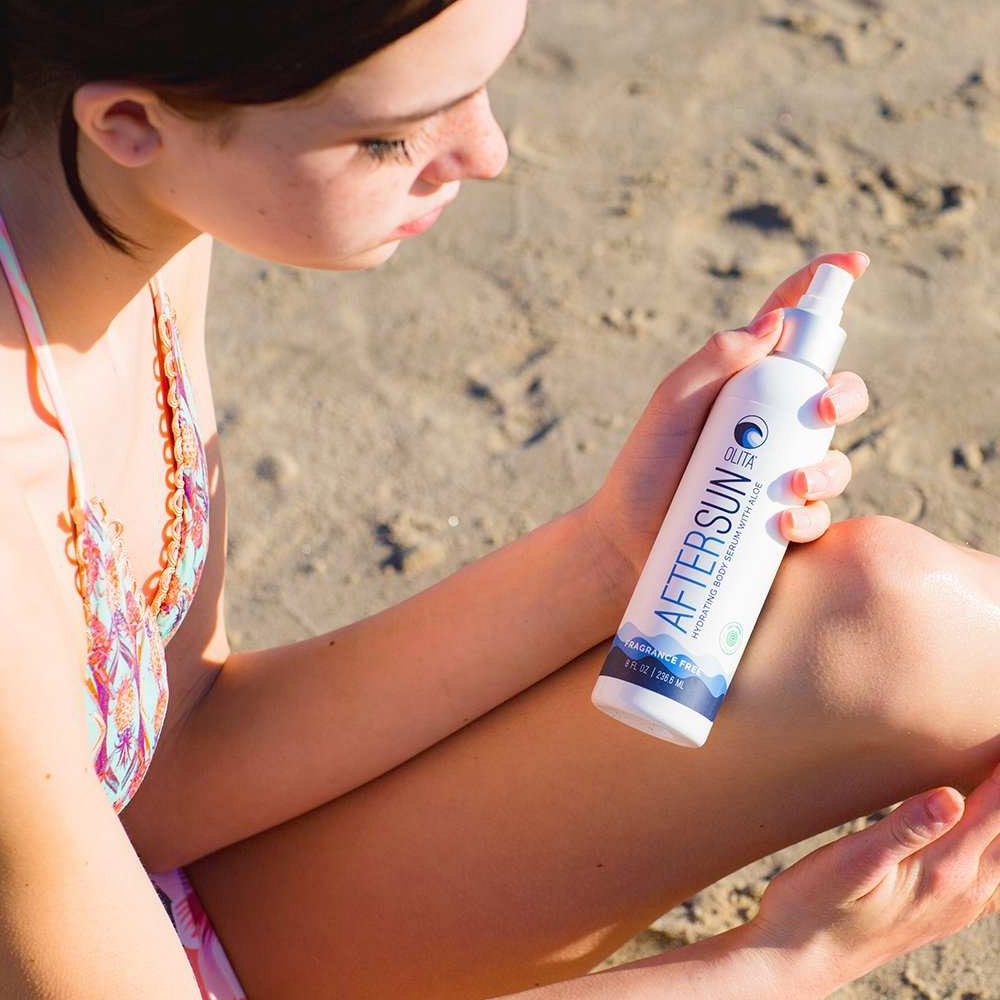 Maintain your sun-kissed glow with this ultra-hydrating serum. Effervescent as sea spray, an easy spray bottle mists featherlight oil on your precious body. A nutrient rich, non-greasy, restorative formula—lavish with healthy plant extracts and vitamin E—enhances after sun rituals and is a soothing delight after a bath or shower. It glides on softly, moisturizes, and cools. What a relief…this serum sinks right in and gently calmed my sunned skin.
Select from a trio of scents: Fragrance Free, Cool Coconut, and my top pick…Soothing Citrus. The pleasant scent is a subtle delicate floral, kindred to a citrus tree in full bloom. The perfect kiss of moisture for your skin prior to bedtime or any time of day. 
OLITA Beach Be Gone Sand Remover, $15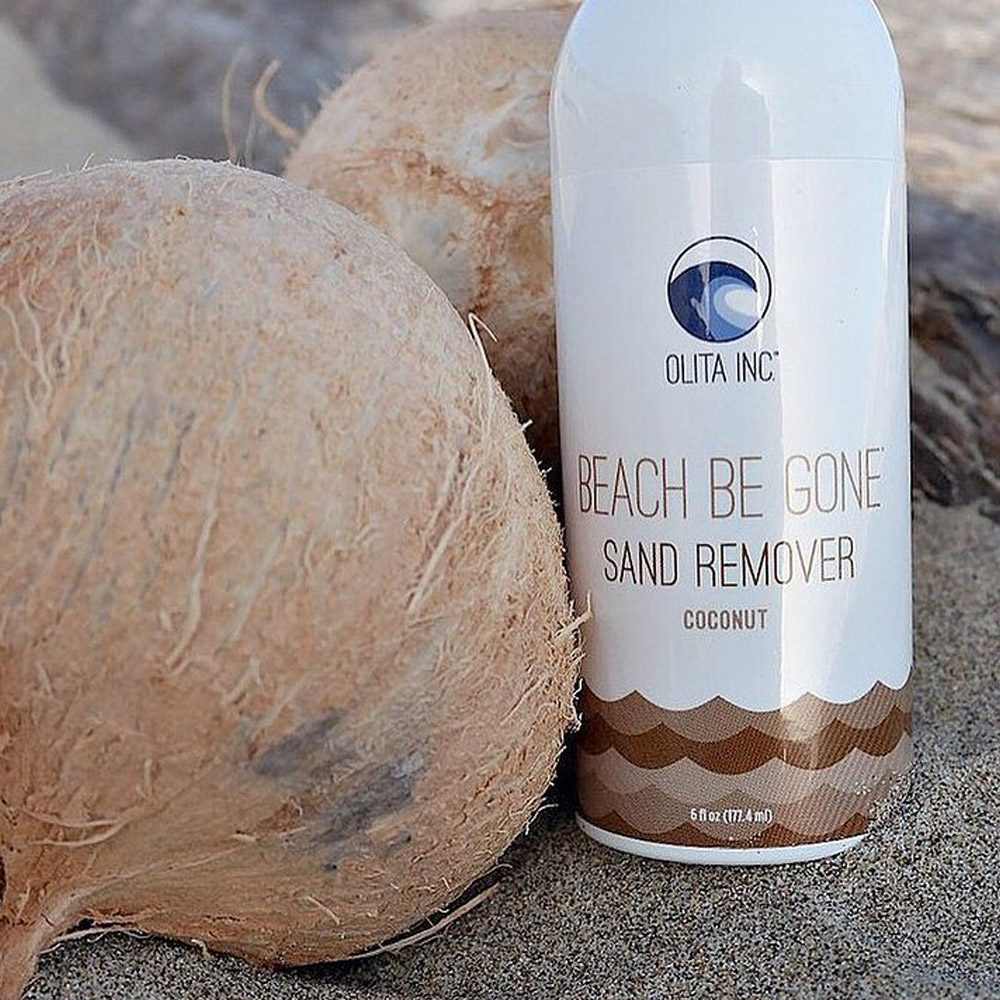 Wick sand and unwanted moisture away, invite only memories to stay. This dry rinse definitely will not dry you out. Simply shake powder from an easy breezy canister onto sandy, sticky skin and brush off. Voilà …seashore glee to après beach presto. Trust me (my dog begs for his daily oceanfront walk), it works.
Please your olfactory senses with six fragrance (and fragrance free) options. My favorites? Coconut for a tropical island vacation state of mind. And Cool Surf for a fresh and sensuous aroma—makes me think of superstar couple Laird Hamilton and Gabrielle Reece. A proprietary blend of natural powders and premium ingredients (organic aloe leaf powder, vitamin C Ester, Provitamin B5) nourish skin for a sleek finish.
Honored with Accolades
Bonus: EWG (Environmental Working Group) Verified means OLITA products avoid EWG's ingredients of concern and OLITA is committed to honest manufacturing practices with full transparency. 
Pamper your precious self, and your loved ones, with smart sun care…before, during, and after outdoor play. Building sandcastles with the kiddos? OLITA has baby brands too, and they've been honored with excellence by Mom's Choice Awards. 
Shop all products, proudly made in the USA, at OLITA online and enjoy peace of mind with clean, conscious coverage from sunup to sundown.
---
Author: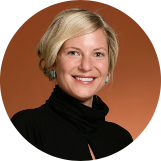 Danica Farley
Danica is a writer, editor, optimist, and content creator. She pens about experiences that inspire a life well-lived—beauty, travel, wellness, nature, art, positive vibes. Currently based in Southern California, her work has been published in COAST, Get Out There, and Utah Style and Design magazines, Orange County Register, KÜHL, and more. "Beauty begins the moment you decide to be yourself." - Coco Chanel
---
Comments