A Dermatologist-developed clean skincare and wellness brand co-created by Alicia Keys, Keys Soulcare offers serious skincare and soul-nurturing rituals for the whole body, mind, soul, and spirit.
---
Keys Soulcare partnered with Beautytap for detailed, honest reviews by a diverse community of verified beauty professionals and the campaign was a tremendous success.
Keys Soulcare Products Reviewed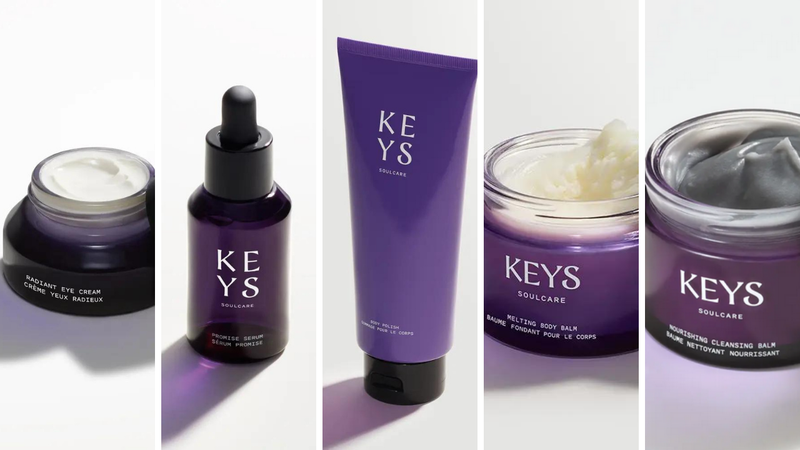 Goal
Provide consumers with honest, authentic reviews and UGC (user generated content) to improve the digital performance of hero SKUs for both Keys Soulcare D2C (direct to consumer) and e-retail partner sites.
Solution
Place Keys Soulcare products that have low reviews, no recent reviews, or below-average review content quality in the hands of Beautytap's verified beauty experts for real-world application.
Benefits
A significant boost in review volume for Keys Soulcare products and fulfillment of the digital demands as directed by e-retail partners for inclusion in their online stores and brick and mortar shops.
Aim
500+ reviews + 500 UGC
Results
733 reviews + 733 UGC + Editorial + Education
Time
Average 4-6 weeks per campaign
Keys Soulcare Leverages Beauty Expert Sampling Campaigns to Increase Sales of Key Products in Beauty E-Retailers
Keys Soulcare is an American skincare company co-founded by Alicia Keys and dermatologist Dr. Renée Snyder, is part of the Elf family of brands, which manufactures and sells products through its direct-to-consumer site and retail chains including Ulta. The company recently chose to emphasize its new products and highlight them as a real differentiator in the celebrity-backed brands space by focusing on the whole, wellness aspects and working with beauty experts to weigh in on reviews and efficacy.
Given these five Keys Soulcare products (Radiant Eye Cream, Promise Serum, Body Polish, Melting Body Balm, Nourishing Cleansing Balm) are some of the brand's most important items, they recognized the value in validating them with the voice of Beautytap's verified beauty experts.
Beautytap is an exclusive, private, highly diverse community of verified beauty professionals who receive COMPLIMENTARY Masterclass education with industry luminaries and opportunities to share honest, detailed reviews of full-size products by coveted beauty brands.
Despite the high quality of the products, its position as a high profile celebrity brand, and having the backing of cosmetics behemoth Elf, Keys Soulcare was struggling to collect fresh, honest, detailed content in record time, so the company set out to rejuvenate its user-generated content and reviews on its site by gathering a large influx of fresh beauty expert reviews, knowing this would help to secure retail partnerships like Ulta.
Boosting Review Volume and UGC with Beautytap Expert Sampling Program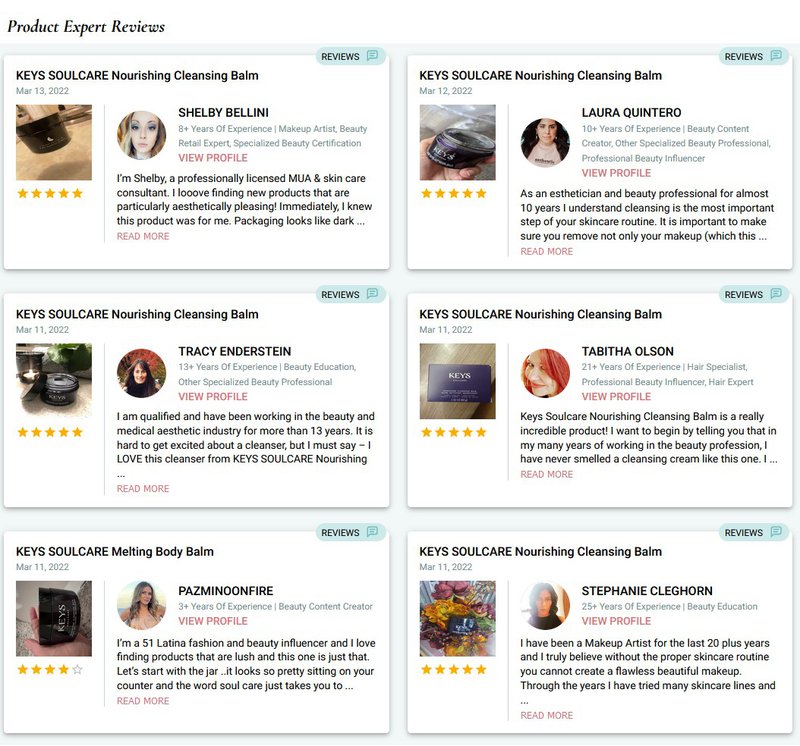 To increase review volume quickly and easily, Keys Soulcare launched a beauty expert sampling campaign to get products into the hands of beauty professionals in exchange for their honest feedback. The company accomplished this with the Beautytap's Expert Sampling Program, which gave Keys Soulcare access to a US-based, private community of diverse beauty experts eager to experience their products for the first time and share their unique, elevated perspective through a professional, prescriptive lens.
Beautytap arranged for products to be sent to a select group of its curated members in their expert sampling community on behalf of Keys Soulcare. The campaign required minimal investment of time and money, as it allowed easy collection of responses through an add-on to the Beautytap system which is now integrated automatically on its site with Yotpo. The reviews are displayed on the Keys Soulcare site and ULTA.com in compliance with all necessary prerequisites, including GDPR, incentivized badging, and authenticity standards.
Keys Soulcare tracked the progress of the campaign using the Beautytap solution, which provided data on the number of items shipped, reviews collected, average rating per product, and other key performance indicators and metrics of success.
Overwhelmingly Exceeded Goals
The response rate exceeded expectations. In fact, 97% of those who received a Keys Soulcare product submitted a review - a 22% higher rate than the company's initial response goal. This resulted in 733 reviews, over three campaigns with an average of 42 days per campaign.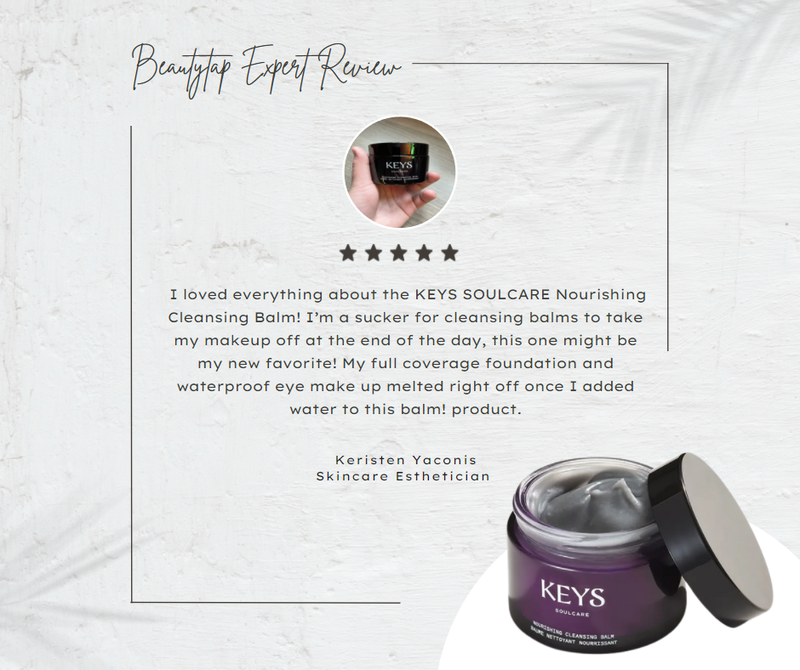 High Quality Reviews
Not only did Beautytap amass a high volume of reviews for Keys Soulcare, but the reviews received were rich with UGC content, diverse and incredibly detailed. As a new brand, Key Soulcare needs to communicate the benefits of its products and establish its position in the highly competitive beauty market, including many other celebrity-backed brands which often lack perceived credibility.
The well-crafted and thoughtful expert reviews generated by participants in this campaign provided insights into what consumers value most in their research phase of their buyer decision journey, in addition to sharing their testimonials for the products based on the education provided by Beautytap, along with their years of professional experience. The diverse range of experts also speak to who each product is for, thinking beyond themselves to clients, new customers, friends, and family members.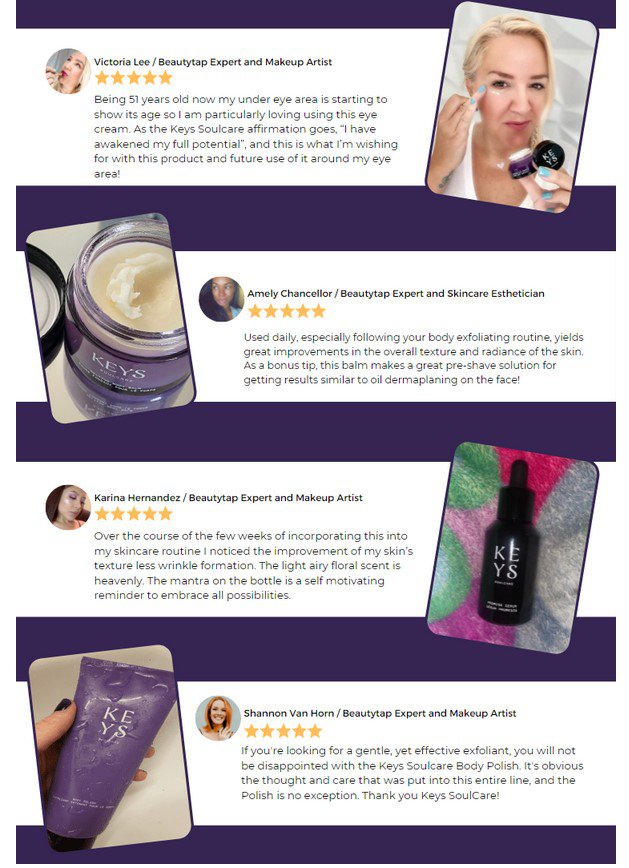 Setting Keys Soulcare Up for Future Success
Giving customers access to hundreds of rich reviews is paying off. Many retail partners, including Ulta require new and onboarding brands to have a certain number of reviews, as reading reviews keeps visitors on the product display pages longer and helps to boost conversion rates.
This confirms the benefits of continually collecting new reviews and provides the brands with additional opportunities to partner with Beautytap in the future.
---
Author: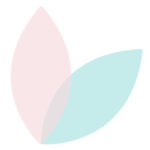 Beautytap Team
Beautytap is the leading platform for detailed, authentic product reviews shared by a highly diverse community of beauty experts, including accredited and licensed professionals. We partner with coveted beauty brands to generate trusted user generated content and support our resident expert community with numerous career-building opportunities including complimentary master classes lead by beauty industry luminaries, enriching editorials and networking forums.
---
Comments