Laura Geller's Iconic Cosmetics Will Transform your Makeup Routine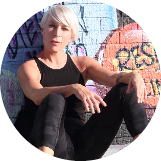 Amanda Fletcher
May 31, 2022
---
You'll never want to be without these celebrity-makeup-artist created essentials.
---
Laura Geller Cosmetics partnered with Beautytap's diverse community of certified beauty professionals for trusted, detailed, unpaid reviews around several of their innovative products. We are sharing this post with you as part of this collaboration and to learn more about their brand. All opinions are our own. Thank you for your support.
I am the first to admit: I am a woman of a certain age. I say this because makeup has started sitting differently on my skin, settling into the creases and magnifying imperfections. So, when the world-renowned line created by veteran celebrity makeup artist Laura Geller popped in my IG feed, I noticed, mostly because the ads featured other women my age — like OG supermodel Paulina Porizkova, Fran Drescher, and Paula Abdul — confident, alluring women who embrace their age with grace and authenticity.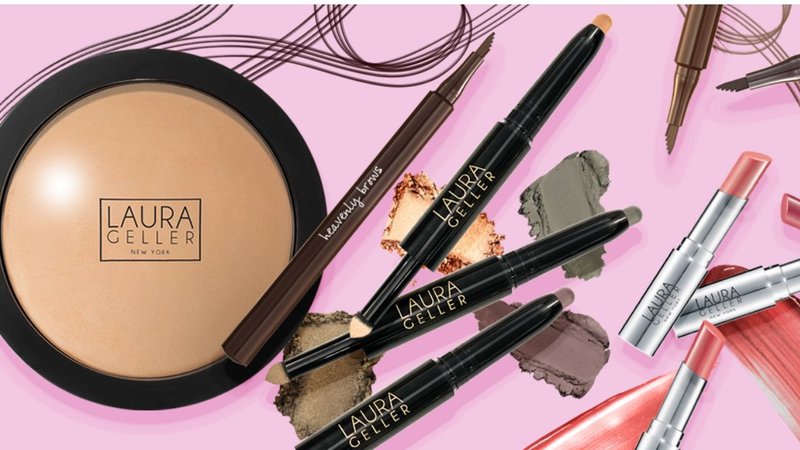 Still, I was nervous about properly color matching foundation online. A fellow Beautytap writer, Tracy Teel wrote about the products here and a holiday sale was the final push I needed to order a few of the beloved products. I've been using the Baked Balance-n-Brighten Color Correcting Foundation ever since, pairing it with a green primer for skin perfection - at least as close as I can come to it.
Did you know that Laura Geller was one of the first brands to promote primer for public use? True story. It's a cosmetic reminder that I used to wear tinted acne cream as foundation. Sure, I looked like an Oompa Loompa, but we work with what we have, people!
Taking her talent from beautifying Broadway bigwigs to opening a wildly successful Upper East Side makeup studio, Geller premiered her own line on the home shopping network QVC in 1997. It sold out in minutes. Next came the wildly successful primer in 2002, then the transformative baked products in 2003, so called because they are baked on terracotta tiles in Italy. Twenty-ish years and four million units later, the Baked Balance-n-Brighten Color Correcting Foundation has achieved global cult favorite status.
Good enough for Fran, Paula and Paulina is good enough for me is all I'm saying.
Here are few of Laura Geller's clever creations that are certain to become your favorites…
The Cold Concealer Cooling Coverage Stick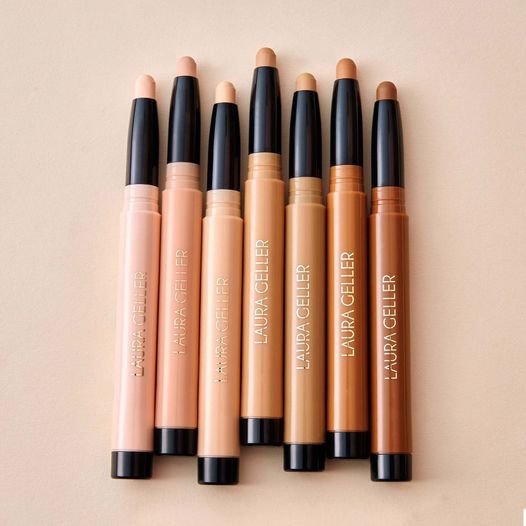 Like I mentioned, I love the idea of makeup, but I am a little meh about making the effort. As a trainer, I don't like to get made up just to sweat, but I also don't want my clients to think I just rolled out of bed. After contouring with a few of the Cold Concealer sticks, one of my clients asked, why do you look so good today? I told her it was because I had made a little effort.
True to its name, the water-infused formula slides on smoothly and really does feel cool on your face. It blends seamlessly (I used the Retractable Airbrush Kabuki Brush that I'll get into below) to conceal any imperfections. The formulation also includes caffeine, which helps to deflate puffy skin – a lovely bonus, especially in the morning.
I used the fair, light and deep shades, then set it all with my Baked foundation. Not only did it stay put all day, but I did an IG Live and I am GLOWING. Win-win!
Retractable Airbrush Kabuki Brush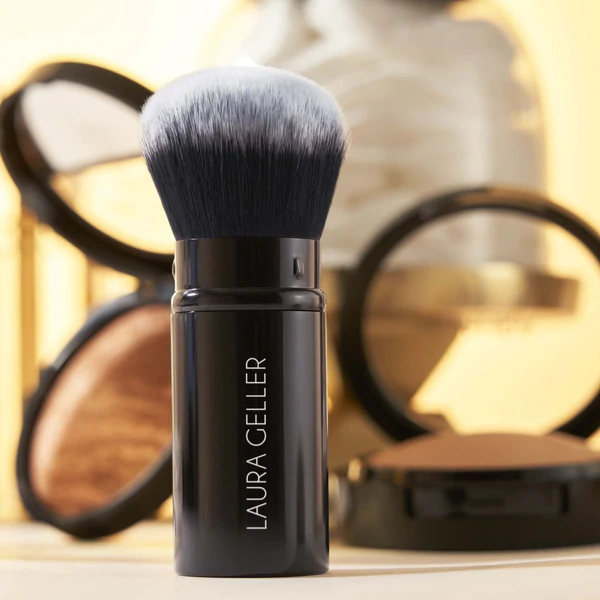 This no-shed, professional brush is the jam. You can use it to apply everything from liquid to powder, just adjust the density of the brush by twisting the base down a little or a lot. Get medium to full, airbrushed coverage without having to pull any loose bristles off your face – my personal pet peeve.
It's also travel-friendly, vegan and has a high bristle count that effortlessly glides across your face for even coverage. You can also use this gem on both pressed and loose powders. In other words, prepare to meet your new favorite makeup brush.
Bravo Brows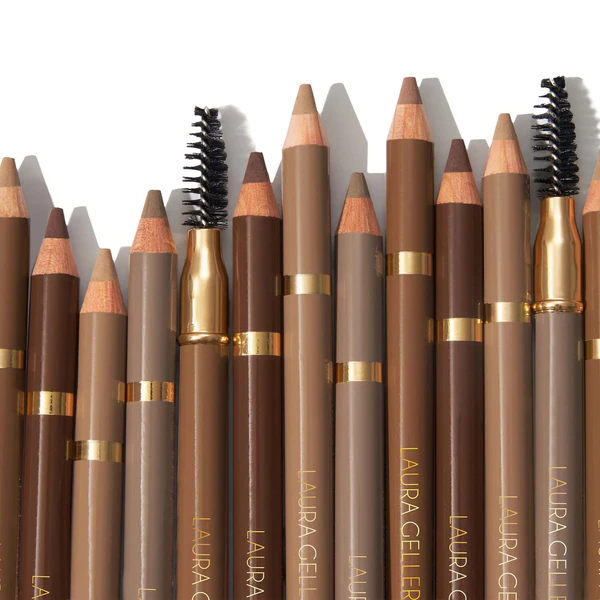 My friend Maren says your brows don't have to be sisters, but they should at least be first cousins. They don't have to match perfectly, but you should be able to tell they belong to the same family tree. I think of Maren every time I look in the mirror because my right eyebrow is perfect and my left one is bunk. Making them look like they're related – even by marriage – is a challenge. That said, I made it happen with Bravo Brows, a two-in-one brow pencil and spoolie brush. The formulation includes antioxidant rich citric acid, specialized silicas that make the color soft, natural and easy to blend, and just the right amount of wax to hold those hairs in place.
I ended up filling in the sparse areas of my left brow with the dark brown pencil before blending both with medium brown. I used the spoolie to create fullness before spackling both brows with a dab of Murray's Pomade (really, I need a laminate cuz my brows are curly). That said, my look was natural and lasted all day.
Come at me, Dan Levy.
Always There Lengthening Waterproof Mascara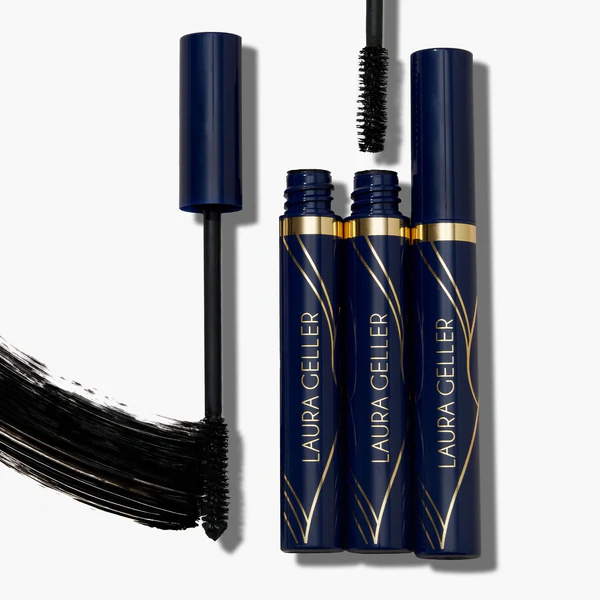 I'm not sure what triggered me, but somewhere in Cambodia, I developed allergies. My eyes were runny and bloodshot and swollen shut for three days. We arrived stateside smack in the middle of the Super Bloom and my eyes have bothered me since. That means I need clean, waterproof products that can withstand my absentminded rubbing.
Lucky for me, I'm not allergic to wax. Always There Lengthening Mascara contains Beeswax to nourish and coat the lashes, and Carnauba Wax for volume. The waterproof formulation is creamy without clumping and is easily removed with cleanser which is a revelation as I appreciate not having to work at removing waterproof products off my eyes for days.
I'm a big fan of Laura Geller - the brand, the products, the messaging, AND the makeup artist. Laura's mission is to demystify everyday makeup and amplify a woman's beauty at every phase of
her life. I wish featuring women over 40 in an ad campaign like Laura's wasn't such a revelation, but where one goes, more will follow.
Think of Laura's groundbreaking primer – regular folks had no idea how the pros were doing it. Now we do, along with many other creations from this brand. And we can look to people like Laura for that.
Lucky us.
---
---
Author: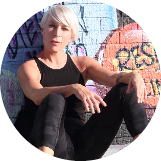 Amanda Fletcher
Amanda Fletcher is a writer, editor and coach whose personal focus is recovery and wellness. A prolific travel and freelance feature writer, her work has been published in the Los Angeles Review of Books, the Orange County Register, FAR & WIDE and many more. You can follow her story on Instagram @theamandafletcher and find her at http://amandafletcher.me
---
Comments