The Best Collagen Supplements for Healthy Skin and Hair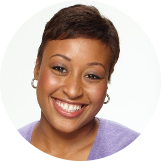 Rozalynn Frazier
Aug 24, 2022
---
Doctors and medical experts weigh in on the much buzzed about beauty protein.
---
When you think of buzzwords in the beauty and wellness industry, you would be hard-pressed not to hear the word collagen. In fact, it seems you can't walk down a beauty or a grocery store aisle without seeing shelves lined with collagen-based product. And for good reason: "Collagen is one of the major components of the skin, providing strength and volume," says NYC dermatologist Hadley King, MD.  "Collagen gives skin its structure.  It is essential for keeping the skin robust and youthful."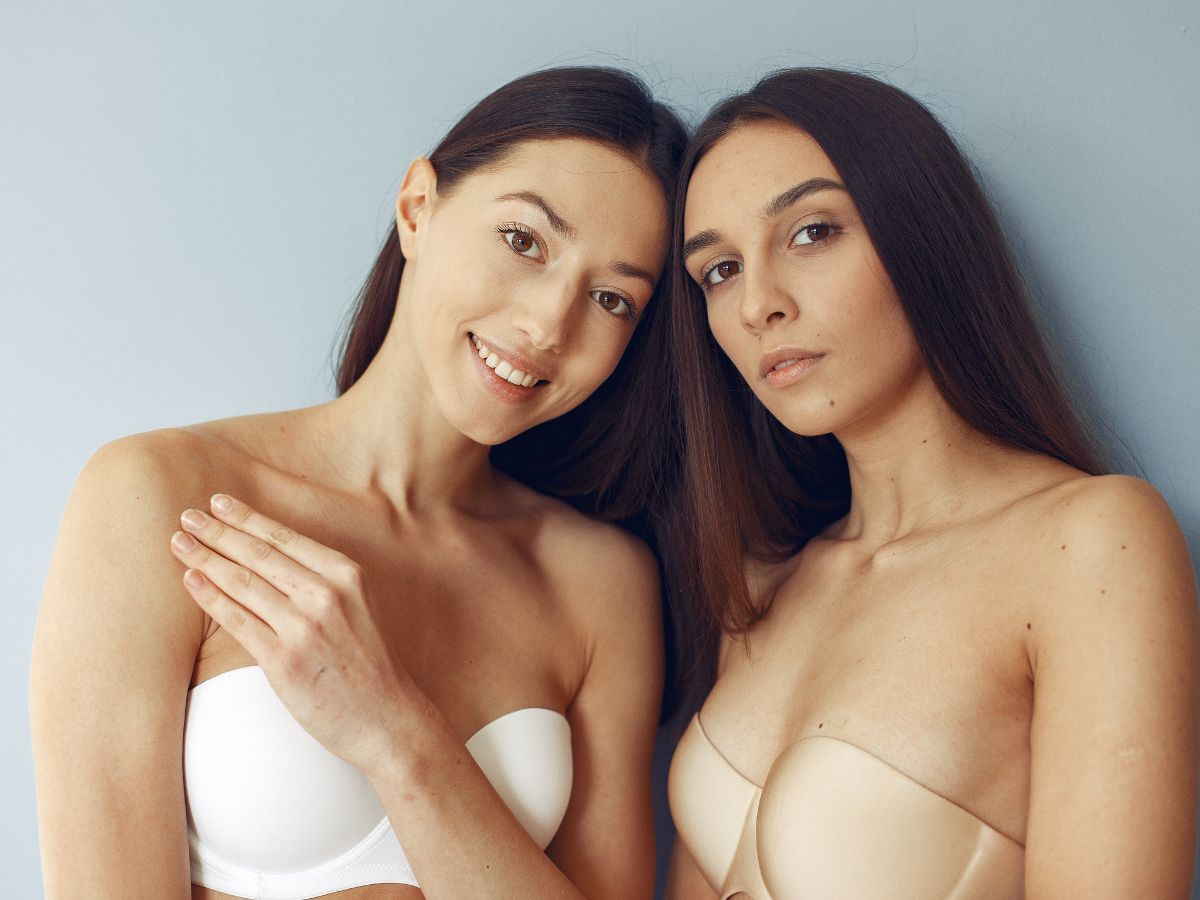 But should you be taking oral collagen supplements to help bolster yours? Here top skin and health pros weigh in on what many describe as the fountain of youth.
What is Collagen?
Think of collagen as "the glue that holds our bodies together," says dermatological nurse and celebrity aesthetician Natalie Aguilar. Making up about one-third of the protein in our bodies, collagen is found everywhere: our bones, muscles, tendons, ligaments, connective tissues, hair, and skin. Unfortunately, as we age, our body's ability to produce collagen decreases while breakdown of the stuff increases. The result: facial bones start to hollow and shift, and facial skin becomes lax and thin, Aguilar explains.
This breakdown in collagen can begin as early as our twenties. By age 60, production decreases by 50 percent, Salt Lake City-based SkinSpirit Aesthetic Nurse Practitioner Lindsay Breinholdt says. But age isn't the only factor that can affect collagen production. Things like genetics, photo-damage, pollution, stress, smoking, repetitive facial expressions, and for women, the rapid drop is estrogen that occurs during perimenopause can also lead to the degradation of collagen, says Dr. King. Not to mention research shows "there is a 30 percent drop in collagen during the first five years of menopause, and this is likely why women start noticing fine lines and wrinkles as they approach or enter menopause," says Dr. King. 
On the other hand, topical antioxidants and daily sunscreen can help support your skin's production of collagen, says Breinholdt.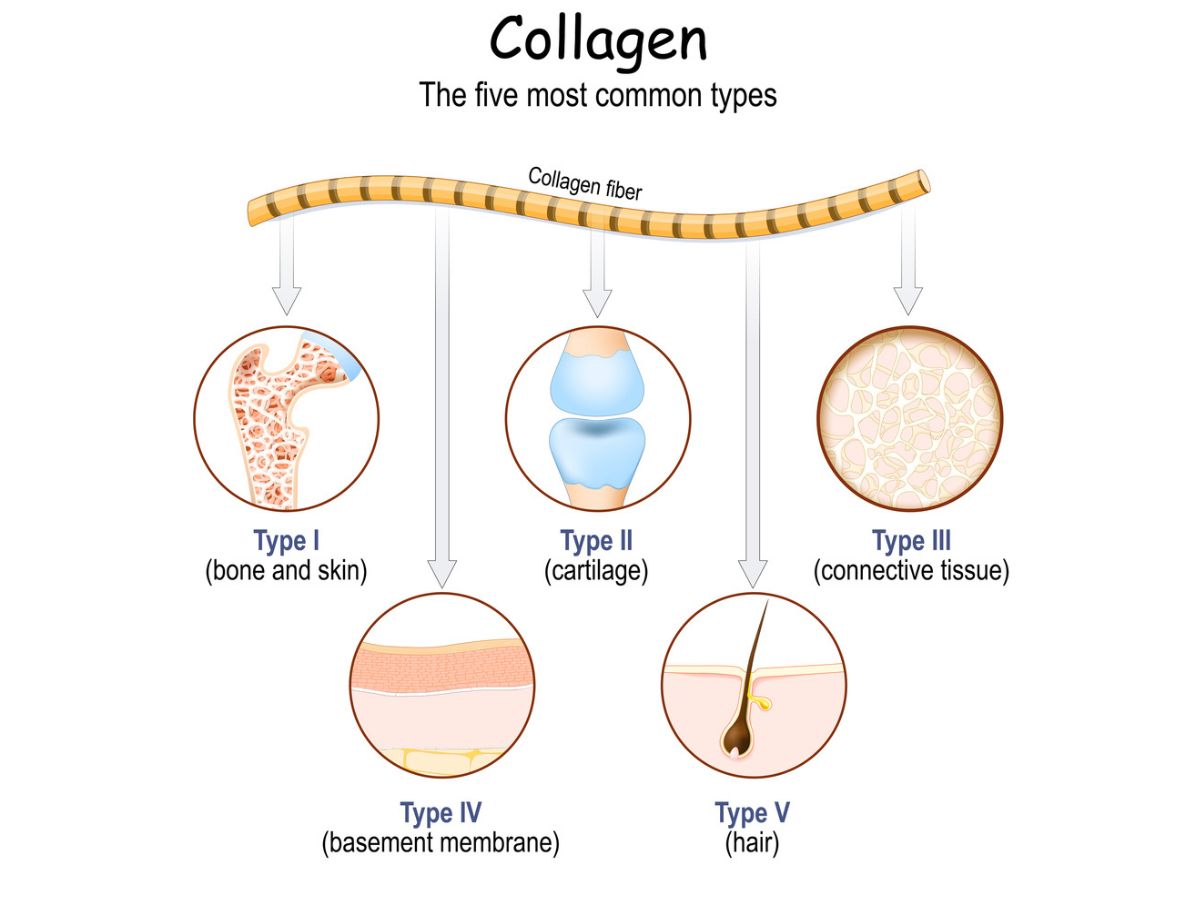 Where Can We Get Collagen?
Our bodies naturally produce three types: Types I and II, which comprises 90 percent of the collagen in our bodies, support skin, muscle, bone, hair, and nail growth, and Type II, which is found in the cartilage and the joints.
Most of the collagen in supplements comes from the bones, cartilage, skin, muscles and connective tissue of animals, including cattle, chickens, fish, horses, pigs or rabbits, with the vast majority coming from cows and chickens, Dr. King says. Marine collagen, on the other hand, mostly comes from fish while plant-based collagen, is "most likely a collagen building product such as vitamin C, silica or other amino acids which promote collagen synthesis," says Breinholdt.
"Since the body synthesizes collagen from amino acids like glycine, proline, and hydroxyproline, consuming an adequate amount of protein-rich foods can help promote collagen production in the body," explains Anthea Levi, RD, a registered dietitian at the private practice Culina Health. "Animal proteins like poultry, red meat, fish, eggs, and dairy will all serve up high-quality, complete proteins."
If you're gunning for one "magical" food source  that's collagen rich, Levi says bone broth is one of the best sources. "It's made from simmering animal bones in water. This process essentially extracts the protein from the bones, producing a collagen-rich liquid," she says. 
And, according to Breinholdt "liquid collagen can be up to 90-95% absorbed and utilized in the body, where powder/pill forms are 20-25% absorbed."
What are the Benefits of Collagen?
Many ascribe the benefits of collagen to the skin. Here's why: Taking collagen can help the skin look "more healthy and youthful by maintaining the core structure of our skin's tissues and improving skin elasticity and plumpness," says Aguilar. Research agrees.
A review of studies in the Journal of Drugs in Dermatology revealed that folks who took up to 10 grams of collagen per day had improved skin elasticity and hydration as well as offered greater density of collagen fibers.
Breinholdt says collagen can also improve damaged nails, thicken fine hair, slow hair loss, improve circulation and build lean muscle. "Improving and sustaining bone mineral density and healthy joints, as well as maintaining and helping to strengthen the muscles in our bodies, are also benefits," adds Aguilar.
If you time your collagen intake to within an hour of completing your workout, research in the British Journal of Nutrition says that it can help boost both your muscle strength and muscle mass. What's more: For those athletes with exercise-related joint pain, those who took 10 grams of collagen daily experienced a reduction of their symptoms, according to research from Penn State.
What To Look for in Collagen Supplements?
With so many supplements on the market, it can be hard to know which ones to choose. A few good rules to follow: Go for hydrolyzed collagen because it can be easier to digest. When choosing animal-based products, choose ones that are grass fed and raised organically.
"Look for labels that are certified by the American Grass-fed Association (AGA)," says Dr. King. "All AGA-certified meats are guaranteed antibiotic and growth hormone free, and all animals are born and raised on family farms in the United States." Aguilar also suggests stockpiling vitamin C- infused collagen products, as the nutrient helps facilitate the production of collagen.
With these tips in mind, here are eight expert-backed collagen products you might want to try: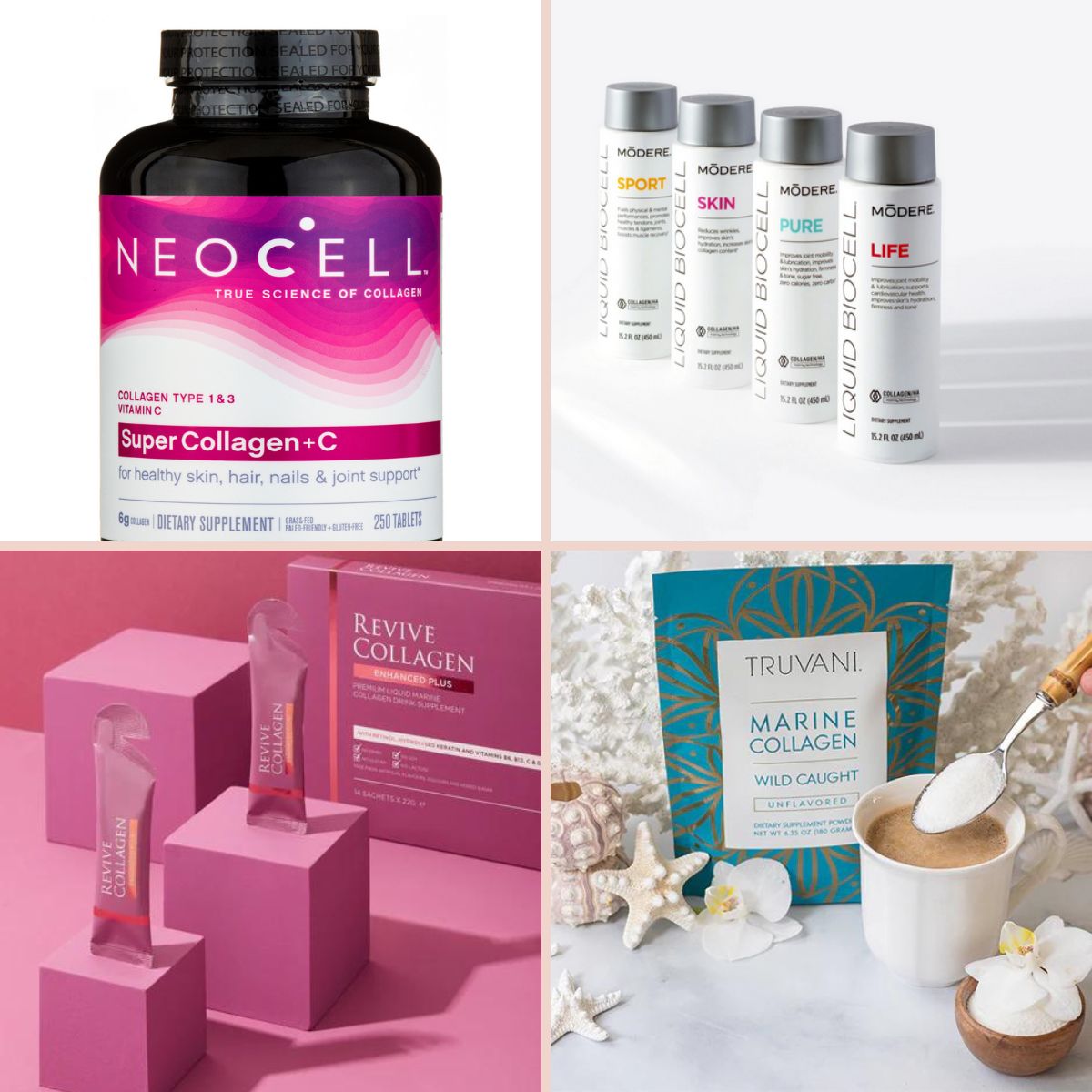 NeoCell Super Collagen+C ($20)
This bovine-derived collagen formula, found in pill form, is paired with vitamin C to help support healthy collagen, build muscle and minimize fine lines and wrinkles.
Modere Liquid Biocell ($69.99)
This multi-patented, award-winning, powerful combo of collagen, phytonutrient-rich superfoods (think Acai berry, pomegranate, and jujube) and resveratrol work together to improve joint mobility, reduce wrinkles, and buttress cardiovascular health. Users consistently report more smooth, youthful, glowing skin after taking it for several weeks.
Revive Collagen ($34)
Revive Collagen uses Type 1 hydrolyzed marine collagen, which is said to be the most plentiful collagen in our bodies. It's also a key factor in maintaining the elasticity and firmness of our skin. The collagen is collected from ethically farmed fish skin which breaks down into small collagen chains. This process is called hydrolysis and results in collagen peptides—hence the name hydrolyzed collagen. Type 1 marine collagen is one of the most abundant molecules in the body, and it is particularly important in bone, skin, and connective tissue.
Truvani Wild Caught Marine Collagen ($45)
Sourced from the skin of wild caught fish, this easy-to-mix-in powered formula is a great option for those looking to steer clear of beef-based products. Plus it's formulated with the three most popular types of collagen to help promote brighter skin, stronger nails, and healthier hair, joints, and bones.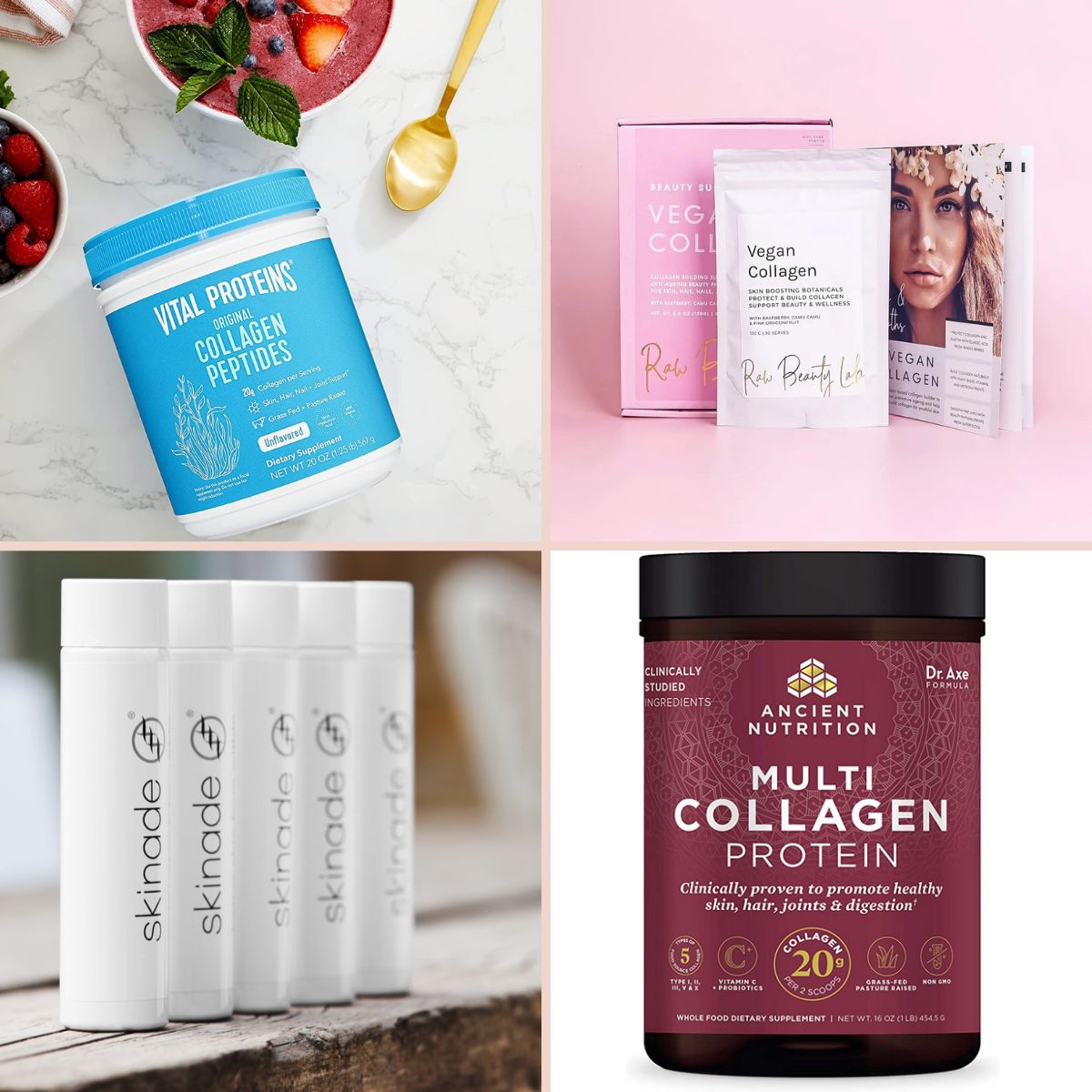 Vital Proteins Collagen Peptides ($25)
Not only can you expect the typical rewards of this collagen-based powder (think healthy hair, nails, skin and joints), but this gluten-free, hydrolyzed formula also contains hydrating hyaluronic acid and the antioxidant vitamin C, which are known skin helpers.
Raw Beauty Labs Vegan Collagen ($48)
Plant-based collagen more your style? This UK-developed one comprised of antioxidant-rich superfoods camu camu, raspberry and pink dragon fruit might be a good fit. Consistent use of this blend helps protect elastin and build collagen. Green bonus: For every order, the company will plant a tree on your behalf.
SkinAde ($165)
Derived from tilapia, this liquid collagen supplement is chockfull of miracle ingredients working together to support the skin, including: biotin, vitamin C, vitamin B, calcium ascorbate, L-lysine, methylsulhonylmethane and flaxseed oil. One caveat: it's a bit pricier than its counterparts.
Ancient Nutrition ($40)
This 45-serving tub, which is formulated with hydrolyzed collagen from four food sources— beef, chicken, fish and eggshell— is bursting with good-for-you benefits aimed at bolstering the hair, skin, and nails as well as support of the gut. 
---
Author: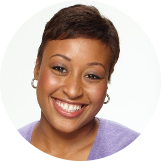 Rozalynn Frazier
Rozalynn S. Frazier is an award-winning, multimedia journalist, and certified personal trainer living in New York City. She has created content for SELF, Health, Essence, Runner's World, Men's Health, Money, Reebok, Livestrong, and others.
---
Comments