This Luxurious Sustainable Lip Balm Is Saving The Planet – And It's About To Be Everywhere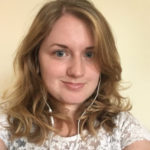 Claire Hannum
Feb 09, 2023
---
Try SuLu's rich, buttery, eco-friendly lip balm before it flies off the shelves.
---
Sulu partnered with Beautytap's diverse community of certified beauty professionals for trusted, detailed, unpaid reviews. We are sharing this post with you as part of this collaboration and to learn more about their brand. All opinions are our own. Thank you for your support.
As our winters grow milder and our summers grow hotter, a lot of us are biting our nails over the not-so-sustainable side of our beauty habits. As much as we love the dopamine hit of a well-organized #shelfie, the reality is that our perfectly placed rows of plastic packaged beauty goods can do a lot of harm to the planet and may even end up in the ocean.
Even if we do our best to recycle in earnest, the fact is that many brands don't design their product packaging to be fully recyclable. Many empties that appear to be ready to go straight to the bin actually contain glues, dyes, and other materials that make them impossible to recycle.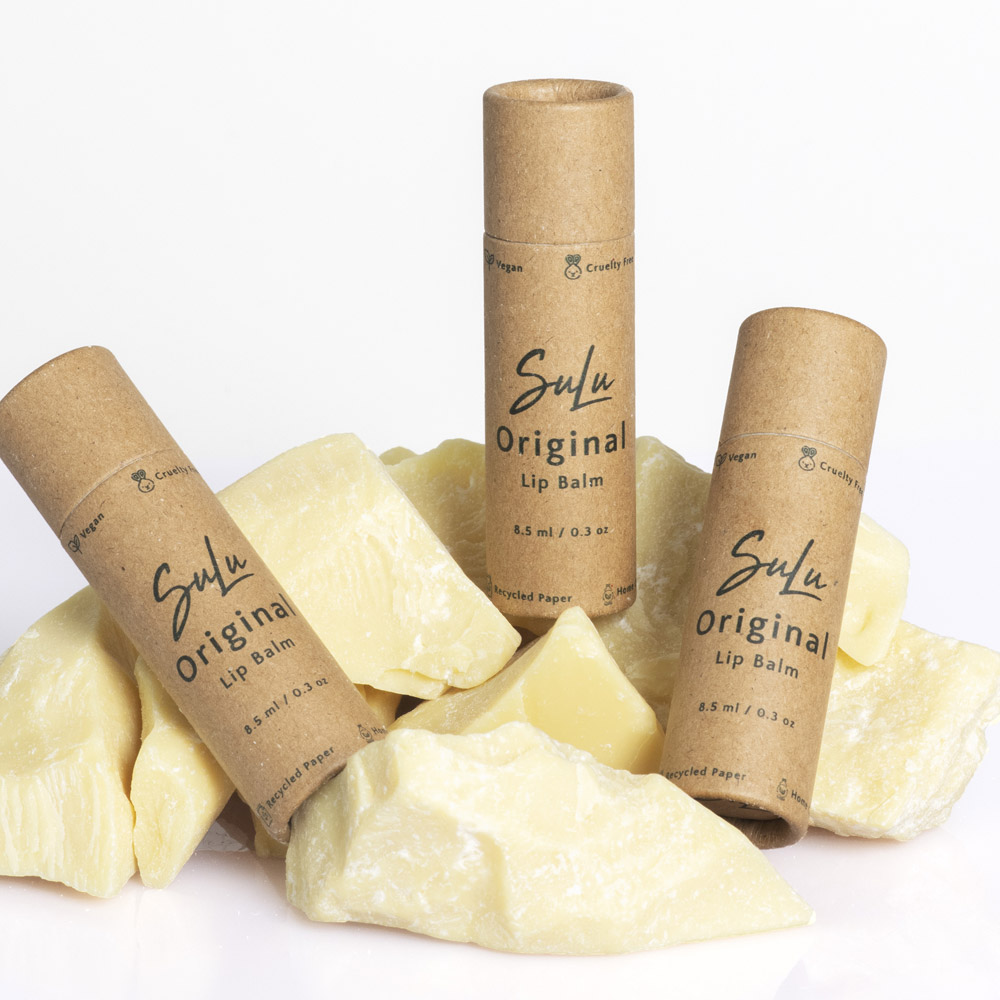 Fortunately, forward-thinking brands are starting to turn the tide – and few are doing this more thoughtfully than SuLu. This new brand's smooth, soothing lip balm has the feel and design of a luxury primping experience – without sacrificing on the planet or the price.
These plastic-free, zero-waste, plant-based, mostly organic, vegan balms are generating a buzz on Instagram among skincare pros and sustainability enthusiasts alike. Get the scoop before you start seeing them in every it-girl's purse.
Sustainability Meets Luxury, Without Compromise
SuLu's name is a combination of "Sustainable" and "Luxury," because they are at the heart of everything the brand does. Founder and CEO Claire Breskin launched SuLu in October 2022 with the goal of creating a plastic-free product that shoppers could be proud of.
As our oceans and landfills fill rapidly, Breskin envisioned a world where our everyday items no longer contained plastic – and where sustainable alternatives didn't feel like a downgrade. She knew there was a way to create eco-friendly products without trading in the chic packaging or luxe energy of a top-of-the-line beauty experience.
To make it happen, Breskin zeroed in on a beauty step that many of us take for granted: lip balm. "We wanted to take an everyday product like lip balm, something no one really focuses on, and turn it into the most sustainable and luxurious lip balm on the market," she shared. The result is a product in which every step, from the shipping to the packaging to the balm itself, is an elevated and thoughtful experience that makes genuine environmental change.
"By committing to quality, there should be no compromise in luxury when using a sustainable product," Breskin says.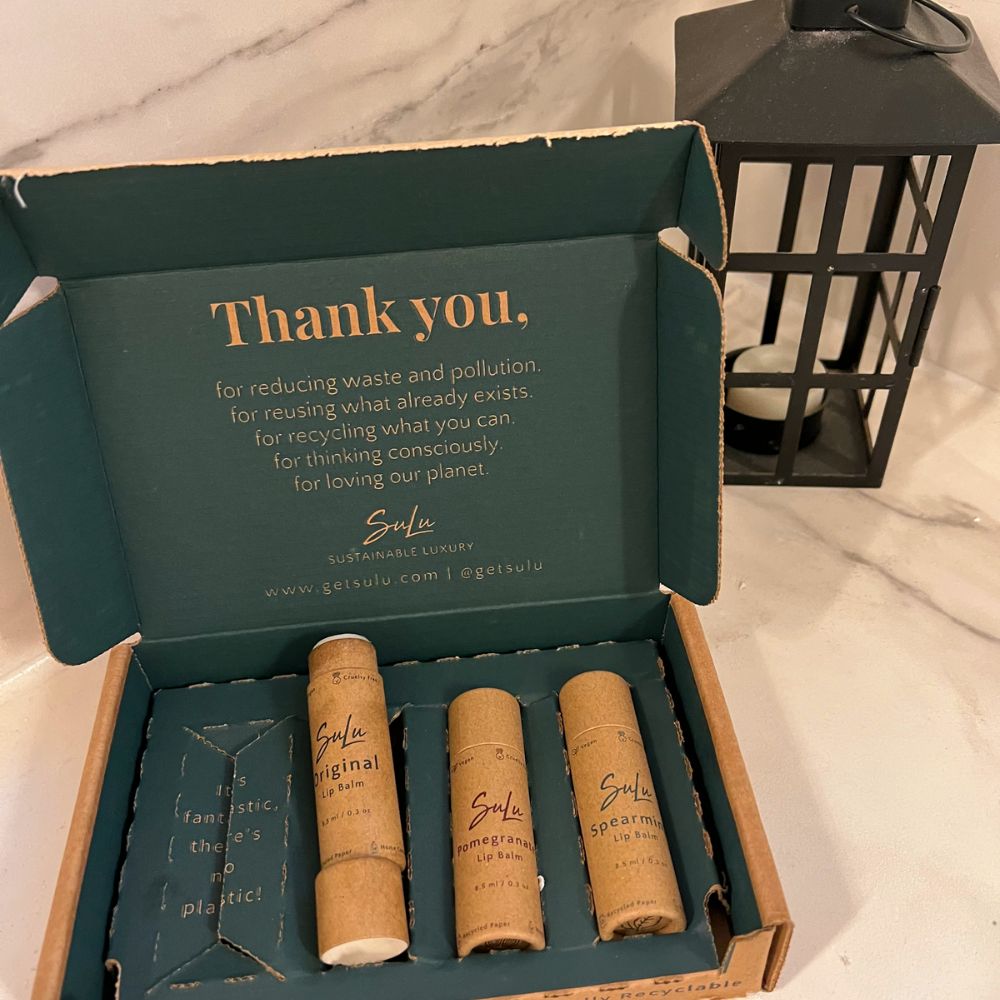 A Soothing Balm with Natural Ingredients
SuLu's lip balm is sold in sets of three as a bulk four-month supply, a move that's meant to reduce environmental impact by trimming the amount of times you need to re-order. Each scent – Original, Pomegranate, and Spearmint – is packed with plant-based ingredients we can actually pronounce. The balms are free of artificial preservatives, coloring, paraben, petroleum, sulfates, harsh chemicals, and of course, plastics.
Unlike many other sustainability-focused brands, they're also vegan and free of beeswax. They're flavored with organic essential oils. Moisturizing ingredients like cocoa butter, vitamin E, coconut oil, and rosemary extract create a hydrating effect.
When I tried Sulu myself, the first thing I realized is that this was leagues away from the average balm I'd grab at the drugstore check-out counter. From the first swipe, the balm felt buttery and indulgent. The scents were lovely without being too overpowering, and I didn't feel a need to re-apply every few minutes like I sometimes do with other balms. Since then, SuLu has become my go-to balm for windy winter days. I keep a tube in my purse and another at my desk so I'm never without it.
SuLu's recyclable packaging is beautifully designed. The applicator works like a push pop, ensuring that every last bit of the balm is accessible. Gone are the days of needing to declare your lip balm tube "empty" before it actually is thanks to leftover pieces of product that you can't reach.
To make things even more convenient, the brand has also created a reusable container that can protect your SuLu lip balm tube from the elements. The stylish, lightweight container is 100% aluminum, making it easily recyclable and perfect for reuse. If you know you'll want to keep restocking, the brand also offers a subscription option, in which you'll be sent a new set of three balms every four months.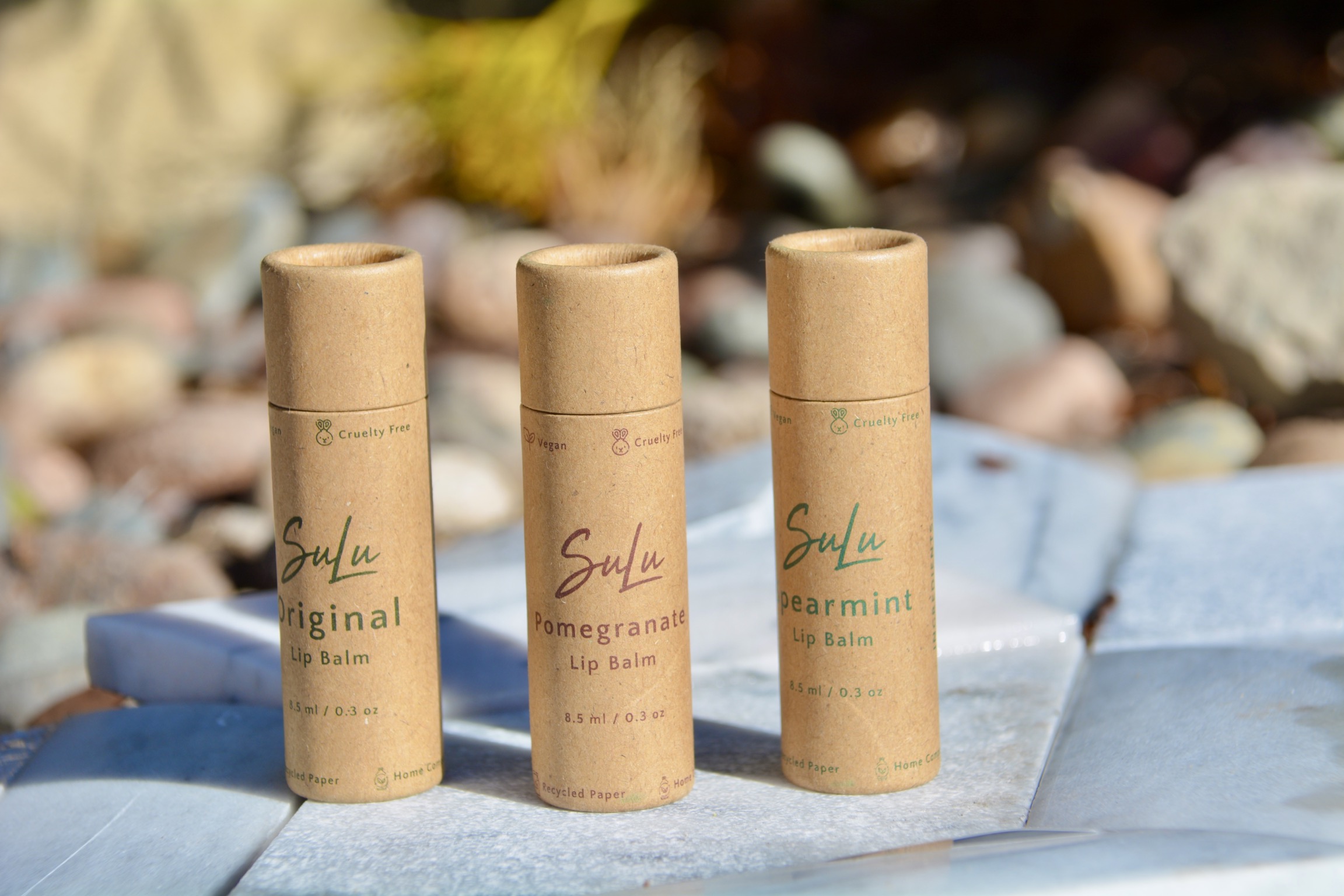 Sustainable In More Than Name
One of my favorite things about SuLu is that they don't pay lip service to sustainable practices. In an era in which so many brands are greenwashing, SuLu walks the walk in their genuine commitment to protecting the planet. They've taken extra care to ensure that not one bit of SuLu packaging is harmful to the environment.
Each lip balm tube is constructed with recycled paper using rice glue and soybean wax, and the labels are printed with plant-based dyes. The recyclable tubes are designed to be reusable once empty and home-compostable. Even the boxes used to ship SuLu to your door include eco-friendly materials such as recycled paper, Flexo printing (a large stamp), water-based dye, paper tape, and paper shipping labels. With these methods, the boxes themselves are also reusable, home-compostable, and recyclable. including paper tape, paper shipping labels, and water-based dye.
Instead of pressuring the consumer to take on the task of carbon offsetting their purchases, SuLu guarantees it by doing it themselves. Each SuLu order is carbon neutral thanks to factors like simplified shipping frequencies and utilizing pre-existing shipping routes.
SuLu is partnered with CleanHub to aid in plastic pollution removal. The brand eliminated 200 pounds of plastic from the waters surrounding India, Indonesia, and Cambodia in 2022. They have plans to do the same in 2023 and beyond, with goals increasing as their sales grow.
With SuLu you can keep your lips happy, elevate your day, and help make our planet a better place – it's an all-win situation.
---
Author: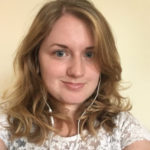 Claire Hannum
Claire is a writer, editor, content marketer, and reiki practitioner who covers wellness, lifestyle, and travel. Her work has appeared in Self, CNN, Prevention, Glamour, Health, Racked, The Huffington Post, Mic, The Frisky, YouBeauty, and many other publications. Her work has been highlighted by BBC News, New York Magazine, Today, Jezebel, Bustle, Reader's Digest, and The Center For Research On Women And Gender. Her greatest loves are her cat and her vitamin C serum. You can find her on Instagram @daycationgram.
---
Comments