Celebrity Makeup Artist Mai Quynh Reveals Her Tricks for Feathery Brows and Blush That Stays On All Day Long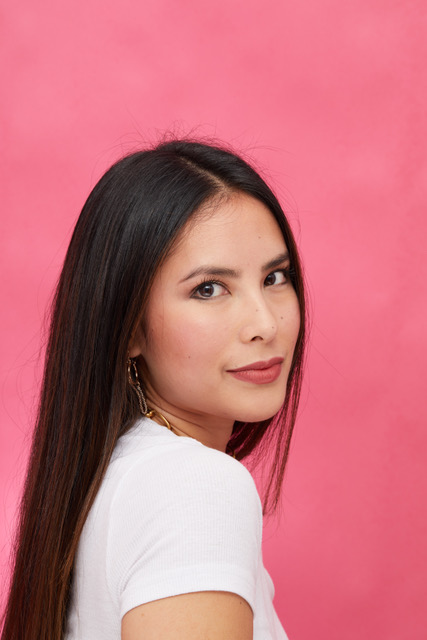 Jessica Chia
May 19, 2023
---
Plus, why showing off your natural skin texture and "spot concealing" is in and her favorite matte lipstick for medium skin tones.
---
A few minutes into a call with Mai Quynh, it occurs to me that she might have the cutest voice I've ever heard. It's ethereal, smooth and soft–the kind of voice you'd imagine recording storybooks in audio form.
And yet, she is one of the most formidable makeup artists in the industry today. Like many a makeup artist, Quynh cut her teeth at a MAC counter. Unlike many makeup artists, her light-handed, sometimes otherworldly work has made her a go-to for legendary photographers like Patrick Demarchelier and Annie Leibovitz in glossy editorials. Her artistry may also be seen on the countless celebrities she works with including Paris Jackson, Ali Wong, Emma Roberts, Riley Keough, and Jessica Alba..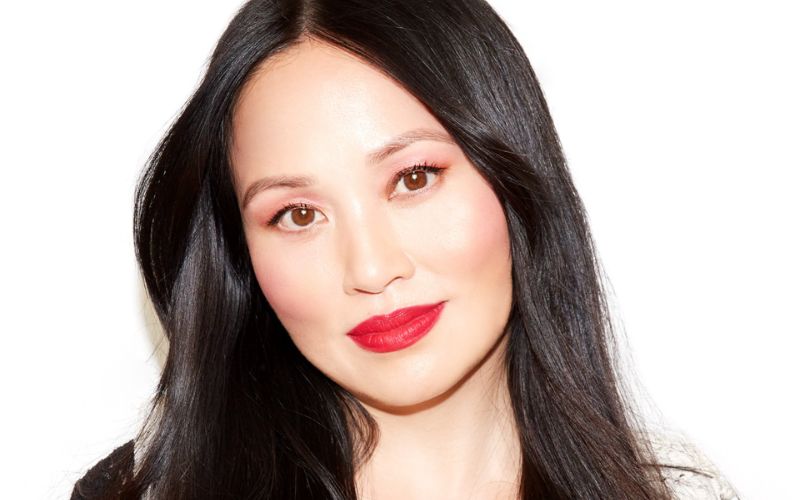 Partially because it's Asian Pacific American Heritage Month, and partially because I needed an excuse to catch up with the visionary makeup artist, I called her to see which trends she's loving–and leaving–now.
At the beginning of the year, a few people were posting these "in" and "out" lists for 2023. I thought it would be a fun, fresh take for a beauty interview. Let's start with brows:
I think microblading is definitely out. I'm almost on the fence about brow lamination being "out," too. Sometimes it can be a little aggressive. A feathery, bushy brow is "in."
If somebody wants to move more toward that feathery fluffy look, but they've been doing a very severe brow look for a while, what would you suggest to them doing in terms of maybe choosing a different product?
If you're using a wax or a pencil to fill in your brows, switch it up. I like to use a brow powder shadow. The denser the brush, the more color it picks up, so my trick is to use a fluffier brush and then you can just lightly apply the color into certain areas. And you don't need it all over. Then what I also like to do is go over it with a little bit of either brow gel or a bar of soap, and I'll just use it to brush up the innermost brow hairs toward the center, just to make it separate and look a little bit more hairlike.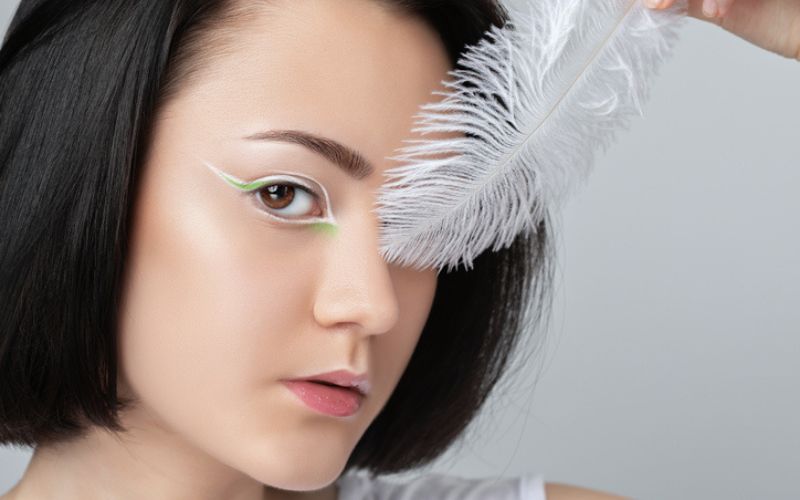 That's such a good hack. For eyeshadow, what's "in"?
I feel like people are playing more with brighter eyeshadows. They just make your eyes look more awake, I think. Anything brighter and happier on the eyes is really nice. Before, a lot of popular eye shadows ran really taupe-y or gray–that's "out."
Absolutely. As an Asian-American writer, I did want to throw in one question specific to Asian Pacific American Heritage Month. You work with a lot of iconic Asian American actresses like Michelle Yeoh, Sandra Oh, Ali Wong, Ashley Park, and Maggie Q. How do you define Asian features in a way that feels fresh?
Trust me, I love a graphic eye, especially if you have more of a flat lid that you can play with, a monolid. But I also love a lash. I like the idea of something a little bit more dollier or spicier, if you have the lid "real estate" for it. I just worked with Ally Maki for the Gold House Gala. She was wearing this really cool Japanese designer and she wanted the hair and makeup to be very neutral. I agreed, but I was like, "We could do a bit more of a lash on you, because I feel like your eye can handle it."
Sometimes we have a lot of space on our lids. So if you do go with a more fun, spicier lash, it really makes the eye stand out more. And I love drawing attention to our eye shape, because that's what makes us so unique and beautiful.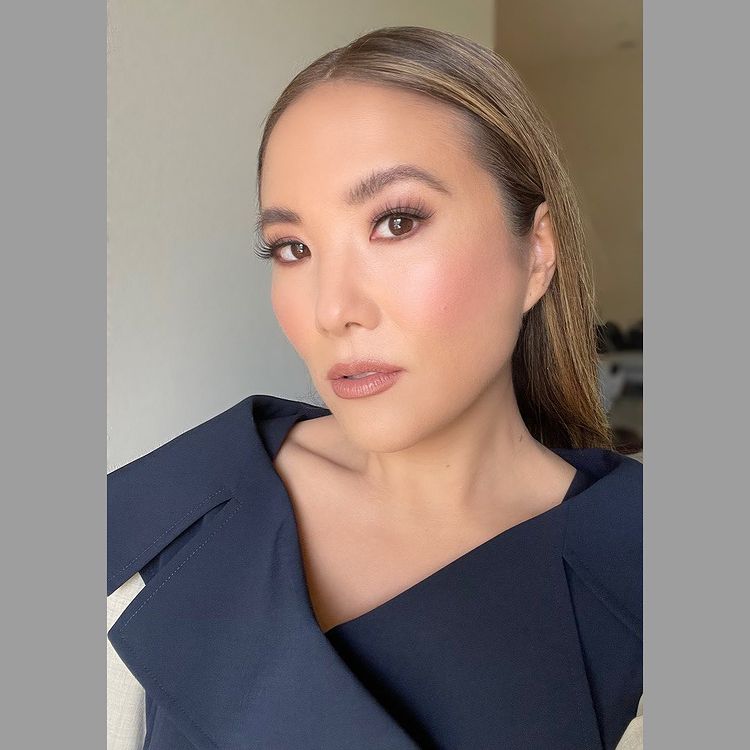 Speaking of that lash, when you did Michelle Yeoh for the Hollywood Reporter shoot, all you see is this really beautiful, open sort of doll-like eye. That lash might be intimidating for most people, but on her, it works. Moving a bit into the face, let's talk about base:
What's "out" to me is having to wear a lot of coverage mm-hmm. I find people being able to show off their texture of their skin is really nice, and maybe spot concealing or using something really sheer and then just dabbing a little concealer in the areas, where you need it.
I think that's great. Okay blush, this is such a fun one. What, what are you loving right now in terms of color and application style?
I love layering: I'll use a cream blush–one of my favorites is the Tower 28 BeachPlease Lip + Cheek Cream Blush because the textures and colors are so good. Then I'll layer, I'll set it with a little translucent powder and then I layer a powder blush on top just because it gives a satin matte that looks so nice in photos and really stays on. I'll get someone ready for a carpet like the Oscars at 2:00 PM and they have to last until like, I don't know, 1:00 AM.
Yes. That's huge. And so many of us are photographed now, so it's not just the stars anymore. In terms of lip, what is, what is inspiring you right now?
There was a moment when I stopped using lip pencils. I carry them in my kit, but they went away for a while and now they're back. Everyone wants a little bit of a fuller lip and perfecting the shape with a lip pencil really helps with that. It also helps with the color to stay on.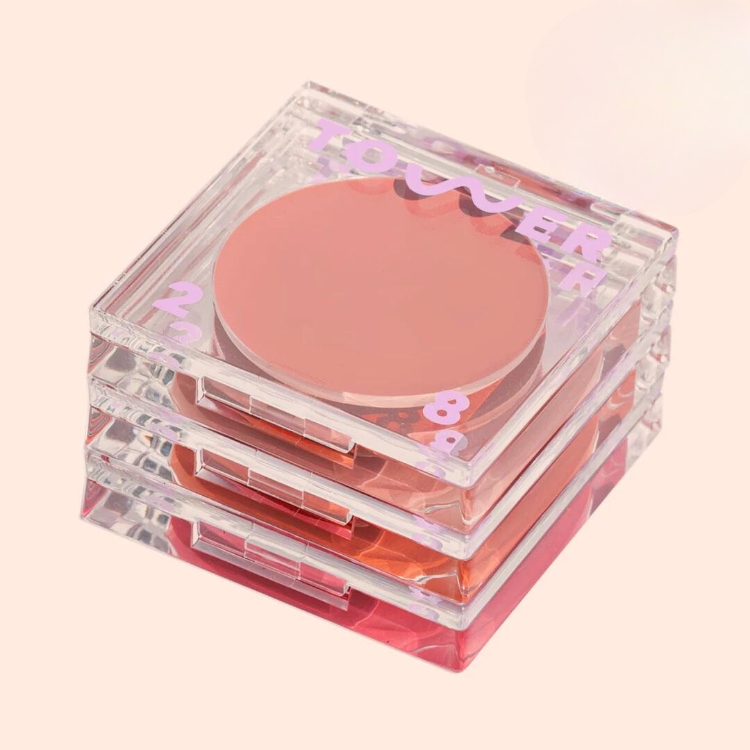 Absolutely. Do you have a favorite lip pencil that you would use on someone for a long wear? I love a lip pencil, but I feel I have to chase it all night long.
I like the ones from Rare Beauty. I like how creamy they are. Charlotte Tilbury also makes a nice pencil. But as far as long wearing, I'll layer on a matte. That helps it stay on longer. I'm obsessed with Sunnies Face Fluff Matte Lipstick. I don't know if you've tried that one–they're from the Philippines. They're stunning on medium skin tones and I use them on so many of my clients.
We've covered the major makeup components, but what about skin?
Last year I went to Dr. Ourian in Los Angeles to try the Cool Laser. I got so many compliments about it! People were like, "What did you do to your skin? Your skin looks so nice and smooth and bright."
Follow the enchanting Mai Quynh @storyofmailife
---
Author: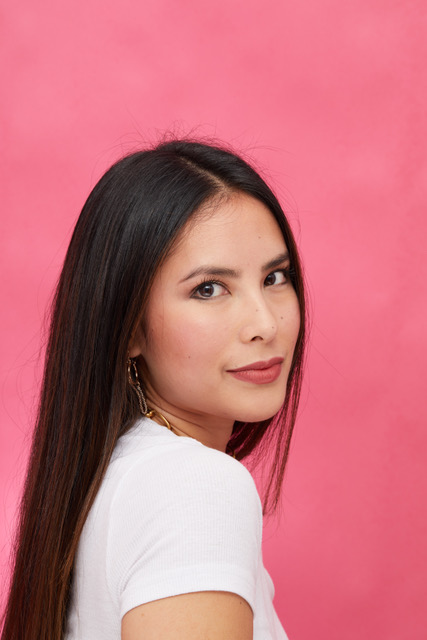 Jessica Chia
Jessica Chia is a longtime beauty writer and certified aromatherapist whose work has appeared in Allure, Vogue Japan, Elle, Brides and Brides UK, among other publications. Her work has been nominated for numerous awards, including a Fragrance Foundation Award and Skin Cancer Foundation Award. Jessica received her MBA from the University of Southern California.
---
Comments