Top 2023 Met Gala Celebrity Beauty Trends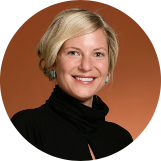 Danica Farley
May 04, 2023
---
Extraordinary style adorned the "Oscars of fashion" star-studded carpet.
---
Every spring, Dame Anna Wintour (Vogue's global editorial director and quintessential style icon) hosts a spectacular ball…for a good cause. A fundraiser for the Metropolitan Museum of Art's Costume Institute, the annual Met Gala is a dreamy display of spellbinding style where fashion and art connect.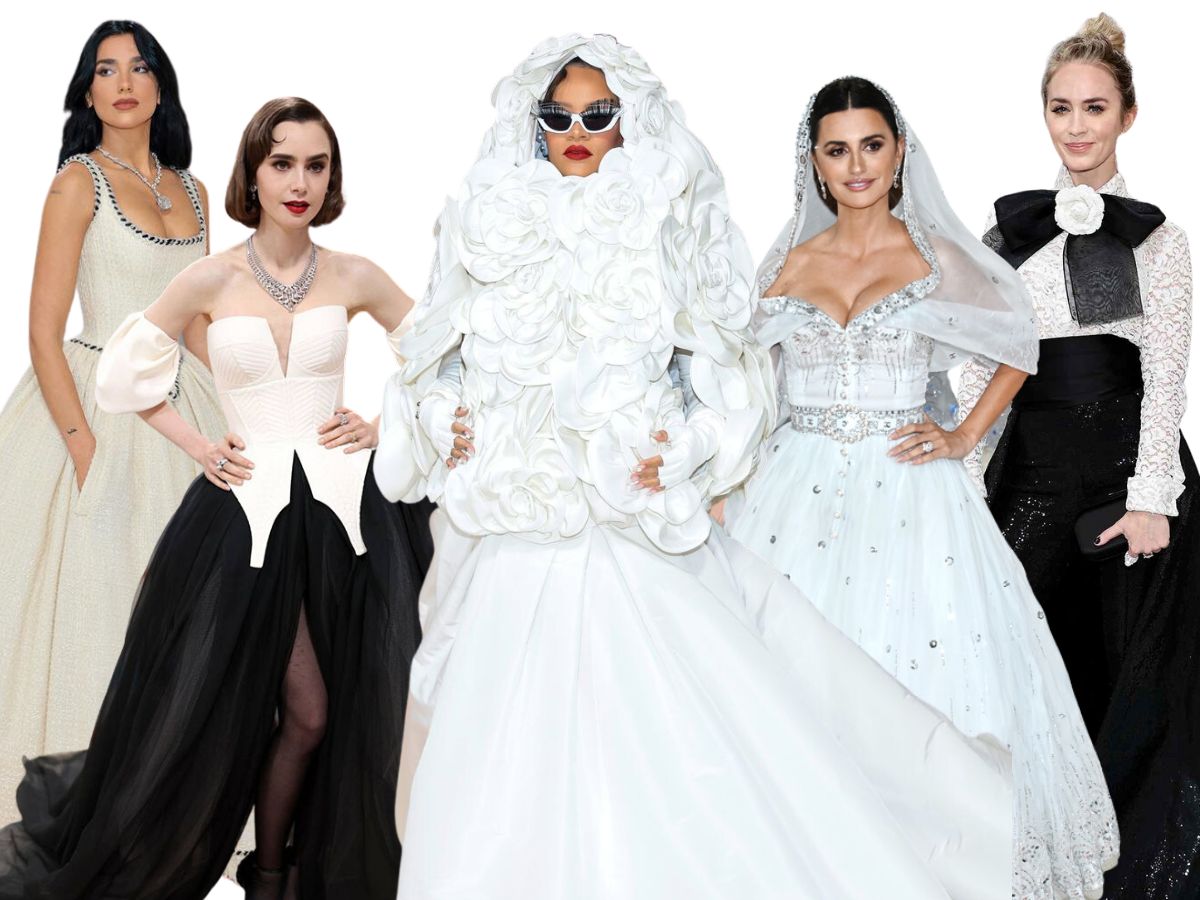 This lavish event kicks off The Costume Institute's spring exhibition and this year celebrates a designer near and dear to Wintour's heart: "Karl Lagerfeld: A Line of Beauty."
"His fashion does for me what fashion should. It makes me feel more confident in being myself," says Wintour. In concert with his own visionary line, Lagerfeld designed for chic European fashions houses including Chanel, Fendi, Patou, Chloé, and Balmain.
Set the Scene
Inspired by Lagerfeld's passion and genius, the 2023 Met Gala's dress code was "In honor of Karl." Glamorous guests stunned in haute couture, paid homage in vintage attire, and praised his legendary persona with sophistication and extravagance.
Teamwork makes the dream work—The First Monday in May documentary gives an insider's glimpse into curating the Met Gala—and Wintour's four co-chairs rose to the occasion.
Michaela Coel, jaw-dropping in Schiaparelli Couture, opulent eyes, and satiny lips; Penélope Cruz, forever ethereal in 1980s Chanel, nude lips, and a lustrous visage; Dua Lipa rocked bold brows, soft pink eye shadow, and a Lagerfeld bride dress circa 1992; and Roger Federer served up a dashing ace in Dior.
Sensational moments—abundant in black and white motifs, bows, flowers, and pearls—glistened for grand appeal. Spark your own style with stellar looks from this year's superstar bash.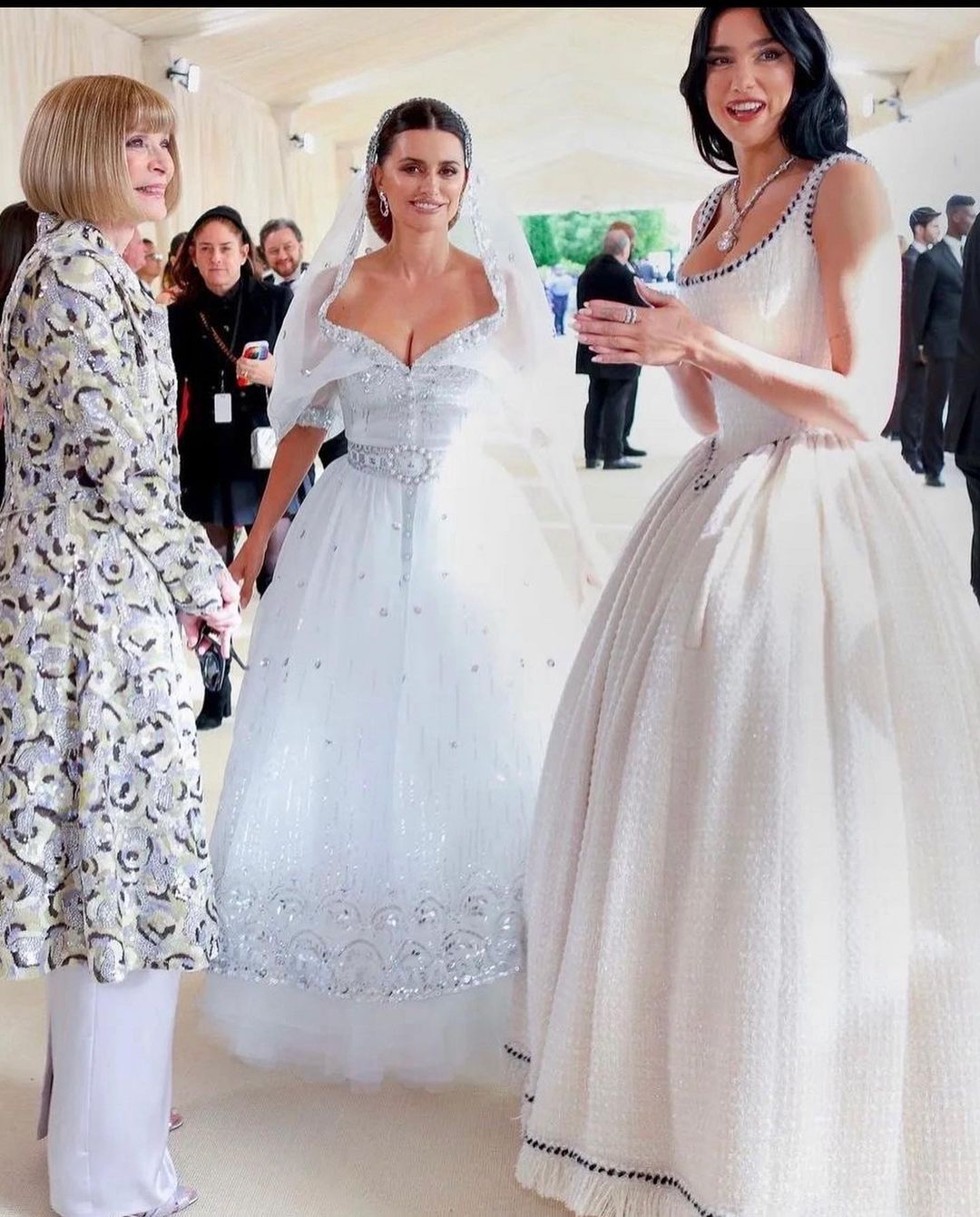 High Shine Hair
From sleek ponytails in honor of Lagerfeld's characteristic coiffure (Mindy Kaling's smartly fastened ebony tresses) to textured updos (Emily Blunt perfectly posh in Michael Kors) and romantic waves (cue Nicole Kidman and Gisele Bündchen angelic in Chanel couture), red carpet hair was a beauty to behold.
Celebrity hairstylist David Von Cannon accentuated Bündchen's lovely locks using Sol de Janeiro Brazilian Glossy Nourishing Hair Oil. "We went for a quintessential Gisele, accentuated by a beautiful natural wave. The style is light and airy, with maximum shine," says Von Cannon.
Rachel Brosnahan's marvelous mane was styled by hair artist Owen Gould using Better Not Younger products. "For Rachel's look, we wanted the hair to be sexy, sleek, and sophisticated," says Gould. "Her custom Sergio Hudson dress really lent itself to that overall vibe so we chose a modern take on the classic ponytail."
Lily Collins charmed with a Parisian-worthy bob and spectacular Vera Wang gown.
And Lily James sparkled with an updo embellished by custom leather flowers. Celebrity hair stylist Halley Brisker designed Lily's look using tried and true OLAPLEX No. 6 Bond Smoother, No. 9 Bond Protector Nourishing Hair Serum, and No. 7 Bonding Oil.
"The inspiration for Lily's look was a 90's leather-core sharpness and punk twist on Chanel," says Brisker.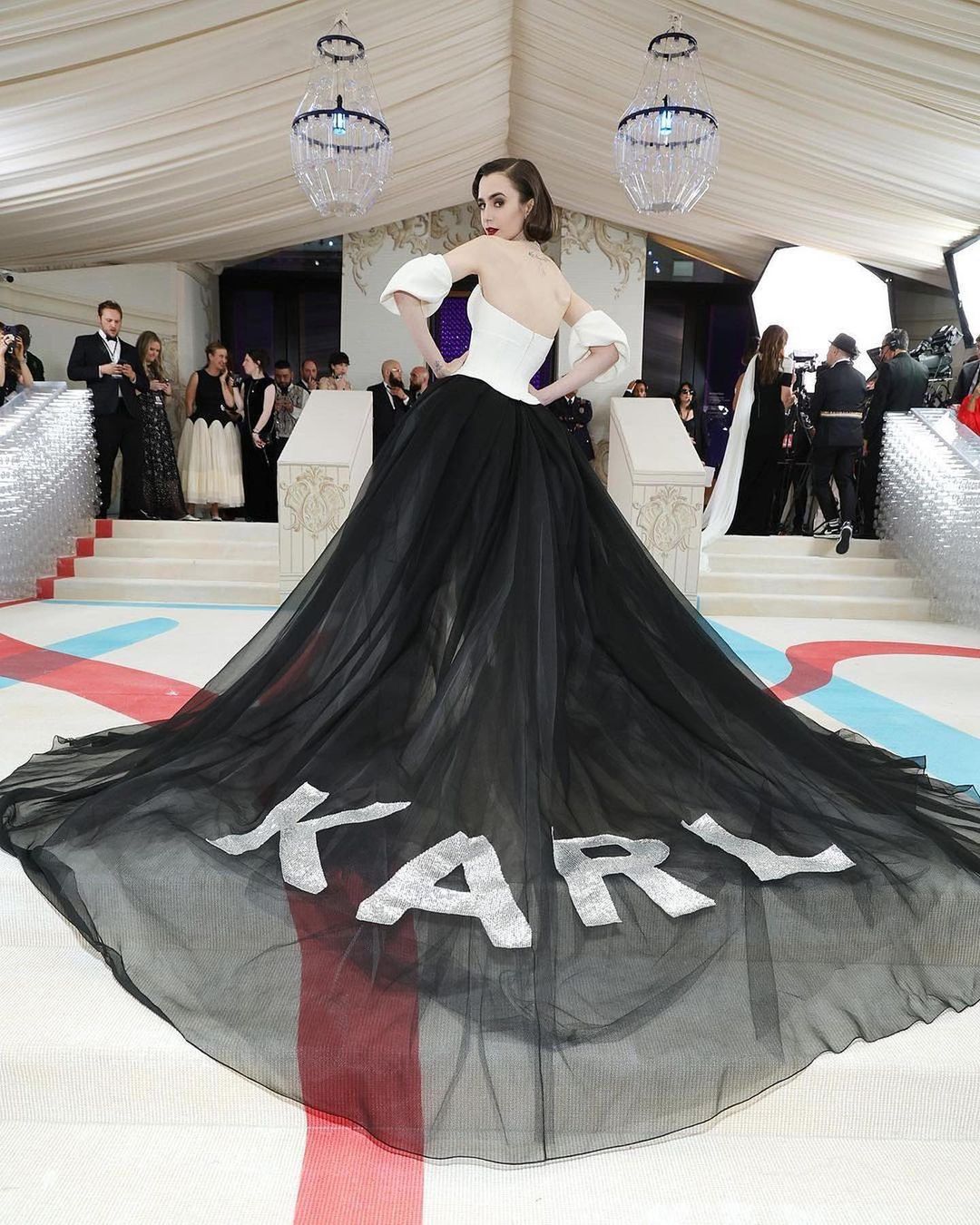 Janelle Monáe's sculptural strands (enriched by her transformative dress) were prepped by celebrity hairstylist Nikki Nelms using Mielle Organics. "Her super tall, structural top knot was inspired by her exaggerated tweed tuxedo," says Nelms. "I made a secure ponytail base to start then added wire and wrapped the hair around to create the height and structure."
FEKKAI products styled many belles of the ball. Celebrity hairstylist Christopher Naselli crafted a voluminous bun for 2023 Best Actress Academy Award winner Michelle Yeoh (a vision in signature Karl Lagerfeld). "Beauty is confidence, so I wanted to keep Michelle classic and chic. The dress is so major that we needed to keep the hair sleek and elegant with a bit of edge," says Naselli.
FEKKAI was used by hairstylist Jenny Cho to glam up Stephanie Hsu's 'do and Bella Ramsey's silky chignon, prepped by celeb stylist Kiley Fitzgerald from Mare Salon.
"Bella's look exudes the power and grace that Karl Lagerfeld showed throughout his career. We kept the hair sleek and simple to compliment the timeless sophistication Bella embodies everyday," says Fitzgerald.
Gabrielle Union modeled her own line of haircare products, FLAWLESS. "We wanted to create an effortless vibe that feels a bit more 'lived in' to compliment her super cool Prada look," says Larry Sims who styled Union's exquisite curls with FLAWLESS products and Curlsmith Defrizzion Dryer & XXL Diffuser.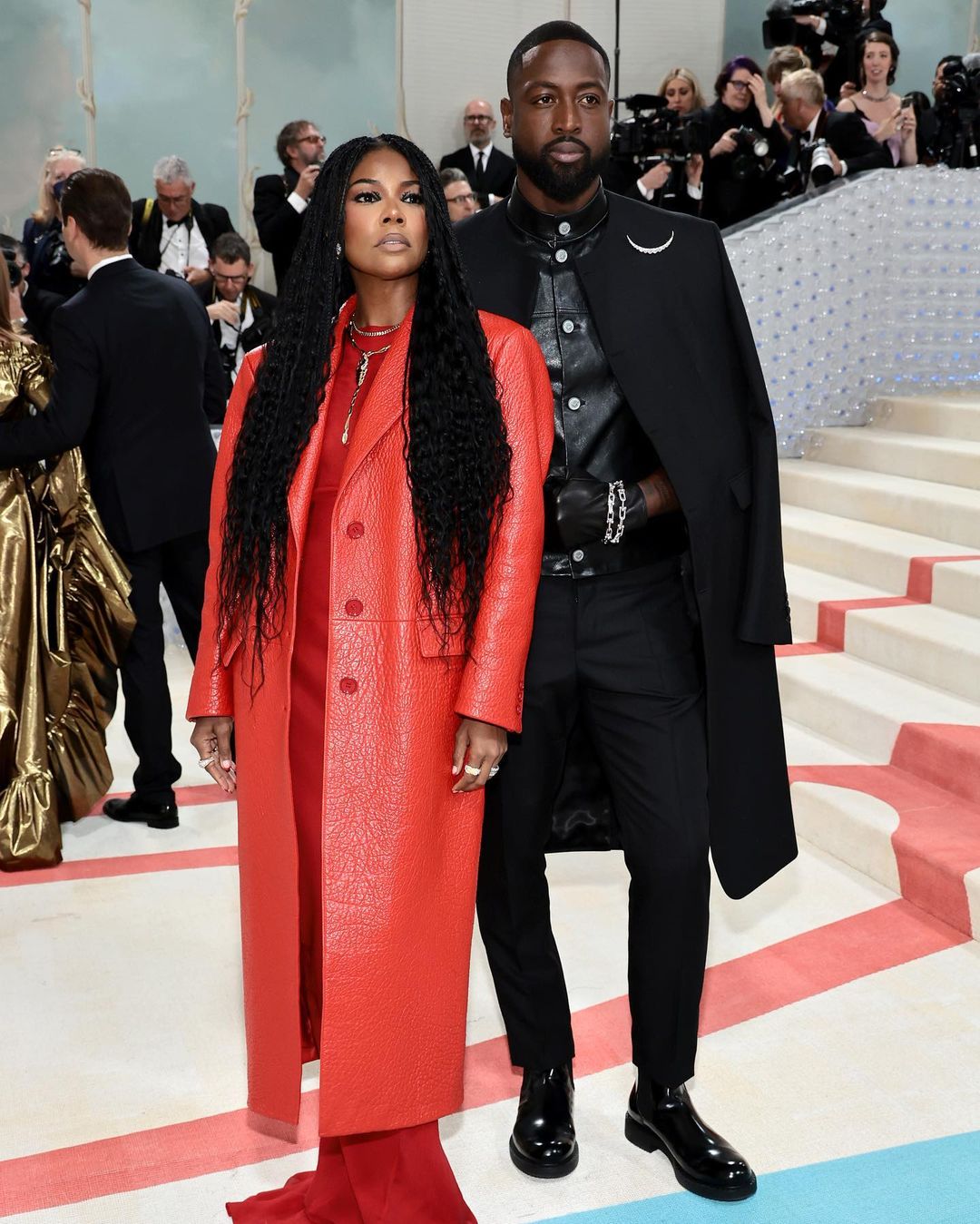 For her Met Gala debut, celebrity hairstylist Eduardo Ponce exclusively used UNITE haircare to prep Paris Hilton's luxe ponytail. "Karl Lagerfeld had a chic pony with a hint of volume at the top so we thought it would be fun to turn up the volume as a nod to the late legend so that's just what we did," says Ponce. 
Aubrey Plaza wore Stella McCartney and was accompanied by the dapper designer; Plaza was a knockout in an Audrey Hepburn-esque updo styled by Mark Townsend with Kenra Professional sprays and mousse.
"Working with Aubrey is a dream come true. After seeing her stunning Stella McCartney gown, Aubrey and I immediately thought the hair should be up with some weight so we decided on a top knot inspired by a vintage Chanel fashion show," says Townsend.
Radiant Faces
Miranda Kerr—international supermodel and founder of KORA Organics—is a force of nature. Her gala wellness ritual integrated energy cleansing, aromatherapy, calming lemon balm tea, and a rose quartz crystal in her hand to attract love and positive energy throughout the eve. 
Kerr believes in her brand and personally finessed her skin with a boost of KORA Organics products—Rose Quartz Facial Sculptor, Turmeric Glow Facial Cleanser, Noni Radiant Eye Oil, Turmeric Glow Moisturizer, Minty Mineral Hydration Mist.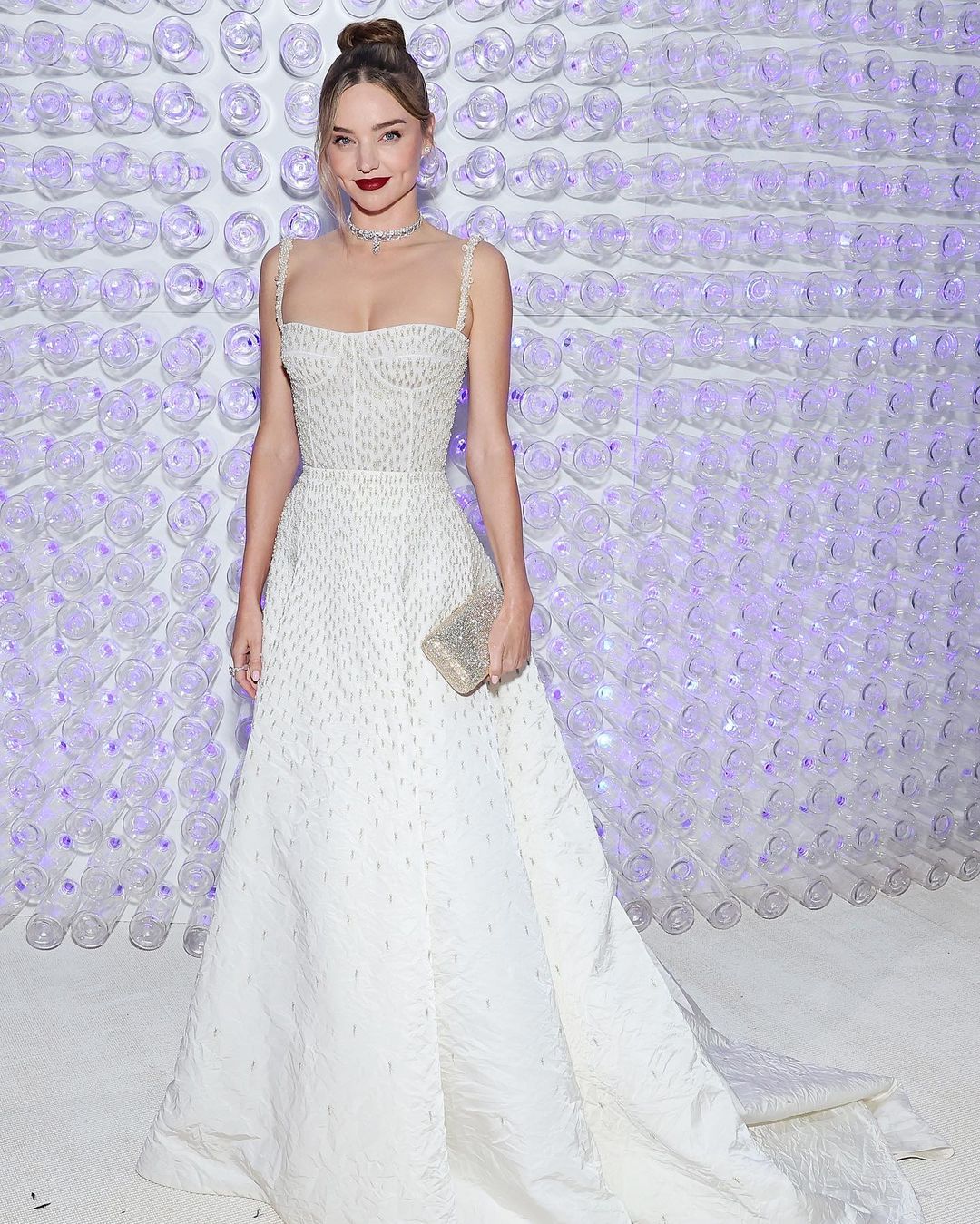 "Doing my own skincare prep is so important to me," says Kerr. "I love having control over my routine and using my certified organic range to ensure I have healthy, glowing skin at every step. I love incorporating my new KORA Organics Plant Stem Cell Retinol Alternative Serum to smooth and nourish before my makeup look."
Ultra talented Lea Michele had a vibrant appearance, prepped by celebrity makeup artist Carolina Gonzalez using CurrentBody LED Light Therapy Mask and LED Eye Perfector.
"Prep is key, it sets the stage for makeup application," says Gonzalez. "After applying skin care, Lea wore the CurrentBody Skin LED Light Therapy Mask for ten minutes to really brighten and have her skin glowing. She followed that with the CurrentBody Skin LED Eye Perfector to firm, plump, and brighten the eye area."
Flawless Skin
Anna Wintour, Lily Collins, Stephanie Hsu, Camila Morrone, Paris Hilton, Zanna Roberts Rassi, Eva Chen, Ashley Park, Paloma Elsesser, Kaitlyn Dever, and Amber Valletta were refreshed and radiant after customized facial treatments by Joanna Czech (a combination of massage technique, LED technology, microcurrent, ultrasound, cryotherapy, oxygen infusion, and top tier ingredients) in tandem with LYMA Laser.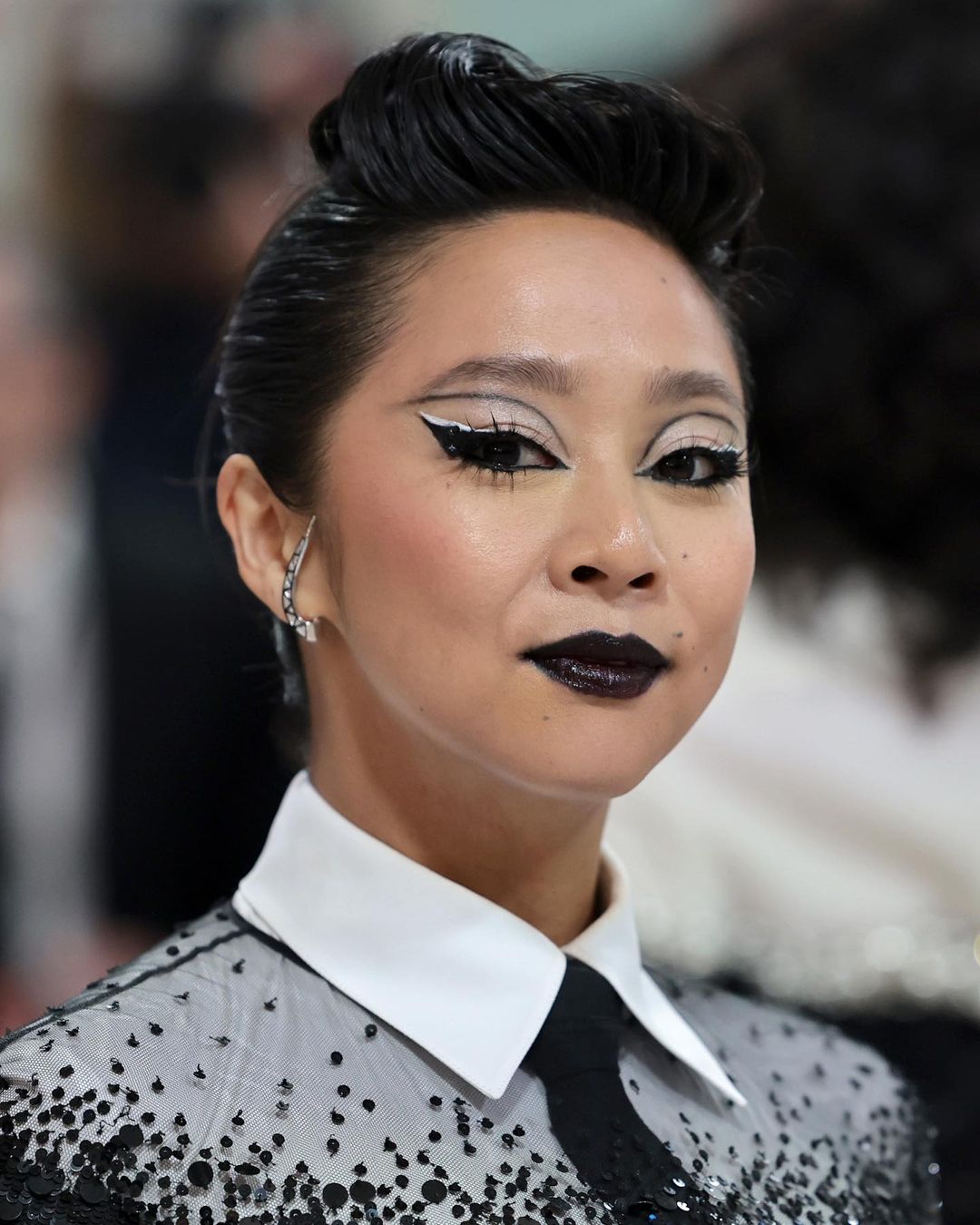 You can achieve the same tight and bright Met Gala worthy skin at home with products from Czech's skincare line including: The Toner, The C+ Serum, The Soothing Serum, The Cream, The Balm, The Cleansing Wipes, and The Face Mask.
Makeup artist Kale Teter prepped Maude Apatow's peaches and cream complexion with clean and sustainable skincare line Danucera. "One of the best ways to guarantee seamless long-lasting foundation is by making sure skin texture is even," says Teter. "D22 is wonderful because it contains natural acids and enzymes that work to gently exfoliate any dehydrated areas and prepare the skin to absorb moisture. Cerabalm melts into a luxurious texture that gives enough slip so you can really massage the skin and wake it up."
Suki Waterhouse, Christina Ricci, Sienna Miller, Karlie Kloss, Kate Moss, co-host Chloe Fineman, Grace Elizabeth, designers Prabal Gurung, Lazaro Hernandez, and Jack McCollough looked resplendent following facial treatments with Tracie Martyn and her exclusive trademarked Red Carpet Facial®.
Celebrity facialist Lord Gavin McLeod Valentine used The Method by Augustinus Bader to prep party ready skin for Alexa Chung, Emily Blunt, Joan Smalls, Julia Garner, Kim Petras, Kristine Froseth, Maya Hawke, and Olivier Rousteing.
"Rooted in the principles of tapping into biological wisdom to enhance cellular communication, The Method works synergistically with the skin to bring vibrancy, hydration, and enhance tone," says Valentine. Bonus: As a finale, Valentine guides his clients with a visionary meditation for deep relaxation.
Luxury skincare brand Noble Panacea teamed with Jodie Comer who is the face of the brand for her Met Gala skin prep (Prime Radiance Serum, Radiant Resilience Moisturizer, Vibrant Eye Infusion) created in partnership with celebrity makeup artist Kate Lee.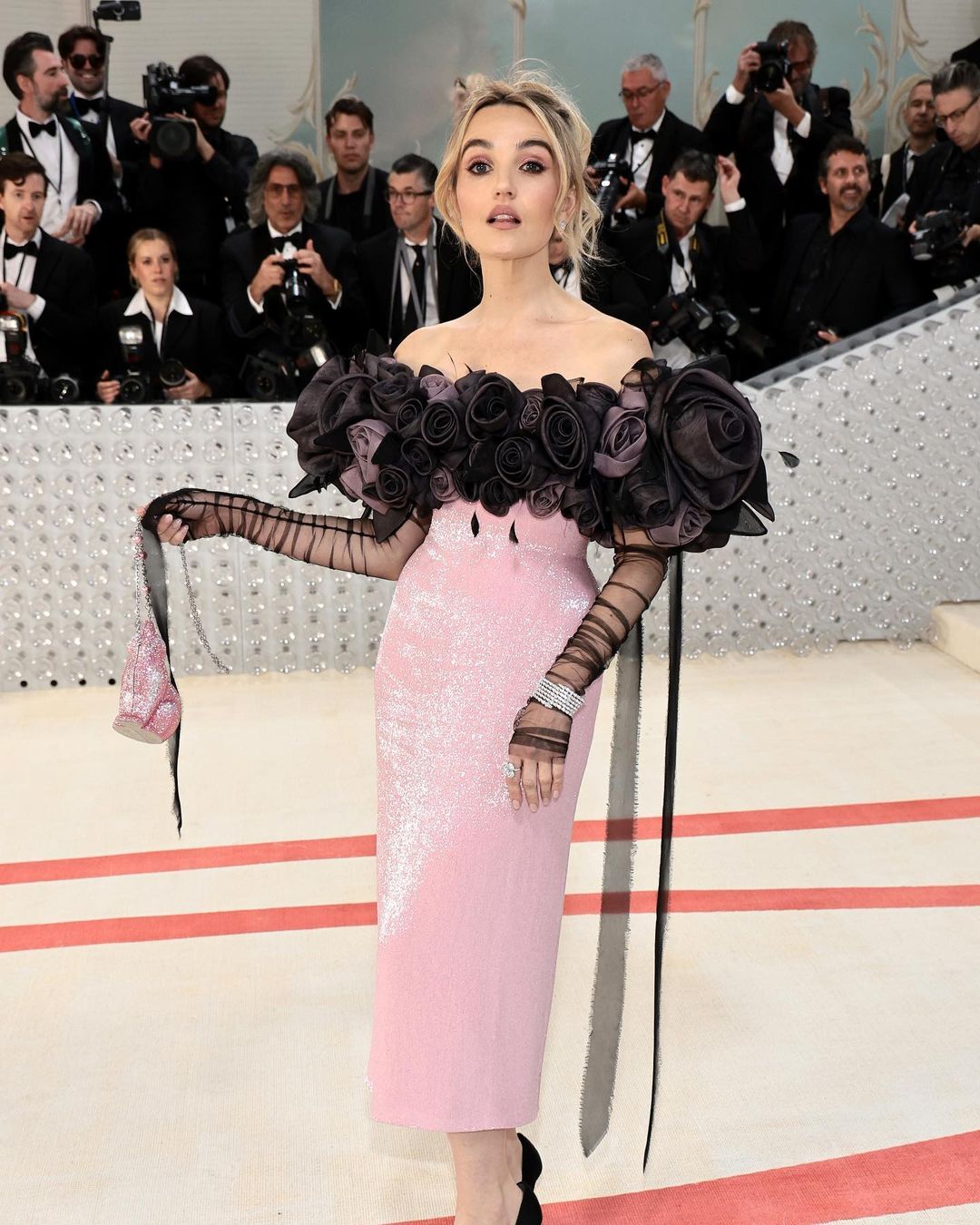 Soft Glam
Soon-to-be new mama Serena Williams was a grand slam in pearls galore. Her flawless makeup was set by artist Farzana Zaman with a bevy of Beauty Blender products—BOOST Firming & Smoothing Peptide Primer, Bounce Always On Radiant Skin, Magic Fit Creamy Bronzer & Highlighter, Soft Focus Gemstone Setting Powder, and BOOST 4-IN-1 Firming Peptide Setting Spray.
Makeup artist Mary Wiles crafted Maya Hawke's look with Le Rouge Français products featuring patented, plant-based pigments in skin-beneficial formulations. Maya's natural beauty (thanks to handsome parents Uma Thurman and Ethan Hawke) was accentuated by Garance Royale Cream Blush in Cléopâtre, Le Noir Calistoga eye pencil, Le Noir Cassiopée mascara, and on the lips, Nordgrøn and Le Rose Licandre.
"We wanted a cool girl look—a little bit magical, but pretty and enhancing her own features with the lovely products that are just really naturally enhancing," says Wiles.
Clean, conscious brand ILIA Beauty paired with celebrity makeup artists to illuminate faces with natural allure: Jenn Streicher for Emily Blunt; Ericka Verrett for Miranda Kerr; and Tobi Henney for Diane and Talita Von Furstenberg.
"I wanted the makeup to feel chic and gorgeous. As an ode to Karl, we kept the skin natural and luminous with hints of soft color on the eyes, cheeks, and lips to enhance Talita and Diane's beautiful features," says Henney.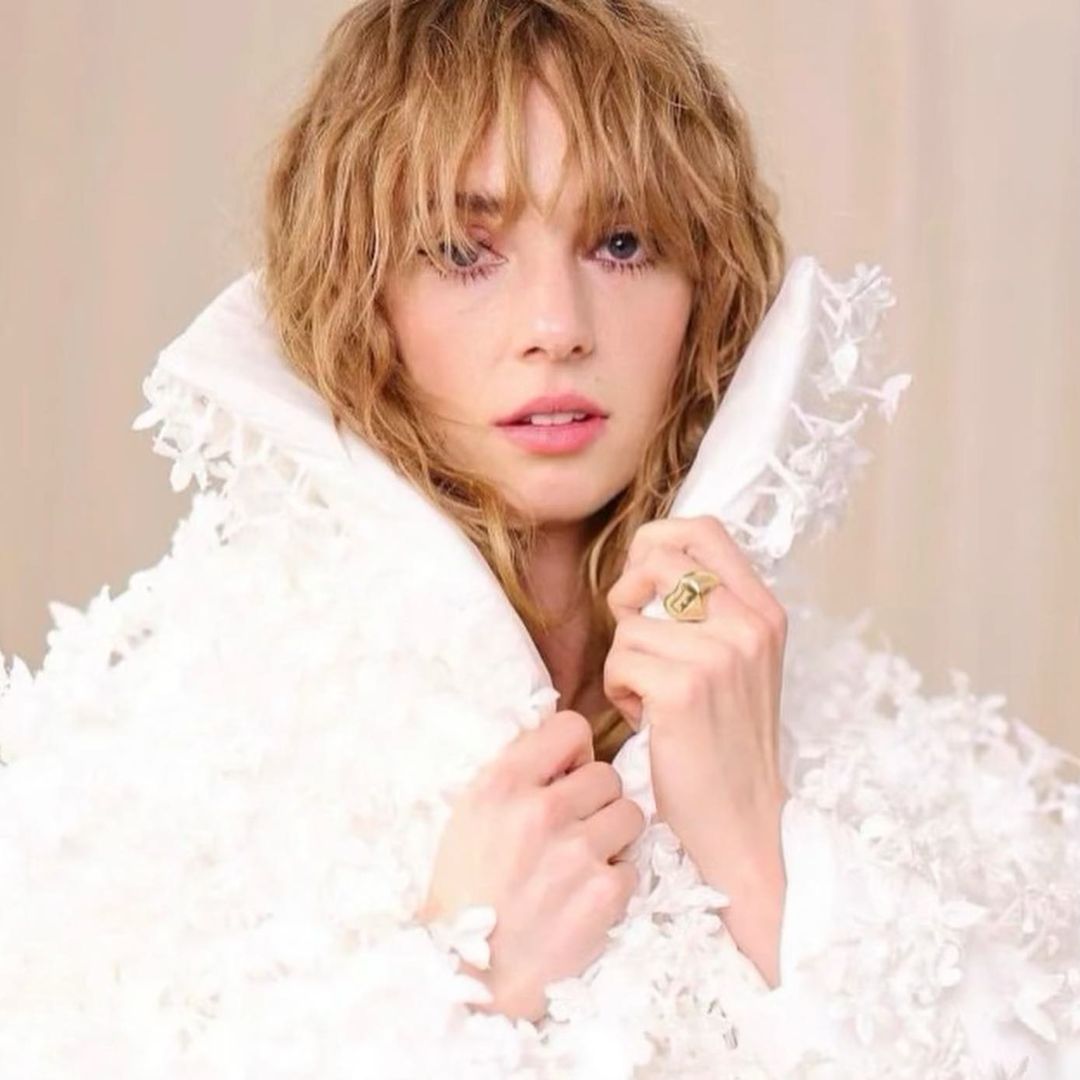 Luscious Lips
Happy smiles were framed by plush kissers. Rockin' in red was Lily Collins, Tems, and Rihanna in Fenty Beauty Stunna Lip Paint in Uncensored. Nude hues were refined on KiKi Layne, Jessica Chastain, Kate Moss (apropos in Charlotte Tilbury Matte Revolution Lipstick in Supermodel).
Rose gleamed on Olivia Rodrigo and Salma Hayek. Glossy lips shimmered on Kim Kardashian, Quinta Brunson (wearing Glossier Lip Gloss), and Jennifer Lopez who was tiptop in a fascinating fascinator.
Energetic Eyes
Seductive and subtle, A-lister eyes sparkled as they paraded into the most fashionable party of the year. Cat-eyes were plentiful (Vanessa Hudgens, Ashley Graham, Cardi B)—a clever nod to Lagerfeld's beloved feline Choupette. Dramatic brows à la Priyanka Chopra Jonas, Cara Delevingne, and Vittoria Ceretti made an absolute statement. Naomi Campbell (one of Lagerfeld's most beloved models) had goddess glimmer in rosy eyeshadow that complemented her Chanel couture dress.
Smoldering, smokey shadows were captivating on Kerry Washington and Ariana DeBose. Violet blues were vivid on Emma Chamberlain and Carla Bruni. Graphic wings, metallic accents, and defined lines were makeup mastery. We are looking at you Micaela Coel, Billie Eilish, Lizzo, Yara Shahidi, Kim Petras (in MAC Reflects Pearl Glitter).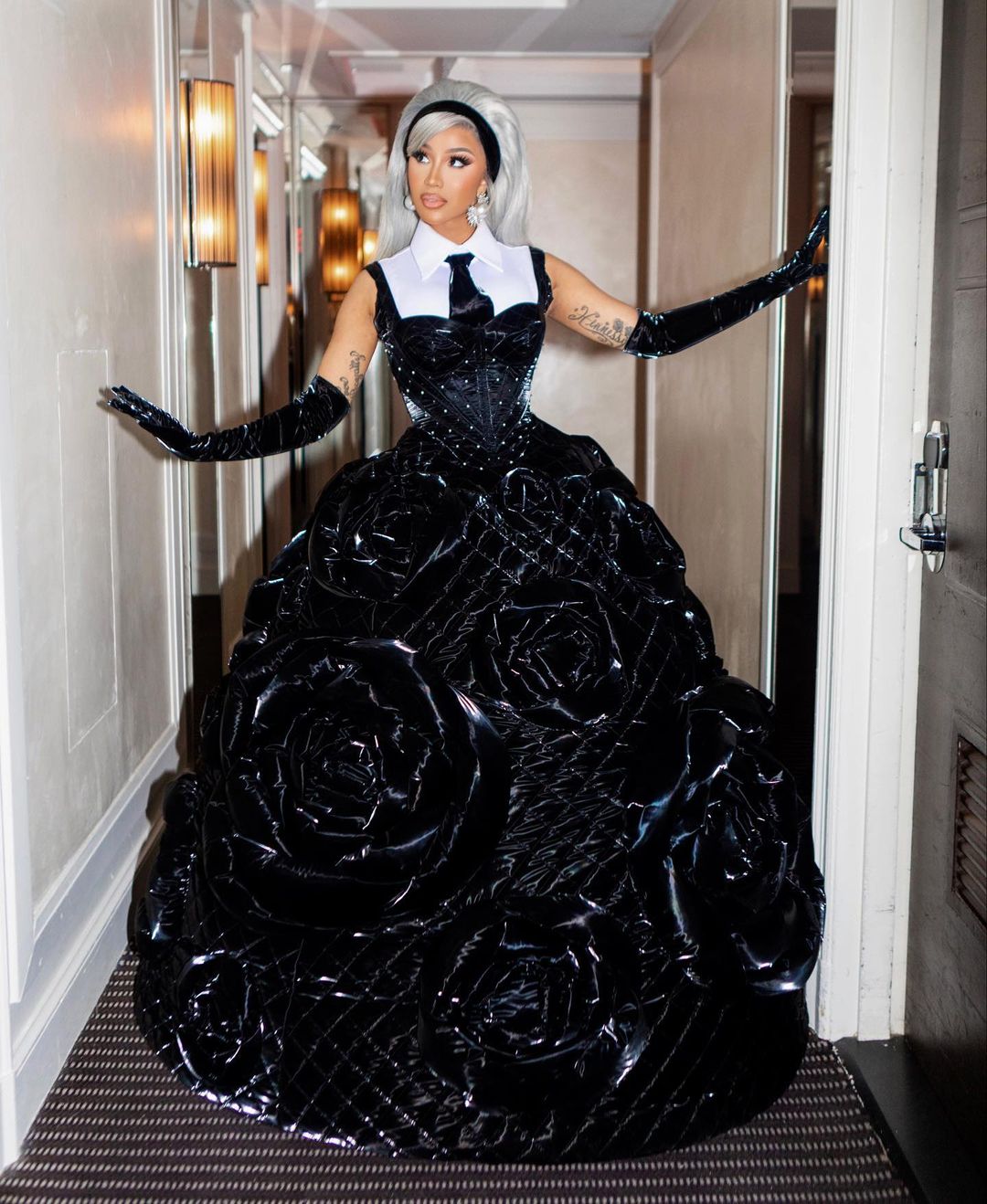 Nailed It
Met manicures were pure artistry—short, sweet, elongated, jeweled. Rita Ora took it to another level with black polish and full length beads from nail to (almost) floor. As did Erykah Badu in mystical head to fingertip regalia.
Florence Pugh was polished in green by NYC fashion manicurist Dawn Sterling with Manucurist Paris, the world's first plant-based LED nail color.
La La Anthony and Elle Fanning flashed light, long, and lacy nails. Viola Davis was pretty in pink from nail polish to eye shadow to her feathered Valentino gown. And bedazzled nails reigned supreme.
Hands down, the Met Gala is the place to be mesmerized by transcendent style.
"Improvise. Become more creative. Not because you have to, but because you want to. Evolution is the secret for the next step." - Karl Lagerfeld
Experience Lagerfeld's legacy in person. Karl Lagerfeld: A Line of Beauty exhibit is open May 5 through July 16 and showcases 200 sumptuous objects that span his illustrious 65-year career.
---
Author: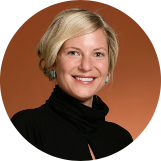 Danica Farley
Danica is a writer, editor, optimist, and content creator. She pens about experiences that inspire a life well-lived—beauty, travel, wellness, nature, art, positive vibes. Currently based in Southern California, her work has been published in COAST, Get Out There, and Utah Style and Design magazines, Orange County Register, KÜHL, and more. "Beauty begins the moment you decide to be yourself." - Coco Chanel
---
Comments