The Best At-Home Gray Root Touch Up Products of 2023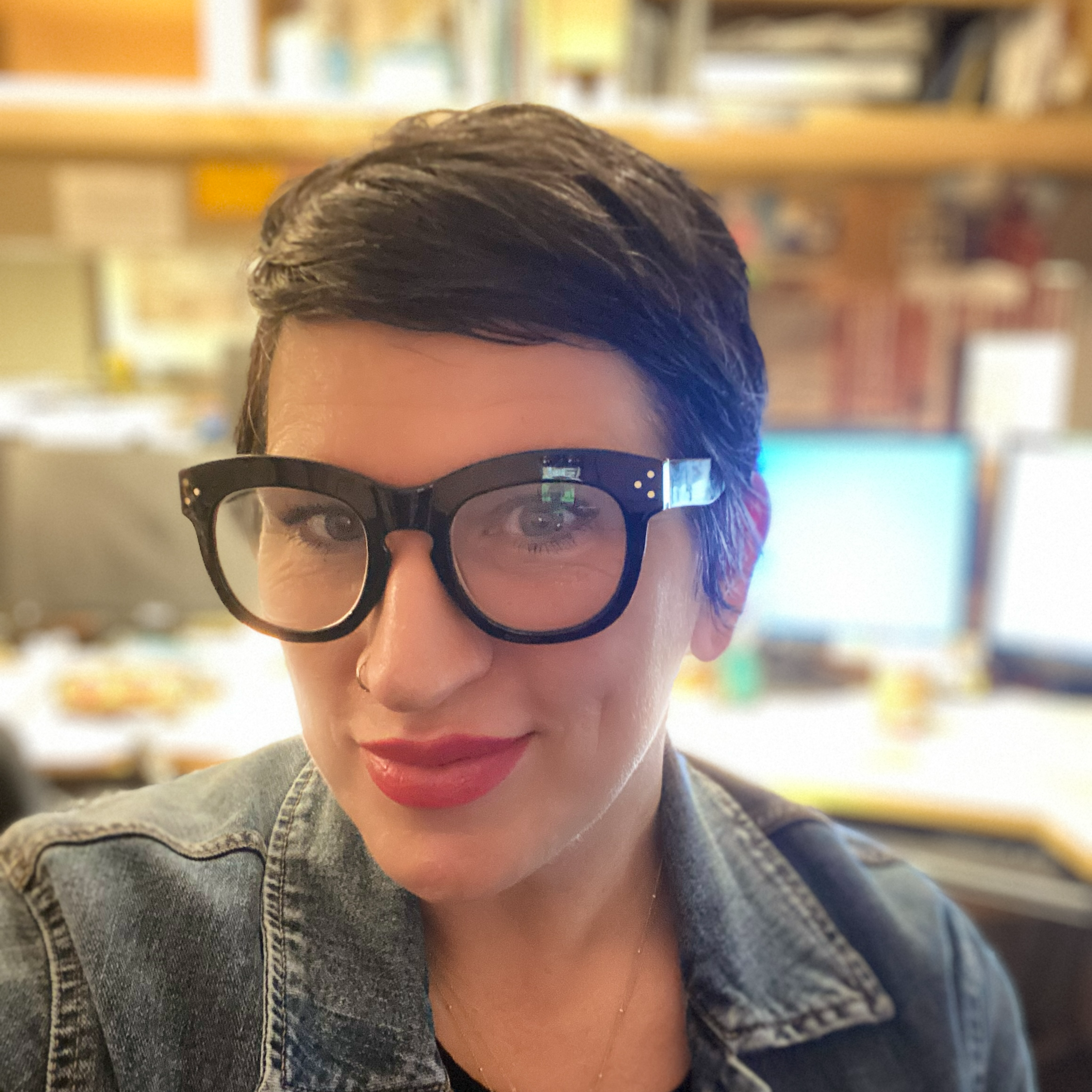 Randi Steele
Sep 15, 2023
---
Not ready to go gray? Make it fast and fabulous with these highly effective, temporary fixes from top hair care brands.
---
Ok, full disclosure….as a middle-aged woman, I have fully embraced the fact that gray hair is part of my beauty ministry going forward. While I am hesitant to embody the adage of "aging gracefully" when it comes to my face and bod (not ashamed to admit that Botox and Juvéderm have become some of my most trusted allies in the "serving face" skirmish), my hair is quite another story.
Let me be completely honest; I will spend literally HOURS on a skin care regimen and makeup routine to get every little pore perfect. As for my hair? If I must do anything more than rub in a little pomade, I'm shaving it. I was blessed with lovely dark hair, which I will never complain about, but it is also incredibly fine, and when it was longer, getting it to hold any hint of a curl required pounds of product and just as much prayer.
So, amid my middle age clarity, I decided to embrace my hair by cutting it off into a darling pixie…and I've never looked back. I've also embraced the fact that my hair will do exactly what it wants to - including turn gray. The amount of gray has slowly, over these past 2 to 3 years, increased its visibility on my head to where coloring it my usual blue black seems fraudulent, like I'm trying to be someone else. So, I just embrace the gray, as I begin the application process to become a card-carrying silver fox.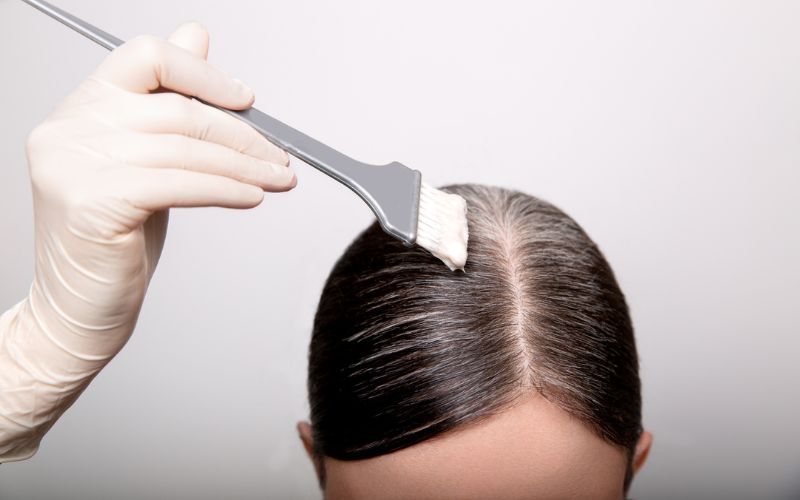 But for you readers that actively spend quality time in your stylist's chair, I present to you this scenario…. you have a killer date on Saturday night, and you want to do a little self-care before the big ballyhoo, so you schedule an afternoon of pampering before that dinner and a movie. Nail appointment scheduled? Check. Brow waxing? Check. But, as you well know, your colorist is in high demand, and it is no surprise that it would take an unforeseeable natural phenomenon (or an offensively large cash bribe) to get them to clear a couple hours in her Saturday to accommodate you and your 2 to 3 inches of grow out. I know you have been busy, but…. priorities!
Wait, there is a solution! Temporary color is going to get those roots right and get you looking fly with time to spare. While these products don't last more than a shampoo and shower, any of the four that I tried will get your hair looking gorge, even though you can't make it into your stylist's chair.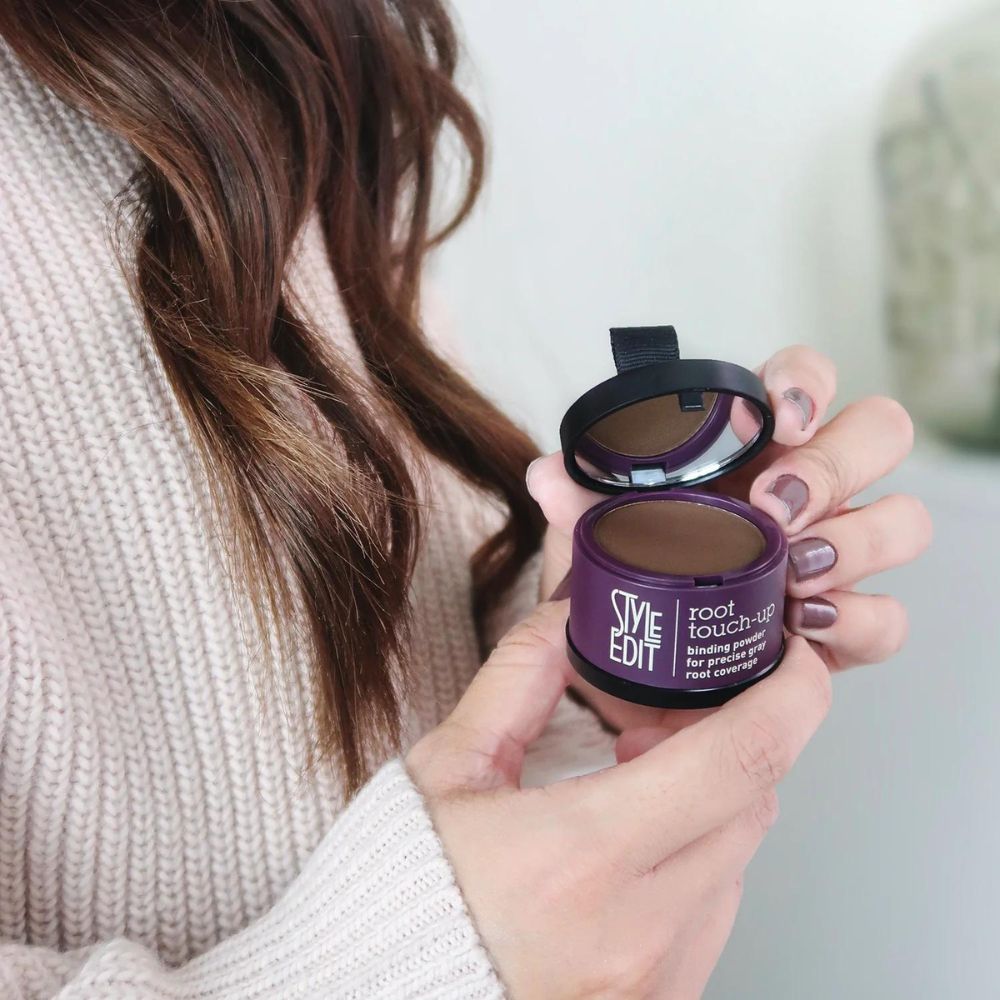 Style Edit Root Touch-Up Powder
What's a person to do if they are out and about, away from home, or just on the move and need a solid dose of gray coverage? Well, fret not my pets, we have you covered in the realm of portable color coverage as well; I present to you Root Touch Up Powder by Style Edit.
The brilliant folks who developed this remarkable, easy to use, highly pigmented powder coverage truly had on-the-go gray coverage with portability in mind. Compact in size, the applicator sponge is nestled in the base of the container for safe keeping. The vessel opens to reveal a rich formula of paraben free, color adaptive powder that is a cinch to apply, lasts through rain, workouts, or a good tousling, and shampoos out in a snap.
With the easy-as-pie tutorial on the website (for those who need a little extra in the how-to department), and with four colors available, ranging from black to light brown, covering gray roots between salon visits is easy as pie; but wait, there's more! Style Edit also has formulations for blondes and red hair - I can almost hear Oprah hollering, "YOU get root cover up, and YOU get root cover up, and YOU get root cover up." OK, you get the picture. Check out their website and make a one-time purchase or get discounted pricing for a monthly subscription; either way, Style Edit has you covered until you're in the stylist's chair again.

Madison Reed The Great Cover Up
Talk about a multi-tasker! Madison Reed, a company that has taken the hair color world by storm with their natural and cruelty-free approach to at-home hair color (their products are Leaping Bunny certified, and completely free of the big 8 offenders in terms of chemicals), is also there for you in a pinch, when you are between appointments. The Great Cover Up, which is a powder based gray cover up AND brow filler, was a 2022 Allure Beauty Award Winner, and for good reason.
This pigment-packing powerhouse is compact and portable, and covers roots quickly and easily, complete with a flat brush and dual-sided applicator for filling in brows as well. The powder goes on like a dream, infused with keratin and argan oil, and stayed put through a workout, with no residue on my pillow after a quick mid-day nap. The powder formulation also allowed for me to style as needed after application, without stiffness or stickiness; and the product is great for those of you that might be experiencing thinning hair; a few swipes of the highly pigmented powder gives the illusion of beautiful texture and fullness.
Please note that The Great Cover Up takes about 10 minutes to apply, so it's not as quick as the others on my list. But if you need an assist to tide you over until your next time in the chair, this product is a slice of heaven.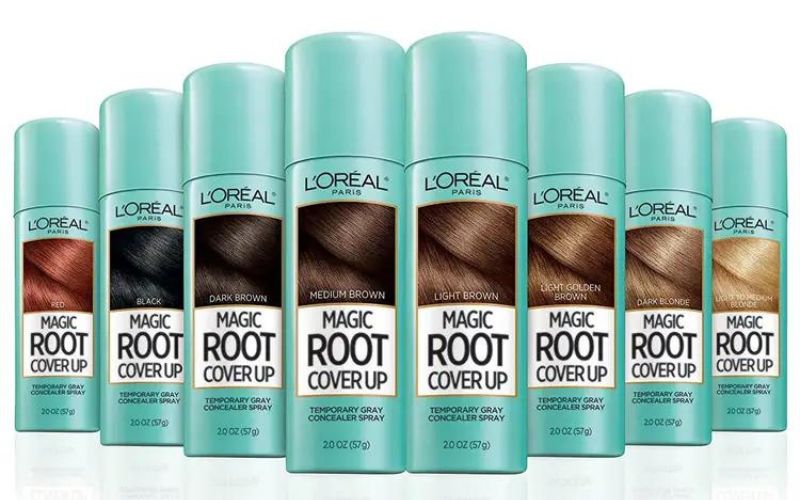 L'Oréal Paris Magic Root Cover Up Concealer Spray
The hype that I have heard regarding this gray cover up spray is UNPRECIDENTED. It seemed like everyone and their best friend/grandmother/sorority sister/life coach has tried it… and loved it! So, I was prepared to fall head over heels in love with this robin's egg blue vessel, filling my medicine cabinet with multiple cans so that I'll be gray free until the day after the reckoning; and it did have its strong points, but some opportunities as well.
The L'Oréal Magic Root Cover Up is touted as the "Number One Root Concealer in the World" and with good reason. The moment I popped the top on this blue bad boy, I knew this concealer spray meant business. A couple spritzes after I wrapped a towel around my shoulders to protect my clothes and I could already see ample coverage around my temples; color me impressed (LITERALLY)! I continued to spray and after a couple minutes, my hair was free of any gray, and the dark brown that covered it was a beautiful match to my natural hair color.
I gave my locks a light tousle afterwards, and had to wash my hands with soap, due to color transfer. But the spray dried quickly, and I didn't experience any color transfer onto my clothes, bedding or towels. The only downfall? The spray made my hair stiff; while it did impart texture, I had a hard time trying to get a brush (or even my fingers) through it. Washing it out was a challenge as a result; but keep in mind that my gray is everywhere on virgin hair, so I didn't restrict the spray to just my roots. But if you are looking for staying power, this spray fits the bill; all things considered, Loreal Paris's Magic Root Cover Up Concealer Spray is straight sorcery.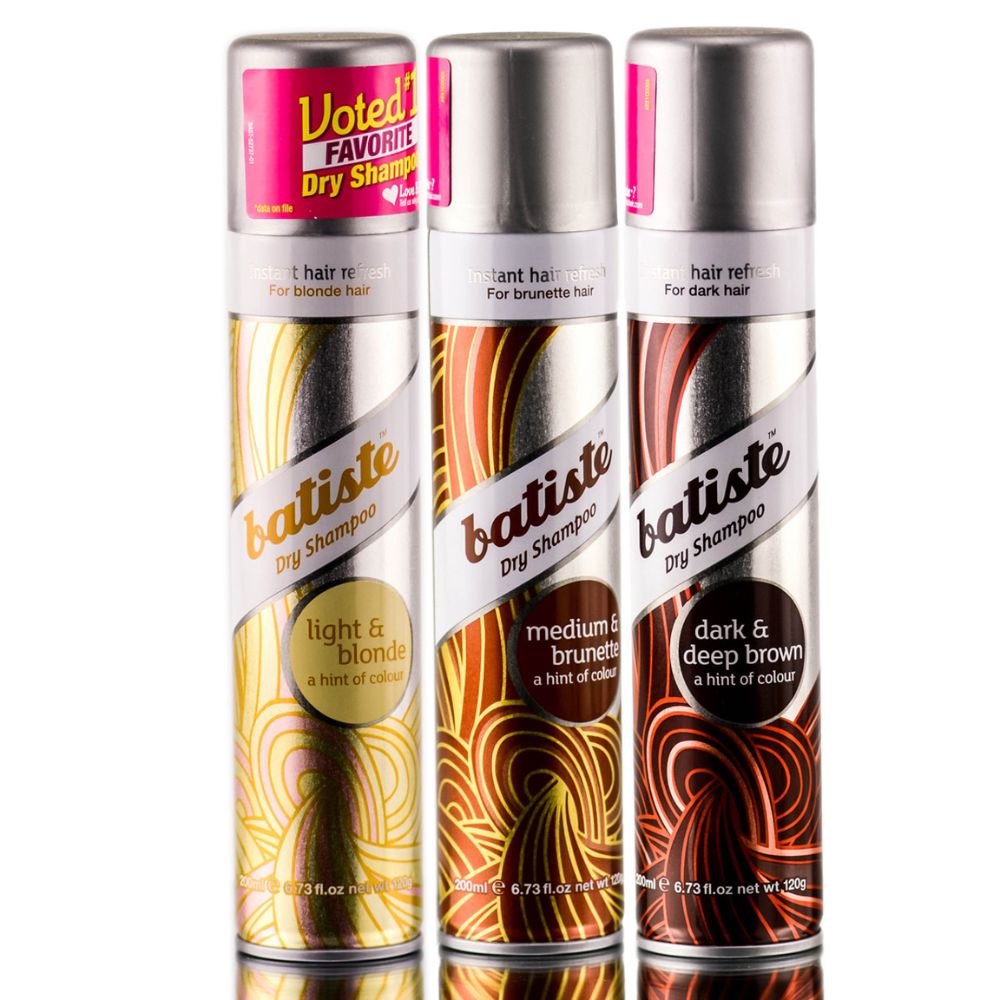 Batiste Dry Shampoo Hint of Color
Who on this earth does NOT love a good dry shampoo? I, myself, as a short-haired queen, LIVE for the stuff. It is ideal for after the gym, a refresh after work, and on those days you just don't feel like making the effort to wash your hair). How could one possibly make dry shampoo better? Why, by adding color of course!
Batiste, the O.G. of dry shampoo, has created Dry Shampoo with a Hint of Color, with a formulation for Dark Hair, Brunette and Blonde, and I knew I had to add it to the docket of root touch up trials; so, try I did one afternoon, before heading out to run errands. The formulation was more pliable than the L'Oréal Paris Magic Root Cover Up Concealer Spray, but also had a bit of transfer to hands if you were touching up hair, adding styling products, etc. However, the texture it added, as well as the depth of color were a win for me! This is a great addition to your gym bag, and a solid option if you want gray coverage, but opting with an updo/ponytail/bun option in terms of style. The O.G.'s new school gray cover option is a solid contender in the beauty battle being waged under your bonnet.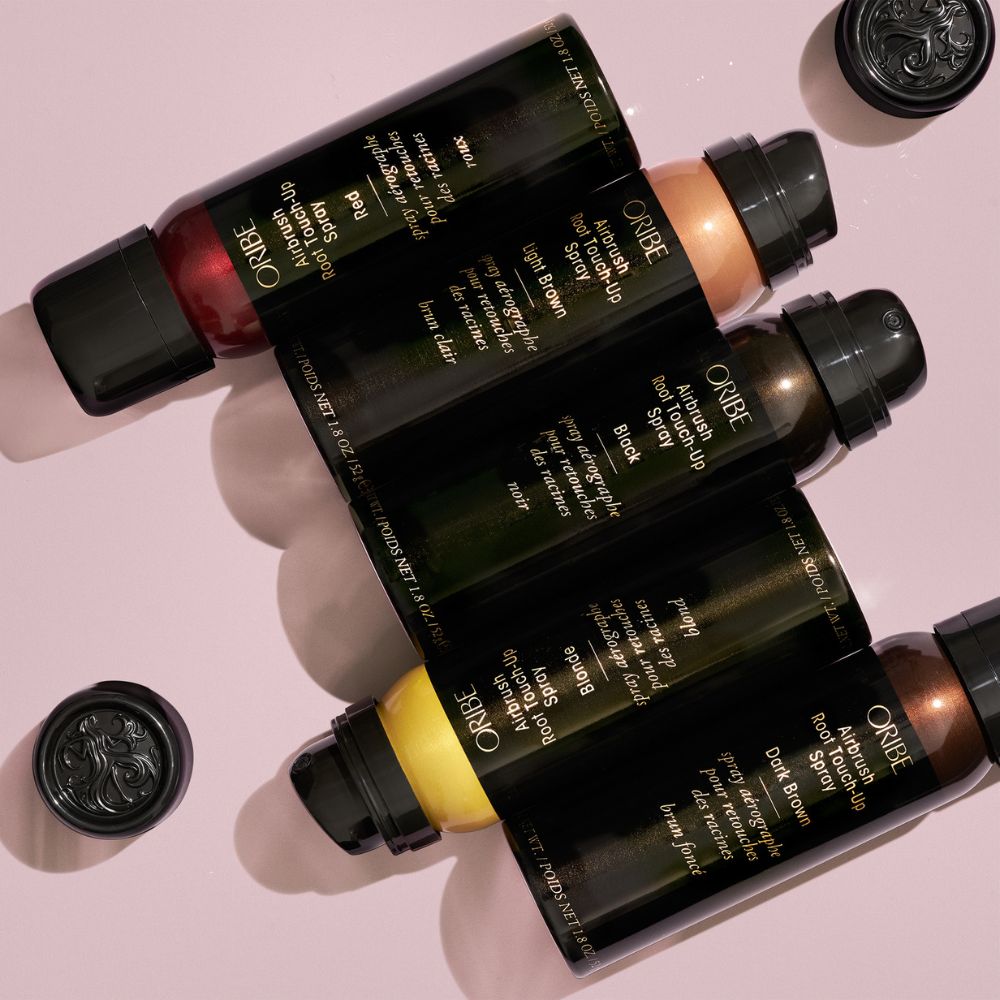 Oribe Airbrush Root Touch-Up Spray
Finally, we have the head honcho of secretive silver submersion, and it comes from an incredibly trusted and time-honored name, both in the world of hair care and the fashion world overall. Oribe Canales, before his unfortunate death in 2018, created a persona and a brand as big as the voluminous, bouffant hairstyles he constructed on supermodels of the late 90's. He, similar to the styles he fashioned, was bigger than life, and had an incredible presence not only in the late 1980's and early 1990's, but again when a very popular dancer/singer/performer "from the block" came requesting management for her mane. Jennifer Lopez was integral in the reboot of Oribe, and his legacy lives on in his incredible products that are, as is accurately described on his website, "for the hair obsessed." So, you can imagine that I was stoked to say the least to try Oribe's gray cover formulation; I mean, if his tinted pomade that he introduced in the late 1990's could have the chokehold on me that it did, forty-something me might be just as smitten with his Airbrush Root Touch-Up Spray. Well babies, OBSESSED is an understatement.
Now let me preface my gushing review with this; at $34.00 for just under 2 ounces, this bit of gray cover alchemy is pricey. However, the investment was easy to justify when I saw it on my hair. First of all, application was a dream; never tacky or damp, this dry spray went on smoothly and evenly, was literally LIGHT AS AIR and has a lovely scent. This particular time around I started just on my sides, over my ears, where I have the largest concentration of gray strands. The result? Stunning coverage and zero transfer to clothing.
I decided to apply to my whole head, and I was so impressed with not only the level of coverage and that glorious scent, but it gave my hair fantastic texture, which is saying something for this incredibly fine haired female. Styling was easy breezy as well; no problem finger styling or getting a brush through my newly lavish locks. Oribe for the win.
So, don't fret my pets, if you aren't ready to attain silver fox status and are looking to extend the time between salon appointments (and still look great doing so), then pop online or head to your nearest beauty retailer and start stifling that silver stat!
Besos mis bellezas!
---
Author: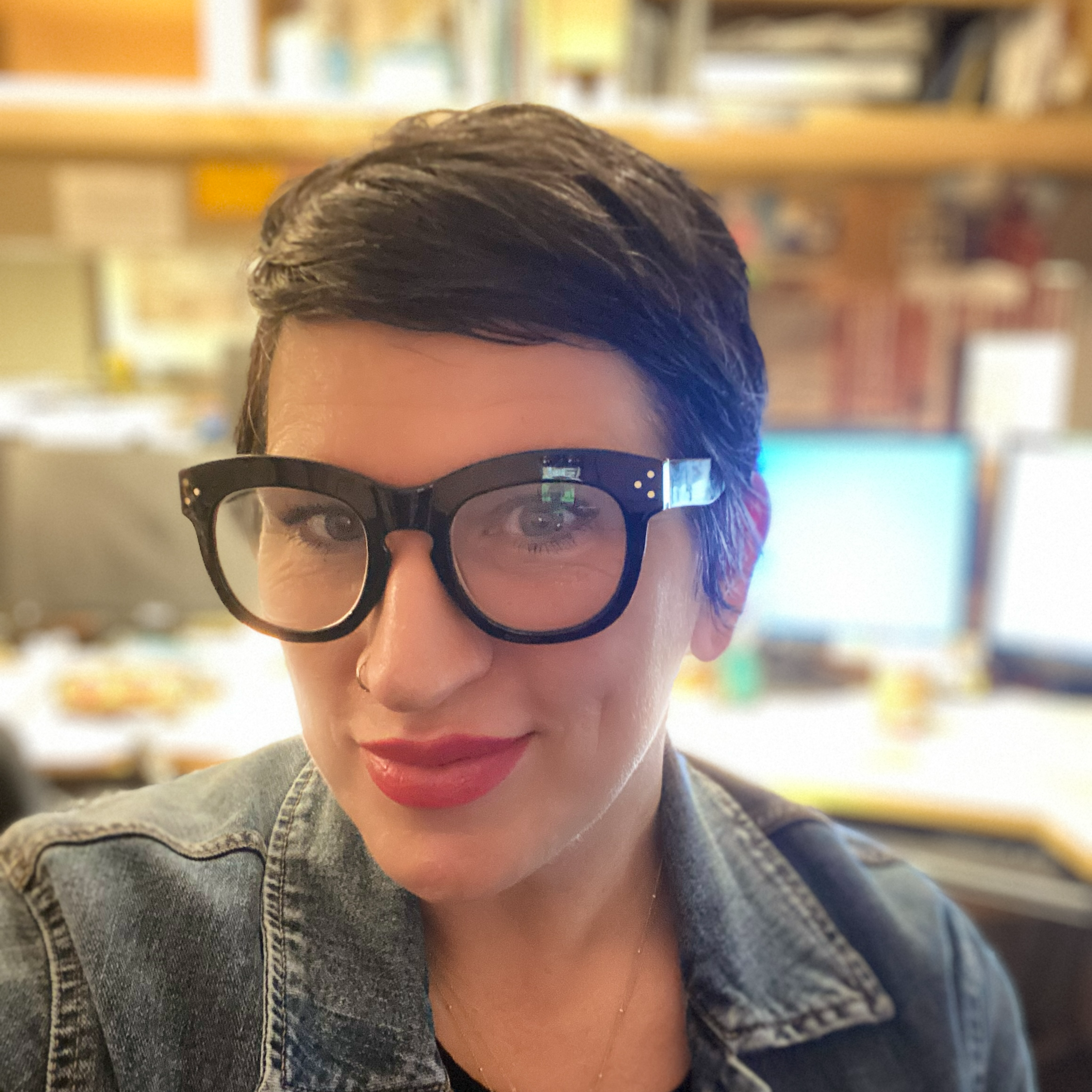 Randi Steele
Randi Steele is a freelance writer with a Bachelor's degree in Fashion Merchandising from Oregon State University and a Master's degree from University of Southern California in Communication Management and Journalism. When she isn't writing for BeautyTap, she is developing content for her curated website, blog and accompanying podcast, The Style Adjacent, launching in June 2023. Randi also loves the aesthetic nature of writing and lettering, and her modern calligraphy can be found on Instagram at @freshruth. She loves vintage pocketbooks, Nipsey Hussle, a classic red matte lip, college football, and getting tattooed; not necessarily in that order.
---
Comments