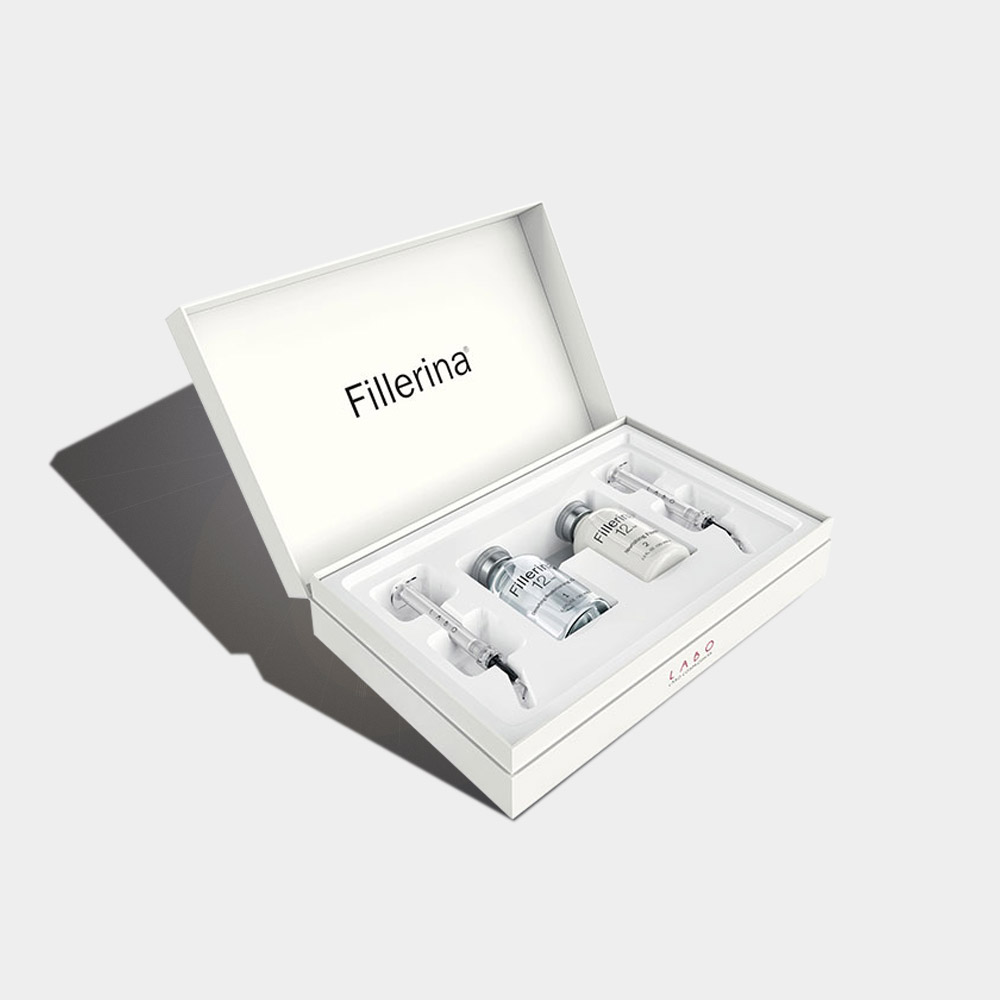 Fillerina 12HA Densifying Treatment
Fillerina is the first dermo-cosmetic replenishing preparation to be used at home for external application. The product name comes from the replenishing mechanism of face depressions (wrinkles) and from the plumping mechanism of specific zones (in vivo test), thanks to the action of special Hyaluronic Acids with different molecular weights for a different level of replenishment of expression lines, age wrinkles, microrelief and areas of the face subject to sagging or emptying (cheekbones, around the oval of the face, lips surface).
REPLENISHING EFFECT As skin ages, the amount of Hyaluronic Acid gradually decreases, causing imperfections such as age wrinkles, expression lines and a loss of plumpness (emptying and skin depressions), especially on cheekbones, cheeks and lips. Fillerina 12HA Densifying-Replenishing features a patented mix of 12 different Hyaluronic Acid molecules with varying molecular weights and sizes that are especially effective in terms of absorption by the skin (ex vivo tests with Franz Cells), thus allowing it to be replenished and plumped up. The molecular weights of the 12 Hyaluronic Acids with replenishing effect contained in this formulation range from 400 to 2000000 Dalton, and up to a Crosspolymer molecule, and all of them showed a great absorption capability (ex vivo test).
DENSIFYING EFFECT Fillerina 12HA Densifying-Replenishing associates 3 Collagen molecules with different molecular weights (2000, 12000 and 300000 Da) which, thanks to their absorption by the skin (ex vivo test with Franz Cells), can promote a redensifying effect and improve the replenishing effect, in synergy with Hyaluronic Acid molecules. With chronological ageing also the quantity and quality of Elastin, the protein that builds up elastic fibres, drastically decreases thus threatening skin plasticity and contributing to skin sagging. The formulation associates 2 molecules of Elastin with different molecular weights (1400 Da and 2200 Da), which help restore skin elasticity and plasticity. The box contains:14 doses (2 ml each) of Densifying-Replenishing Gel, 14 doses (2 ml each) of Nourishing Film, 2 precision applicators for external use.