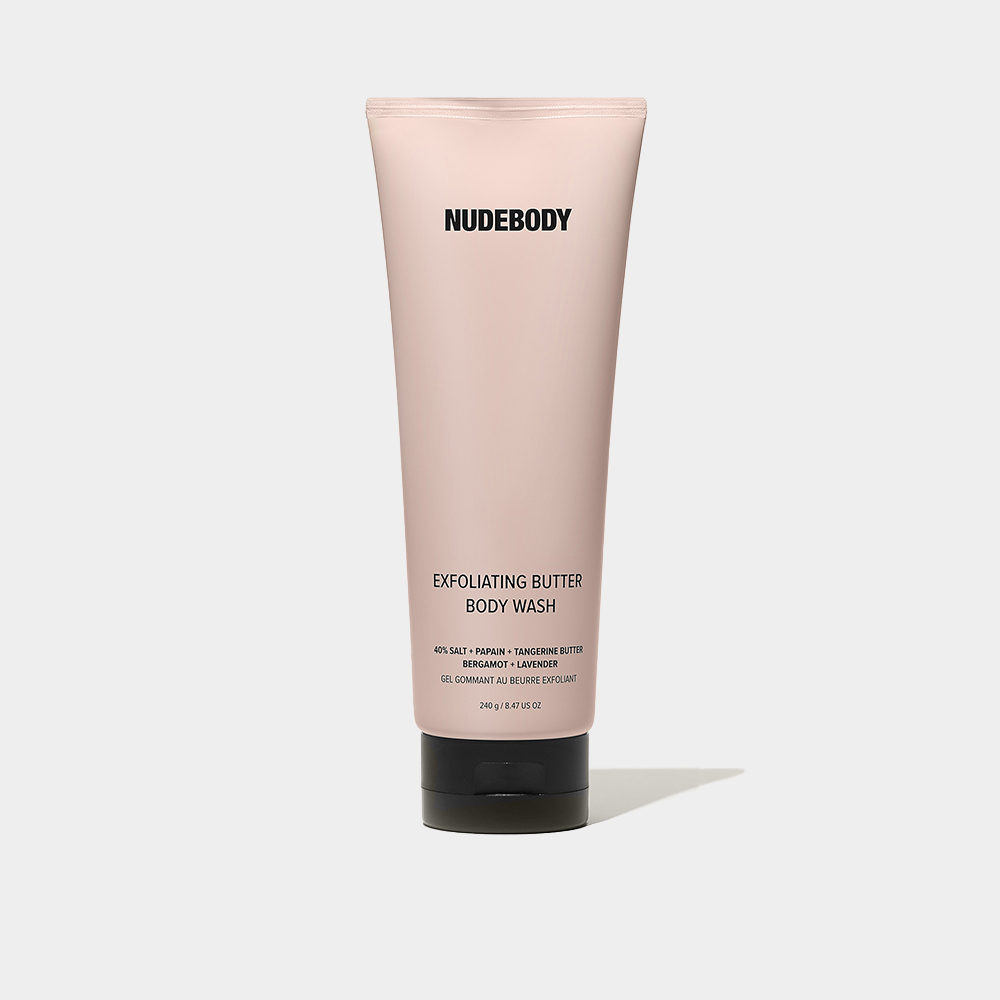 Nudebody Exfoliating Butter Body Wash
Love your nude body with a clean, vegan-powered, luxurious foaming body wash and body scrub that is all-in-one. It contains 40% salt to exfoliate and detoxify skin and a citrus butter, derived from tangerine to lock-in hydration, protect natural skin lipids and is a natural source of vitamin C. The EXFOLIATING BUTTER BODY WASH also contains glycolic acid, salicylic acid, and papain enzymes from papaya fruit to help renew and refresh skin texture and tone. With balancing notes of soothing lavender and energizing bergamot, making this a self-indulgent daily bath or shower ritual.
What it does:
The EXFOLIATING BUTTER BODY WASH is a multi-tasking body wash that gently exfoliates the skin with natural salt, glycolic and salicylic acids to remove dead skin for softer texture and clearer pores. Tangerine butter, citrus oils and sweet almond oil hydrate the skin as you add water to create a silky cleansing foam that rinses easily, leaving skin baby-soft, totally clean, and glowing. Balance your senses with soothing lavender and energizing bergamot aroma.
Features:
How it works: 3-in-1: Foaming Cleanser + Renewal Exfoliant + Skin Refreshing & Toning
Tangerine Butter: Hydrating citrus emollient complex to protect natural lipids and natural source of Vitamin C. Rich in Oleic Acid, and Linoleic Acid that is considered nourishing to the skin through moisturization. Improves complexion and skin tone.
Papaya Extract: Natural source of papain enzymes to support skin renewal, brighten and refresh skin texture & tone.
Glycolic & Salicylic Acids: Support skin renewal, brightens and refreshes skin texture & tone
Salt: Packed with minerals which helps to detox by cleansing pores, balancing oil production and acts as mechanical scrub to remove dead skin.