Hanbang Huddle: Is K-Beauty Prestige Brand Sulwhasoo Really Worth It?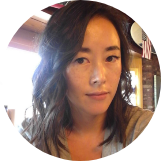 Jude Chao
Dec 17, 2018
---
There's no disguising it: K-beauty prestige brand Sulwhasoo is not cheap. But so many influencers and beauty gurus love it. Is Sulwhasoo a brand that is really worth it? We asked perhaps THE K-beauty influencer and guru Jude Chao why she thinks Sulwhasoo is so worth your coin.
---
Prestige skincare comes with prestige prices. You can't be blamed for wondering whether what's in those beautiful weighty bottles is actually worth the markup over similar ingredients from more unassuming brands. I'm often asked why I love Sulwhasoo so much and whether I've found any true equivalents at a more accessible price point. Let's talk about my undying love for this brand and what makes it different.
Personally, I've found many higher-end skincare brands to be less than worth it for my skin. Shiseido and SK-II do nothing for me. Sunday Riley has a couple of products I think are OK but more that I find outright unpleasant and ineffective. Most of the Su:m37 products I've tried (with the exception of my beloved Secret Repair Concentrated Eye Cream) give me a rash. Sulwhasoo, on the other hand, does my skin right. So I did a little reading into the brand's story.
I own a book about Amorepacific Group, the conglomerate behind Sulwhasoo and many other well-known K-beauty brands. Amorepacific: The Dream of Asian Beauty  details the conglomerate's 70+ years of history. Naturally, my favorite chapter is the one on Sulwhasoo.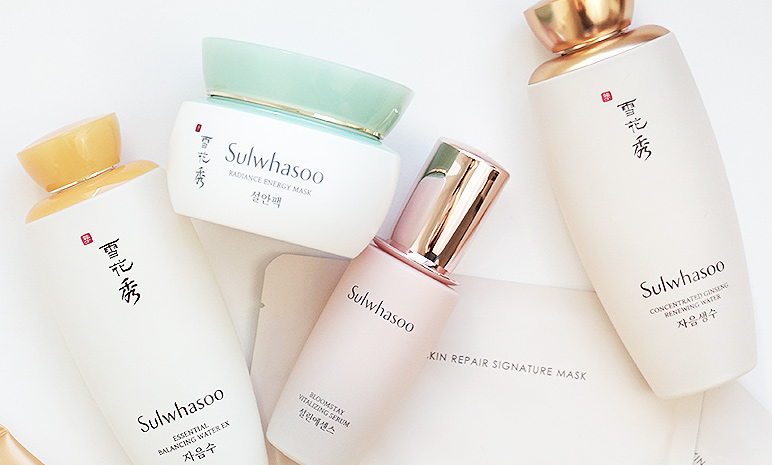 A brief history of Sulwhasoo, according to Amorepacific: The Dream of Asian Beauty
Despite the traditional roots (huehuehue) of its formulations, Sulwhasoo didn't exist in any form until 1987, when Amorepacific, then simply called Pacific, launched the Sulwha line of products. Sulwha was inspired by "the outstanding benefits of ginseng" and born of a 30-year R&D effort that isolated five out of about 500 herbal medicine ingredients to use as the focus ingredients for the products.
Despite a promising launch overseas, in South Korea, "the consumer reaction to the brand was poorer than expected."
WHAT?
WHY??
Here's the shocker. These days, it's common to think of hanbang as traditional skincare, since it comes from traditional remedies, but the concept was apparently not widely accepted to South Korean beauty consumers in the 1980s. "Most customers turned out to have a keen interest in the herbal medicine-based cosmetics, but most of them said they were not sure about its skin benefits."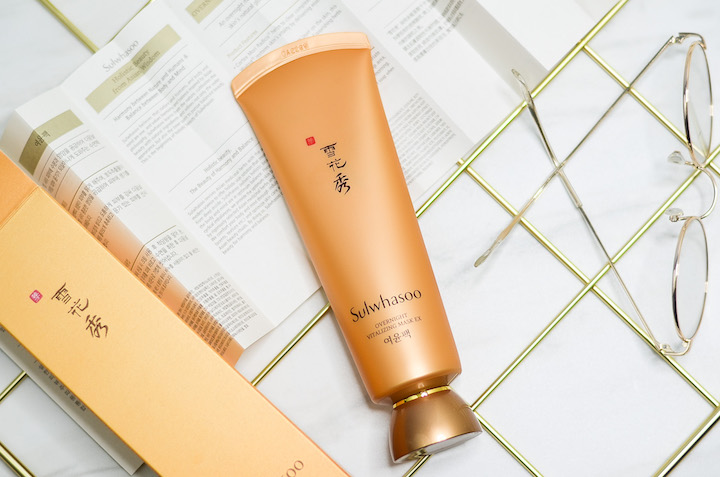 To overcome this hurdle, the research team embarked on a years-long quest to utilize traditional herbs to "resolve skin troubles from the fundamental level." In conjunction with the Kyunghee University oriental medicine department, the research team "drew the conclusion that balancing the yin and yang energies by supplementing the yin energy that deteriorates due to the aging process had to be the priority" of the formulations.
OK, that part sounds a little too airy for me, but the ingredients research the team conducted doesn't. Out of over 3,000 potential herbal medicine ingredients studied, the research team chose 30 promising ones. After more work, they whittled that down to five: peony (paeonia), sacred lotus (Nelumbo nucifera), Solomon's seal (polygonatum), white lily (Lilium candidum), and rehmannia. If you've ever looked at a Sulwhasoo ingredients list, all those ingredients should ring a bell. They still appear in just about everything the brand makes for skin.
Of course, ingredients like the ones listed above appear in plenty of other products. What I found more interesting than the ingredient selection process is what Amorepacific: The Dream of Asian Beauty says about the way the ingredients are processed. The researchers decided that for the extraction process, they would apply the same methods that are used to prepare the herbs for medicinal use. This involved slow boiling the ingredients in purified water for hours, taking samples at intervals to determine the optimal preparation time.
Eventually, the Sulwha team concluded that 18 hours was that optimal time. They also worked on fermentation to further bring out the beneficial compounds of the ingredients.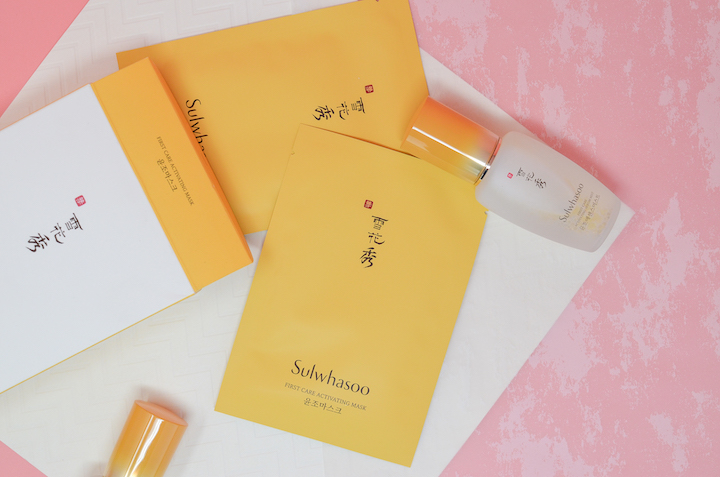 The Sulwhasoo brand that we know today officially launched in 1997, supported by a complimentary sample campaign executed through a magazine in South Korea. The brand chose to go in that direction because some department stores still proved resistant to the concept. Traditional herbal remedies "did not go with the upscale image" they wanted to promote. (My, how things have changed.)
The sample campaign led to sold-out stores. The First Care Activating Serum EX, "the most representative product in the Sulwhasoo brand" (and my personal favorite), further propelled Sulwhasoo to success. Now here we are today.
OK, but are these products really that special?
Yeah, they are. Otherwise I wouldn't pay out of pocket for them, which I do pretty regularly.
As mentioned before, I've tried plenty of other skincare products that contain similar herbal ingredients or have similar traditional medicine concepts. Many are meh. Some are fine. A few are pretty good. But so far, I haven't found anything that compares to the effects I've gotten from my favorite Sulwhasoo products.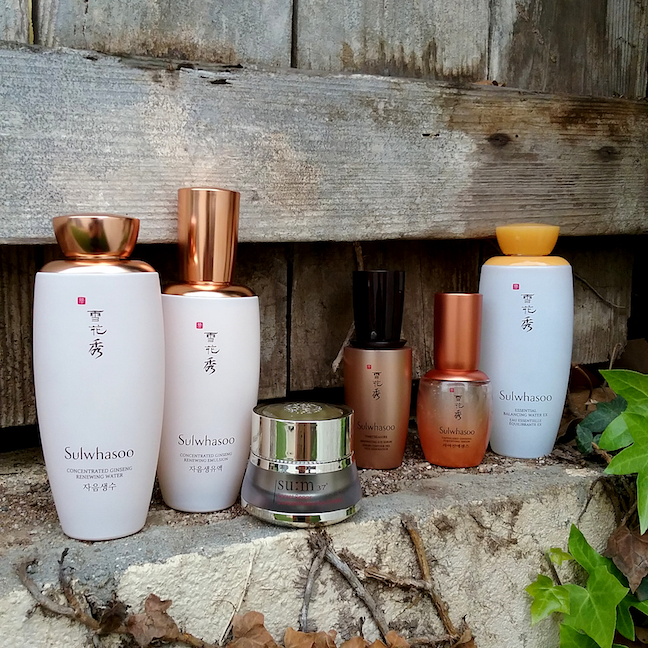 Reflecting on this pattern, I believe that ingredient quality must be a major factor. We can take the Sulwhasoo claims about the research and the boiling and the fermentation as an exercise in brand storytelling. On the other hand, my complexion experiences a significant difference in results between, say, Sulwhasoo's Concentrated Ginseng products and ginseng products from just about anyone else. Formulation is key, too. The balance of different ingredients in a product can dramatically alter its effectiveness.
If other brands are buying extracts off the shelf without exerting much control over how the plants are chosen and processed, while Sulwhasoo is cultivating, harvesting, selecting, and carefully extracting their plants themselves (which they claim to do), that explains a lot about the difference in potency. It also explains at least a little about the difference in price (not that the fancy packaging and glossy marketing don't also play a role in that). And if Sulwhasoo truly takes more care in formulating the products so that the extracts work optimally together, that explains a lot.
Which Sulwhasoo products are the most worth it?
Of course, not many of us can afford to run out and grab an entire range of Sulwhasoo products just to see which ones will work best for our skin. So to make things a little simpler, here are my personal top five.
Sulwhasoo First Care Activating Serum EX
This is, for me, the godliest of all Sulwhasoo products. A lightweight brown gel with a magical scent, the First Care Activating Serum is a "booster." You apply it immediately after cleansing and before other skincare products. It seemingly helps my skin absorb subsequent layers better. More importantly, regular use of this product increases the circulation in my skin, giving my cheeks a soft rosy glow that makes me look at least 80% less dead inside than I would without it. I've never experienced anything like that with any other product.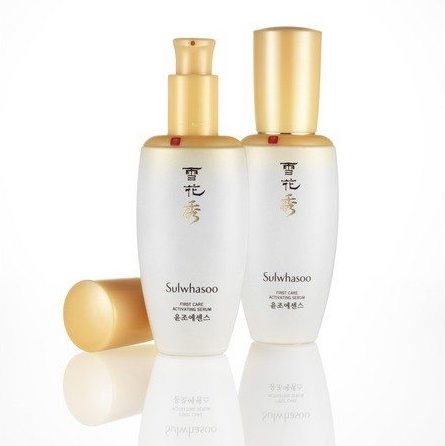 Sulwhasoo Overnight Vitalizing Mask EX
I'm close to finishing my third tube of Sulwhasoo's legendary sleeping pack, and I will definitely buy myself another. Just as magical smelling as the First Care Activating Serum EX, this is a satiny medium-weight cream that leaves my skin incredibly supple, bright, even-toned, and radiant in the morning, no matter how little sleep or how much alcohol I had the night before. I've called it a hangover cure for your face. I stand by that.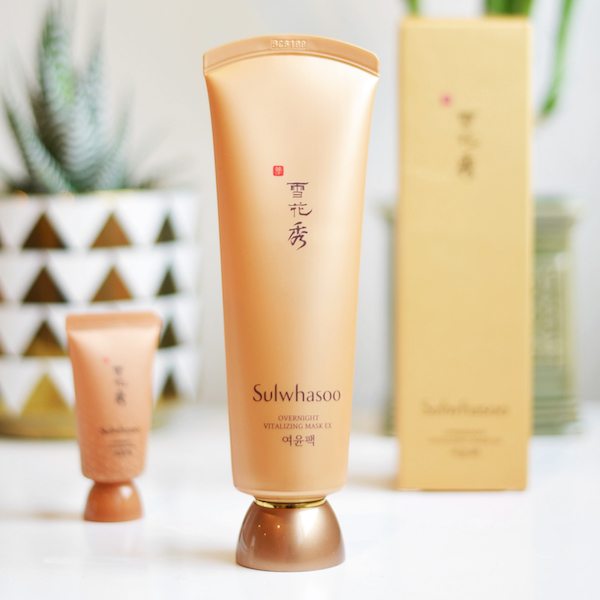 Sulwhasoo Capsulized Ginseng Fortifying Serum
I didn't understand the meaning of "elasticity" until I tried this product. Youthful skin can better "bounce back" from creasing and tension than older skin, and long-term use of this serum gave my skin a noticeable increase in that ability to bounce back. As an example, I didn't get pillow creases on my face as long as I used this serum. Unfortunately, the Capsulized Ginseng Fortifying Serum has since been reformulated and repackaged into the Concentrated Ginseng Renewing Serum. I haven't had a chance to test it yet, but you're welcome to. Please let me know what you think if you do!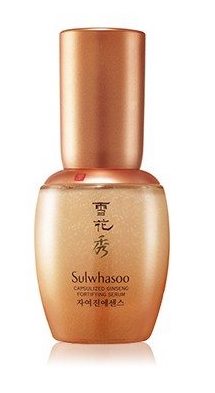 Sulwhasoo Radiance Energy Mask
Another entry in the sleeping pack category, this lighter (and more lightly scented) cream goes on smooth as silk and gives my skin a visibly more translucent and clarified look when I wake up in the morning. This mask contains white jade, said to stimulate circulation. Looking at the liveliness of my complexion after I use this mask, I can believe it.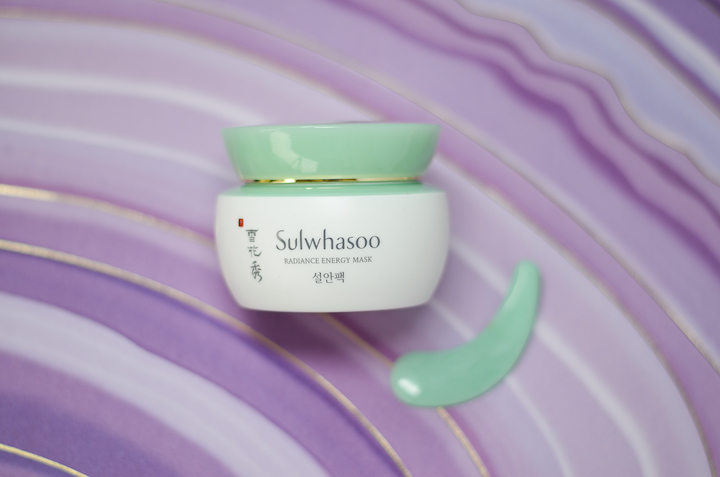 Sulwhasoo Concentrated Ginseng Renewing Emulsion
Usually I hate emulsions. I find they often end up feeling heavier and leave more residue than creams, despite their lotion consistency. The Concentrated Ginseng Renewing Emulsion doesn't. Though emollient enough to keep my skin moisturized throughout the day, it sinks in quickly and completely. I've used it as a serum step in the evening without any added heaviness at the end of my routine. And prolonged use reduces redness in my skin and evens out my overall skin tone dramatically. This gives my bare skin the look of a perfectly blended layer of BB cream. That's absolutely worth it.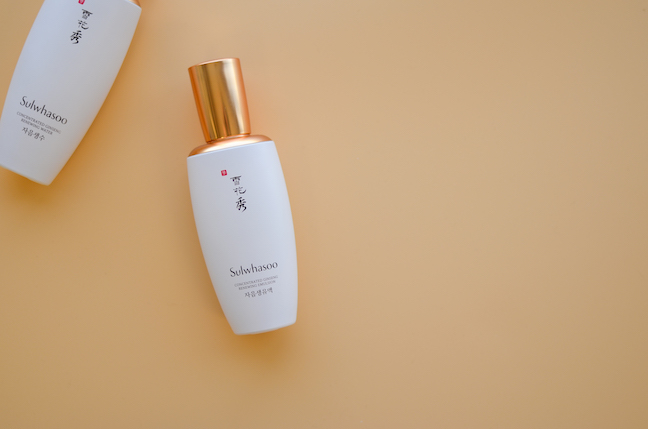 Here are our Beauty Advisors best recommendation on trying Sulwhasoo with the First Care Activating Serum Mist.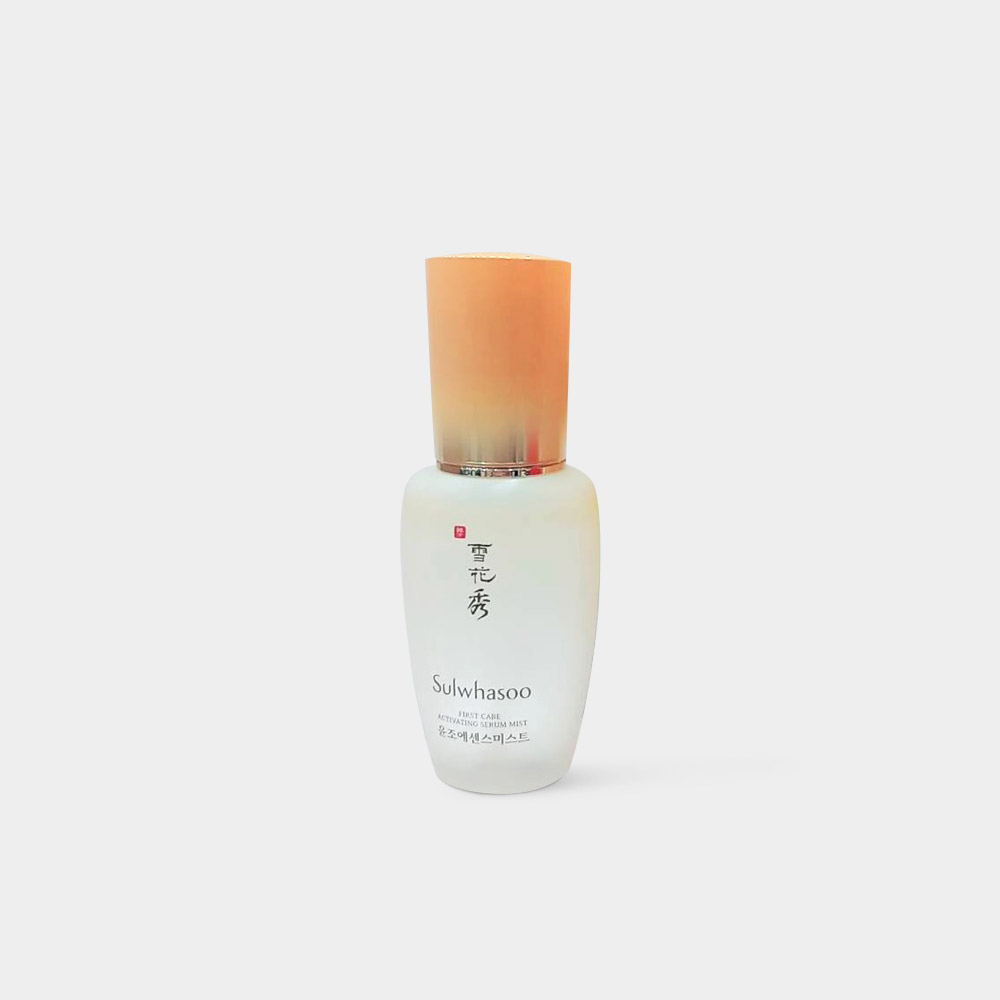 ---
Author: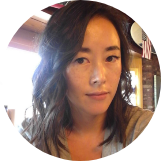 Jude Chao
Jude writes as Fiddy Snails at the K-beauty and skincare blog Fifty Shades of Snail and can be found on Instagram @fiddysnails. Named the ELLE Malaysia Beauty Blogger of the Month for June/July 2017 and one of ELLE Magazine's 10 Cool Beauty Bloggers to Watch in 2018, Jude loves ginseng, snail, honey, propolis, and tuna fish kimbap, though she generally doesn't put the kimbap on her face.
---
Comments