Adaptogens 101: What Are They, Why Your Skin Needs Them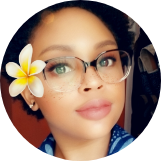 Karachi Opara
Jun 27, 2019
---
They're the latest skincare buzzword and they may already be in your skincare stash, but what exactly are adaptogens and what do they do for your skin?
---
Unlike most of the other beauty trends that come and go, working us into a frenzy with buzzwords and leaving us befuddled about the actual benefits, adaptogens have actually been around for a really long time. Just like Korean hanbang and other indigenous practices like traditional Chinese medicine and Ayurveda, which involve the use of holistic ingredients, the adaptogen craze is less of a revelation and more of a rediscovery of age-old methods that have proven beneficial.
The trend of looking to the past for solutions isn't exclusive to skincare either. Over the last decade, there has been a continuous shift towards a greener, cleaner lifestyle spanning everything from food (think about the resurgence of quinoa) to cleaning products (brands are creating solutions that are gentler on the environment) and everyday objects like straws. More and more, the world is realizing that sometimes, simpler is better. For us and for the environment.
Hold on, wait a minute
Now before you start scrambling for your wallet to make some new purchases, take a closer look at the products you're currently using. You might be pleasantly surprised to find that some adaptogenic ingredients may have been present in your skincare all along. They don't all have names that invoke earthy smells and delicate roots in glass jars. Sometimes it's as simple as, say, aloe vera or licorice.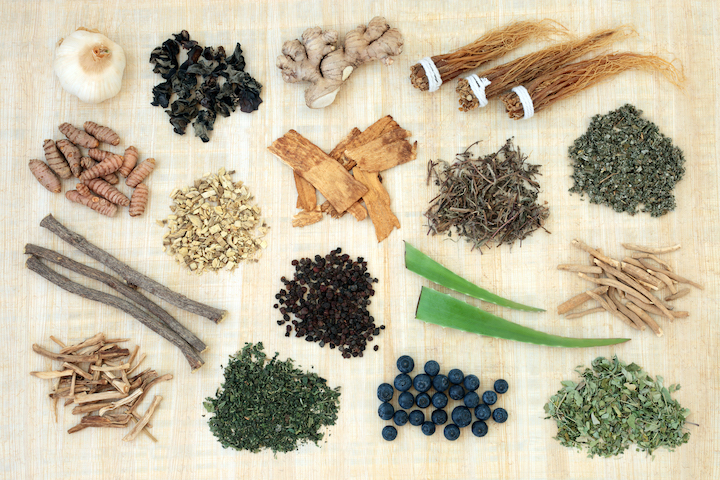 Here's the 411
So what are adaptogens? Simply put, they are herbs and non-toxic plants that help to reduce stress and restore balance to the body, bringing it back to a state of balance. The stress-reducing benefits of these roots and plants yield healthy skin by providing a dose of antioxidants, reducing inflammation, hydrating, regulating sebum, improving circulation, and delaying the signs of aging. Adaptogens are also anti-fungal, antiviral, antibacterial. Sounds amazing right? Like the Superman of skincare ingredients.
I like to think that the way adaptogenic herbs differ from other active ingredients in skincare, like say niacinamide or Camellia sinensis for instance, is that they adapt to what the body needs rather than directing it to behave in certain ways. For example, Panax ginseng with its antioxidant-rich, energy-boosting, and hydrating properties, counters the toxic effects of stress by providing a dose of B vitamins, boosting circulation in your skin's blood vessels, and preventing inflammation. On the other hand, an ingredient like niacinamide (or rather its active bioconverted form nicotinamide adenine dinucleotide (NAD) works by stimulating proteins and hormones in the body, prompting them to do things like fixing hyperpigmentation and strengthening weakened skin.
 

View this post on Instagram

 
Some great HG-caliber products that include Panax ginseng in impressive concentrations are the Sulwhasoo Capsulized Ginseng Fortifying Serum and the Sulwhasoo Overnight Vitalizing Mask. The overnight mask is loved by many and is worth every cent. Once you try it, you might never want to put any other sleeping pack on your face.
But wait, there's more
Here are a few other adaptogenic ingredients you might have come across and should be on the lookout for if you want to take advantage of the stress-relieving benefits that they provide.
Gongjin-dan
Have you ever watched K-drama and seen a stressed-out character eat a small golden ball? That's gongjin-dan! Found in the Dongeuibogam, a book of traditional Korean medicine dating back to the 17th century, gongjin-dan is an ancient recipe made from deer antler, angelica root, Japanese cornelian cherry, red ginseng, musk, and rehmannia root. The jewel in the crown of Missha's ChoGongJin line of products, this herbal medicine promises firmer skin, intensive nutrition, and deep hydration.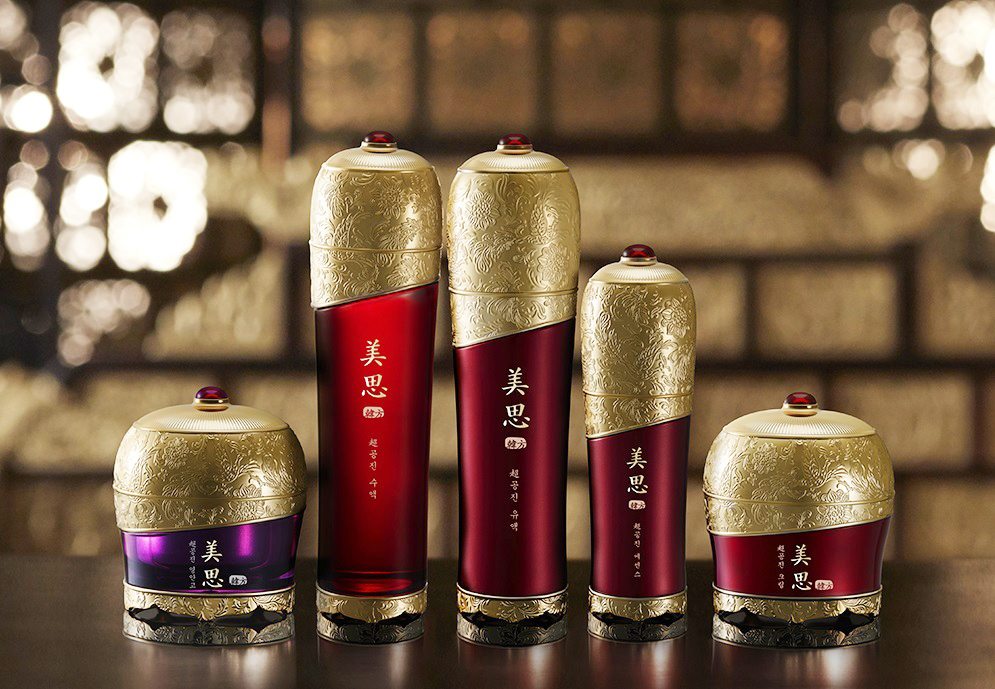 In its original form, it's a popular drug offered by traditional Chinese medicine practitioners to combat fatigue and other disorders of the central nervous system. Hopefully we'll see a few brands feature this in upcoming product releases.
Mushrooms
Yummy on pizza (fight me), these fungi are super beneficial to skin, too! They come in many forms in skincare — chaga, Phellinus linteus, reishi and Tremella fuciformis, to name a few. Full of antioxidants and also a great way to fight inflammation, mushrooms in skincare are great for anyone seeking anti-aging benefits. They're also great for moisture retention because like hyaluronic acid, some of these mushrooms hold a lot of water (about 500 times their weight!) and are great at locking it in. It also helps that they are largely comprised of the stuff. We're talking like 90 to 92% here.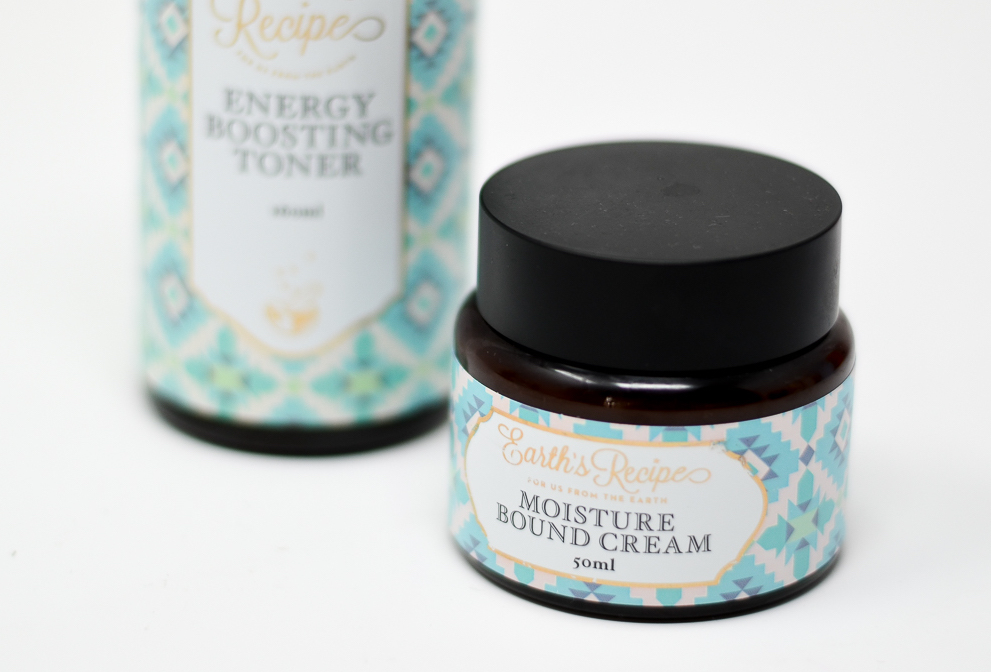 Try the Earth's Recipe Moisture Bound Cream, rich in snow mushroom (Tremella fuciformis) extract for brighter, soothed, baby butt skin.
Licorice root
When I say "licorice," you say "brightening." Licorice!
In addition to making you shine like the baby sun from the Teletubbies, licorice extract provides skin-soothing benefits, fights inflammation, and is generally great for sensitive skin.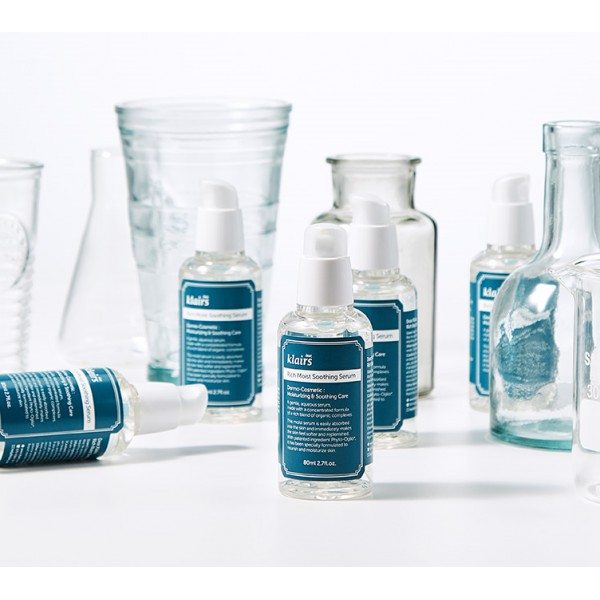 So the next time you need some calming care and want the added perk of dark spot correction and general repair and rejuvenation, turn to a product like the Swanicoco Intensive Snail Moisture Care Essence or the Klairs Rich Moist Soothing Serum.
Mugwort
I've had my eye on the Missha Time Revolution Artemisia Treatment Essence ever since I read this great article extolling its virtues. I've been on the lookout for a ferment-free product I could use as a first essence without much luck. So you can imagine how stoked I am to discover that this essence is made up of 100% mugwort extract and will not only soothe and hydrate my skin but will also brighten. SOLD! *adds to cart*
As time goes on and we realize that simplicity serves us better even in skincare, it's exciting to see a renewed interest in natural ingredients like adaptogens. I hope to see more products with adaptogenic ingredients coming from my favorite brands.
Hit me up with your favorite herbal ingredients and products! I'll be over here making a list for my next adaptogen-heavy haul.
And if you're interested in trying out adaptogens in your skincare routine, well, here's your chance! We're giving away the new Missha Time Revolution Artemisia Treatment Essence to one lucky winner!
All you have to do is comment below about whether you've been using adaptogens in your routine all along (even if you didn't realize it!), and why you need to try the new Missha Artemisia Essence.
Hurry! This giveaway ends Sunday June 30, 2019 at 11:59 PM PST. Good luck!
---
Author: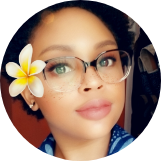 Karachi Opara
Karachi discovered K-beauty in 2015 and fell wallet-first into the fray. When she's not binge-watching a TV series or losing herself in a book, she's creating wish lists of new stuff to try and reading posts by her favorite bloggers. Learning has been a lifelong hobby for her and she truly enjoys geeking out about the amazing things different ingredients can do for skin.
---
Comments