How Beautytap's Beauty Expert Reviews Increase Brand Awareness for CLE Cosmetics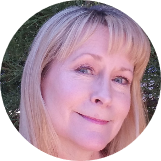 Tracy Teel
Oct 15, 2022
---
Genuine, honest reviews fuel brand success, and consumers who previously based their buying decisions solely around product descriptions now seek out the insights of fellow consumers and trusted beauty experts prior to making skincare and cosmetic purchases.
CLE Cosmetics found Beautytap's revolutionary Review Program a perfect fit for its UGC needs as they continue to scale.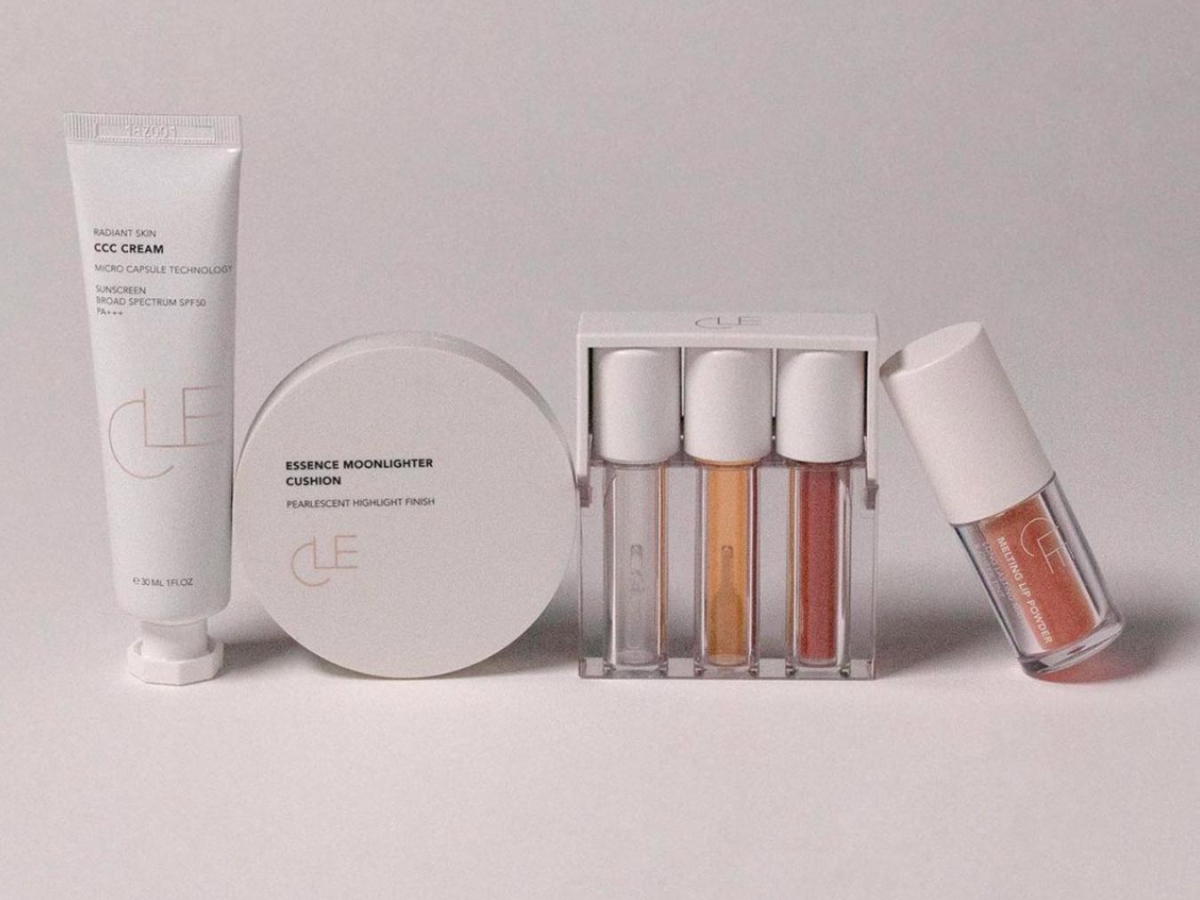 "Working with Beautytap has made it easy to get reviews and spread brand awareness. Not only are we able to apply the reviews on our website and other marketing channels, but also gain honest product feedback. We love working with the Beautytap team and Beauty expert community!"
– Lauren Jin, Founder of CLE
At a Glance
Goal
Provide consumers with deeper awareness of this growing indie brand's existing SKUs and build brand support for CLE's upcoming launches through honest reviews from Beautytap's expansive and diverse expert community.
Solution
To optimize the strength of Beautytap's expert community in a hybrid approach utilizing both:
Standard Model for Two CLE SKUs
- 100+ reviews per SKU + live master class + UGC (over eight weeks)  
Subscription Model for Six Additional CLE SKUs:
- 14+ reviews per SKU + prerecorded master class education (over six months)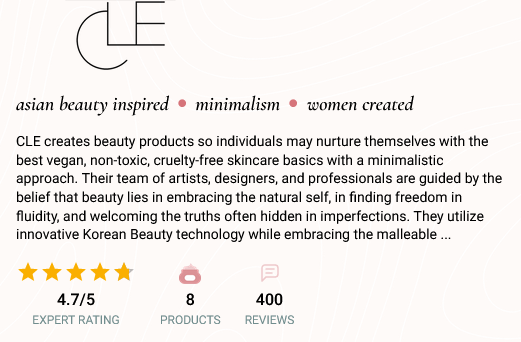 Benefits
With the hybrid approach, CLE was able to seamlessly front-load many reviews at once and receive a steady influx of fresh reviews on a monthly basis, depending on their needs and bandwidth.
Aim
To exceed 100+ beauty expert reviews per SKU in the standard model plus 14+ reviews per SKU via the subscription model in a timely manner.
Products Reviewed Using Beautytap's Standard Model
Products Reviewed Using Beautytap's Subscription Model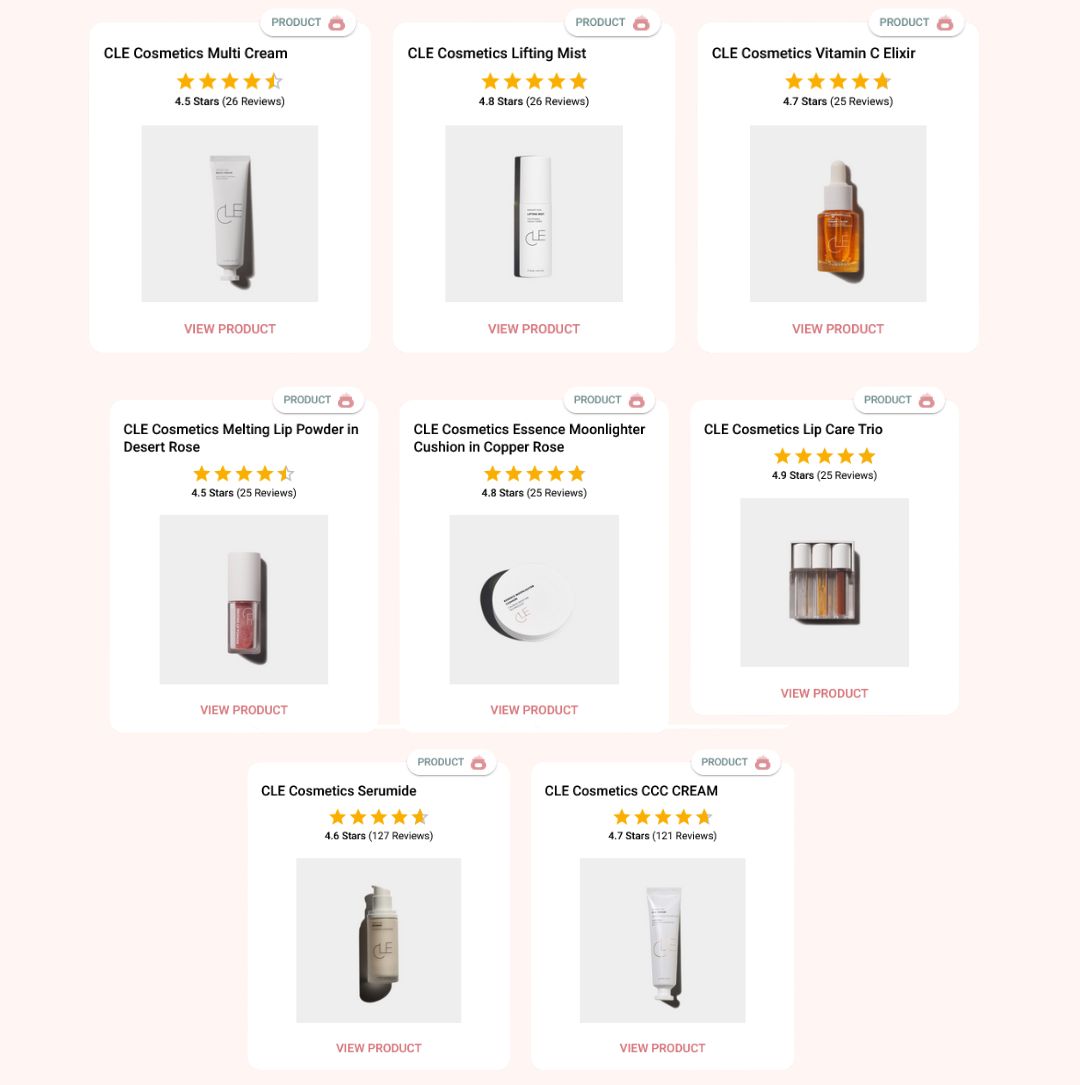 Results
Both products reviewed under the standard model exceeded promised expectations of 100+ reviews per SKU, and all six additional products reviewed in the subscription model substantially exceeded promised expectations of 14+ reviews per SKU with 25 reviews on average – almost double what was expected.
Timeline
Eight weeks for standard model plus six months for subscription model 
Snapshot:
4.7 average star rating, 400 reviews, 8 products reviewed, multiple editorials, multiple master classes, and newsletter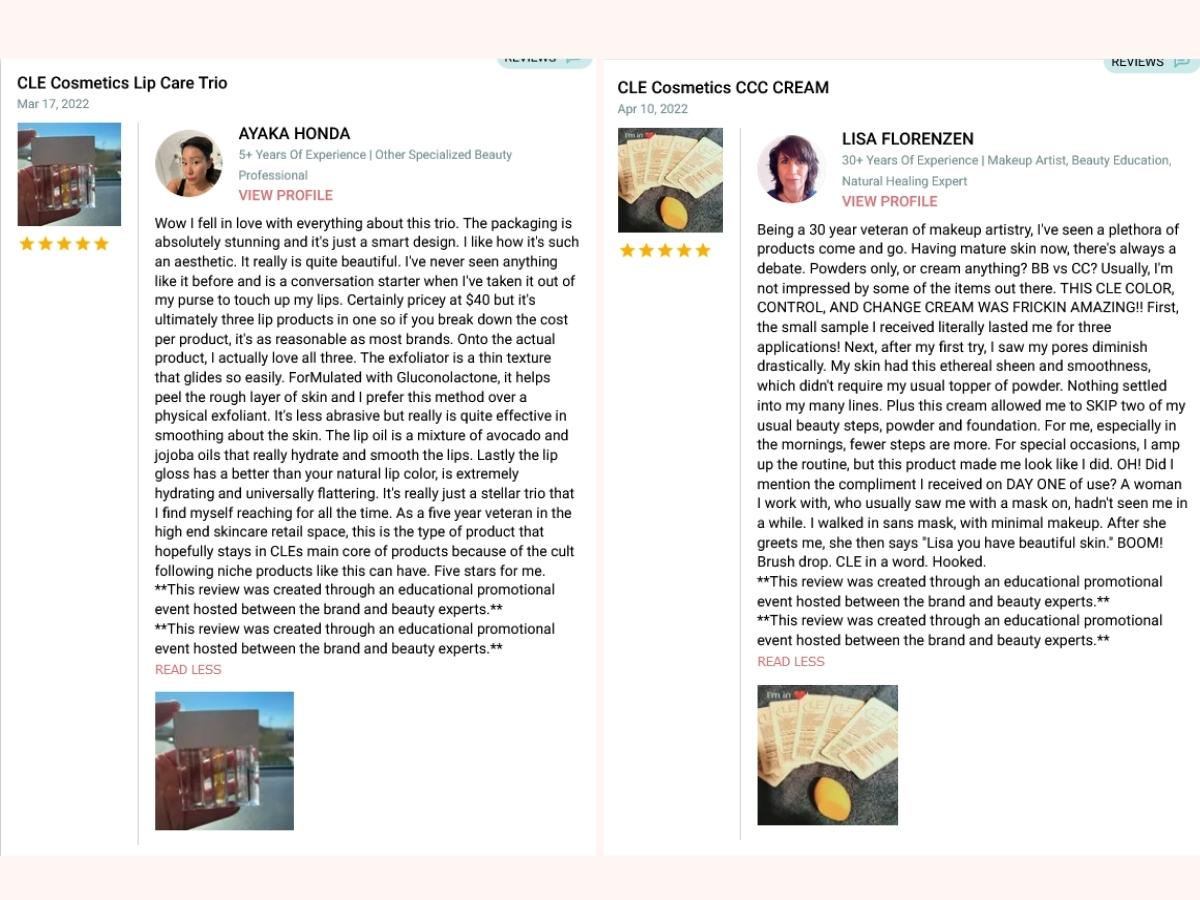 Maximizing Review Volume
Qualitatively, products with more reviews generally receive more consumer attention, but review length and quality plays an even bigger factor in pre-purchase decision making.
Beautytap's Beauty Expert reviews are thoughtful and extensive, often 3-4 times longer than standard reviews and significantly richer and more detailed. And the in-depth insights by a highly diverse community of beauty experts provide consumers with information beyond a simple star rating along with fueling greater purchasing confidence.
Unseen Value of Unique User-Generated Content Beyond Conversion
Individual campaigns drive sales by converting consumers into customers, and the user-generated content (UGC) from vetted beauty professionals has helped CLE Cosmetics understand how to market their products more effectively.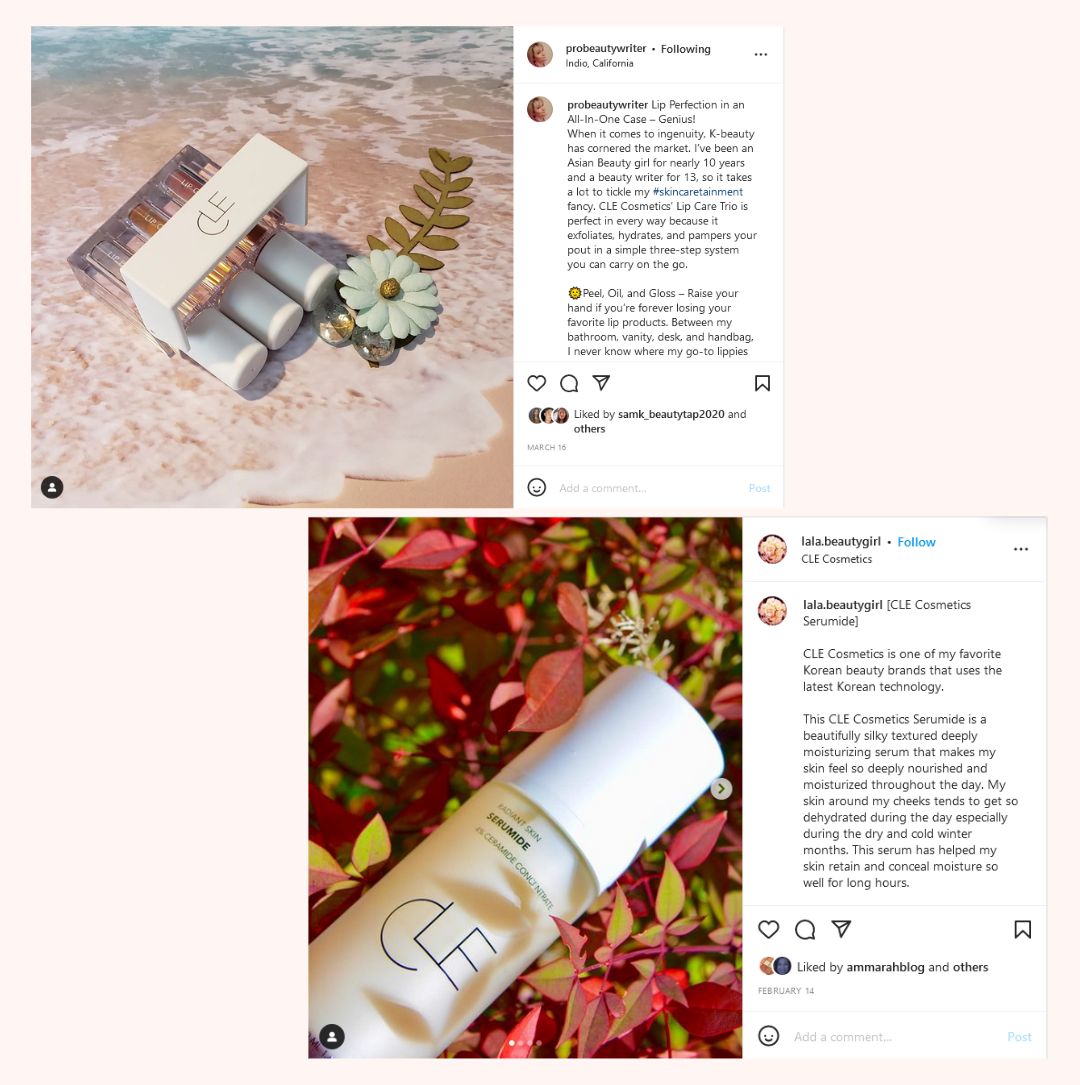 In addition, UGC results in syndication of reviews on CLE's website, and the content can be utilized in their own PR, email, and social media campaigns.
Third Party Voices Complement and Amplify Key Product Attributes
No matter how thorough a brand's original content may seem, first-person experience from unbiased reviewers will reveal new insights that complement a brand's marketing.
Beautytap's Beauty Expert reviewers who shared their in depth insights about CLE noted sensorial experiences – things like scent, texture, how pleasurable a product feels, and how the products benefitted their individual skin types – sharing valuable details such as this along with real-life impressions help drive consumer confidence in making purchases.
Are you looking to harness the power of legitimate reviews written by beauty industry veterans? Click here to learn more about Beautytap's revolutionary expert review program.
---
Author: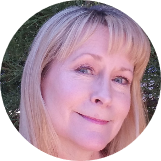 Tracy Teel
Tracy Ann Teel is a full-time freelance writer and the owner of Finesse Writing and Editing LLC. She's a tutorial writer for San Francisco Globe's beauty platform, FierceLeague.com, covering everything from skin and hair care to makeup and nail art. She writes for skincare companies, dermatologists, and cosmetic surgeons, and proudly taught at her MFA alma mater, the University of California Irvine, as a member of their adjunct faculty in English. She's been a textbook reviewer for Prentice Hall, been recognized three consecutive years in the Who's Who Among America's Teachers, and has written professionally for 30+ years. Her poetry chapbook Such Dust was published by Finishing Line Press, and her work has appeared in Alaska Quarterly Review, Rattle, Pearl, Kaleidoscope, and Lake Arrowhead Life.
---
Comments