Decorte: Prepare for Loads of Compliments with These Japanese Fragrances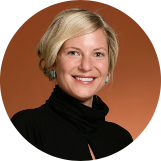 Danica Farley
Feb 13, 2023
---
Make a lasting impression with five kimono-inspired scents from Japanese beauty icon, Decorté.
---
Decorté partnered with Beautytap's diverse community of certified beauty professionals for trusted, detailed, unpaid reviews. We are sharing this post with you as part of this collaboration and to learn more about their brand. All opinions are our own. Thank you for your support.
Fragrance is transformative. A spritz of perfume can illuminate your mood, enliven memories, spark dreams, build connections, and ignite glamour.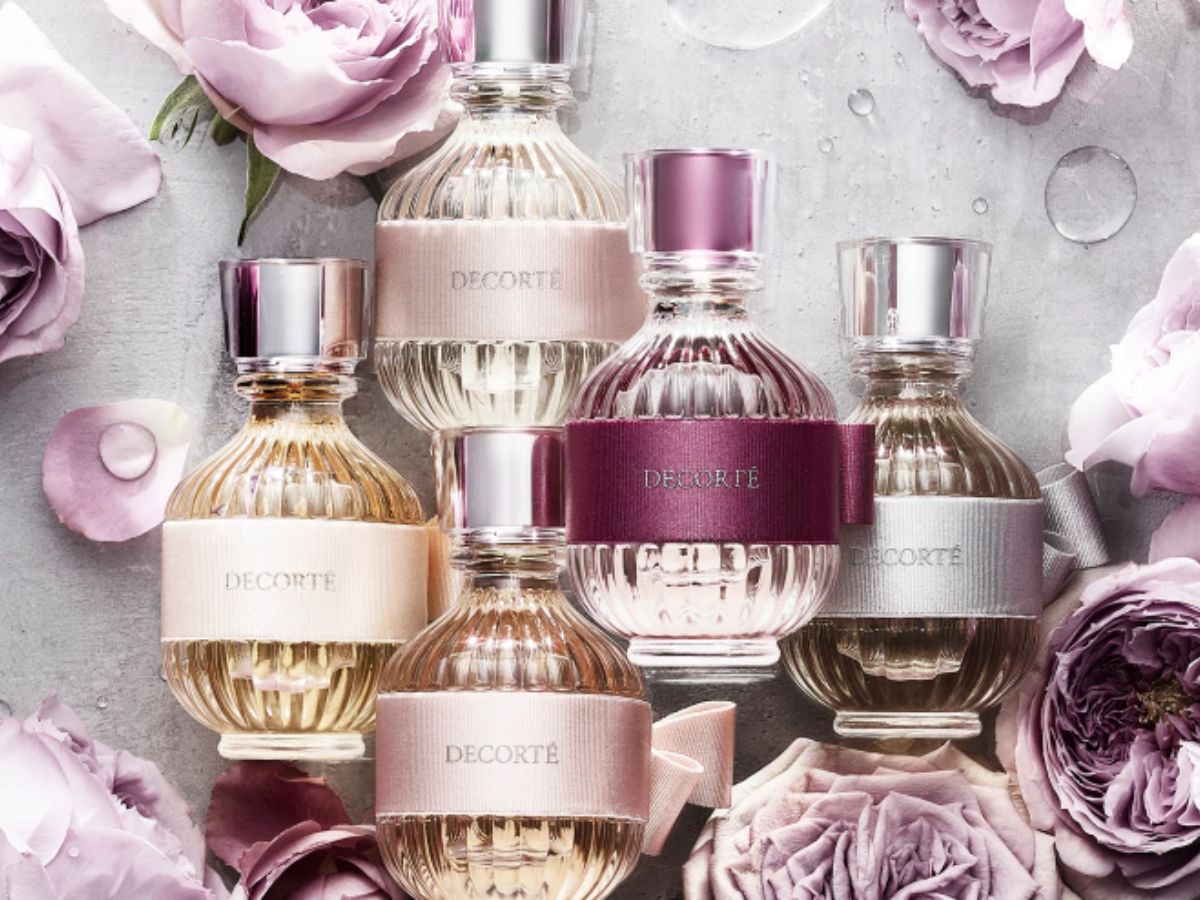 Steeped in luxury since 1970 , Decorté, the leading skincare brand in Japan backed by dermatological research, now presents five alluring fragrances influenced by the elegance and beauty of kimonos. Enchant your senses with classic nuances energized by modern zest. (This time-honored luxury beauty brand has graced legendary faces from Grace Kelley and Ingrid Bergman to Caroline Murphy and Kate Moss.)
"Decorté was born under my grandfather based on a philosophy of making cosmetic products that give people hope and inspire them to dream," says Kazutoshi Kobayashi, President and CEO, KOSÉ Corporation.
Discover Your Signature Scent
Whether your style is woody or floral, citrus or spicy, find a new favorite with Decorté's Fragrance Finder Quiz. After three simple questions—including what your scent shall express (vitality, happiness, strength, reassurance, or grace)—a personalized perfume is revealed. Kotodama (the Japanese spirit of language) mystically unveils this characteristic, unique for you scent.
"I love that through their skincare and fragrance products they focus on artistry and craftsmanship, and hold themselves to the highest level of quality with each product," says Decorté Brand Ambassador and Academy Award winner Brie Larson.
Emotions and events eternally evolve…there is a divine choice for various occasions; sample all five ambrosial scents in the Decorté Kimono Fragrance Coffret, properly sized for travel and available in corresponding hand creams and lotions. You'll also delight in the inspiring design - each bottle is adorned with a specific obi sash and dazzles on any countertop.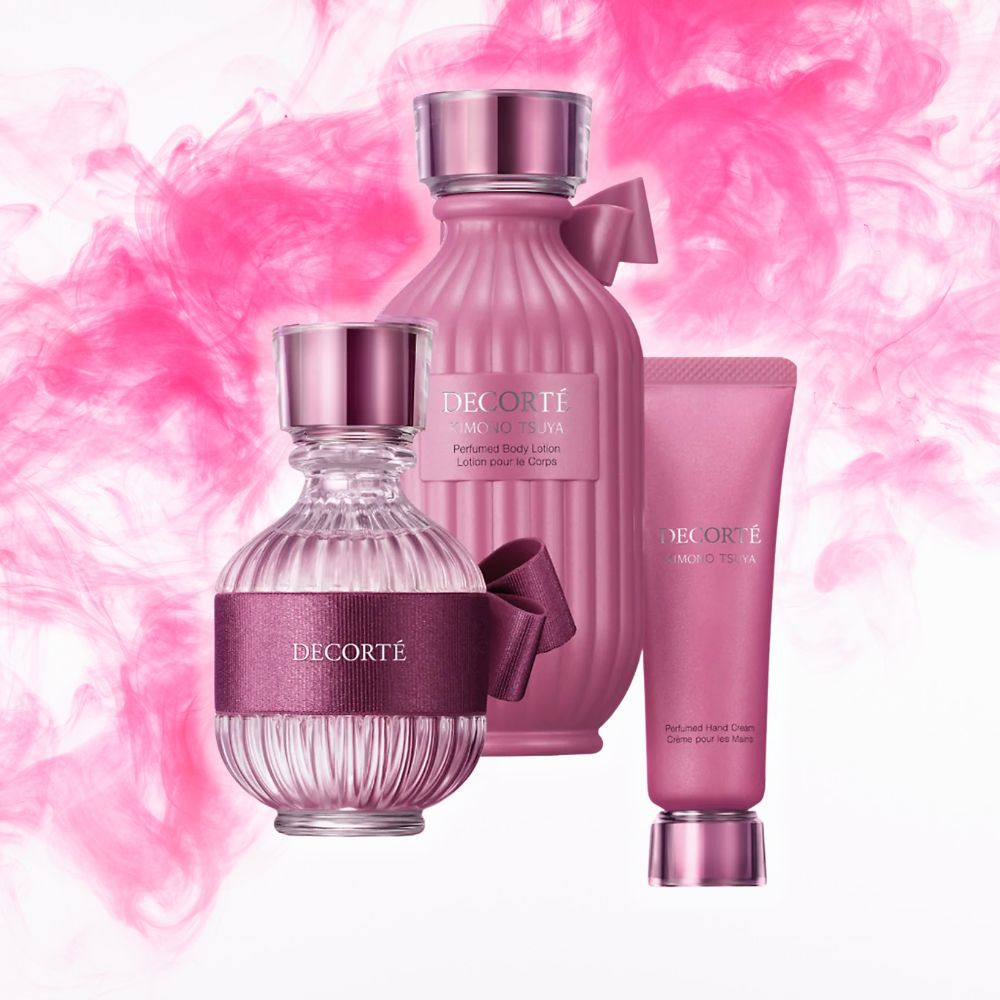 Kimono Tsuya
My fragrance finder fave, Kimono Tsuya Eau De Toilette, is a dreamy floral musk. Delicate hints of magnolia, peony, amber, yuzu, and cedarwood blissfully unite in a fresh finish. I am swooning over this sensational aura; akin to my euphoria when strolling The Hakone Open-Air Museum in Japan.
Extracts of rose, golden silk, pearl, and aloe vera leaf in Kimono Tsuya Perfumed Body Lotion and Hand Cream nourish and soften skin for a healthy glow. Bonus: hyaluronic acid and phospholipids lock in moisture to protect your skin's barrier.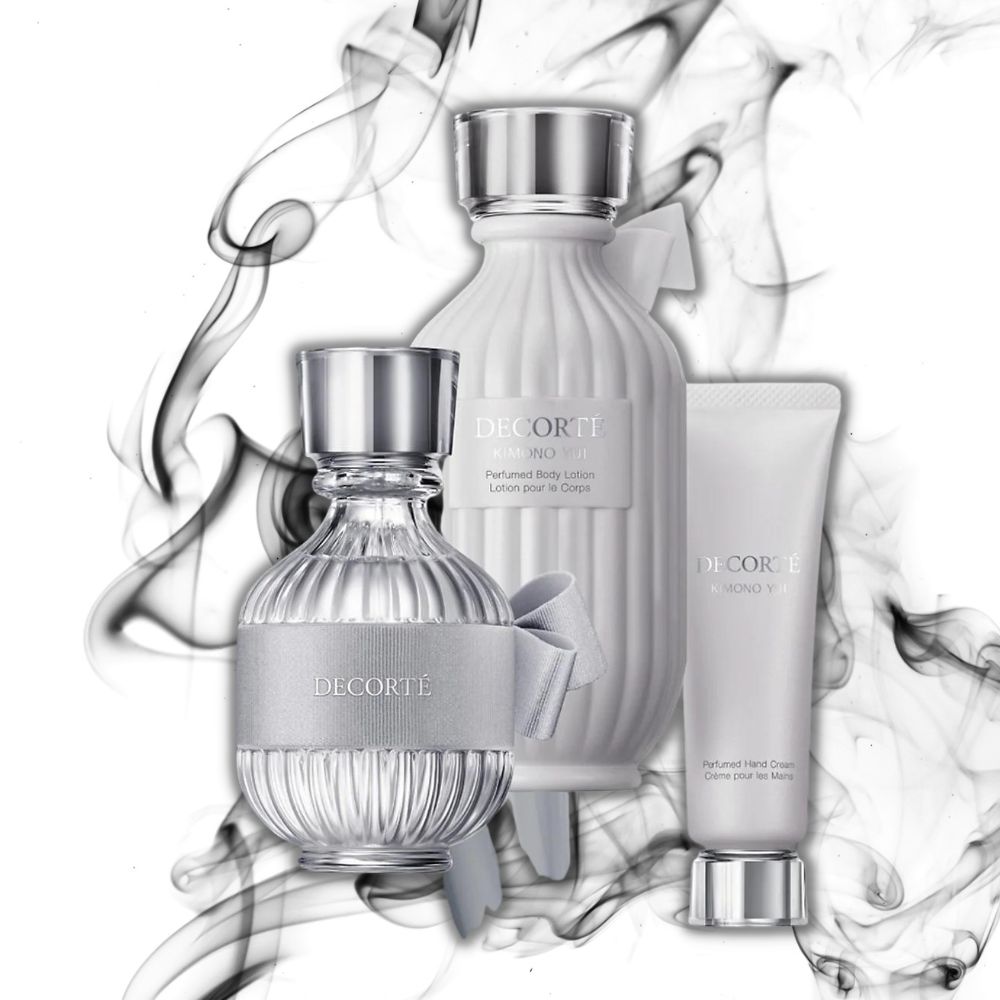 Kimono Rin
Vintage notes of bergamot, Japanese plum, magnolia, vetiver, and vanilla handsomely harmonize in Kimono Rin Eau De Toilette. Earthy and floral, this distinctive scent invigorates personal strength and serenity.
Plant-powered ingredients (pearl, rose, aloe vera, silk) in Kimono Tin Perfumed Body Lotion and Hand Cream promote silky radiance and improve skin texture. Bask your body in aromatherapy for lustrous results.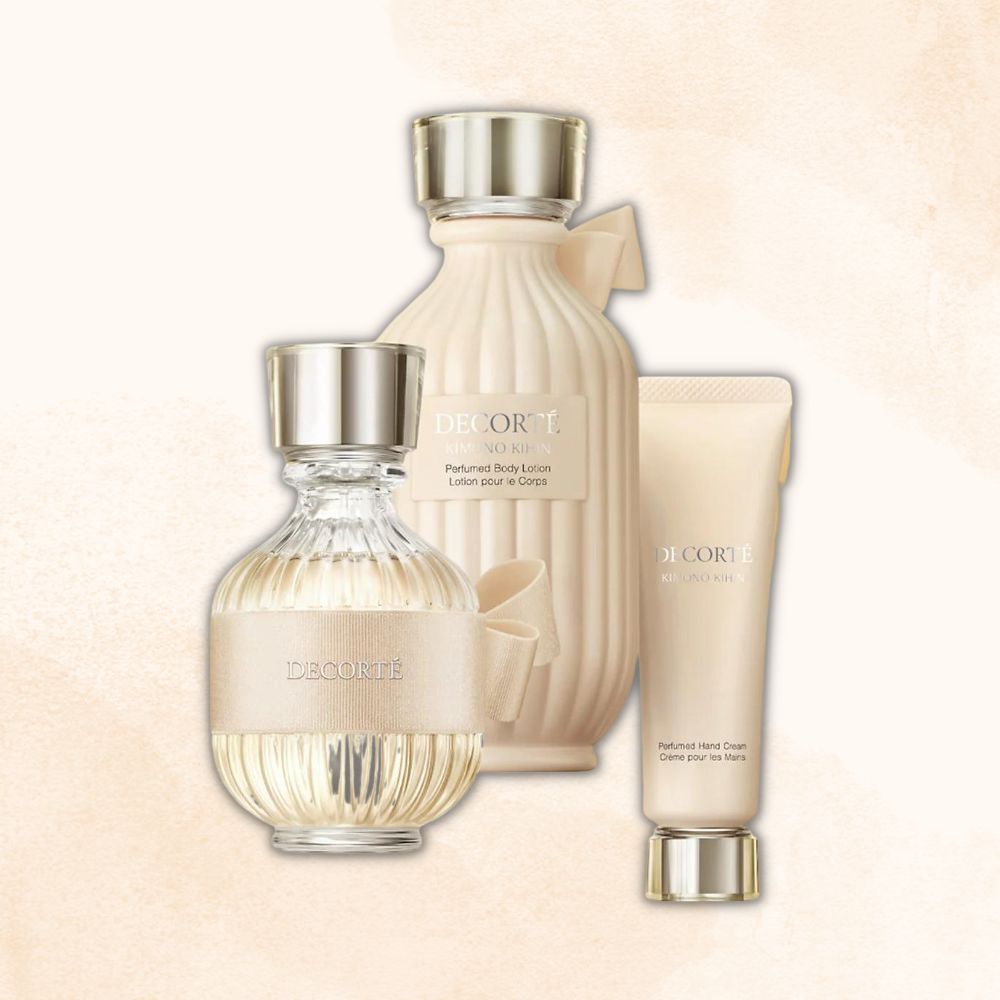 Kimono Kihin
An enchanting bouquet of iris, jasmine, rose, sandalwood, and citrus, Kimono Kihin Eau De Toilette is soft and romantic—a sensual and sophisticated perfume with timeless appeal.
A quartet of roses infuse Kimono Kihin Perfumed Body Lotion and Hand Cream with powerful antioxidants; aloe vera, pearl, and silk extracts hydrate; hyaluronic acid and phospholipids nurture your derma.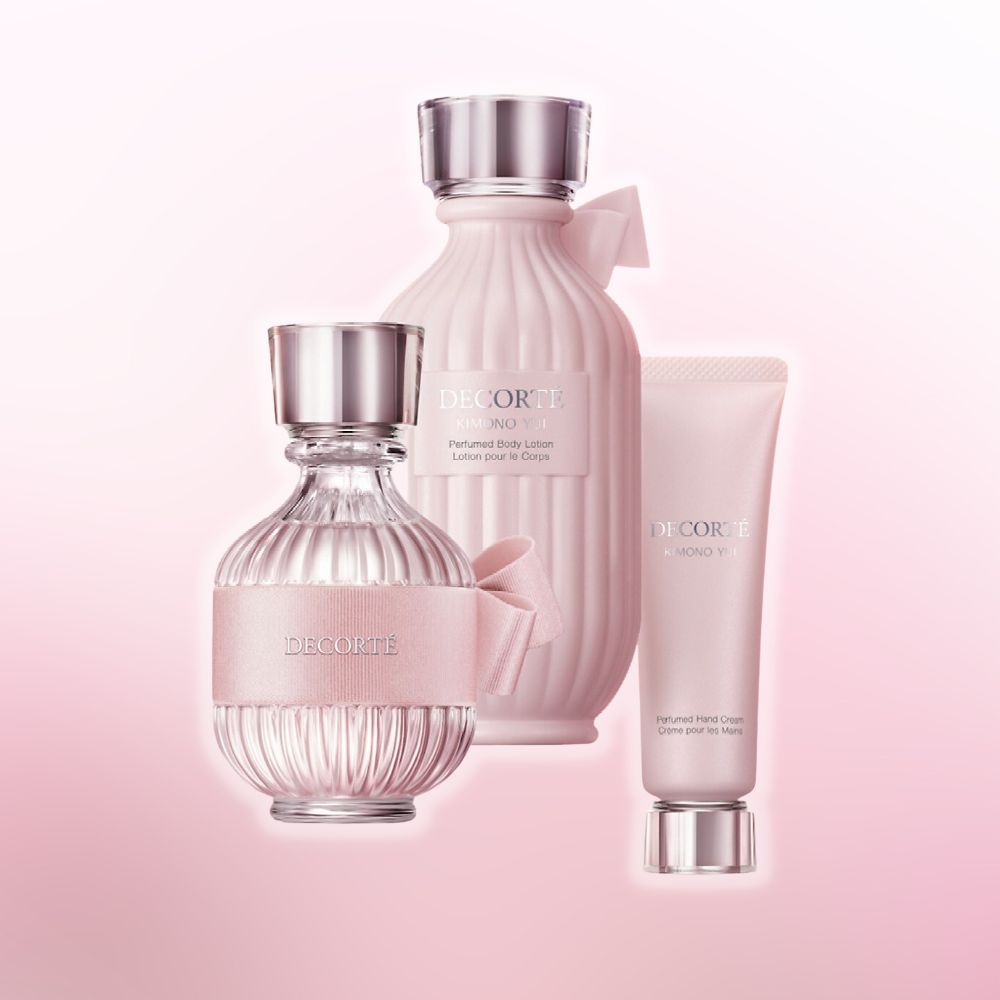 Kimono Yui
The essence of Kimono Yui Eau De Toilette evokes happiness. A spirited blend of neroli, rose, musk, pink pepper, and Sudachi (a mini yet mighty Japanese citrus similar to lime) has a vibrant springtime flair. It is an attitude adjuster in a bottle—just a few drops and I feel resplendent, like when I basked in the golden glow of Kinkaku-ji Temple in Kyoto.
Formulated with Decorté fragrance moisturizer key ingredients, Kimono Yui Perfumed Body Lotion and Hand Cream renew your skin with beneficial nutrients and abundant aromas. User-friendly containers make moisturizing a breeze, at home and on the go. Layer on the loveliness.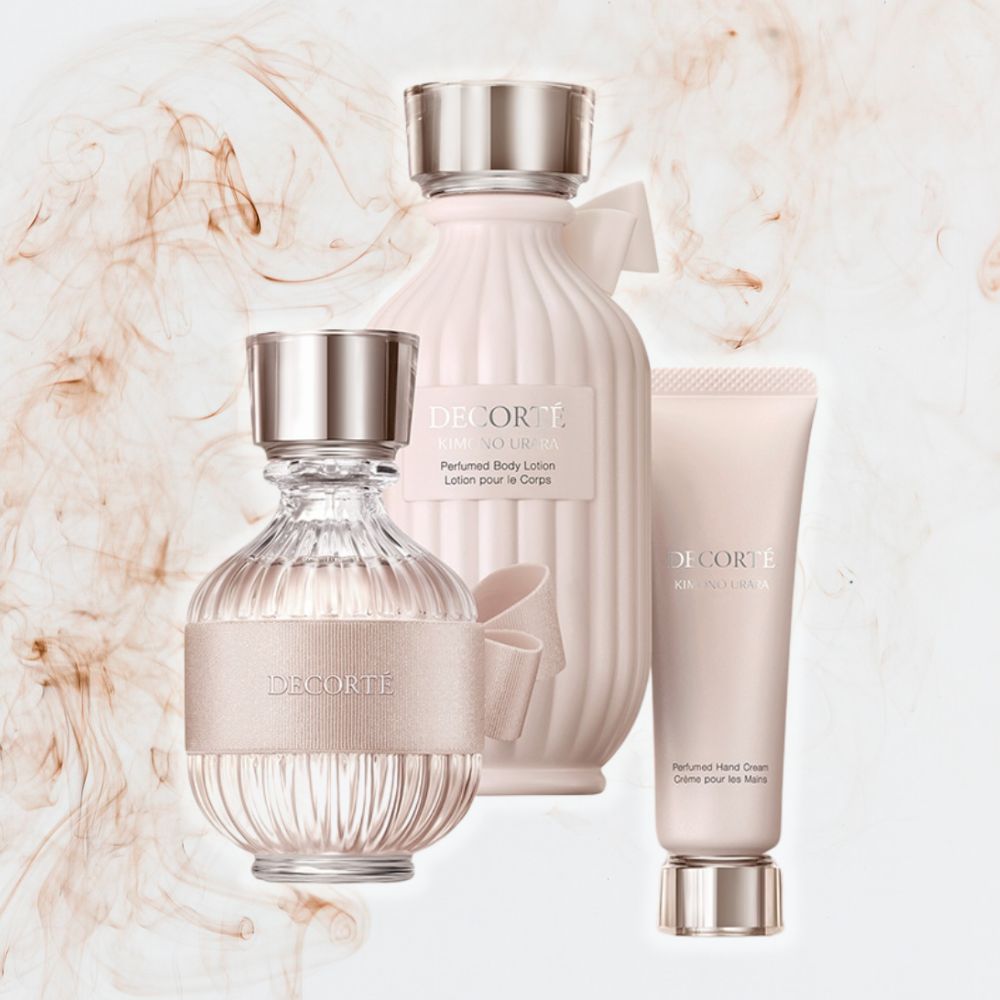 Kimono Urara
Inspired by the sacred lotus flower, Kimono Urara Eau De Toilette is charismatic and vitalizing. I am instantly refreshed by a bright and balanced bouquet. This luscious floral scent is enriched with melon, violet, Fuji apple, jasmine, and sandalwood.
Back for an encore in Kimono Urara Perfumed Body Lotion and Hand Cream, a brilliant formula of roses, golden silk, pearl, aloe vera, hyaluronic acid, and phospholipids replenishes dry and dull skin. Ideal consistency in the lotion and cream guarantees max hydration and luminosity without any greasy residue.
Good Sense for Your Cherished Senses
Travel-sized Kimono Tsuya and Kimono Yui will accompany me on my next journey (a friend's wedding in Verona, Italy!). The fragrances will forever awaken memories of life's treasured moments.
Pamper your precious self with Decorté's fragrance collection. As Helen Keller said: "Fragrances are powerful magicians that can transport you through the years you have lived."
---
Author: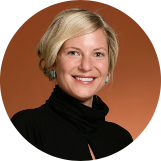 Danica Farley
Danica is a writer, editor, optimist, and content creator. She pens about experiences that inspire a life well-lived—beauty, travel, wellness, nature, art, positive vibes. Currently based in Southern California, her work has been published in COAST, Get Out There, and Utah Style and Design magazines, Orange County Register, KÜHL, and more. "Beauty begins the moment you decide to be yourself." - Coco Chanel
---
Comments