If You're Just Getting Into Korean Beauty, Look No Further Than Newbie Fave COSRX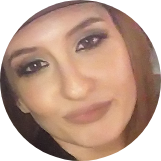 Coco Park
Apr 17, 2018
---
Whether you're new to K-beauty or a longtime devotee, newbie fave COSRX is the reliable, fail-safe K-beauty brand that everyone turns to again and again for better skin. Check out some of these top COSRX products.
---
Have you ever been intimidated by something initially? Not knowing where to start, stumbling through all the rookie mistakes, being paralyzed with decision fatigue, and just wishing to whoever sits on high to make this thing simpler? It's all too damn much sometimes.
And I bet you these things have stopped several potentially helpful and fulfilling activities from taking root for a lot of people. Take Korean beauty. So many folks are intrigued by Korean beauty but are completely overwhelmed by everything and have no idea where to start. My first recommendation would be to read up as much as you can (within reason! There is a library of information out there). Find a couple of favorite bloggers, subscribe to the Asian Beauty subreddit, get a book (I know of a good one, haha), subscribe to the Snailcast podcast for some fun passive learning. Soak it all in.
Once you are ready to take the leap and build your starter routine, it doesn't have to be terrifying. What if I told you there was a brand that, in my opinion, has almost everything you need to get started and then some? A brand that's both affordable and effective? Yep. That brand is COSRX.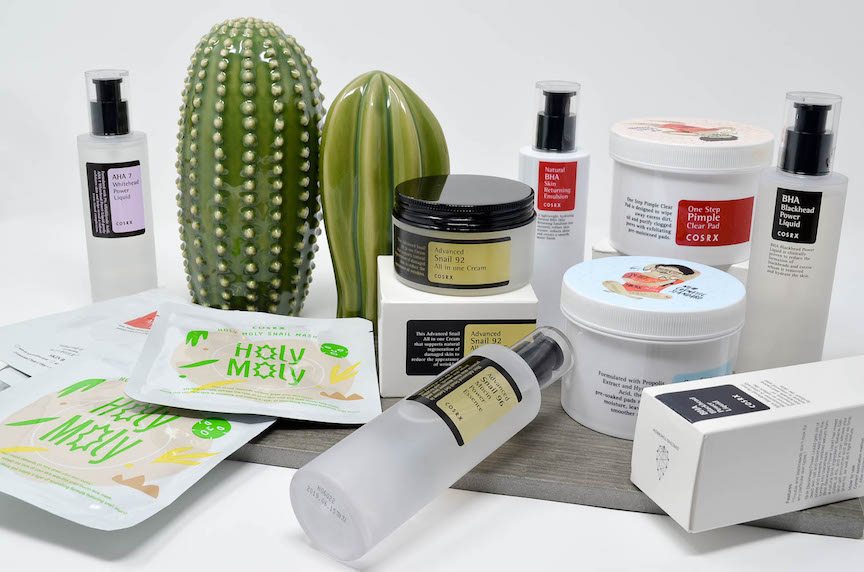 COSRX as a whole is a great representation of what K-beauty has to offer in the easiest no-fuss way possible. While they do have a very cute mustachioed mascot, their bottles aren't much to look at. Their minimalist plastic packaging belies the excellent formulations dwelling within, which might cause someone to initially overlook the brand for it's flashier counterparts. Thankfully, COSRX is well established as a solid and trustworthy brand within the Korean beauty community in North America. A quick perusal of most K-beauty experts and active community members will net hundreds of COSRX mentions and almost all of it is praise, and for good reason.
They have such great products to both start you out and keep you going. If I were building a K-beauty gift basket for a beauty newb, I could easily do it using only COSRX, and I'd know that every product I chose has a very high chance of being a hit. They also make products that I still use to this day, so it's not just for beginners.
But speaking of beginnings, let's start there and build a sample routine with these top COSRX products.
Gel cleanser
COSRX Low pH Good Morning Gel Cleanser clocks in at a perfect 5.5 on the pH scale and has a permanent home in my shower. I have re-purchased this product several times since its launch, and I don't see myself stopping anytime soon. This is one of the cleansers I recommend to almost everyone who asks what kind of cleanser they should be using.
Toners
COSRX Galactomyces Alcohol Free Toner has only 10 ingredients, the second of which is galactomyces ferment filtrate. Ultra simple, ultra effective, ultra affordable.
Another great option COSRX AHA/BHA Clarifying Treatment Toner. The pH is on the low side at 3.85, so this might be irritating to some of the more sensitive skins among us, but it's a solid pH adjusting toner if you're looking for one. A lot of people are also a fan of the spray nozzle on both of these toners.
If your skin is troubled by redness and inflammation, COSRX Centella Water Alcohol Free Toner is something to look into. Centella asiatica has been shown to reduce both those things when applied topically.
AHAs and BHAs
COSRX even has AHAs and BHAs, something not always readily found in K-beauty. The AHA 7 Whitehead Power Liquid and BHA Blackhead Power Liquid are good choices, especially if you're looking for nature-based AHA and BHA derivatives. The BHA is from willow bark and the AHA is from apple.  There's even a lactic acid option in COSRX Natural BHA Skin Returning A-Sol! (Read Contributing Editor Sheryll's full reviews here and here.) So depending on what you're looking for, there are some good options. The PHA Moisture Renewal  Power Cream is a popular choice as well.
Serums 
This is an area where COSRX really shines. You can get a high quality serum at drugstore prices — who wouldn't love that? COSRX Advanced Snail 96 Mucin Power Essence has an insane amount of snail mucin coming in at 96%.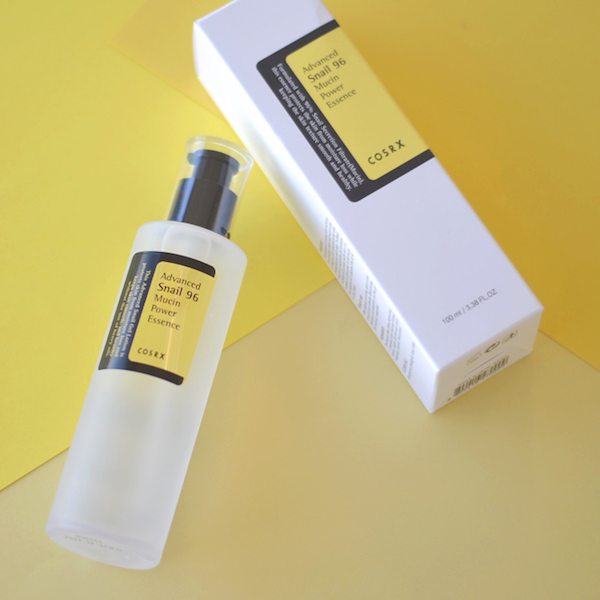 In keeping with the high percentage of the star ingredient trend, COSRX Galactomyces 95 Tone Balancing Essence is comprised of a 95% concentration of galactomyces; the second and third ingredients are niacinamide and sodium hyaluronate, a water-soluble salt form of hyaluronic acid. Say hello to brightening and plumpness! Both of these products are a safe bet with great pedigrees.
Oily skin friendly  
If you struggle with oily skin and are looking for a lineup with that in mind, drop these guys into your routine. COSRX Centella Blemish Ampule would be great, especially if you're oily with a side of acne. As I touched on before, Centella asiatica has long been used as a treatment for irritation. While this won't be the thing to banish your breakouts, it's a good helper for the redness and irritation associated with it.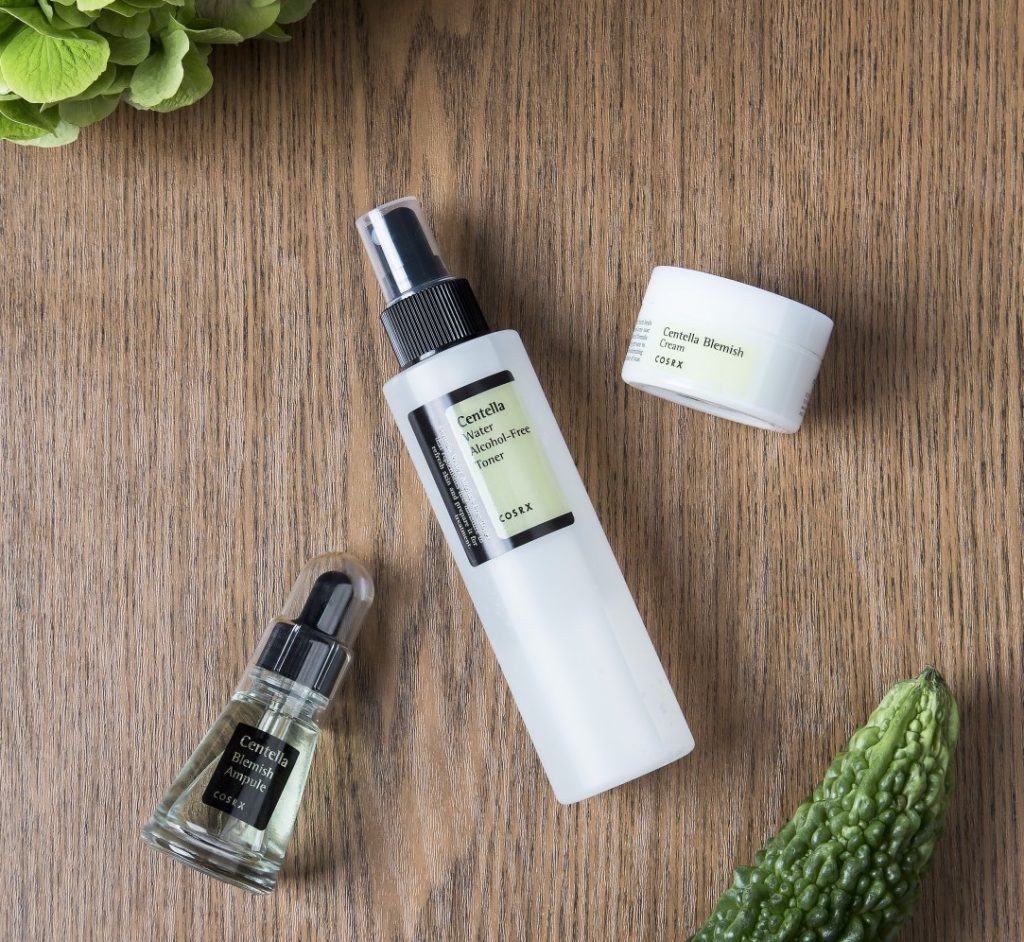 For a light day moisturizer COSRX Aloe Vera Oil Free Soothing Gel is the perfect choice. The aloe vera goes a long way when it comes to soothing without any oily or greasy feel. This also works well for when you need some added hydration in the winter and want to layer with a heavier cream.
Speaking of cream, COSRX Aloe Vera Oil Free Moisture Cream might be just the option you're looking for if you're avoiding added oils.
Dry skin saviors 
On the flip side of the oily coin, there are the poor dry folks. (Count me as one of them.) Hyaluronic acid is a superstar ingredient when it comes to moisture retention. COSRX Hyaluronic Acid Hydra Power Essence is a very simply formulated, non-irritating essence that harnesses the power of hyaluronic acid to keep your skin hydrated and happy. It kind of reminds me of Korea's answer to Japan's Hada Labo Gokyujin, which also features hyaluronic acid.
In the same line, COSRX Hyaluronic Acid Intensive Cream is an intensely moisturizing cream, and a little goes a long way. I would recommend this one for nighttime use unless you are amongst the very dry, as it's a bit thick and might pose a problem when layering with makeup.
Another cream option COSRX Honey Ceramide Full Moisture Cream. As Jude Chao pointed out in her review, this cream reminds me of Cerave Moisturizing Cream in texture. But unlike Cerave, whose first ingredient is just purified water, the Honey Ceramide Full Moisture Cream's first ingredient is honey extract, which is an excellent natural moisturizer.
One more on the list that really could go in either the oily or dry category is COSRX Oil Free Ultra Moisturizing Lotion, It's oil free but is beloved by dry and oilier skins alike.
More acne fighters
Even if you're not acne-prone, almost everyone is bound to have a spot pop up at some point or another. You may be tempted to pop it yourself (don't!), but you can still get the nastiness out with COSRX Acne Pimple Master Patch. If your spot has formed a head, stick one of these bad boys on it and go to sleep. I suppose you could wear it during the day if you are out of f—ks to give, but I wear mine at night. While you're sleeping the hydrocolloid patch will work to suck all the pus out. It's pretty magical and crazy satisfying to see the next morning.
On the preventative side, there's COSRX One Step Pimple Clear Pads. These pre-soaked pads use Salix alba bark water (an astringent anti-inflammatory) and 4% betaine salicylate (derived from beets!) to exfoliate and treat acne while preventing it in the first place.
Masks
COSRX makes one of my favorite sheet masks. COSRX Holy Moly Snail Mask (now available in a convenient all-in-one-kit) is the best budget sheet mask for the money in my opinion. Its first two ingredients are red ginseng water and snail secretion filtrate, which is a lot more impressive than a lot of masks that cost double the price. This sheet mask will leave your skin bouncy, calmed, and hydrated. I don't know what else you could want in a mask — this pretty much has it all. Plus you can use them frequently as they don't cost an arm and a leg. Truth be told I am wearing one right now as I'm writing this.
COSRX doesn't just stop at sheet masks. They also have two different overnight masks: Ultimate Moisturizing Honey Overnight Mask and Ultimate Nourishing Rice Overnight Spa Mask. I really like both masks — the honey version for its soothing gel consistency and the rice mask for its richer, creamier feel. They both do a nice job of treating the skin overnight and neither feel heavy or gross. No matter which one you choose, you will wake up with happier, plumper skin, so it comes down to which texture you prefer. Honestly though, at the price they are (about $16 each), why not get both? I alternate between the two regularly, and I'm very happy with them both!
As you can see, COSRX has just about everything you could need when you're just starting your journey, or even when you're an old pro in the trenches. I am so happy this brand exists. It's helped me start people down the right path in such an easy way that makes things so much less confusing. I just have one request: COSRX, can y'all please come out with an oil cleanser? That's all we're missing to build an all-COSRX routine. 😉
Was COSRX your gateway drug into K-beauty? What are your top COSRX products? Share your COSRX story with us!
---
Author: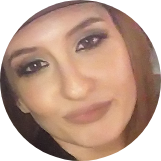 Coco Park
Coco Park is an author, beauty journalist, blogger, podcast host, and all around oddball living in Montreal Quebec with her family. Originally from the southern USA, she worked for several years in the makeup industry as a professional makeup artist and holds a certificate in esthetics. She is a proud member of the Choctaw Nation of Oklahoma. Want to know more? Check her out on the Beauty Beyond Basics podcast, on her blog TheBeautyWolf.com, on Instagram @thebeautywolf, and in her book "Korean Beauty Secrets: A Practical Guide to Cutting-Edge Skincare & Makeup."
---
Comments