Top Wedding Makeup + Skincare Tips from Celebrity Experts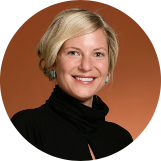 Danica Farley
Jun 16, 2023
---
Say "I Do" with radiant skin and flawless makeup advice courtesy of the world's most revered celebrity beauty experts.
---
Love is in the air—whether it is love at first sight, a planned romance, learned love, or destiny, love is love. (And of course, remember to love and pamper yourself.) Our roundup of impressive products and expert insight inspires wedding ready radiance.
"Becoming a bride is one of the most profound expressions of love you will ever experience," says self-love enthusiast and celebrity makeup artist Molly R. Stern. "When it comes to makeup for your big day, I love to encourage women to view it as their own personal red carpet; and you want to really prep and nurture your skin leading up to the day."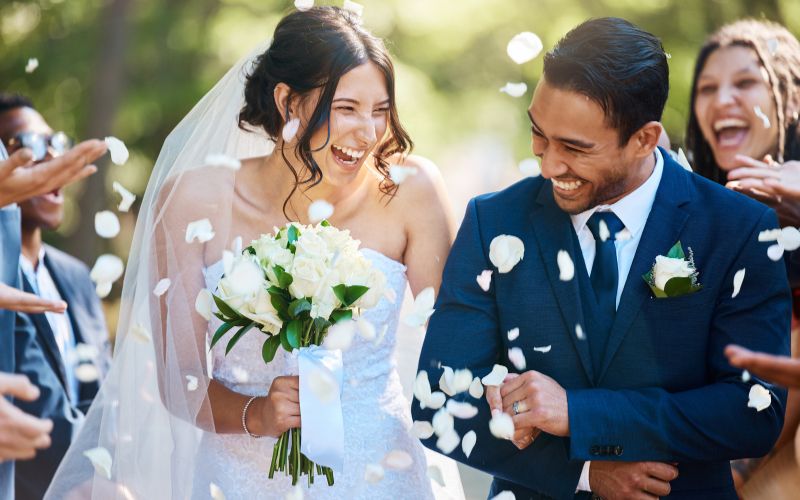 Plan Ahead
Rev up your routine and nourish skin with high performance products—you can look as luminous as you feel. "The better your skin looks, the less makeup you need to wear," says Stern.
Stern recommends prepping several weeks prior to your wedding. "I absolutely love the Skin Brilliance priming pads from Retrouvé to start on a path of delicate regeneration; the incredible Natura Bissé Diamond Instant Glow is a facelift in a box and not to be missed," she says. "Incorporate Saint Jane's Superflower Detox Serum at night one week prior—it is nutrient rich and like a green juice for the skin. Invest in a tool like Jillian Dempsey's Gold Bar for added stimulation, firming, and that special glow on your wedding day."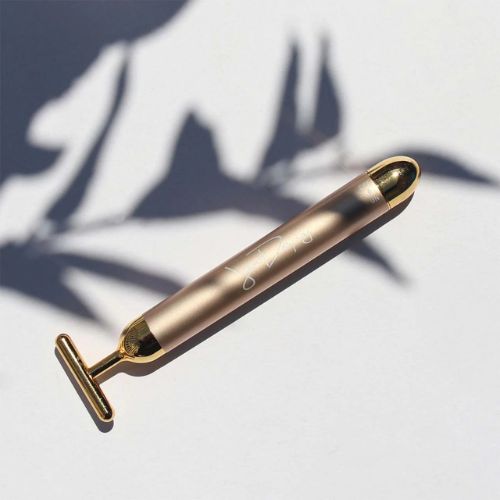 I am head over heels for Augustinus Bader. This luxe routine purifies, revitalizes, hydrates, and renews for ethereal luster. Fragrances are soft and luscious; formulas are light and effective.
"Six months ahead is the perfect time to adopt a robust comprehensive skincare regime designed to refine, brighten, deeply hydrate, and smooth any texture issues on the skin," says Lord Gavin McLeod-Valentine, celebrity facial masseur and Augustinus Bader global ambassador.
"I am a big believer in a double cleanse," he says. He loves to use a cleansing balm in combination with a gua sha, cryo stick, jade or rose quartz roller, or with a microcurrent device." Follow with a foaming cleanser to lift away leftover impurities, makeup, and excess oil. "You immediately get that brightening, luminescent, glowing look." 
Augustinus Bader's serums and creams are beloved by countless celebrities. "For daytime I use The Serum to strengthen and brighten skin—formulated with pomegranate seed oil, hyaluronic acid, vitamin C, and edelweiss, it lifts, tones, plumps, and balances," says Valentine. He recommends The Retinol Serum for night to accelerate cellular turnover and a youthful appearance. "I love that it is formulated with pure retinol powered by TFC8 technology to strengthen skin, refine texture, and prevent current and future outbreaks."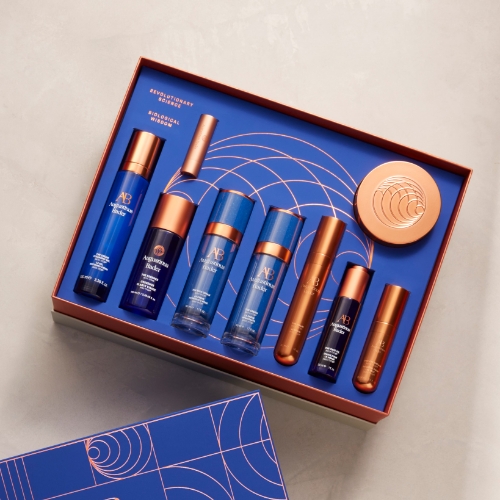 Deeply hydrating and conditioning, The Cream is a daily moisturizer clinically proven to reduce the signs of aging (fine lines, wrinkles, hyper pigmentation), stimulate collagen, and boost elasticity. "On the wedding day, I always advise The Rich Cream prior to makeup because it exudes this gorgeous glowy cascade of light on the skin…it is impeccable," says Valentine.
One month before, Valentine recommends a daily practice of facial massage. "Facial massage will help strengthen the jawline and lift and sharpen cheekbones and also take away any congestion and puffiness," he says. "This preparation is so when you look back at your photos, you really lean into the emotional experience of the day and don't look at yourself and critique."
"Your wedding should be focused on the relationship you are committing to that day. We are doing this preparation in order to get out of our own way and be fully alive and present during this special moment," says Valentine.
Extra Pretty Prep
What happens when love blossoms between a tulip farmer and beauty industry pro? Bloomeffects. This Dutch brand budded with a commitment to clean beauty and an admirable philosophy for sustainability. The award-winning royal tulip is the prize ingredient in this lovely bouquet of skincare products. Tulip Dew Drops is a multivitamin serum that plumps, protects, and perks up lackluster skin; and Black Tulip Eye Treatment makes miracles to reduce puffiness, dark circles, and laugh lines. Rich in antioxidants, amino acids, and natural moisturizers, a full line of tulip treatments promote a regal, healthy glow.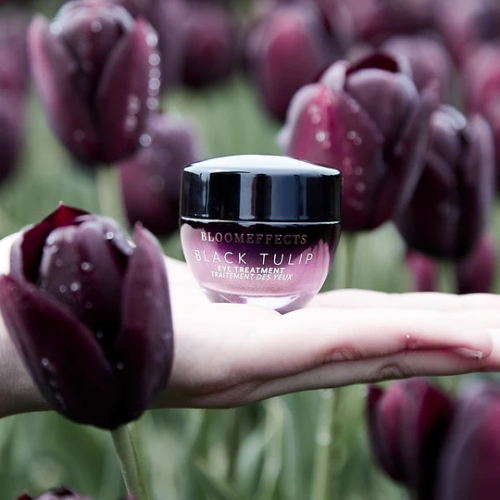 Laneige's line is luxuriously hydrating. (Fun fact: la neige means snow in French.) This popular K-Beauty brand uses water science technology to blend revitalizing lip and face masks, serums, cleansers, toners, and moisturizers. Safe for sensitive skin, powerful ingredients—hyaluronic acid, vitamin C, retinol—work wonders to lift, firm, and revive.
Soothe and replenish skin with August + Monroe's Vitamin B3 Calm Cream. Ingredients like vitamin C and Bakuchiol calm redness and the natural formula (ginger root, white willow bark, oats) clarifies, strengthens, and balances oil production. Smart packaging is refillable, recyclable, and savvy for travel. The brand's 3-in-1 Blemish Camouflage conceals and heals blemishes with vitamin E.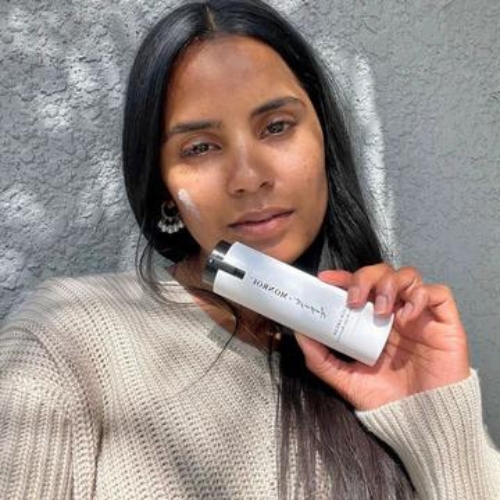 I am buzzy for Lucce Bee's anti-aging Hyaluronic + Peptide Serum. This feather-light elixir improves skin tone, stimulates collagen, and minimizes pores. Enhance your routine and properly prep with Lucce Bee's LED Handheld device. Sonic vibration and LED light therapy help massage products into skin for max absorption. A little self-care goes a long way.
Morocco-based Sarazine's formulas are 100% organic, dermatologically tested, and made with essential oils for aromatherapy. The Prickly Pear Oil Face Mask and Scrub gently exfoliates while cleansing and moisturizing—a trio of goodness to polish your complexion. The aroma is peachy paradise and the results are radiant.
Designed by Dr. Stefani Kappel, MDAiRE is clean, cruelty-free, medical grade skincare that targets regenerative pathways in the skin. A proprietary blend of active ingredients tighten, smooth, and minimize water loss. Kudos to a silky consistency, their regenerative eye complex, and easy pump packaging.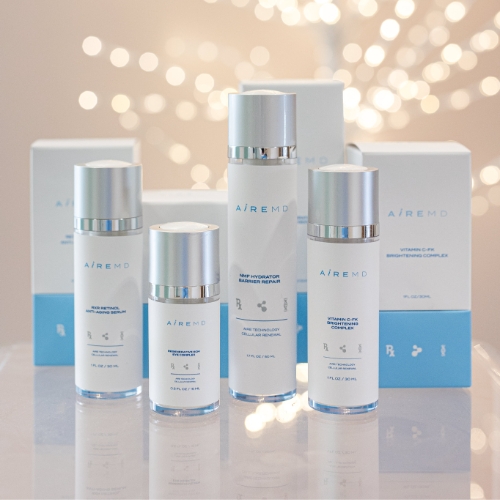 Love Your Look
Celebrity makeup artist Rachel Goodwin is a renowned red carpet makeup design risk taker. But for wedding days, she embraces a holistic approach by connecting with the bride, beautifying her vision, and complementing the environment (inside or outside, hot or cool, in a Gothic cathedral or modern art gallery).
"I want a bride to feel like the most incredibly exalted version of herself, reflecting who she is in everyday life," says Goodwin. "So when she looks back at photos to reminisce, she recognizes herself on that joyous day."
Authenticity and accentuating natural beauty are Goodwin's goals. She admires unique individuality and tailors wedding day makeup to embellish, not distract. Cue Jennifer Holland's majestic mountain affair—casual, glamorous, energetic. Holland wore Lashify lashes for a purely integrated (and not over done) look.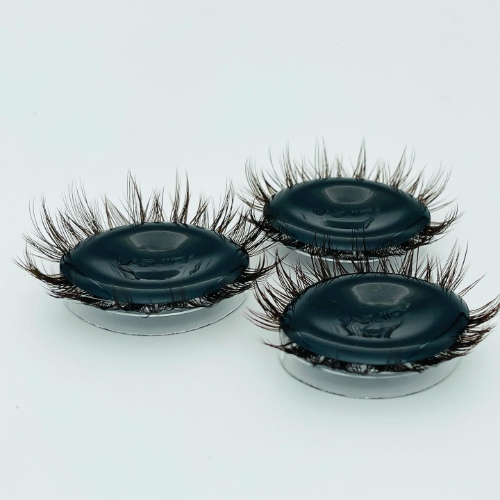 Pro tip: Once lashes are set, they can effortlessly last through brunch the next day.
Goodwin also designed wedding makeup for longtime friend Mara Roszak and her Big Sur bash. "It was special to accent Mara's vibe, stunning dress, classic essence, and cultivate the beauty of precious moments," she says.
Tears of joy are often shed during wedding ceremonies; Goodwin recommends waterproof formulas to set and protect. Her favorites include Makeup Forever eyeliner and L'Oréal Voluminous mascara. She also suggests a waterproof lip liner: "You want a trace of something underneath if (and when) lipstick comes off."
"I like to bring in sensorial products to elevate the event," says Goodwin. Monastery Attar salve is a harmonious floral blend for body, neck, and hands. Surya Collagen Cream is ultra moisturizing and smells like saffron. Icelandic brand Bioeffect's eye mask is a Goodwin go to; she proposes gently rolling over the mask with a cold metal roller to calm skin and reduce swelling.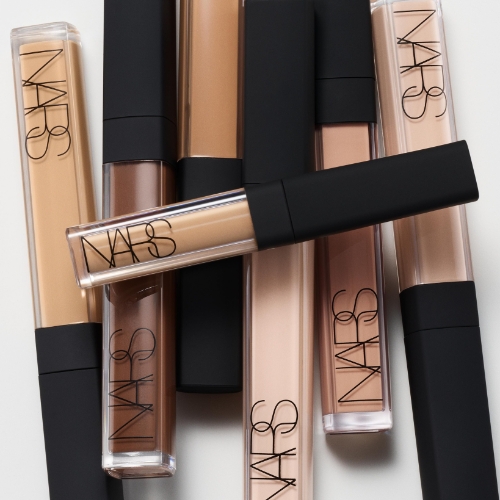 Makeup Maven
In addition to skincare prep, Molly R. Stern has sage guidance for wedding day makeup. "I think it's really important that you look like yourself on your wedding day. You want to be able to look back on it and see your most beautiful self not some made up version of you," she says.
Cheek: "I always vote for a flushed rosy cheek. Jamie Greenberg's Blighlighhter packs both a punch of color with a sheeny glow."
Foundation: "Keep foundation light and only where you need it. Chantecaille Future Skin Foundation is a wedding day (and year-round) favorite, it's sheer yet very buildable."
Eyes: "Eyes can be a soft neutral smoke or a classic modest cat eye. A wild bride's something blue could always be her eyelashes…Christian Dior Diorshow does a great waterproof blue."
Lips: "Lips should be low maintenance in color; you will be kissing lots of people, talking, and toasting your new life. The last thing you need to be worrying about is lipstick on your teeth and needing to be touched up constantly. I love the Tower 28 OneLiner Multi-Liners, topped off with Saint Jane's Luxury Lip Oils."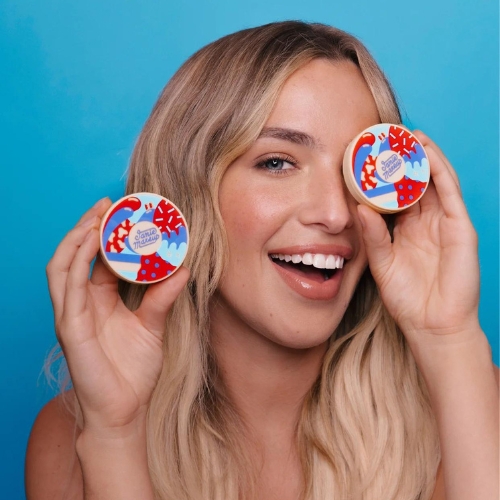 Set the Mood
Be in posh company with celebrity favorite Charlotte Tilbury Airbrush Flawless Finish. "I always set and mattify every makeup look using my Airbrush Flawless Finish powder—it's my red carpet beauty secret in every celebrity clutch," says Tilbury. Almond oil, rose extracts, and pearlescence nurture skin for exquisite luminosity and a cashmere finish. Divine Amal Clooney wore all Charlotte Tilbury for her Venetian wedding. Replicate her makeup magic with these application tips.
Look impeccable from start to finish and guarantee makeup won't melt. Skindinavia Finishing Spray - Bridal Formula cools skin and sets makeup for up to 16 hours. Patented technology minimizes sweat and oil production with a light, breathable mist that prevents color fading and shifting. Feel good about your spritz…Skindinavia sprays are water-resistant, vegan, and made in the USA.
Mehron Makeup is high performance makeup artistry, with nearly a century of experience. Create a completely classic look with top products and professional techniques showcased here. Cara Moisturizer's natural ingredients vitalize skin, Velvet Finish Primer sets the canvas for Celebré Pro-HD Cream Foundation and Finishing Powder, and pretty palettes for cheeks, eyes, lips are beauty bevies.
Illuminate the windows to your soul with Makeup By Mario Eyeshadow Palettes. Twelve color options in each palette are buildable and blendable for your unique style. Master a natural look with skin tone mattes. Or highlight your inner sparkle with shimmering metallics inspired by nature—subtle or dramatic. Bonus: Makeup By Mario's array of E brushes are designed for perfect placement of lightweight, creamy shades.
And, add an alluring pop of color to your cheeks with the makeup maestro's new hyaluronic acid-fueled Soft Pop Plumping Blush Veil. This delicate, weightless cream meets balm elegantly deposits a soft touch of color while playing up your own natural skin tone. Mario suggests applying it over his SoftSculpt Transforming Skin Enhancer or your go-to setting powder for a "warm, dewy look." From the whispery Barely Blushing shade (how apropos!) to the deeper Soft Plum, each of the six shades are universal and add a radiant finish to the skin.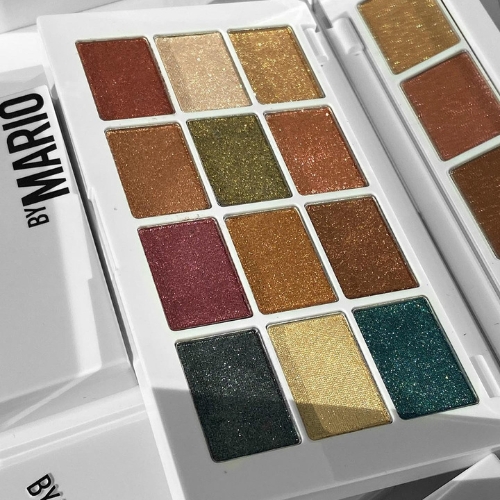 Aesthetic Experts
A vibrant visage is the optimal foundation for seamless makeup application. In addition to at home care, professional treatments are beneficial for lustrous wedding ready skin.
Some of us believe in fate, SkinSpirit believes in science. "We use advanced technologies that produce consistent results that are effective and safe." says SkinSpirit aesthetic nurse practitioner Samantha Pang. Before recommending wedding ready services, Pang assesses individual skin types for specific treatments.
For mature skin with moderate to severe sun damage, she recommends biostimulators like Sculptra to stimulate collagen production and help plump; Fraxel and Halo are fractionated lasers that target wrinkles, acne scars, and pigmentation (allow seven to ten days to heal); and Botox. "It's magical, not only does Botox get rid of dynamic winkles from frowning and raising our brows, but it also leaves the skin looking smooth and radiant," says Pang.
For skin with mild to moderate wrinkles and sun damage, go for Intense Pulse Light to treat red and brown pigment in the skin; microneedling for collagen production; and Clear and Brilliant…"I like to call this a baby laser, perfect for younger brides and those who are on their maintenance journey," says Pang. "It is a perfect option to give dull skin a boost without any downtime."
For all skin types, match with your sparkling personality and dazzling ring: "I highly recommend all brides to have at least one to two DiamondGlow facials before the big day; it has a patented recessed diamond tip wand that exfoliates, extracts, and infuses the skin with nourishing serums," says Pang.
Before: Retinoids prep skin by allowing products to work deeper—they increase collagen production, help increase cellular turnover, and gently resurface the skin.
After: Protect your investment. "In addition to continuing on a retinoid and mineral sunscreen, adding in an antioxidant and growth factor is essential," says Pang. "My favorite antioxidant product at the moment is SkinBetter Alto that contains vitamins A and C and 17 additional antioxidants; my absolute favorite growth factor product to use morning and night is SkinMedica TNS Advance Plus—it helps smooth fine lines and wrinkles and is the only growth factor product clinically proven to address sagging skin."
Pang suggests finding an aesthetician one month before the big day to build a rapport and determine which serums work best for your skin. "You never want to try a new treatment or new product one week before the wedding, even if it is a facial," she says.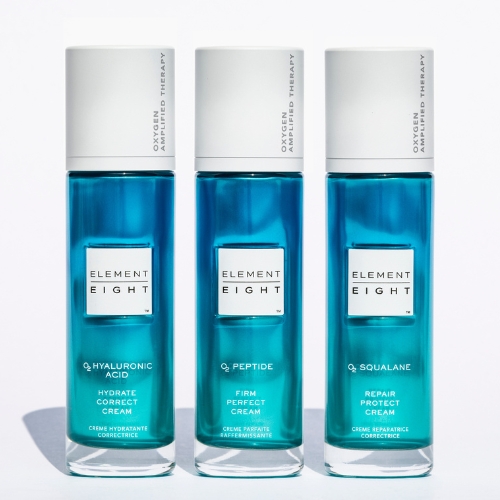 Oxygen Therapy
Deep breathing calms, rejuvenates, and can improve skin health. Oxygen is life—Element Eight's leading edge technology harnesses this transformative element to enliven skin tone, texture, and diminish signs of aging. Formulated into signature face creams, OATH™ (Oxygen Amplified Therapy) allows cells to function at their highest level.
"As we age, our skin cells get less and less oxygen," says Dr. Nima Gharavi. "By delivering encapsulated oxygen to skin cells, you are replenishing those depleted cells, creating a healthier cellular environment, improving cell metabolism, and in turn addressing the visible signs of aging." 
Consistency is key for improvement and maintenance. "A morning and evening Element Eight routine, coupled with daily sunscreen use, can keep your skin looking healthy and vibrant," says Dr. Gharavi. "Because of its chemical properties, oxygen therapy can show visible results almost immediately."
I feel instant gratification after intentional oxygen intake—inhale, exhale, ahhh. On your wedding day, remember to breathe, be confident, and cherish every moment of your beloved celebration.
"It's a kind of radiance. People who possess a true inner beauty, their eyes are a little brighter, their skin a little more dewy. They vibrate at a different frequency." - Cameron Diaz
In homage to Ms. Tina Turner, love's got everything to do with it.
---
Author: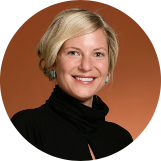 Danica Farley
Danica is a writer, editor, optimist, and content creator. She pens about experiences that inspire a life well-lived—beauty, travel, wellness, nature, art, positive vibes. Currently based in Southern California, her work has been published in COAST, Get Out There, and Utah Style and Design magazines, Orange County Register, KÜHL, and more. "Beauty begins the moment you decide to be yourself." - Coco Chanel
---
Comments